Delivery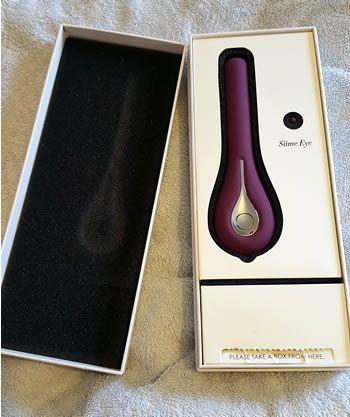 This is the second sex toy that I have received from Sexcite and again I am happy to report that the Siime Eye arrived quickly and discreetly in a very plain cardboard box that had no indication on it as to just how kinky its contents were. It is always a worry when you order sex toys online that the packaging is going to be discreet and there's definitely no problem with Sexcite's packaging and attention to detail.
The Siime Eye was well padded inside the packaging box and their was no damage to its box. I swear that my postie must play football with packages sometimes but the Svakom must have caught him on a good day.
Features
Now I know you are probably thinking "Camera Vibrator" that's kinky, well yes it is. I guess I should talk about the camera part of it first then as that was what interested me in the first place. There is something incredibly kinky about being able to see inside yourself especially at the point of orgasm. Even better is the idea of someone else being able to see this view of what is lets face it an amazing sensation.
The Siime Eye has a built in camera in its tip that is surrounded by four LED lights and this allows for some very intimate shots indeed.
Now the Siime Eye that I was sent only had three of the four LED's working and so I got in touch with Svakom after registering for my 1 year warranty and 10 year quality guarantee on their site to see what my options were. I was a little surprised by their lack of help on the matter. Their attitude was just return it to where you got it from to get a replacement. As this is obviously a manufacturing defect I thought that they could have at least offered a replacement rather than passing the buck to the retailer. Not too impressed with that reply but as the dodgy LED doesn't really affect performance I opted to continue with the review rather than mess Sexcite about with something that wasn't their fault. It left me wondering what was the use in registering for a warranty on their site. Anyway on with the review.
UPDATE 16/9/15: The nice people at sexcite.co.uk have insisted that I send the Svakom Eye back to them for an exchange and so that they can take the issue up with Svakom on my behalf. Now how's that for customer service. I'll be sending it back as soon as I finish my internal orgasm video.
The camera produces very clear pics up close however to achieve this its focal length is very short which means it is useless for taking pictures of anything that isn't right infront of the lens. To give an example of this the picture below was taken of my eye and you can clearly see the detail of my hair whilst the right side of the picture was taken just over a meter away.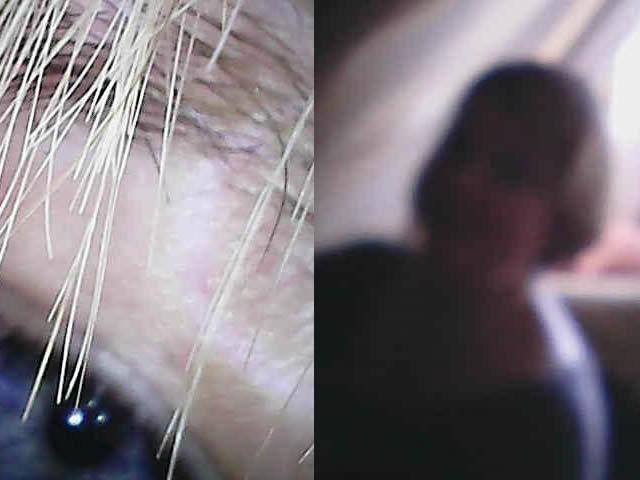 The Siime Eye uses Wi-Fi to connect to any number of devices allowing multiple viewing and recording options. Setting up the software isn't too bad but you do have to pay attention to what you are doing. You basically need to download the software from the Svakom website and install it on your device. There are options for Windows OS, Android OS and Mac OS. Once you install the software to need to pair the vibrator with your device, this is easy to do and once done you can start the software then connect it to the vibrators camera all over Wi-Fi which is great as it means no trailing wires. One point to note though is that there are no instructions as to how to use the App so it is trial and error. Whilst not difficult to use some guidance would have been appreciated.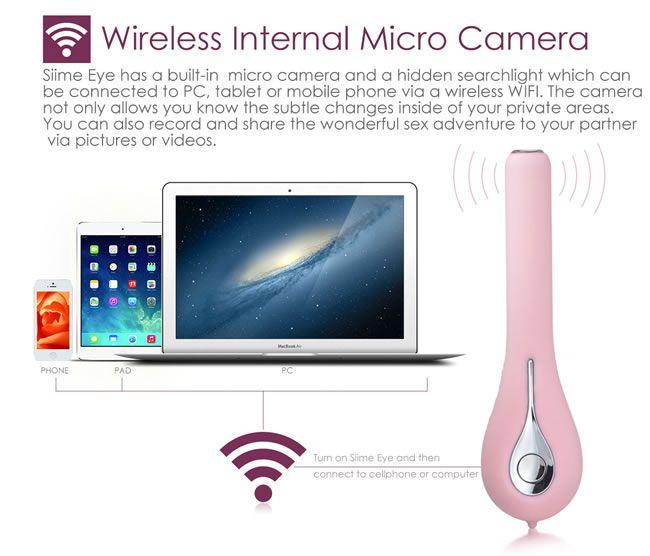 The Wi-Fi works upto a range of 30m (100ft) and this means you could even view what is going on from another room making remote voyeurism a real opportunity if that's your thing.
It's available in two colours and these are Pink and Violet, the one I have to review is the Violet one. It is surprisingly light, weighing in at only 74g and is very easy to hold and use. It is made out of 100% body-safe silicone and the blend used is one of the best I have used, it isn't draggy when pulled over the skin and it also doesn't attract dust and fluff like other silicone sex toys do which is a bonus.
The Svakom Siime Eye is waterproof which means it is very easy to clean as you can submerge it, it has a rating of IPX7 which means that you can get creative with it in the bath of shower. Cleaning is easy, just use warm soapy water or a sex toy cleaner.
It is powered by an internal rechargeable 400mAh battery which takes just 2 hours for a full charge and that gives around two and half hours of continuous playtime depending on if you are using the camera and vibrator or just the vibrator. I found that when using both the usage time was less than specified by the manufacturer. To charge it up simply remove the silicone plug (a spare is supplied with the toy which was nice) from the socket at the top of the toy and insert the supplied USB charging cable. I was surprised that a toy as expensive as this one didn't come with a mains charger as well but it doesn't so you need to connect it to a computer or USB charger that you already have.
The Siime Eye measures in at 16.5cm (6.5") and the insertable section is 2.5cm (1") in diameter making it an easy insertion.
The controls are very simple. On the front of the vibrator you have a large circular switch in the center of the teardrop shaped silver section and pressing that will show you the remaining battery life, this is great as you shouldn't end up in a situation where the battery dies just before your orgasm washes over you. The other controls are on the edge of the vibrator and are easy to find and operate when in use. One button switches the camera and wi-fi function on and off and the other set of three buttons allow you to control the vibrations.
The up and down arrows allow you to strengthen or weaken the vibration levels or by double clicking them you can cycle through the five present programmes. The center button enters and leaves the Svakom Intellegent mode. I like this setting as the output of the vibrator is constantly changing so your clit doesn'g get bored or go numb.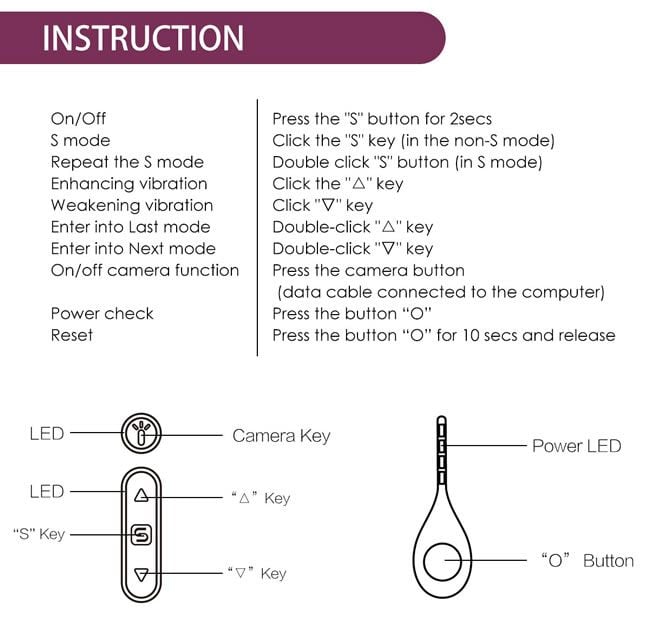 This vibrator is quiet and by that I mean seriously quiet when it is inserted you can hardly hear it at all and in your hand it is about as loud as a ticking clock which means it is ideal for use in a crowded house or dorm when you don't want others to hear what you are getting up to. I can't say that you will be quiet though but this vibe is not going to give what you are doing away to anyone as it makes less than 50dB of noise as shown in the Svakom infographic below.
Use By Hand
I will talk about using it as a vibrator first I think, I found the five intensity levels quite pleasing but they may be a bit weak for power queens out there. It has an intelligent mode "The Svakom Mode" which is designed to mimic natural sexual pleasure by causing the vibrations to rise and fall randomly, I quite like this setting but a little bit more power would have made it mind blowing. I found that using it on my clit whilst viewing the output of the camera was very exciting. The only problem is like all cameras you need to keep the lens clean and guess what, you are not going to keep this lens clean.
It soon gets covered in body fluids or lube making things a bit blurry, when inserting it this isn't really a problem as everything tends to become a pink blur. I found that to really have a good look around inside I needed to enlist the help of a speculum to hold my pussy open allowing me unbridled access.
Now I normally don't like speculums, associating them with medical procedures but I actually got very turned on using one in my play and it gave me a unique view of my muscles contracting as I orgasmed.
I managed to easily get myself off everytime I used the Siime Eye and really enjoy the intelligent mode. It was easy to hold and once I had got my head around the controls it was easy to use.
The biggest draw for this vibrator though is the camera which is definitely fun and kinky to use.
Fucking Machine Friendliness
There is no way that I could mount this vibe to my Fucking Machines but what I did do and really enjoyed was I inserted it into my pussy as my machine fucked me and I got a really kinky view of the dildo sliding in and out of me. I also got a very intimate view of one of my dildos ejaculating inside me that really sent me over the edge into a very strong orgasm.
Performance
As a vibrator it works extremely well being quite and also quite powerful, as a kinky camera it works amazingly well. I had no problems getting myself off every time I used it and it was also a lot of fun to use in conjunction with my partner. If you like very strong vibrations then it might not work to you but I found it perfectly adequate for my likes. I loved the intellegent mode and love the way it can show you at a glance how much power is left in the battery. All in all it is a great little vibrator.
Key Features
Key features:
Camera for internal videos and pics
No cables, works over Wi-Fi
100% body safe silicone
5 different intensity levels
Intelligent Svakom mode
Easy controls
Extremely quiet yet powerful motor
Final Thoughts
This is a unique body safe silicone vibrator with a kinky twist. It's great for anyone who really wants to explore their own body, ideal for medical fetishists or basically anyone curious to see what goes on inside yourself as you orgasm. It's a bit tricky to set up but once you have done so it's very easy to use. Whilst I don't think it's an ideal first time vibrator due to its price, I still highly recommend it to anyone.
Thank you to svakom.com for giving me permission to use some of their infographics in this review.
Intimate Video Clip
These two videos are definitely not safe for work. The first shows me fucking myself with the Svakom and you can see that the image quality is not too bad as it is drawn out but as you slide it in the pussy juices just turns everything into a pink blur. The second video was taken with me holding the svakom at the entrance to my pussy which is held open with a plastic speculum. I get myself off at around the 2 minutes and 44 seconds point and have problems holding the camera steady LOL.
Only watch both videos if you are fine with their graphic content.
Where Can I Get One From?
The Svakom Siime Eye Camera Vibrator is available from Sexcite for just £139.99
Founded in 2014, Sexcite is the next big thing in the adult and sex toy industry, they have a great selection of vibrators. As one of the fastest growing online sex toy retailers, they are continually expanding our product ranges ensuring that they bring our customers the very best and latest sex toys, lingerie and adult games on the market. Delivering pleasure (in more ways than one) to their customers is our primary goal. From their product range to their website and their delivery options to their customer service, their aim is to ensure your buying (and using) experience is as pleasurable as possible.
If you are looking to buy sex toys online check them out and don't forget to tell them that Joanne says "Hi".