Delivery & Packaging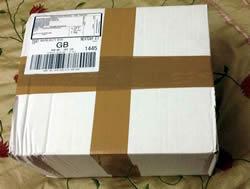 The lubes arrival was a nice surprise, Sex Toys UK sent me it together with four other sex items to review. They arrived in a plain white cardboard box that carried no indication whatsoever as to its contents. You can always trust deliveries from Sex Toys UK to arrive like this as it is a very discreet service.
Features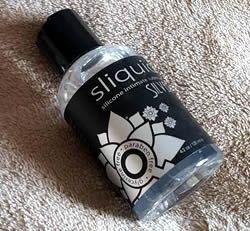 Sliquid Silver comes in a range of sizes and the one I have is the 125ml (4.2fl/oz), you can also get it in a larger 255ml bottle and small one use 5ml sachets. The bottle is clear with a black easy open top. This makes it easy to see how much you have left. The push down style lid makes it easy to use, and safe from leaking if it is knocked over when closed. I love the label design too it is clear and is the first black bottle of lube Ive seen so it will stand out in your collection.
The 4.2oz bottle is a nicely sized bottle, the black and silver design means that whilst it stands out it won't look out of place on a dresser or in the bathroom cabinet just like the other Sliquid lubes. The label is clearly readable, but they haven't overstated the fact that it is a personal lubricant unlike some other brands. It does however state that it is "silicone intimate lubricant" but not in large bold lettering.
This lube contains some rather intimidating chemicals but they are all body safe and the main ones are:
Dimethicone - The most commonly used silicone in the cosmetic industry, dimethicone is found everywhere from makeup to hair conditioner, and is used for it's skin conditioning properties.
Dimethiconol - Another slick silicone based polymer which has anti-foaming and ideal skin moisturising and conditioning properties.
Cyclopentasiloxane - This one is the silicone that keeps everyone coming back for more. It is the most expensive, and the most luxurious, and is the silicone compound that makes silicone lubricants ultra slick.
Performance
The 125ml bottle I have is a handy little size, but don't let the size put you off, it really is very long lasting and you really do only need a few drops. The lid means that it doesn't leak if left on its side (as long as the lid is closed) but also makes it very easy to only get a drop or two, so you won't waste this amazing lubricant. So it is true that a few drops will go a long way.
It doesn't have an odour or taste that I could detect and it is a clear lube that is very runny indeed, so you do need to be carefully when using it. Apply small drops to your finger and apply whereit's needed.
I have sensitive skin and it didn't cause any issues using it.
I only needed a couple of drops, which spread over the right area, and lasted as long as I needed it too, so no looking for the bottle to top up the lube, whilst in full swing.
Yes this lube does feel a lot like baby oil, but lasts a lot longer. It does leave an oily feel to the skin, but it washes off well with soap and water, so you don't feel slimy after a wash.
Fucking Machine Friendliness
This is a great lube for Fucking Machine play as it lasts for a very long time and is ideal for the high speed movements of machines such as the F-Machine Pro or Shockspot. Just a few drops goes a long way and the high quality of this lube means you can have some very long machine love sessions using it.
Summary
Pros:
Long lasting
Easy to control
Body Safe
No odour or taste
Great for sensitive skin
Washes off easily
Cons:
Shouldn't be used with Silicone sex toys
Before washing off it does leave you feeling a little oily
Final Thoughts
This is definitely at the top of the lubes I have tried to date. I don't know about you, but I find it off putting when I have to hunt for the lube when playing, and this lube definitely doesn't need topping up in my opinion.
Sliquid Silver costs just £17.95 from SexToys.co.uk
Joanne's rating
Where Can I Get One From?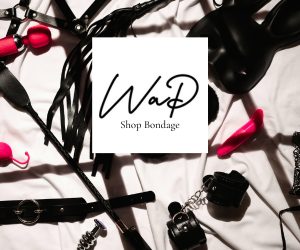 I bought my first ever vibrator from these guys and I have always gone back to them time and time again as they provide great service and some amazing special offers. They also have a huge range of sex toys.
Check them out and don't forget to tell them that Joanne says "Hi".