Delivery
As the Shockspot is made to order I had to wait about two weeks for delivery after placing my order but I was kept abreast of the progress of my order and was given tracking details for the courier for the final delivery to me. It arrived via Interlink Express and I was actually given a one hour delivery window which meant that I didn't have to hang around for the delivery.
My Shockspot arrived in a plain brown cardboard box that carried no indication as to its contents. Upon unpacking the box I found everything to be well packed and it arrived with the following:
Shockspot fucking machine mounted on its frame and already attached to the control box
Two feet
Tools required to assemble it
Vac-u-lock adaptor & a universal adaptor
Remote controller
Remote On/Off switch
USB Cable, power cable and power supply
Hardcopy of the manual
Software on CD Rom
Dildo
Features
This is where the review is going to get a little bit "techy" but please do bear with me, I will be getting to the juicy bits very shortly.
Unlike most fucking machines that translate the rotary motion of a flywheel or arm into linear motion through the use of a coupling rod the Shockspot uses a linear motor to produce its in and out thrusting. This makes it both lighter and also safer as there are less moving parts for fingers or other things to get trapped in.
Fucking machines are often compared to each other by using a torque figure, loosely speaking, torque is a measurement of the turning force on an object such as a bolt or a flywheel. The equivalent torque figure for the Shockspot is 105 inch-pounds for a 12 inch machine (an average fucking machine has about 20 inch-pounds of torque). The Shockspot actually creates upto 17.535 lbs of thrust which equates to almost 8kg of thrust, that is how much force that can be produced to drive a dildo in and out of a tight orifice.
Basically what all that meant was the Shockspot has plenty of power available when needed and I have not managed to stall it in use as it is just so powerful.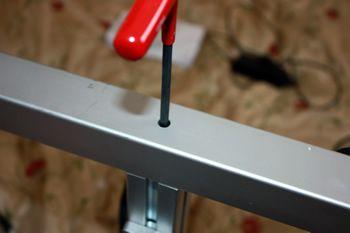 It's manufactured almost entirely out of aluminium (aluminum for my American readers) and stainless steel and it looks really sexy. The frame is made out of very heavy duty aluminium box section and comes with an easy to assemble foot system that you just slide the feet over and secure by tightening up an allen screw using the tool provided. The machine is really very well built and will last for a long time. It isn't flimsy like some of the machines I have looked over but not bought.
Whilst the feet look a little narrow, I found stability wasn't a problem although if you are using it at its full height it will obviously be less stable and you would need to take that into account with where you use it and what type of surface it is on.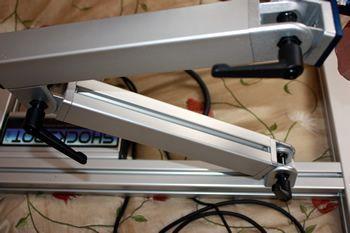 The frame has three locking clamps that allow you to position the machine in lots of different positions. Simply loosen them then move the machine to your desired position before locking them up again by hand. I found them to be easy to use and effective in holding the machine in all sorts of positions.
I have used the machine on my back, on my side, doggy position and also standing as it is such a versatile machine.
It is quite a portable system as it weighs in at only 23 lbs (10.5kg) and folds flat when not in use. If you detach the feet it will fit into a small holdall or suitcase easily.
The machine can either be controlled by a computer or with the stand alone remote.
One word of caution though. If you have the Shockspot connected to your computer do not plug the remote in as well! The manual quite clearly states that this could cause damage to the machine. It does beg the question as to why this is the case with such an expensive machine, you would have thought that the manufacturer would have put something in place to prevent this from happening. But I am not willing to test that out so I either use it by PC or by the remote - never connecting both at the same time.
Remote Controller
My Shockspot came with a stand alone remote controller that allows me to use the machine without linking it to a PC. It has a start/stop button and four dials, these control:
Depth

This sets the depth of the end of the in-stroke of the thrust rod - in other words how deep the machine fucks you.

Max Stroke

This sets the length of thrust so if you set it to the middle on my machine it will move the dildo in and out over a distance of six inches with the deepest part of the stroke set by the Depth dial.

Speed

As its name suggests this dial sets the speed of the thrust rod.

Smoothness

This setting sets the acceleration and deceleration of the thrust rod, if you set it to a low setting it gives a very smooth change of direction. However on smooth settings the machine might not get up to the speed you selected before the thrust rod starts to slow down again for the next change of direction. Higher settings cause a more jerky fucking action.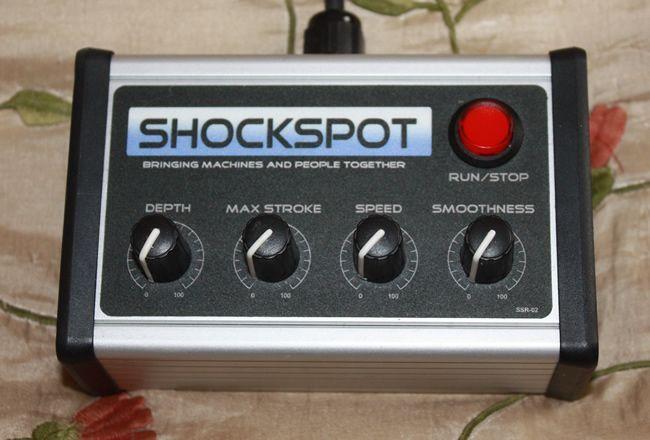 Whilst it's great to be able to use a computer to control the Shockspot this remote is in my opinion indipsensable so make sure that if you buy a Shockspot it comes with one. My machine came with one as standard but I know other suppliers sell them separately.
You can adjust the controls when the machine is actually running giving you unparalleled control of your machine. This is an amazing feature and makes for a much more enjoyable session. No more stopping in the middle of the action to adjust the depth of thrust or only having a speed controller, with the Shockspot you get to control everything as it is running. Be aware though that if you change a setting it only changes on the machine at the end of the stroke that it is currently doing. So sometimes it feels like there is a delay in its response but that is due to it waiting until the current stroke is finished before implementing the new settings.
The remote is much easier to use than controlling the machine with a PC, it's easier to keep the controls to hand when playing and is also quicker to set-up.
Computer Control
The Shockspot comes with a disk containing the software to be able to control and write routines for it. The Shockspot Touch and Feel Software (Windows XP, Vista, Windows 7, Windows 8) is simple to install from the CD Rom. You may then need to install a communications driver to allow your computer to talk to the Shockspot. I didn't need to, after installing the software I just used the USB lead to connect the PC to the Shockspot and it worked straight away.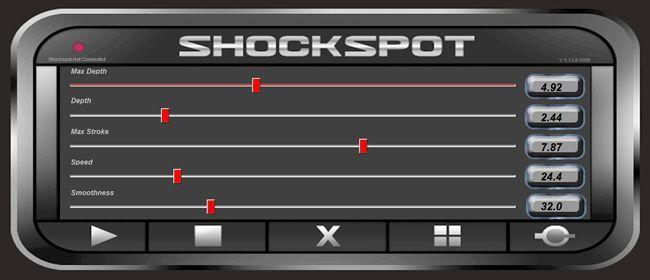 Using the basic welcome page of the Touch and Feel software is just like using the remote with the exception of have one extra control and that is Max Depth. This control allows you to set a maximum depth of penetration that the programme can't over ride and it is a good safety feature. Whilst it is useful to be able to do this with a PC it is easier to control the machine using the remote. It is the next part of the programme that is really very good.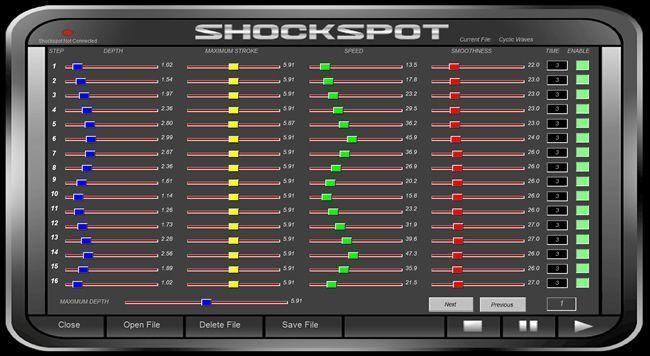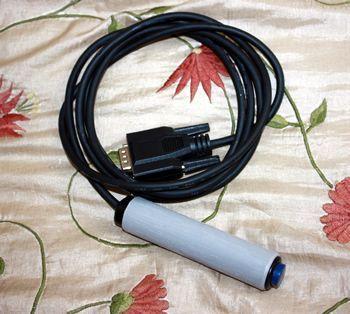 You can basically write and use routines to control your Shockspot. Each line in the picture above allows you to set up the controls for the Shockspot and define a time to do that function before the computer selects the next line to execute it. In this way you can create some pretty intense sessions where you can have the Shockspot performing like a rabid sexual tyrannosaurus or long slow sessions with a gentle lover or even anything in between the two. You can save routines and load them later and in this way you can create your own library of amazing digital fucks for any given mood. I really like this feature and it comes with several pre-written examples to give you an idea of what you can achieve.
When you use the computer to control the Shockspot you attach the remote switch to the control box and this means that you can use its button to start and stop the routine.
It is this feature that really sets the Shockspot apart from the crowd.
Adaptors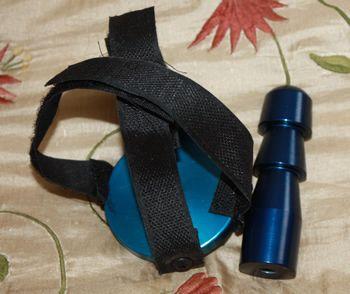 The Shockspot comes with a Vac-u-lock adaptor that allows you to use any compatible dildo and that means you have a lot to choose from.
Like the rest of the Shockspot it is made out of anodised aluminium but this time it is a stunning deep blue colour.
I ordered a universal mount at the same time as the machine as that allows me to use other dildos that aren't designed with a Vac-u-lock recess in their bases.
Another adaptor is also available that you can use so that you can mount a Fleshlight to the Shockspot and this means that guys can enjoy the features of it on their cocks.
Using The Shockspot
The Shockspot is one heck of a machine but it does take a bit of time to learn how to get the most out of it. I started off by using just the remote and revelled in the fact that I could control more than just the speed of this sex machine. I really enjoyed the fact that I could make it fuck me deeper without having to shuffle along the bed and that I could quickly go from long smooth strokes to short jerky ones. I could basically get the machine to match my mood as I got more and more aroused and this in itself was a huge turn on for me. My first orgasm on the Shockspot was simply mind blowing and it happened much quicker than I would have hoped as I was looking forward to a good long session.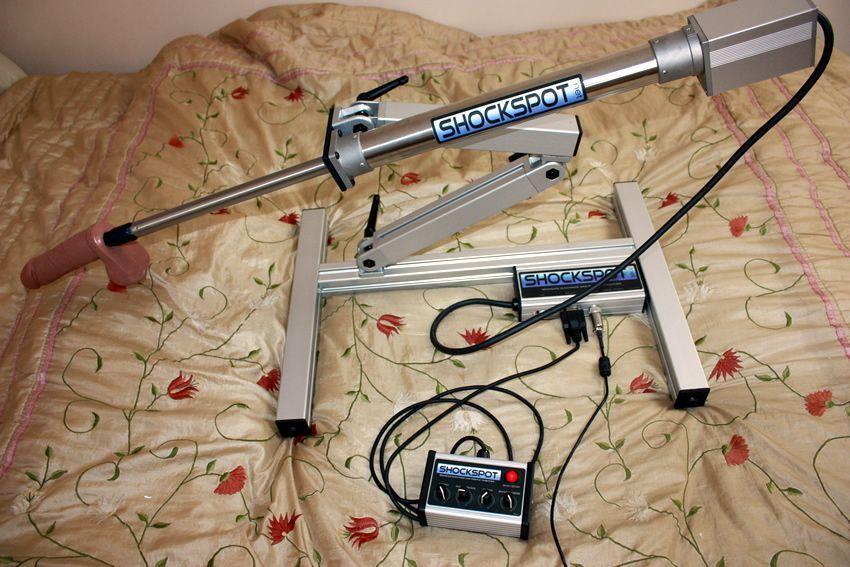 The thing is that this machine is so good you can give yourself a quickie on it or you can really take your time and enjoy a long slow sensuous fuck.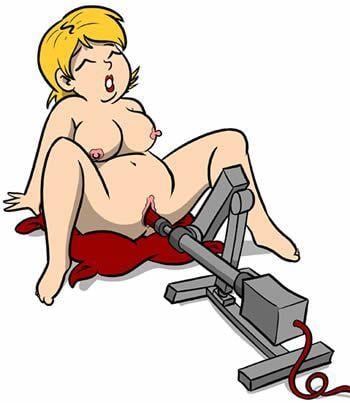 I love the way that you can control the acceleration of the thrust rod, this gives a much more realistic feel to the fucking you get and if you set it to a very high setting it is very jerky, on a short stroke length it almost feels like an incredibly powerful vibrator.
The Shockspot creates a lot more noise than my F-Machine Pro, it isn't too loud but it is noticeable. It's a kind of weird noise that surprised me at first, I guess I could describe it as similar to the noise a printer makes but louder.
The Shockspot comes to life when you use the routines in the PC software and I have written myself some incredible ones that vary the tempo and depth of thrusting to really work with my body to get more and more exciting as I feel myself approaching my orgasm. I have my favourites but it is still fun experimenting and tweaking them.
I love being able to use different dildo on the Shockspot and my Bad Dragon ones really hit the spot. I intend to get a fleshlight adaptor in so that I can use it on my other half.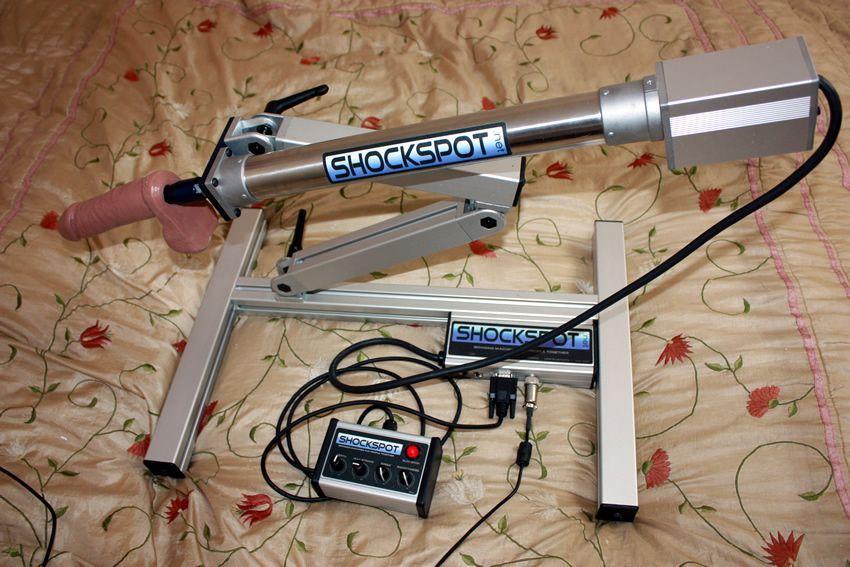 Performance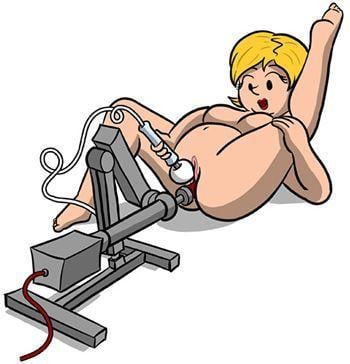 The performance of the Shockspot is exceptional, this is the Rolls Royce of sex machines. It out performs anything I have used before and I doubt anything else will live up to its sheer exceptional capability.
I have very few criticisms of it. On short strokes the speed is simply mind-blowing and if you set it up for a very short stroke you can get it to basically vibrate inside you incredible powerfully. Couple that facility with being able to create routines it means that you can create ways of pleasuring yourself that just can't be recreated without a Shockspot.
If you ever get the opportunity to try one of these machines out grab it with both hands.
Try it with a Lelo Smart Wand Large for amazing orgasms almost on command, they really do work well together.
Key Features
Key features:
Adjustable on the fly
Full 12 inches of penetration if required
Great variety in positions
Easy to adjust
Can be programmed to create amazing routines
Adaptors available for fleshlights and any dildo
Safety - Maximum depth control
Final Thoughts
The Shockspot is a very expensive piece of kit even eclipsing the much vaunted Sybian in terms of price and after experiencing both I can say that the price tags are justified as the performance just simply can't be recreated with any other machine. This machine is a bit trickier to set up (if you install the software) but it is well worth the extra effort as with the computer you really can do some really neat tricks with this very capable fucking machine. It is the machine I will be using regularly now as it is so much better than my F-machine Pro.
Joanne's rating
Where Can You Get It From
Grab a Shockspot from Sexmachines.co.uk and see for yourself why I rate these machines so highly.
Check them out and don't forget to tell them that Joanne says "Hi".