Delivery & Packaging
As with everything I have received from The Glass Dildo Shop the Purple Blaise arrived quickly, well packaged inside a very plain brown cardboard box with absolutely no indication as to its contents on its exterior.
I had high expectations as I opened the box to find the Purple Blaise safe and sound nestled amongst a load of packaging peanuts securely and hygienically wrapped in shrink wrap that actually carries a security seal. It also came with a nice letter, information about glass sex toys and their care, a business card (giving a 10% discount against future customer orders) and a lovely blue satin effect storage bag. No lube sample this time though, not that that's a problem at all. The storage bag is a nice touch as it means I can store the toy easily and discreetly after cleaning it so that it is ready for immediate use when the "mood" arises.
Once again with their attention to the fine details A Touch Of Glass has shown itself to be a company that cares about its customers.
Features
The Purple Blaise like the Moody Blue I have also reviewed is made entirely out of Borosilicate Glass and this makes it very strong and extremely easy to clean. It also benefits from being hypoallergenic and 100% body safe. It's a really deep and stunning purple colour and features two bulbous ends, one of which is tapered for easier insertion. The shaft is incredibly smooth and has three wider bulges in it that feel very nice indeed when in use providing a good deal of stimulation.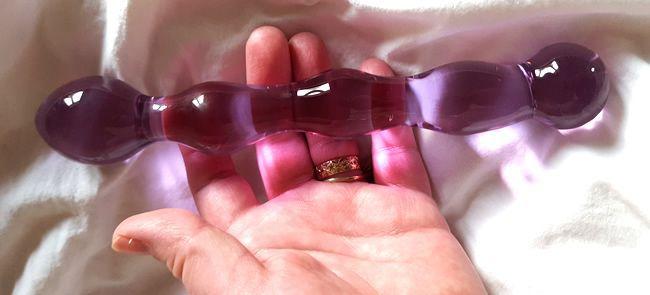 The Purple Blaise is 8.5 Inches (21.3m) long and its shaft is 1 Inch (2.5cm) in diameter, the bulbous ends and the bulges on the shaft are 1.25 Inches (3.1cm) in diameter and these create intense sensations as you slide the dildo into your vagina. The smooth transitions between the different diameters on the toy feel very good and are very gradual allowing you to savour ever inch of this toy as you use it.
All of the glass dildos from A Touch Of Glass are covered by their unique lifetime warranty. I doubt that anyone will need to use it as these glass dildos are very strong if looked after correctly. They also provide a "100% Money-Back Satisfaction Guarantee", so basically buying toys from A Touch Of Glass is a great idea just on those two points alone. But it gets even better than that, being ethically minded they donate 5% of every sale to the Breast Cancer Prtnership giving another great reason why A Touch Of Glass are one of my favourite sex toy companies.
I could spend hours just holding this dildo up to the sunlight, it feels so luxurious and the translucent purple glass looks amazing, it goes from almost clear to a deep purple depending on the direction of the light going through it, it's quite mesmerising.
Every dildo that you buy from A Touch Of Glass is bespoke and hand made. Slight variations in size and shape are to be expected and just go to prove that your toy really is a one of a kind. Every dildo is rigorously tested prior to leaving the factory with a Polariscope to detect any imperfections that would be invisible to the naked eye.
Try some temperature play with the Purple Blaise to experience some unique and rather enjoyable sensations. You can heat it up in some warm water or place it in the fridge before using it for some extra special fun. Make sure that you don't go too extreme with the temperature of your toy as the the mucus membranes in your vaginal walls are very delicate and they won't thank you if the dildo is too hot or cold so use moderation.
It should be common sense that you should always inspect a glass dildo before use and never use one with any signs of damage. Don't drop or bang your glass dildo on anything hard and if you do then cast a very critical eye over it to spot any problems.
Cleaning it after use (and before first use) is incredibly easy as it's non porous. Simple clean with warm soapy water and then rinse off, you can also use any proprietary sex toy cleaners or a 10% bleach solution. Once it is dry then place it into its lovely storage bag and store it ready for immediate use when you next feel the need.
Use By Hand
Having now had many orgasms with this dildo I can vouch for its effectiveness. Out of the two ends I prefer the rounded one over the tapered one as there is more pressure needed to dilate my pussy to accept it and when it actually slides in it's an amazing feeling.
You can use any lube you like with a glass sex toy and it will go a surprisingly long way due to its non porous and incredibly smooth surface. I use some Sliquid H2O and it works a treat for me lasting the whole session.
After applying a small amount of lube to my pussy lips and the tip of the dildo I placed the tip against my clit, enjoying the thrill of the cold glass against my warm flesh. I like to move the tip in circles around my clit and that feels really nice. When ready, I slide the tip down until it was nestled between my pussy lips at the entrance to my vagina. Slowly sliding it into my wetness. I love the initial feeling of resistance and then the feeling of it stretching me open as it enters me. As the bulbous head enters your pussy it can close a little until the next bulge starts to stretch you open again. It's a luxurious feeling as this toy opens and closes you as you fuck yourself with it. I like to build up a fairly quick rhythm enjoying the sensations as I do so.
I have to admit that this is the first dildo that has ever made me squirt and that in itself was an amazing feeling. It's the bulges that really make this such an effective dildo and it's hard to describe just how good they feel as you move the dildo in and out of you.
Whilst this dildo is never going to really stretch you open wide as it just isn't that thick it feels incredible because of its sleek and simple design. They really did get it right when they designed the Purple Blaise it is the perfect width for some sensuous dildo fuckery.
All glass sex toys can get very slippery with lube covered fingers so one tip I have learn't is to wrap an elastic band around the handle end of a toy to give to a great grip surface no matter how lubed up your toy or fingers get.
Summary
Pros:
Ideal for sensitive skin
Easy to clean
Excellent textures
Bespoke hand made sex toy
Easy to warm up or cool down
Amazing customer care
Cons:
Rigid
Cold to begin with, but you can warm it with warm water.
Final Thoughts
I really do like this dildo, it looks stunning, performs very well indeed and comes with a very reasonable price tag. All in all its a great little dildo. It is also ideal for beginners or seasoned dildo queens who want to add something to their sex toy collection. I love the customer care, work ethics and ethos that A Touch Of Glass show and can heartily recommend them and their products to anyone.
Check out the rest of their range for some other incredibly beautiful sex toys.
The Purple Blaise Glass Dildo costs just £37.99 from A Touch Of Glass
Where Can I Get One From?
A lifetime guarantee on all of their bespoke glass sex toys coupled with their excellent customer service and commitment to supporting charity (they donate 5% of sales to the Breast Cancer Partnership). You also won't find a better customer loyalty program, how does 50% off subsequent orders if you review your purchase. Their bespoke sex toys are the best you can get in terms of safety, looks and performance and they are definitely a great place to shop if you like the better things in life.
Check them out and don't forget to tell them that Joanne says "Hi".