I had to really exercise some self-control when it arrived as I just wanted to try it out. The thought of a Zumio quickie was high in my mind. But I did the sensible thing, and that was to give it a full charge.
It comes with a very stylish charging cradle like its predecessor and the Zumio S just slips straight into it. It stands vertically when charging and you just need to attach the supplied USB charging cable to this cradle before attaching the other end to a power source.

You get the Zumio S, the charging cradle and USB cable plus a set of easy to read instructions
I love the flowing lines and organic looks of the Zumio range, it looks like an electric toothbrush that has lost its bristles.
The body of the Zumio S is identical to the original Zumio, but the Zumio SpiroTIP is different.
The first change to it is that it is much shorter, this means that it doesn't oscillate as much as the original and while this may seem like a step backwards it is a good thing as I will discuss in a moment.

The body of the new Zumio S is identical to the old Zumio X
The second change is that the SpiroTip is now coated in soft clear silicone instead of it being hard ABS like the original.
These changes both have very important functions, and together they both help to actually lower the intensity levels of the Zumio S, and that is a good thing.
I know I usually like more power in a kinky Jeremy Clarkson sort of way, but one of the problems with the original Zumio was that it was just too powerful for a lot of its users.
Zumio has played a blinder with the Zumio S, by toning things down a little they have actually been able to make their sex toy appeal to more users and that ultimately is a good thing.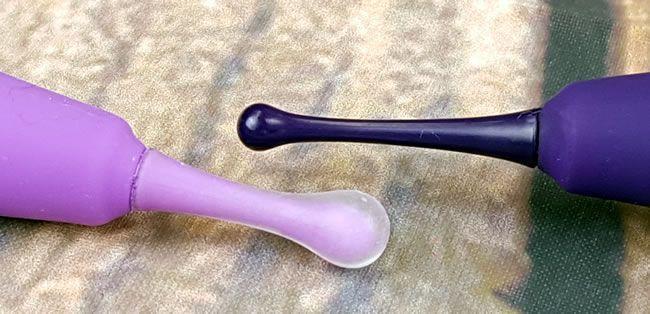 The Zumio S features a shorted tip that is coated in silicone
Lots of people don't want the sort of mind-blowing, toe-curling power that the original delivered preferring the much more gentle approach of the Zumio S and I have to admit I am one of them.
Imagine a scale of 1 to 10, with ten being eye-watering power intensity, the original Zumio X was in the range of 6 to 10 while the new Zumio S works in the field of 3 to 7. This is all due to the two changes to the SpiroTIP.
Don't get me wrong, I love the Zumio X, it was capable of ripping an orgasm out of me in under a minute, but that often left me wanting more but it left me too sensitive to do anything about it.

The inductive charging cradle is nicely designed
I just couldn't edge myself properly with a Zumio X but I can do with the Zumio S. I can edge myself for more extended periods of time to build up the excitement before ramping up the power and watching the sparks fly.
The colour of the Zumio S is pink on the one I have although you could argue it is a lighter purple. I like it, and I love the new softer tip.
The old Zumio X was what I call a Marmite vibrator, you either loved it or hated it because of its raw, unbridled power. You were either in the "I love the power" camp or you disliked it for that very reason, the Zumio builds a bridge between both camps and is a huge step forward in my opinion.
I love the pin-point precision of the Zumio S, and simply adore circling my clitoris or nipples with it before homing in on my clit to bring myself off.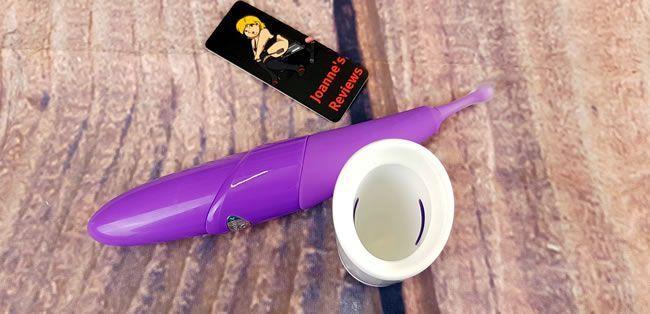 The inductive charging cradle is nicely designed
The way that the tip oscillates feels amazing and the harder you press it against yourself, the deeper the sensations go, and that feels very nice.
Having used both the Zumio S and X on numerous occasions now to compare their performance directly, you definitely notice the differences between the two. The sensations from the new Zumio S are more spread out due to the silicone coating, and this smooths things out feeling more relaxed while still being incredibly effective.
You get eight power settings, and I have never needed to go above the sixth one on my Zumio S, and I am a bit of a power queen, there is still a big kick when using a Zumio S and I even have something left in reserve.
The controls, like on the original are straightforward to operate, and it is easy to hold and use. In use, it is very quiet making it a very discreet vibe ideal for use in busy households. It's also small enough to be easily used when making love it you need some extra stimulation.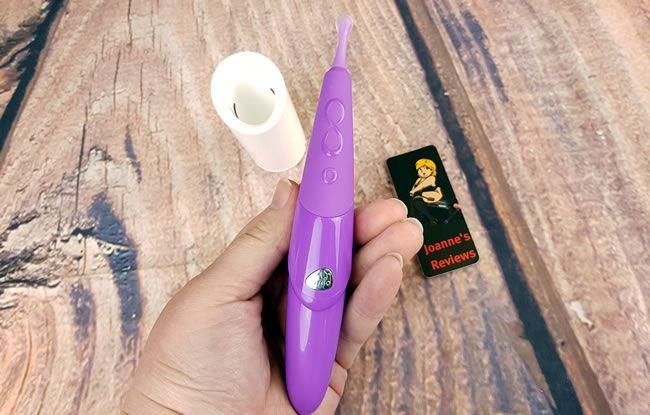 The controls of the Zumio S are simple and easy to use
It has a travel lock feature and that coupled with its small size and weight makes it an ideal holiday vibe, it even looks like a toothbrush to prevent any embarrassment if your bags get a physical search.
Cleaning is easy due to the materials it's made from. Just wash in warm soapy water before cleaning with an anti-bacterial sex toy cleaner. It is also fully waterproof so it can be submerged when cleaning but more importantly you can use it in the bath or shower for some kinky "me time".
You get a one year manufacturers warranty for peace of mind, and I have had no problems with my original Zumio X and haven't heard of many issues with reliability.
The Zumio S is made out of body-safe materials such as ABS and 100% medical grade silicone, this means it is phthalate, latex and BPA free, always choose body safe sex toy materials. These materials are non-porous which means that the surface of the toy can't hold hidden bacteria which as I am sure you will agree is a definite plus point.

The Zumio S isn't just for vagina owners, penis owners can use one too
Finally a quick note on the fact that the Zumio S isn't just for vagina owners, oh no, it can be so much fun for penis owners too.
Just use the tip to tease the frenulum (banjo string) or circle the urethra for some fantastic sensations. It also feels fantastic on the perineum. Basically, it's a lot of fun to tease an erect penis as well as an aroused vulva, so this is a great couples toy as well.
The Zumio S can still bring Joanne off in under a minute but she can also now edge herself with the new model. @myzumio
Click to Tweet
Key Features
Key features:
Intense targeted clitoral stimulations
Shorter silicone coated SpiroTIP
USB Rechargeable sex toy
Quiet operation
Eight power levels
Travel lock
Inductive charging system
Waterproof
Final Thoughts
I love the new Zumio S, the shorter softer SpiroTIP and its resulting change in intensity really agrees with my clitoris.
The old one and new Zumio S are priced identically and that is fantastic as it means you have an option of the more subtle Zumio S or the powerhouse of the Zumio X.
It feels totally different from any other vibrator that I have ever tried and its pinpoint precision makes it so much fun to use and it also makes it very effective.
I can orgasm in under a minute with a Zumio but with the Zumio S I can dial things down and enjoy long slow wanks before ramping up the power to make the sparks fly.
If you have never tried this style of vibrator then you are in for a treat, I have no problem in giving the Zumio S a very strong recommendation.
Joanne's rating
Where Can I Get One From?
Grab one of these fantastic clitoral vibes from Zumio for just $98.00, trust me, your clitoris will thank you later.
If you feel the need for more power then grab the original Zumio X from Zumio for the same price $98.00 and lay back and see how quickly it can get you off.
Check them out and don't forget to tell them that Joanne says "Hi".
Disclaimer - I was sent the Zumio S to review free of charge and this has in no way affected the outcome of this review. This post contains affiliate links and if you purchase something when you follow one of these links I may receive a small commission at no cost to you. For more information check out my disclosure page.