I didn't have to wait long before I was accepting another package from my usual delivery guy. If only he knew what was inside, it would have put a smile on his face but as it arrived in a plain cardboard box he had no idea. It's worth mentioning that worldwide shipping is free for the Dodil and that makes it a bargain.
Upon opening the packaging I was surprised at how large the flask for the Dodil is. Everything is stored inside this flask. When you open it you will find the Dodil itself together with instructions and some cord.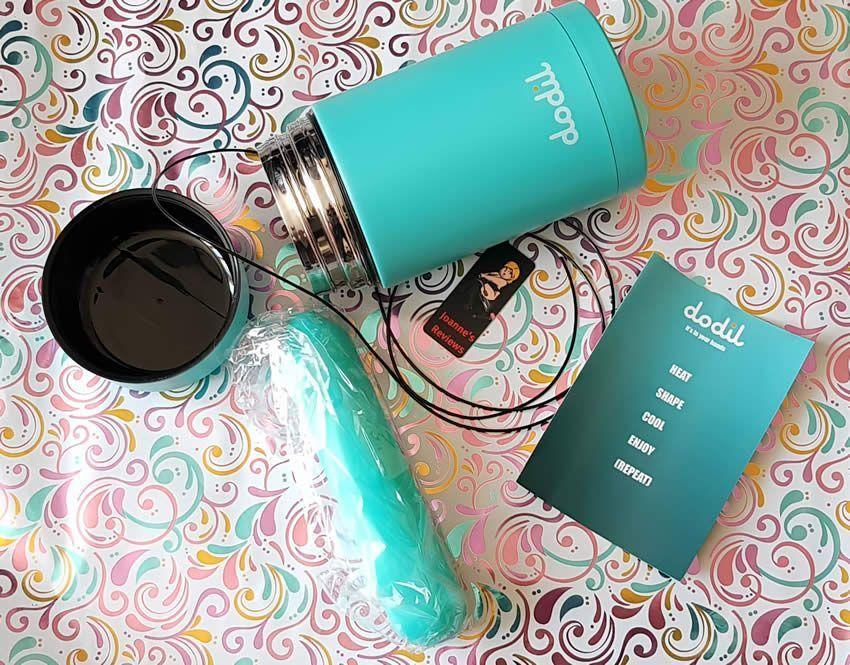 The cord got me curious as I couldn't immediately work out what it was for. Once I had read the instructions I got it and it should have been common sense. I guess I needed some more coffee to be on top of my game that morning.
The cord is used to wrap tightly around the Dodil once you get it hot to enable you to add indentations to the dildo. This allows you to create some unique textures.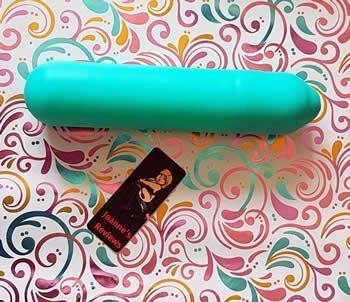 The Dodil is a solid dildo that consists of a thermoplastic core surrounded by a layer of soft silicone. It's a lovely shade of Teal green and this colour is also the same as used on the flask making them a matching set.
I like this colour but I would love to see more choices available in the future.
The Dodil is a unique concept, you can change the shape of this sex toy over and over again. The name is a play on this as if you reshape the word Dildo you get Dodil.
When it arrives the Dodil is an oblong shape and measures in at 19cm / 7.5" in length and 4.2cm / 1.65" in diameter and it weighs 800g.
It is the first dildo to my knowledge that gives its owner the opportunity to create the dildo of their dreams. You are also able to change this shape repeatedly and this is great.
The materials used also have some very nice properties that I will cover later in this review. The best bit though is that this dildo is coated with a soft layer of Silicone which is my go-to material for insertables.
Silicone is non-porous, body safe and hypoallergenic. It is also very easy to clean between uses. Use warm soapy water to get vag-goo or other fluids or material off. Then clean with an anti-bacterial sex toy cleaner.
So how do you create your dream dildo? It's a very simple process. Place the Dodil into its flask and then pour boiling water into the flask (don't fill it to the top). Refit the lid but do not tighten it and leave for 30 minutes.
Once you have waited the prescribed amount of time carefully pour out the hot water. Remove the Dodil, it will be very hot so be careful. You may need to hold it under some cold water for a little while to let the outer layer cool enough so that you can hold it.
Now the fun begins. The heat softens the internal core so that you can mould it with your hands. It feels a bit like plasticine at this stage.
It's a lot of fun moulding it and trying to come up with a design that you would like to use. The cord comes in handy as you can bind the dildo with it to cause deep depressions and bulges that stay in place as it cools. It does take a bit of practice to get this to work but stick with it as the results are amazing.
Once you have your shape hold the Dodil under cold water until the core hardens again. You can then remove the cord and admire your creation. If you are not satisfied then you can repeat the process until you are. If you have created puckers in the silicone then quickly immersing the Dodil in hot water again for a couple of minutes will allow you to smooth them out.
I'm impressed with my first creation. I was scared that I would produce something looking more like a Mr Potatoe Head than a dildo. But that fear was unfounded and I loved being able to design my own sex toy. So far I have made six different designs that were a lot of fun to both create and to use.
Well onto how it performed. The creating of a new shape was fun but I was more interested in how my creation felt and would it get me off. As this dildo is coated in silicone make sure that you only use a good quality water-based lube such as Sliquid H2O.
The silicone coating is a little draggy but once lubed up it feels silky and smooth. I had created a dildo with pronounced bulbs on it and these felt amazing as each one dilated me as I pushed it home. Thrusting with it was a lot of fun. I like strong textures and the bulges really did it for me. The beauty of this toy is that if you prefer subtle textures then you can make it that way.
I enjoyed bringing myself off with the Dodil and had no problem reaching some pretty rewarding orgasms.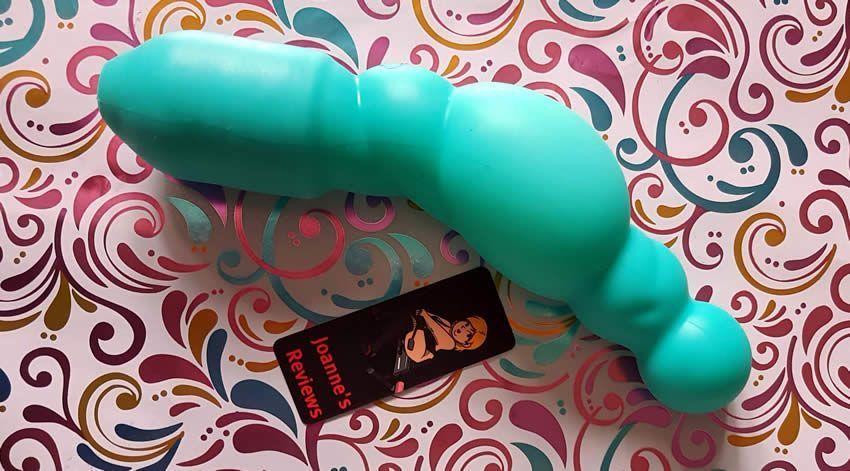 The Dodil is a very hard dildo so if you like softer textures then you can immerse it in hot water for a few minutes to soften its outer layer. This feels very nice as it retains heat well and it's nice to use a warm dildo instead of a cold one. It's great for temperature play.
Once you have used it and cleaned it you can assess if there are any improvements that can be made to it. Then you can put in place those changes or design a totally new shape to keep from getting bored.
I love this feature of the Dildo, it really is like buying multiple dildos and the only limit is your imagination. This dildo will appeal to anyone who wants more from their dildo and who enjoys playing with unusually shaped dildos.
Creating your own dildo is a lot of fun, design your own texture with the Dodil.
Click to Tweet
Key Features
Key features:
Mouldable dildo, you can create your own design
Silicone coating making it body safe
Flask for storage and for safe heating
Infinite possibilities
Final Thoughts
I can't say that there is anything that I don't like about the Dodil. I would love to see a larger model available together with a butt plug version with an ABS flared base (for safety). Other colour options would be amazing too.
From their crowdfunding startup to shipping the finished product I think that Dodil has created a unique product that I hope is a hit. I look forward to seeing what they come up with next.
I was sent the Dodil by theDodil.com and I would like to thank them for giving me the opportunity to review it for them.
Joanne's rating
Where Can I Get One From?
Grab one of these amazing little dildos at theDodil.com where you can pick one up for just 79.00 € (£69.65 or $93.32 at the time of publication). You can have as much fun as I did experimenting with it and creating your own designs.
Check them out and don't forget to tell them that Joanne says "Hi".
Disclosure
This review does not contain affiliate links, for more information about affiliate links check out my disclosure page.