Delivery & Packaging
As I've already stated the Moody Blue arrived in super quick time in a very plain brown cardboard box having absolutely no indication as to its contents on the outside.
I could hardly contain my excitement as I opened the box to find the Moody Blue safe and sound amongst a load of packaging peanuts securely and hygienically wrapped in plastic. It also came with a nice letter, information about glass sex toys, a lube sample, business card (giving a 10% discount against future customer orders) and a lovely blue satin effect storage bag. The latter is a very nice touch as it means I can store the toy easily and discreetly after cleaning it.
It reinforced the impression that A Touch Of Glass is a company that really cares about its customers.
Features
The Moody Blue is made entirely out of Borosilicate Glass and this makes it extremely strong, easy to clean, hypoallergenic, above all safe to use and just simply fun to admire. It is gently curved and features two bulbous ends, one of which has a taper for easy insertion. Its most striking feature are the sapphire veins running along the length of the shaft. They are very smooth but provide just the right amount of stimulation in use - more of this later.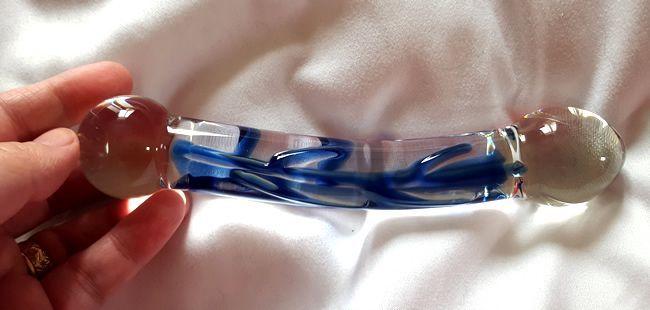 The Moody Blue is 7.5 Inches (18.8cm) long and its shaft is 1 Inch (2.5cm) in diameter, the bulbous ends are 1.35 Inches (3.4cm) in diameter and these feel incredible as you push them past the entrance to your vagina. Taking into account holding onto one of the ends that means that you have 6.5 Inches (16.3cm) of insertable length which is perfect for me. The gentle curve allowed me to take it completely without any discomfort.
All glass dildos from A Touch Of Glass are covered by a unique lifetime warranty so you needn't worry about your new toy, they are obviously convinced as to the longevity and durability of their creations. It gets even better than that as their sex toys are covered by a "100% Money-Back Satisfaction Guarantee", so basically buying toys from A Touch Of Glass is a pretty good idea just on those two points, notwithstanding the fact that their sex toys are actually very good - bonus. They also donate 5% of every sale to the Breast Cancer Prtnership giving another reason why A Touch Of Glass are just awesome.
Each dildo is hand made and so slight variations in design are to be expected and this just means that you have a bespoke sex toy not a mass produced piece of mold poured plastic or silicone. Every dildo is screened with a Polariscope to detect any imperfections that would be invisible to the human eye and this is a very important part of the manufacturing process and one of the reasons that they can give a lifetime warranty with their sex toys.
The curved shaft on the Moody Blue makes it very easy to stimulate your G-spot bringing with it all the benefits of doing so.
One of the great plus points with using glass dildos can be experimenting with temperature play, you can heat up or cool a glass dildo and it holds its temperature for quite some time. Playing like this allows you to experience some unique sensations. A word of warning though don't heat it up or cool it too much as your pussy won't thank you, the mucus membranes in your vaginal walls are very delicate so the key words here are warm and cool.
As with all glass toys don't drop it or bang it into anything hard and always give it a once over before you use it. Never used a chipped or cracked glass dildo - I don't need to explain to anyone why (I hope).
Clean it just as you would any other glass sex toy, wash it thoroughly in warm soapy water and then rinse well before drying. You can use any proprietary sex toy cleaner with glass toys and remember to dry it well before popping it back into its storage bag (or putting it on your mantle piece for all to admire).
Use By Hand
I have had many great sessions with this dildo now and can confirm that there is nothing moody about its results. Glass sex toys are very smooth and a little lube goes a very long way, you can use any lube with this toy but for my first time with it I opted for the sample sachet of Silk lube from LTC Healthcare that was supplied with the dildo. It's an opaque water based lube that contains no Parabens and I found it to be excellent. I didn't need to re-apply it and that's one of the benefits of glass dildos with their smooth non porous surface.
I got myself comfortable and then applied some of the lube to my pussy lips and some more to the dildo. I liked the look and feel of the LTC lube, when I was ready I teased my pussy lips with the tapered end of the dildo before allowing it to rest between my lips. I then just let the weight of the dildo open me up as it started to slide in. That felt really nice as the Moody Blue was cool to touch.
I then started to slowly push it in enjoying the feeling of the tapered tip opening me up more until the bulbous tip slid into me. I loved the feeling of the veins as I slid it further in and only stopped when my fingers and the other end of the dildo met my pussy lips.
Even though the veins are quite thin they add a nice texture to the toy. Fucking yourself slowly allows you to really enjoy these sensations and when you are ready for more simply twisting the toy gives a totally different feel to it, hitting all the right places. I found it really easy to rub the bulbous end across my G-spot whilst fucking myself with it and that felt incredible.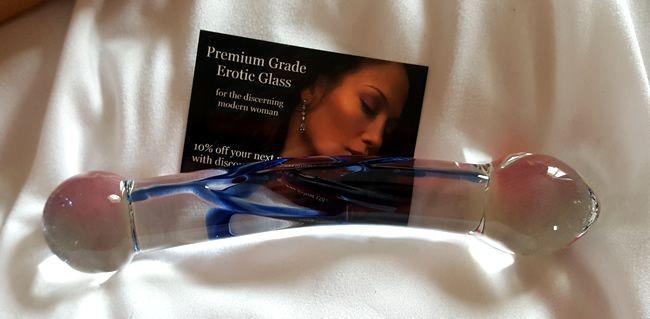 If you are someone who prefers large toys that stretch you open to the limit then this one probably isn't the one for you, but even though it isn't huge it gives you the option of very safe in out play, to the much more fun and stimulating twisting it around in use, hitting your G spot wonderfully.
I love pulling it almost out so that I could enjoy the added girth before sliding it fully home again. As with all glass toys this one can get very slippery with lube covered fingers, one tip I have learn't with glass toys is to wrap an elastic band around the handle end of a toy to give to a great grip surface no matter how lubed up your toy gets.
I have experienced some amazing orgasms with this dildo and love it for its looks as well as its performance.
Summary
Pros:
Ideal for sensitive skin
Easy to clean
Excellent textures
Bespoke hand made sex toy
Easy to warm up or cool down
Amazing customer care
Cons:
Rigid
Cold to begin with, but you can warm it with warm water.
Final Thoughts
I love this dildo and as it is not a really wide one I can recommend it to hardened toy enthusiasts as well as anyone new or looking to try their first glass dildo. I am totally enthralled by the customer care, work ethics and ethos behind A Touch Of Glass and would heartily recommend them and their products to anyone.
If you think this one looks amazing you should see the rest of their range, it has definitely wetted my appetite and I want more.
The Moody Blue Glass Dildo costs just £36.99 from A Touch Of Glass
Where Can I Get One From?
A lifetime guarantee on all of their bespoke glass sex toys coupled with their excellent customer service and commitment to supporting charity (they donate 5% of sales to the Breast Cancer Partnership). You also won't find a better customer loyalty program, how does 50% off subsequent orders if you review your purchase. Their bespoke sex toys are the best you can get in terms of safety, looks and performance and they are definitely a great place to shop if you like the better things in life.
Check them out and don't forget to tell them that Joanne says "Hi".