Delivery
Bob the creator of Eye Pajamas makes and dispatches his lovely eye masks from the US and I was delighted to find out that postage to the UK would only cost $2.50 which is amazing value for money. It meant that my Eye Pajamas cost only $16.45 in total including the postage and all this works out to only £11.05 - which is an absolute bargain.
The package arrived quickly and I couldn't wait to open it to check out the design.
Features
The first thing that struck me when I took the Eye Pajamas out of the padded envelope was the quality of the workmanship, which is great. The Eye Pajamas come in a zip lock bag that you can use for storage when not in use. The machine stitching is neat and tidy and that bodes well. The Leopard print design on the front looks amazing and it has very vibrant colours and is cotton.
The back of the mask is a very soft and is made out of black baroque satin. It has an extra padded fold of material around where your nose sits and this allows it to effectively fill the area between your nose and eye socket blocking out light.
Each side has two thin elastic straps that leads to a central thicker elastic strap that has an adjustable buckle on it so that you can adjust it to your own head shape to ensure a comfortable fit.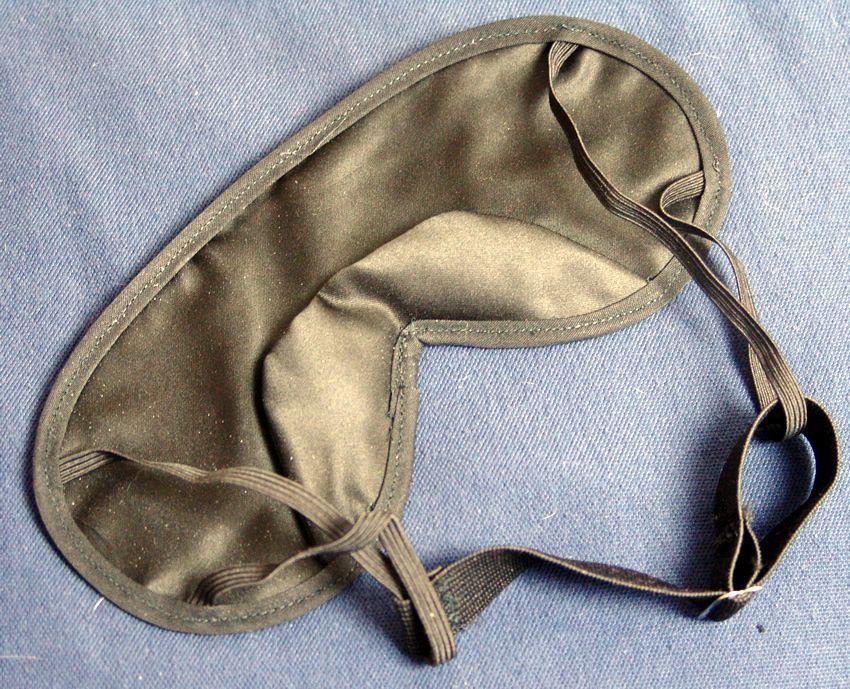 Use
Simply pull the mask over your head and ensure that it fits nicely, adjust the rear strap to achieve this. You may find it easier to remove it before adjusting it so that you don't catch your hair in the strap. Once set up I haven't had to adjust it again and so it is quick to fit.
The straps are comfortable and the flap of material on the inner face flexes to seal the area between your nose and eye socket effectively cutting out the light. I found that once correctly fitted it did cut out the light and it doesn't apply pressure to your face so you hardly notice that it is there.
The first night I wore this it felt a bit weird as it was new but the following morning I actually slept in until my alarm went off which is very unusual for me and I put that down to the fact that the light in the room wasn't waking me - Yay.
Since then I wear it most nights and have even used it in some sexy playtime sessions where it is great for sensory deprivation and tie tease fun. Having a blind fold on really concentrates your other senses and can be a lot of fun in the bedroom.
Cleaning
To clean simply hand wash on warm water and a mild detergent, try to keep the straps out of the water though. You can use a tumble dryer on a low setting to dry it but it would be safer just to lay on a flat surface or to hang it out to to dry.
Performance
I found that the Eye Pajamas worked as described, they do block out light, are comfortable and easy to fit and adjust.
Key Features
Key features:
A wide range of designs available
Excellent value for money
Effective at blocking out light
Great for fantasy play
Final Thoughts
I am really happy with my Eye Pajamas and will probably have to get myself a second one in a different design. The best thing about this product is its quality and price. To have something made in the US and delivered to the UK for just £11.05 is fantastic value for money. If you have trouble sleeping in light rooms or wake up early when the sun rises give a pair a shot. It could very well change your life for the better, I know that I can sleep better with it especially in the Summer months. It is also great for kinky fun and games and that is another reason why I like it so much.
Joanne's rating
Where Can I Get One From?
http://www.facebook.com/eyepajamassleepmasks
I bought the Leopard Print Eye Pajamas from www.eyepajamas.com and just had to write a review on it to help raise awareness of this great little micro company. You can get one from them for just $13.95 (excluding P&P in the US) or just £11.05 including P&P to the UK. Check out the full range and don't forget to tell them that Joanne sent you.
I would love to hear what you thought of this review. What can I do better, what did you like? Let me know in the comments form below. Thank you for taking the time to read it. Joanne xx