About Bondara
Bondara are one of the UK's biggest online sex toy retailers and they offer a great service. They carry a huge range of products and have very good descriptions and pictures which often put some of their competitors to shame. They have 99.8% positive feedback which is great and offer price match, free batteries with all vibrating products, 365 day returns and 100% discreet delivery.
Delivery
I placed my order at on a Tuesday morning and it arrived the following day packed very discreetly and as my order was for more than £49.99 next day delivery was totally free which I think you will agree is great. They have lots of delivery options and will also ship to the rest of the EU and also to the USA and worldwide.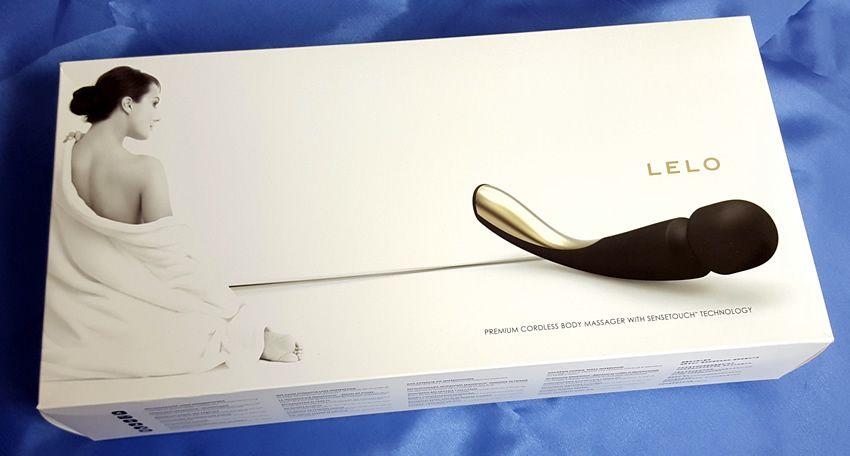 Features
I opted for the large but it is also available in medium and comes in three colours, black, white and purple. I think the black one looks great and that's why I opted for that colour.
The Lelo Smart Wand is covered in body safe silicone which makes it hypoallergenic and body safe. The silicone is very easy to clean but unfortunately it can be a bit of a dust magnet so keep the toy in its bag between uses. This is common with a lot of silicone sex toys and is not really a problem with proper care.
The wand comes with a very nice neoprene storage pouch which is great for keeping it clean and dust free. I love it when manufacturers think about storage and give out made to measure bags with their sex toys.
One big advantage that the Lelo Smart Wand has over the Hitachi Magic Wand is that it's cordless. I was expecting a loss of power because of this, but it easily keeps pace with the Hitachi. As you don't have a trailing wire with mains voltages in it this is also a great safety feature. You can get this wand into places and positions that you would struggle with if you had a cable dragging behind it.
It comes with all of the necessary items to charge it and you should charge it up prior to its first use to give it a full charge. It has an internal 7.4V 900mAh Li-Ion battery which gives it up to 2 hours of continuous use. It only takes 2 hours to charge it back up again using the provided charger which is not long at all. I have to hold my hands up here and state that I only charged mine for about 30 minutes prior to its first use as I was just so excited to try it out.
When on charge the three buttons will pulsate to indicate that your toy is recharging and the light will emit a steady glow once a full charge state has been achieved.
Another added bonus is that it's waterproof so you can have fun and games in the shower or bath. You should see the water jump when you dip the head into a bath with it on full power. Showertime has never been so much fun.
The head is attached to the body via a thin neck that has some give in it so that it can flex and the vibrations do travel up the body which means that you can use the body for added stimulation. I found the curved shape of the body easy to hold and allowed me easy access to the controls in use. Holding it in the middle of the body also reduces the vibrations transmitted to your hand.
There are three buttons located roughly half way along the toy and these are '+' to turn it on and to increase vibration speed. The next one '-', you guessed it, this one lowers the vibration speed and by holding it down you can turn the wand off. The last button is '( )' and this is used to cycle through the eight vibration patterns. You can lock out the controls by pressing and holding both the '+' & '-' buttons together for five seconds. Respeat to unlock the controls, this is a good feature and comes into its own when you find "that" setting that really gets you off, just lock the controls to prevent you accidentally changing the vibrations just when you least want to.
This wand has a smart little trick up its sleeve and that is what the makers call the "Sensetouch", this mode is activated by holding the '( )' button for three seconds. In this mode the vibrations will increase when the toy is in contact with your body and decrease again if you move it away. In real terms it only takes a couple of seconds to cycle up to full power but I guess it can help improve battery life when it isn't in contact with your body. If you enter this mode the wand will remember it the next time you turn it back on again. It all sounds a little confusing but in use it isn't, I actually find these controls simple to use.
Use
I got myself comfortable and switched the Lelo Smart Wand on and it purred at me like a little kitten, I was amazed at just how quiet this thing is on its lowest settings. You could easily use it with someone in the room next door with them being none the wiser.
I cycled through the eight programmes and settled on one of the continuous vibrations so that I could experiment with the power settings. The Lelo Smart Wand has eight different power levels and eight modes so that gives you a lot of room to find just the right one for your body and mood. The first thing I noticed about the vibrations was how sumptuously rumbly they are. They really do travel deep into your flesh and it feels absolutely amazing in use.
This is due to the low RPM motor used and this also keeps the noise low, very low in fact. The vibrations produced at the lower speeds go very deep indeed, no matter where you apply the wand. At higher levels the vibrations are faster but shallower. I preferred the mid range as they gave me lots of vibration together with deep feelings.
The controls were easy to use but like most sex toys with patterns you need to keep cycling through them if you go past the one you like, that's not a problem as you soon get used to the patterns.
In use if you alter the angle of the head you can actually alter the vibrations from deep rumbly ones to more shallower buzzing ones, this is a great feature and you can have a lot of fun experimenting with it.
If you like deep rumbly vibrations as I do then you can hold the head of the wand against you and it immediately delivers these sensations or if you clamp it between your legs it also changes to a rumblier vibration. All this change in vibrations might not appeal to some but I found it great and I really enjoyed altering the sensations with just a slight wrist movement.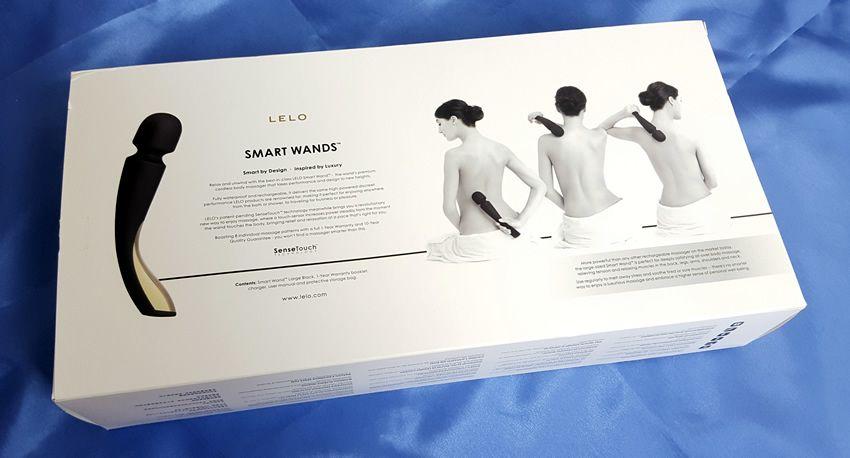 Performance
If you are looking for a toy that delivers predictable vibrations constantly then this might not be for you but if you enjoy the freedom to change things easily and to have a toy that can alter its vibration profile simply with a slight movement then you might find this one enlightening.
If a bullet vibe is a precision clitoris weapon then the Lelo Smart Wand is a veritable cluster bomb, in that it delivers vibrations in abundance to a wide area. These range from deep rumbly ones to shallow buzzing ones. Something for everybody surely.
I find it very, very easy to orgasm using this wand and highly recommend it to anyone.
Key Features
Key features:
Very powerful yet quiet motor
Ability to adjust the power with 8 settings
8 vibration patterns
Waterproof
Body safe silicone
Cordless with good battery life
Final Thoughts
I love it and have used it a lot. I find that the power is superb and the fact that there are no trailing wires means that it's so much easier to use. Try it in the shower for an amazing masturbatory experience unlike anything else I've tried. It has bags of power, is very quiet on its lowest settings and it produces the flesh quiveringly deep rumbly vibrations that I love.
I can guarantee myself a deep orgasm when I use this sex toy so if you are looking for a wand then definitely give this one a lot of thought.
If you have used a wand in the past you may need to get accustomed to this wand in order to get the very best out of it.
Recommendations
I would recommend this sex toy to:
Anyone looking for a powerful wand and who likes deep rumbly vibrations.
Anyone looking for deep rumbly vibrations.
Anyone looking for a powerful waterproof cordless wand massager.
I wouldn't recommend it to anyone who:
Doesn't like buzzy vibrations.
Wants to straight forward no nonsense vibrator.
Like pin point clitoral stimulations.
Where Can I Get One From?
You can get the Lelo Smart Wand Large from Bondara.co.uk for £128.99, it's expensive but you do get what you pay for and this is a great wand vibe.
I bought this toy in order to review it and this review contains affiliate links. If you clear your cookies, then click through one of my affiliate links before making a purchase, I'll make a small commission at no extra cost to you. This money will be used to run this blog and of course buy me new sex toys to review. Many Thanks!
I would love to hear what you thought of this review. What can I do better, what did you like? Let me know in the comments form below. Thank you for taking the time to read it. Joanne xx