About Uberkinky
Uberkinky started back in 1988 when Stephanie Taylor the founder and creator of Uberkinky set out on an unmatched crusade to bring sex toys to the masses through newspaper and magazine adverts. Then in 1998 the Uberkinky website went live and they haven't looked back ever since. With over 27 years of business under their belts and with over 500,000 customers worldwide they have created an admirable brand with a reputation to boot.
As such, we make it our number one priority to offer the finest quality and most unique adult products currently available, employ intricate attention to detail, and deliver supreme service every time.
I love their attitude, range of products and their amazing Essential Guides, check them out and you will not be disappointed as they have one of the largest ranges of kinky products online. Now on with the review.
Check out the amazing Uberkiny Speculum Guide for some very good information on all of the different types available.
Delivery
Nothing really to report here. The ordering a delivery process was streamlined. I was surprised as to how quickly my Speculum arrived and this just goes to show the professionalism of Uberkinky, the packaging was also very discreet.
Features
The IOB-Spec Speculum With Light is a Graves type perspex speculum that comes in three sizes (I opted for the medium) and it has an integral LED light that is controlled by a simple red on/off button. This light is focused using a perspex light channel to illuminate the inside of your pussy for easy self examination or for kinky medical fantasy fun.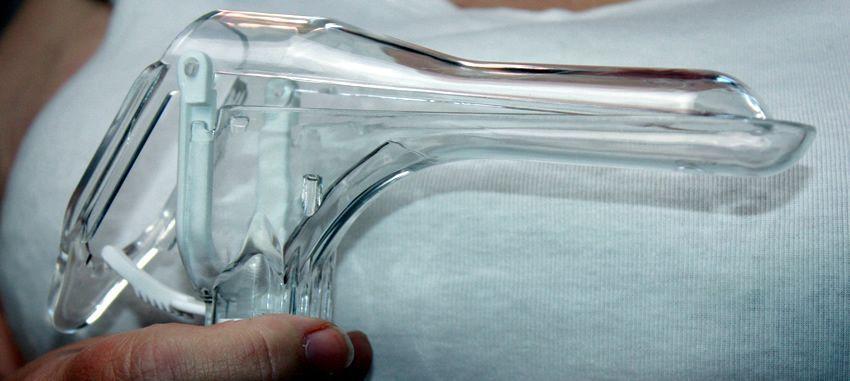 The Speculum has two simple controls but it does take two hands to operate it easily so this toy is more suitable for couples sessions although said that if you familiarise yourself with it you can use it yourself at a push.
The first control at the top rear of the Speculum controls the angle of the two specula. Imagine a ducks mouth and you can't go wrong and this control opens and closes the mouth using a simple ratchet mechanism.
The second control is below the first one and this one allows you to spread the open specula, to open your pussy as wide as you want. Using these two controls it's possible to spread yourself open with minimal discomfort and the shape of the specula means that they are pretty comfortable in use. These two controls alow you to effectively use the speculum with any shaped vaginal canal.
Once spread open you can press the red button on the base of the speculum to operate the LED light and this really does light up inside your pussy well. I used a mirror to have a good look round and it was sort or weird yet exciting to be able to do so.
Removal of the Speculum is done by operating the controls in reverse. First release the spreader control to allow the bills to come together again releasing most of the pressure and then release the ratchet on the top control slowly to allow the two specula to close. Then simply slide it out.
Use
Why would you want to use a Speculum on yourself? Well I can think of a few reasons for doing so, firstly it will allow you to have a look inside yourself at something few people have seen. Secondly it allows you to have some pretty wild medical fetish sessions using it for doctors and nurses role play.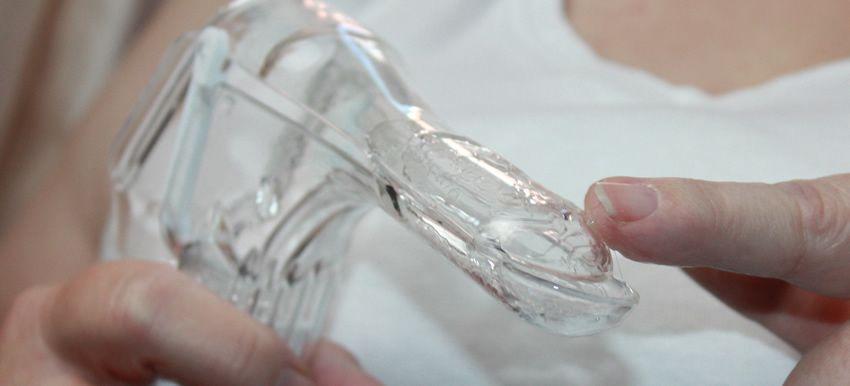 Now rather than show the speculum in use on my own pussy and therefore running the risk of having my host delete my site for a terms of service violation I thought it best to use a "stunt pussy" in the form of a Fleshlight Pink Lady Vortex in the pics below.
It is recommended that you use a good water based lube with this perspex Speculum, always use lube with it as it will make it a lot more comfortable to use. I found it really easy to insert once lubed up and I could operate the top control easily but I did struggle with the bottom one. Once inserted and in place it was enlightening to be able to see what up until now only a doctor or gynae has ever seen and it was fascinating for my partner to have a look around as it were.
I found that if you insert it upside down you can get at all the controls yourself but the spreader control is still difficult to use one handed.
We had a couple of doctor/nurse fantasy sessions that always ended up with us both having a lot of fun and although it might sound pretty gross I was fascinated to watch my partner ejaculate into me whilst my pussy was held wide open and with the help of a mirror as I orgasmed I could actually see my cervix dipping into the pool of sperm at the base of my vaginal canal. It really turned me on to see that which lead to another hot bout of fun once the Speculum was removed LOL.
I didn't really feel any discomfort when using it as I was in control unlike at the doctors when they open you up as far as they need to go. You decide how open you want to be. It stays in even whilst having lots of clitoral stimulation. I must admit though that during one session when it wasn't set very wide I orgasmed and actually managed to squeeze it out - ouch. That is not to be recommended believe me.
I found that having my partner open me up and watching his face as he was doing so, fascinated by the sight of the depths of my pussy was a huge turn on for me and I know it really turned him on a heck of a lot as well. So why not try using one with your partner present.
Performance
What can I say, it does what it is supposed to do, it's easy to insert and operate especially if you have a spare set of hands available. The light does make all the difference as you can see so much more with it on.
You can orgasm with a speculum holding you open, but hold it in whilst you do so as squeezing it out is pretty painful.
When the batteries eventually died I opened up the battery case to see if I could fit new ones but you can't as it uses those horrid watch type batteries and they are soldered in place. I guess for the price I can't complain as this is supposed to really be a disposable sex toy but it would have been nice to be able to fit new batteries.
Key Features
Key features:
Clear perspex
Internal light
Two simple controls
Great for fantasy play
Ideal for medical fetishists
Final Thoughts
Whilst the Speculum might be a huge turn off for some, it can actually be a lot of fun to use in medical fetish fun and games or simply as a way of exploring your own body. With three sizes available there is one to suit anyones fancy.
Joanne's rating
Where Can I Get One From?
I bought my IOB - Spec Speculum With Light from Uberkiny.co.uk for just £14.99 plus P&P. They have a huge range of other Speculums to choose from in both plastic and metal, they even hace a glow in the dark speculum. Check them out and don't forget to tell them that Joanne sent you xxx.
PS. If anyone from Uberkinky does read this review, I would love to review anything you have in mind - kissy, kissy, kissy.
I would love to hear what you thought of this review. What can I do better, what did you like? Let me know in the comments form below. Thank you for taking the time to read it. Joanne xx
---
If you enjoyed reading this review then check out my other reviews of Uberkinky products:
Website links:
---