Delivery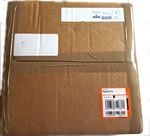 The Intro2Electro™ For Her was sent to me using a recorded delivery service and it arrived the day after its dispatch. I was given tracking details for the package.
They kit arrived very well packaged in a plain cardboard box that carried no indication whatsoever as to its contents. It's nice to see a company taking customer discretion seriously. The recorded delivery service will give customers the reassurance that the package is extremely unlikely to go missing with their details on the box with a sex toy inside.
Features
The kit is contained in its own black plastic carry case, this keeps everything clean and tidy. There is no mistaking what's inside the box though as it carries a full description of its contents on the outside, that is in no way a problem it's just something worth bearing in mind. You can't leave the box out so it will need to be hidden away with all the other sex toys.
Everything arrived sealed hygienically in shrink wrap and that even goes for the carry case, this is great as immediately you know that nothing has been tampered with by any third parties. Top marks to www.e-stim.co.uk for this as it's a pet hate of mine when a toy arrives in a box and nothing is sealed - you never know its history if that's the case.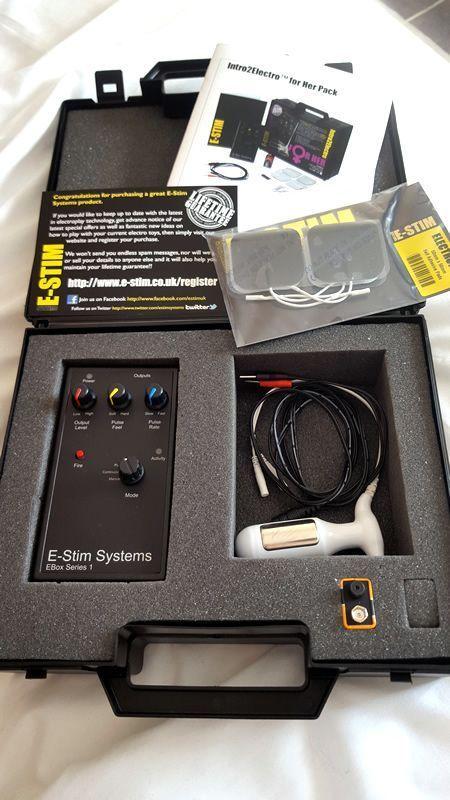 The Intro2Electro™ For Her pack comprises of the following items:
Custom black foam lined carry case.
Series 1 power box.
Connection cable for the sticky pad electrodes.
Set of four re-usable sticky pad electrodes.
9V PP3 battery.
VeriProbe bipolar insertable electrode.
Guarantee registration card (the power box comes with a lifetime guarantee).
Comprehensive instruction manual.
www.e-stim.co.uk also produce two other Intro2Electro™ packs, these are called the "For Him" and the "Ultra Pack", as its name suggests the For Him pack is for guys with the VeriProbe insert being replaced with highly conductive rubber loops for penis play. The Ultra Pack is for couples and also guys as it has the rubber loops together with a premium electrode - the Flange for vaginal or Anal play. Both of these kits look like a lot of fun.
What is it?
In a nutshell, E-Stim or electro stimulation, (also known as 'estim', 'electroplay' or 'electrosex'), is the use of electricity to provide extremely pleasurable sensations in your body. The strength of these sensations can be varied to produce unique experiences, e-stim is great for play on your own but it's even better with a partner as you can surrender yourself to them and let them tease you to orgasm.
A lot of e-stim units available are based on TENS units, these are pain relief machines that function in the same way as an e-stim however they lack the power and range of features of a true e-stim. The powerbox or control unit in the Intro2Electro™ kit is a bespoke design made in the UK and it's the only retail e-stim control box that features a "Fire" button for manual operation.
E-stim systems work by passing a current through a set of electrodes. These electrodes can either be monopole (such as the adhesive sticky pads in the kit) or bipolar (such as the Veriprobe insertable in the kit). If you are using monopole electrodes then you need two of them to form a circuit using the skin between the pads. Monopole electrodes have a cable going to each electrode. Bi-polar electrodes have both cables going to one unit that has two seperate electrodes on it, as with the veriprobe when it is inserted into your pussy or ass your tissue makes the circuit between the two electrodes.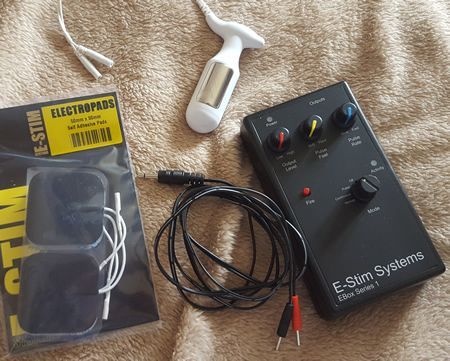 Safety
As I have already mentioned e-stim units send a current between electrodes to induce sensastions. As such E-stim.co.uk have gone to great lengths to make the activity as safe as possible. Their power boxes are all CE approved which means that they have passed rigorous safety standards and they issue relevant warnings on their site and in the instruction manual itself.
You should only use an e-stim unit below the waist line unless you have specialised equipment and training. Never place the electrodes across your chest (ie nipple to nipple) or arms as the current could in theory disrupt your hearts normal electical patterns. That said though e-stim do carry equipment to make nipple play safer if you so desire.
Read through the instructions carefully, and follow the set up and testing instructions before you insert the probe. The tingling sensation in my hand not only confirmed that it was working but gave me an idea of what to expect, or so I thought.
That's enough of the theory behind it all what's it like to use the Intro2Electro For Her kit?
Use By Hand
My first experience of electrostim was preceded by a fair amount of nerves its fair to say. After all I was about to "electrocute" or "zap" my lady bits with electricity. We are all brought up to have a healthy respect for the dangers of electricity and it is drummed into us all at a very early age to never play with electricity and up until recently the thought of applying it directly to my pussy was ludicrous. I was unsure how this could possibly give all the sensations that the manufacturers claimed. Boy was I in for a wonderful shock (no pun intended LOL).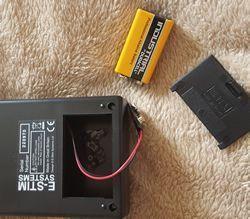 I absolutely love sex toys that arrive with everything you need, in this case even the battery in the box had a safety cover over one terminal which was a really nice touch. I needed a nail file to help me open the battery cover and once open it was easy to fit the 9V battery and then to clip it closed again.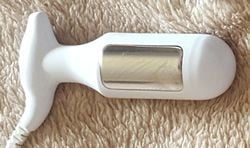 I was tempted to start off with the pads but decided to throw caution to the wind and to go for gold so I opted for the veriprobe to see exactly what everyone was raving about.
The veriprobe features two very smooth stainless steel electrodes one on each side of a plastic body. It is shaped like a butt plug with a wide base to stop it going in too far. It is safe to use vaginally and also anally.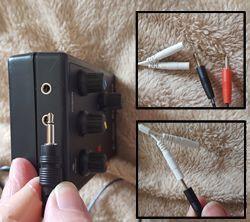 I attached the very small plugs to the cables coming out of the Veriprobe and the I plugged the other end of the cable into the powerbox after checking it was off and all of its settings were set to low.
It's recommended to use a water based lube with insertable electrodes and whilst I was excited I wasn't as wet as I usually am prior to reviewing something and this was probably down to nerves so I lubricated myself and the veriprobe with some Sliquid H2O lube and slid it home. It slid in very easilly and was a really nice fit indeed.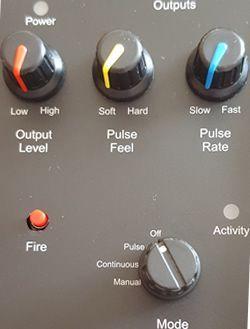 The controls are covered in detail in the excellent manual and they are so simple that even I took to them in no time at all. As well as a power light there is an activity lamp which illuminates when the power box turns on the current. It has three modes of operation and these are Pulse - where the current is switched on and off, Continuous which as its name suggest supplies a continuous current and manual control. In manual control you use the red Fire button to switch on the current. This mode is ideal for BDSM or tie tease play as your partner can literally drive you wild randomly firing the machine.
The three main controls allow you to vary the power of the machine, alter the feel of the electrical pulses from what I can only describe as the feeling of butterfly wings on your skin to feelings far too strong for me LOL. The third control allows you to set the speed of the pulses in pulse mode. All three controls can be used whilst playing and they allow for some amazing sensations.
I worked the controls slowly and carefully and was really surprised at just how many different sensations it provided. It really does range from a small tickle to a really good pounding, the choice is totally yours.
Using the Veriprobe on the pulse setting I actually had the machine simulating penetration. I could honestly say that it felt like the probe was moving in and out of me as my muscles interacted with the electrical current. It was a mind-blowing sensation and the beauty of this kit is it leaves your hands free to play.
I also found that after orgasm and after I had removed the Veriprobe insert it still felt like it was inside me moving around, a rather kinky and very enjoyable experience.
The other beauty of this machine is it is completely silent, so it can be used even if the mother in law or kids are next door. Of course that doesn't mean that you will be as quiet.
My first session was amazing and since then I have used it a number of times and each time I have brought myself to powerful orgasms very quickly, the range of settings is mindblowing.
Now a word on the self adhesive pads, they don't like hairy areas for obvious reasons but as I am often shaved it wasn't a problem for me and using the e-stim with the pads is an entirely different sensation altogether. I will have to get myself a second lead so that I can use the pads in conjunction with the insert.
Fucking Machine Friendliness
I have now used it a couple of times in conjunction with my F-Machine fucking machine and with the pads placed on your vulva you can really have some kinky fun with the e-stim in conjunction with the dildo moving in and out. As your muscles tense up it heightens the sensations from the dildo so its a win-win situation. I strongly recommend e-stim and fucking machine play but make sure that you use loads of lube.
I haven't been brave enough to try the Veriprobe anally (yet) but when I do you can bet that I will be doing so in conjunction with the Fucking Machine.
Performance
I can't fault the kit on its performance, the veriprobe insert is a hell of a lot of fun and feels amazing in use. As it can also be used anally it definitely opens up all sorts of play options. The range of settings goes form tickling to pins and needles all the way to OMG.
It's a safe to use and being battery powered is easy to move around and you could even play with it outdoors. Anyone for electro-dogging LOL.
I will also be reviewing the Flange™ Insert from the premium range of inserts (it comes as standard in the Intro2Electro™ Ultra Pack) and I would love to review the conductive rubber electrodes that come in the "For Men" kit. I will have to enlist the aid of a stunt-cock for that review I think LOL.
Key Features
Key features:
Complete kit with everything you need to get started
Lifetime guarantee on the power box
Totally quiet in operation
Easy controls and modes of operation
Having the pads and an insert allow you to experiment
Made in the UK
Nice tidy carry case to conceal it all
Final Thoughts
If I had to sum up the Intro2Electo kit in one word it would be "Mindblowing" it is the first sex toy that I have used with the range of sensations that it can give and I am still finding out more ways to enjoy it. I would strongly recommend the kit to any first timers looking to explore the murky world of e-stim and it will even entertain a hardened e-stimmer no doubt. As a complete novice I found it easy to use, incredibly enjoyable and it has left me wanting more so that can't be bad. The only thing that I would change with the kit would be to have two cables for simultaneous insert and pad play.
Oh and all of my nerves and fears were unfounded. If you haven't tried the world of e-stim then dip your toes and then jump right in.
Where Can I Get One From?
Website links:
From their humble beginnings in a garage back in 2004 E-Stim Systems has grown and grown with an army of loyal customers. They manufacture their own goods and that gives them total control of their range of equipment, they even offer a lifetime guarantee (how's that for confidence).
Check out their great range of Intro2Electro™ Packs, E-Stim Systems and the Flange™ electrode.
Check them out and don't forget to tell them that Joanne says "Hi".
---
If you enjoyed reading this review then check out my other reviews of E-Stim Systems products:
CONTROL BOXES
PUSSY & ASS ELECTRODES
PENIS/BALL PLAY
OTHER
Website links:
---