Delivery & Packaging
Every toy that I have purchased from SexShop365.co.uk has been well packaged in very discrete packaging so no worries there. I don't have a picture of the packaging as three years ago I wasn't in the business of recording how my sex toys arrived (my bad I guess). The dildo came with a velvet style pouch to keep the toy in. This is a nice touch as this dildo really looks special and deserves its own little space in my toybox.
Features
This is a glass toy made by Phallix out of toughened glass. It is clear and features a blue spiral band that wraps itself around the shaft. This band causing intense stimulation in use and really does extenuate its looks. It has a wonderfully smooth feel, that is offset by the raised spiral around the shaft giving great extra sensations.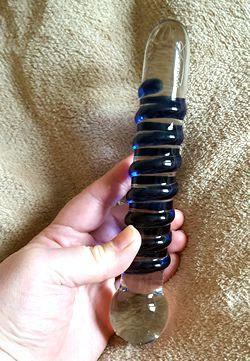 Beautifully made and great quality in looks, texture and finish. The navy blue spiral makes the toy stand out wonderfully, and adds just the right amount of colour. Glass dildos look like works of art and this one is an ideal starter toy before expanding your collection.
With the one end that is tapered and the other which is knobbed you can choose which way around you want to use the toy, which again adds to the beauty of this dildo and increases its functionality.
It is 7 inches (17.8cm) long and an inch (2.5cm) wide.
Being made out of toughened glass it can take a few knocks safely but you should respect it for what it is and look after it. An added bonus is that you can safely use any lube with glass dildos, but believe me when I say that you'll not be needing to use much as glass gets very slick in use.
Fucking Machine Friendliness
You can only use this dildo on a Fucking Machine with an adaptor with a soft mount system like the one I got from www.fmachinefun.co.uk
Use on a fucking machine can give some amazing sensations and its smooth surface means that you will require little if any lube. It's a lot of fun on an F-Machine Pro.
Great when used with the adaptor, even at very high speeds. It glides in and out smoothly, with the raised ridged shaft giving extra sensations adding to the pleasure of being fucked by a relentless machine.
Use By Hand
Very easy and comfortable to use by hand, I find it easiest to hold onto the knob end of the dildo in use, but turn it around for some girthier fun. One great feature of glass toys is that they can be heated in warm water if you don't like the cold feel when you first start using this toy. Alternatively you can chill the toy if you fancy some cold play. The beautiful thing with a glass toy is not only is it very easy to clean, simply use warm soapy water but it doesn't need much lube to keep it gliding.
The spiral shaft feels sublime in use and I like to run it over my clitoris for some direct stimulation when I am nearing orgasm.
The only downside is that it can get pretty slippery if you get lube on your fingers.
Summary
Pros:
Ideal for sensitive skin
Easy to clean
Either end can be used
Easy to warm up or cool down
Cons:
Rigid
Cold to begin with, but you can warm it with warm water.
Final Thoughts
I love the sensations this toy gives as it glides smoothly, with the ridges causing extra sensations and stimulation that really make the toy great to use.
It is ideal for anyone wanting to try glass sex toys but probably not ideal if you do not like hard dildos.
The Glass Navy Blue Spiral Wrapping Dildo costs just £66.50 from SexShop365.co.uk
Where Can I Get One From?
These guys have a great selection of adult sex toys and carry a large selection of Glass Toys.
I have seen their range of products grow over many years of shopping with them and would highly recommend their services.
Check them out and don't forget to tell them that Joanne says "Hi".