Delivery
The Fleshlight arrived the day after I ordered it which was amazing service, the box reassuringly had no indication as to its contents and the Fleshlight was well wrapped in bubble wrap when I opened up the box.
Features
The Fleshlight is an ingenious idea at a way of concealing a male masturbator as the plastic case does look like a "very large flashlight", they must have some huge ones over in the US. As part of my research into the Fleshlight brand I watched a very interesting video on youtube about the inventor of the Fleshlight and it was interesting to hear the logic behind the design. The video below is that documentary and it's worth a watch:
The Fleshlight comes in a very nice retail box that shows the inner texture together with basic information. The description on the box reads: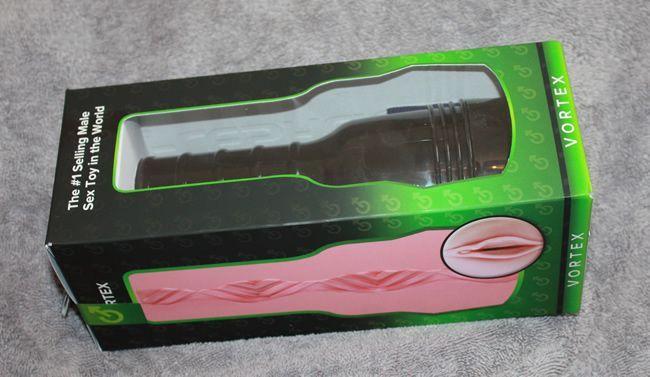 "The Vortex combines variance in canal diameter with innovative texturing. Feel yourself pass through each of the four spiraled chambers on your way to hours of mesmerizing pleasure"
The contents of the box are: The pink lady vortex fleshlight insert inside a black plastic fleshlight case, it also comes with a trial sachet of fleshlights own brand of waterbased lube.
The Fleshlight insert is manufactured out of Superskin, which is a body-safe, non-toxic material that is phthalate free. Inserts are available in a range of colours, textures and orifices. The lady vortex features a pussy entrance complete with a little clitoris and inner labia (pussy lips) that are fun to play with.
The Fleshlight case is approximately 10 inches (254 mm) in length and 4 inches (102mm) in diameter at the thicker end and 2.5 inches (63mm) at the smaller end. Other cases are available separately in black, blue, pearl, silver, white and clear
When your Fleshlight arrives it has a hard tube inside it which needs to be removed prior to use. This is simply pulled out and either saved for use again if you put the Fleshlight into long term storage or just discard it.
The Superskin insert is very soft and flexible and when lubed up it feels very lifelike indeed. You can even get a warmer to raise the inner texture of your Fleshlight to that of a real vagina to improve its feeling even more. Even without this warmer the insert heats up very quickly as you use it.
The canal inside the vortex has four wider sections and features a winding vortex texture that varies from 0.25-0.75 inch (10-19mm), this gives different sensations as the glans of the penis pushes through from one section to the next through these restrictions.
The case features a screw on lid and a screw on cap for the base. The base cap is used to allow air to be expelled from the Fleshlight to cause a very pleasurable suction effect on the back stroke.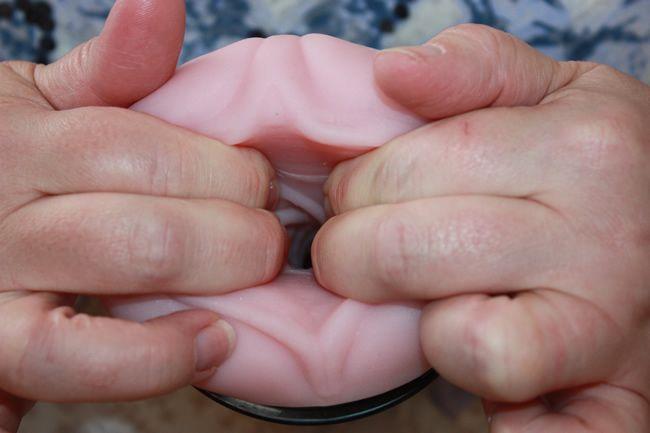 Use By Hand
This is where I had to enlist the help of my Stunt Cock and I must say he enjoyed himself. The Fleshlight allows you to control the pace of the fun. Simply apply some waterbased lube to both the fleshlights orifice and the penis before pushing the penis into it.
As you slide into it you buildup quite a bit of air pressure as it cannot escape from inside the fleshlight, the answer is to undo the end cap and you will actually hear the air rush out. If you then tighten the cap up again you can get a really nice suction effect as you draw your penis out again (make sure you don't come all the way out as you will have to release the air again if you do). This suction effect is actually quite powerful and I managed to get the fleshlight to easily hold a dildo in it when held up vertically after letting the air escape first.
If you find the suction too intense just let a bit or air back in again or leave the end cap open.
It is very easy to build up a good rhythm with the fleshlight by sliding it up and down your shaft by hand or you can always wedge the fleshlight between your mattress and the bed giving you the opportunity to thrust into it hard and fast.
You can get suction cup holders for your fleshlight to allow you to secure it to a wall in the shower for some kinky shower time fuckery. Other optional attachments are the V-Stroker which varies the suction for you simulating a blowjob. You can just slip a bullet vibe into the inner end of the insert to give a kinky vibration effect to you cock. You basically have lots of options with a Fleshlight and it almost has me jealous that I can't actually use one myself.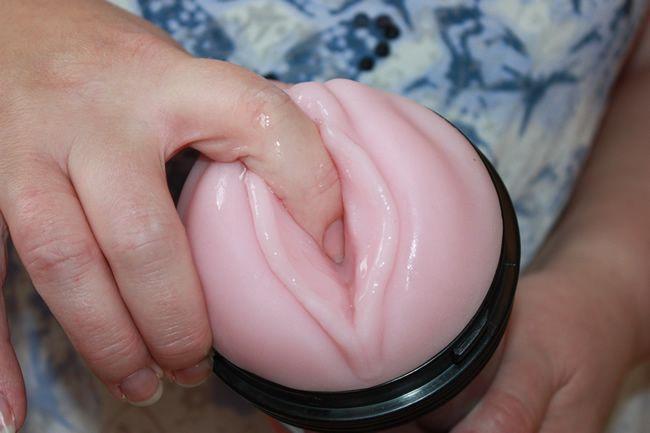 I got very turned on using it on my Stunt Cock and found that even for couples it is a great sex toy. Throw in a little light tie tease fun and a blindfold and you have some really naughty fun. Try a 69 with your partner whilst using it on him to give him the perfect threesome simulation.
I loved seeing my partner orgasm into the Fleshlight and even ended up playing with it as his cum dribbled out of it after he pulled out. Again it is something that can bring a lot of fun to couples as well as singles.
This video was filmed with a Svakom Siime Eye Camera Vibrator kindly supplied by the really nice people over at Sexcite.
Cleaning
Hygiene is very important, especially with a sex toy that is basically sealed when not in use. You need to clean the fleshlight after using it and make sure that it is totally dry afterwards before you close it up for storage.
To clean, simply remove the cap and the base end cap then pull the insert from the case. Wash the insert out using warm soapy water and a sex toy cleaner before letting it drain and then dry. The insert is really stretchy so its is easy to get your fingers inside it to clean it properly. Clean the caps and body in the same way. Once dry coat the insert with a dusting of Fleshlight Renew Powder to keep it soft and fresh. This powder is I believe basically corn starch. You should then place the insert back into the case carefully, ensuring that it is inserted fully. Refit the end caps and it is ready to be put away until the urge hits you to use it again.
Fucking Machine Friendliness
Fitting a Fleshlight to a fucking machine really takes things to the next level. You have a number of options one being the Rocky which is manufactured by the makers of the F-Machine Pro or another adaptor is available to mount the fleshlight on the end of a fucking machines thrust rod.
I really enjoyed using my F-Machine and Rocky on my stunt cock and it brought him off incredibly quickly. Having your cock basically milked at four thrusts a second will do that I suppose.
If you use a fleshlight on a fucking machine like any other attachment, make sure that you use plenty of lube so that friction isn't a problem
Performance
I was surprised at how quickly I managed to get my stunt cock off every time I used the fleshlight. I suppose that you could put that down to the fact that it is a new sensation and that I was doing the work but even when my stunt cock used it on his own he was able to easily get off with it. In the words of my stunt cock:
The inner texture feels incredible as you thrust into it and finally cumming into the toy was an absolute dream. Yes it is a bit of hassle to clean afterwards but believe me it is so much better than using a catch sock.
Wise words indeed, I don't know how I can put it any better than that LOL.
Key Features
Key features:
Discreet
Excellent inner texture
Relatively easy to clean
Body safe material
Final Thoughts
This is the first male masturbator that I have had any experience with and I must say that it surprised me a lot, it was a lot of fun to use on my partner and he obviously got a lot of pleasure out of it as did I. It can be used alone but it is also a lot of fun to use with someone else allowing all sorts of other fun activities your imagination can invent. I can see a Fleshlight being great for someone on his own or for someone with a higher sex drive than their partner. It can also be used to increase stamina and performance. I am definitely going to explore the rest of the fleshlight range now and want to try one of their new dildos as well.
I bought my Fleshlight Pink Lady Vortex from bondara.co.uk for just £49.99
Joanne's rating
Where Can You Get It From
Bondara have a huge range of sex toys available and have a great reputation for customer service.
Check them out and don't forget to tell them that Joanne says "Hi".