Delivery
I was kept fully informed by the guys over at sexcite.co.uk as to the status of the delivery and when it arrived it was well packaged in discreet packaging. It carried no indication as to the contents of the box on its exterior which is to be expected when receiving a delivery from an adult products supplier.
It was dispatched on a 24 hour service which meant that I didn't have to wait long to receive it.
Features
The Fleshlight is without a doubt the most popular range of male masturbators around and it is easy to see why. They have dominated the market place since their initial creation in 1995. There is a very interesting video about the history of the Fleshlight range on my Vortex Review that is well worth checking out.
The Alien Fleshlight comes in a nice retail packaging box that has some useful tips on the back together with a cut away image showing the inner texture of this masturbator.
The box contains the Fleshlight itself together with a small brochure detailing other masturbators in the range along with use and cleaning advice. There is also a trial sachet of Fleshlights own brand of water based lube. You should only ever use a water based lube with the Superskin material used in the Fleshlight liner as oil or silicone lubes can damage it.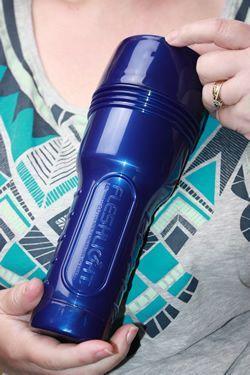 The body of the Fleshlight is a deep blue and it is the same size as the rest of the range of cases. It is approximately 10 inches (254 mm) in length and 4 inches (102mm) in diameter at the widest end which then goes down to 2.5 inches (63mm) at the smaller end.
Prior to first use you will need to remove the plastic spacer tube wchich is inside the insert. Simply pull it out and discard it. If you plan on storing the fleshlight for long periods of time between uses you may want to keep the spacer tube so that you can fit it again prior to putting it into storage.
The Insert is a striking blue colour that reminds me of the skin tone of the Navi in the Avatar film and that put a smile on my face. The Superskin blend used in this insert is more tacky than that used in the Vortex that I reviewed and it feels slightly softer. You really do need to use the Fleshlight Renew Powder or some corn starch as after washing it is very sticky indeed, bordering on difficult to put back into the case.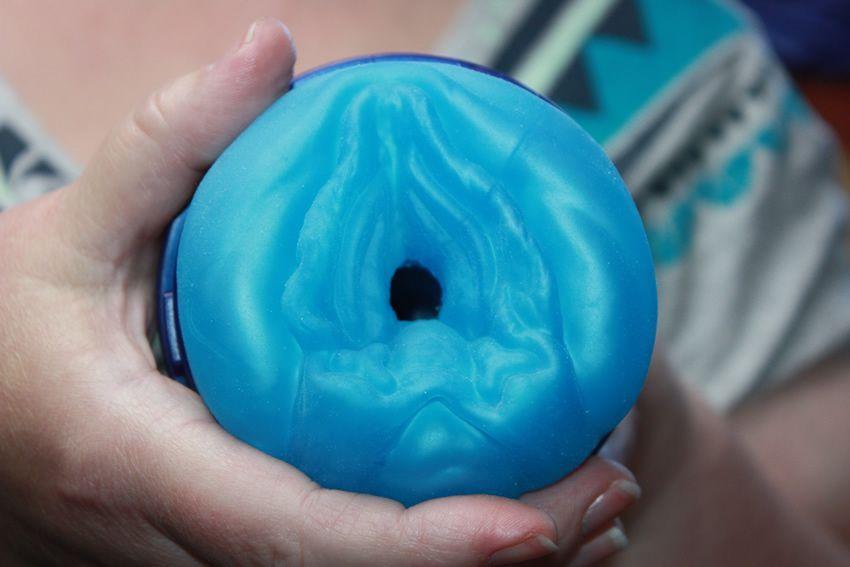 Superskin is a very lifelike material that is Phthalate free, body safe and non toxic. I really liked just playing with the material and fingering the opening as it just feels so nice. Add some lube and it really does feel good.
The inner texture of the Alien Fleshlight is pretty intense. From the entrance there are spiralling grooves that feed your cock to a lotus node that is really rather tight and a lot of fun to push through. The texture from there on in consists of stimulating bumps which is the same texture that is used in the Stamina Training Unit. I have it on good authority (my stunt cock) that the best bit is definitely the lotus node.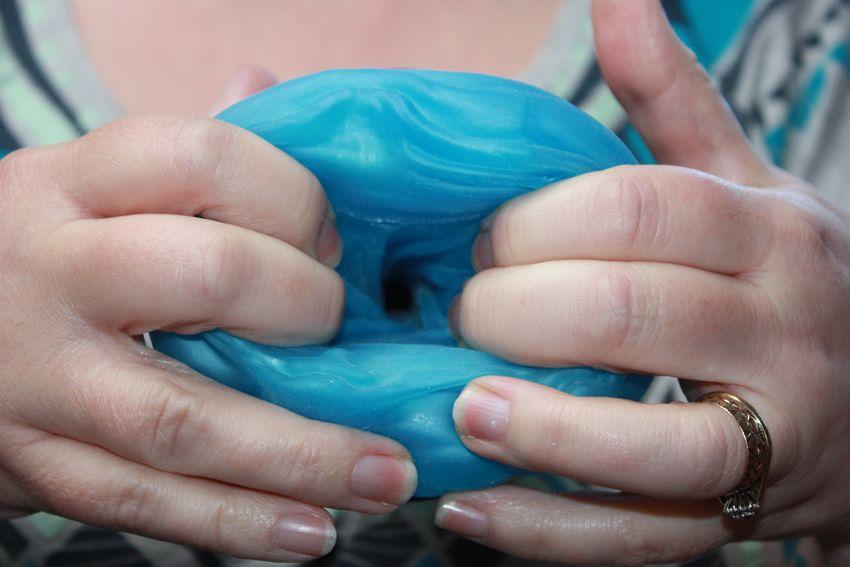 The case has two screw on caps, the one on the base controls the suction when you withdraw your penis and the second is the large lid that covers the business end of the toy. Both are moulded out of the same blue plastic as the case.
Video Information
I have made a short video highlighting some of the features of the Alien Fleshlight. Be gentle it is my first attempt at a video demonstration and it was fun describing it in my own words. If you enjoyed it then please let me know in the comments form at the bottom of this review and I will do more of them.
Use By Hand
I enlisted the help of my Stunt Cock with this part of the review and after applying some water based lube to both his cock and the entrance to the Fleshlight it was on with the fun.
The first time we used it together I controlled the fun and I slid him fully into it with the base cap on the Fleshlight open to let the air escape. Once he was fully inside I closed it tightly and started up a long slow action with it. I could actually feel when the tip of his cock met the lotus node as you have to push a bit harder to allow it to stretch open.
I enjoyed constantly quizzing my stunt cock to find out what felt best, whether it was better slow or fast or varied. Needless to say we both enjoyed it and it didn't take him long before he emptied himself into it.
I have mild arthritis in both of my wrists but I had no problem holding onto the Fleshlight and using it on my stunt cock.
He definitely enjoyed the lotus node the best and that is hardly surprising as it is really tight,.
The Fleshlight was designed with guys using it alone in mind and it can be a lot of fun when used this way as well. You can get a lot of add ons for your Fleshlight such as vibrating bullets, a warmer, shower suction mounts the list goes on and on. Needless to say you can experiment with using it, you don't have to just use it by hand. Try wedging it between your mattress and bed to allow you to thrust into it or wedge it between the seat cushions on a couch. You can really use your imagination and let yourself go with it.
Don't be shy about using it with your partner as it can really add a new dimension to your love making and it can allow you to act out some fantasies. Throw in a little tie tease or BDSM and it is great for forced orgasm or orgasm denial fun.
I get very turned on using it on my stunt cock or watching him using it and love seeing him cum into it, I often like to play with his spunk as it runs out after he has pulled his cock from it.
Cleaning
The Fleshlight is really easy to clean, simply pull the insert out of the case and wash it out thoroughly with warm water and a sex toy cleaner such as the Fleshlight branded one. Clean the case and caps in the same way.
Make sure that it is fully dry before putting it back together again as you do not want to trap any moisture inside when you refit the cap as it could allow bacteria or mould to grow and that would not be good.
Once the insert is dry you will notice that it is very sticky and you can use Fleshlight Renew Powder or some ordinary Corn Starch to dust the surfaces down to make it as good as new. This stickiness is entirely normal with this material and the powder addresses it completely.
Hygiene is very important and I cannot stress enough the importance of cleaning the Fleshlightout after use and allowing it to completely dry out before puttin it away again until next time.
Fucking Machine Friendliness
I use the Alien Fleshlight on my stunt cock using our Shockspot Fucking Machine and trust me he didn't last very long at all, it was very intense. You will need a Fleshlight adaptor to fit one onto your fucking machine and then be prepared to enjoy yourself. The good thing about the Shockspot is I managed to set it up to just move the lotus node back and forth over the head of his cock very quickly indeed and it was fun watching him when I did this.
If you are using a fucking machine with your Fleshlight then make sure that you use copious amounts of lube to really get the most out of your session.
Performance
I found that the Alien Fleshlight was a very good male masturbator, my stunt cock loves using it and he has done so several times now even after we have finished reviewing it, so that must count for something. I asked him to pen a few words about it and so without further ado here are the thoughts of my stunt cock:
I enjoyed the Vortex but this one is even better. I can't get enough of the lotus node and really enjoy concentrating on that section of the insert. It is very tight and feels amazing as you cock pushes through it. I am of average length and it was perfectly positioned for me someone smaller than maybe five inches may struggle to reach it though. I admit that the alien orifice was a bit weird but it was a lot of fun none the less. Will I use it again - erm that would be a strong yes form me.
A man of few words but he did enjoy it I guess.
Using it as a couple was also a lot of fun and I enjoyed teasing him with it.
Key Features
Key features:
Discreet
Excellent inner texture
Relatively easy to clean
Body safe material
Great for fantasy play
Final Thoughts
This is a great fantasy male masturbator and it is a lot of fun to use on your own or with a partner. Just remember to get yourself some of the FLeshlight Renew Powder or corn starch though to counter the sticky nature of the material once it has been cleaned. I can see the advantage of using it to increase your own stamina and performance. Check out the rest of the FLeshlight Freaks range or the standard inserts. There is a dizzying array of insert inner styles to choose from as well as anatomically correct entrances to suit everyones tastes. If you have a high sex drive or you are between partners then grab one to add a bit of fun to your masturbation sessions, if you have a partner then get one to enjoy together - it can be a lot of fun. I really want to try one of the Fleshlight dildos now.
Joanne's rating
Where Can I Get One From?
This Alien Fleshlight was supplied by sexcite.co.uk in exchange for an honest review. You can get one from them for just £57.99
UPDATE 21/04/18: It appears that sexcite.co.uk have ceased trading and so links in this review now point to the official Fleshlight website.
This review contains affiliate links. If you clear your cookies, then click through one of my affiliate links before making a purchase, I'll make a small commission at no extra cost to you. This money will be used to run this blog and of course buy me new sex toys to review. Many Thanks!
I would love to hear what you thought of this review. What can I do better, what did you like? Let me know in the comments form below. Thank you for taking the time to read this review. Joanne xx