Delivery
The dildos arrival was a nice surprise, Sex Toys UK sent me it together with four other sex items to review. SEE THIS POST. They arrived in a plain white cardboard box that carried no indication whatsoever as to its contents. You can always trust deliveries from Sex Toys UK to arrive like this as it is a very discreet service.
Features
This dildo is made out of a PVC derivative called Sil-A-Gel which is claimed to be Anti-Bacterial and Phthalate free, I have never had any issues with this material and it features in a lot of my sex toys, if you are not sure about it you could always use a condom with it.
The toy has a nice feel to it and it's a great size. You can squeeze it and there is a bit of give and you can bend it easily. It features a hole in its flat base for a Vac-u-lock attachment so you can use it with a strap-on harness or as I do - fit it to a sex machine.
The detail on it is stunning and you can tell that it has been made from a mould taken of a very nice cock indeed.
The cock is a circumcised one which is common of most dildos and the head of the cock features a well defined ridge that you can really feel as you slide it in. I enjoyed the feeling of just moving it back and forth with that ridge exciting the opening to my pussy.
This dildo measures in at 8"(20.5cm) long and it has a girth of 1.9"(5cm) making it a great toy for most women and of course for anyone adventurous enough to try it for anal play. I would recommend a water based or silicone hybrid type of lube with these toys as they work very well with this material.
Fitting this dildo to a Fucking Machine or strap on will cause it to droop a little under its own weight but that isn't a problem especially if you campare to droop to that of the Jeff Stryker.
As I always do I washed this toy before use, make sure you always wash new toys and definitely ensure that you wash off all the soap as it can be an irritant to your lady bits.
Use By Hand
This is a nice sized dildo and easy to use, it fills you up nicely but isn't too heavy so as to be a problem then used by hand. I found it easiest to grab it by the balls (any guys reading this who are cringing after reading that - sorry) as that allowed me to take all of its length at the same time as being able to move it in and out easilly.
Fucking Machine Friendliness
This toy is ideal for use on the F-Machine Pro.
I noticed no reduction in its maximum speed which means for very high speed action with this sex toy.
The vac-u-lock system held it in place no trouble at all. It still amazes me as to how effective a mounting system it is.
Top Tip, use a little talcum powder, corn starch or the Vac-u-lock own brand powder in the hole for the adaptor to make it easier to remove the dildo later.
Performance
This is a great dildo for use with a machine and I use a little water based lube before inserting it and start off slowly. I love the feeling of its texture and the balls are an added bonus as they slap against you as the machine does its job.
Its texture, especialy the head allows for a lot of vaginal wall stimulation, that may not be everyones cup of tea but it works for me. I found that my lips clung to it nicely so that my clit got a lot of stimulation as it move in and out of me. It is great for long slow masturbation sessions as well as hard and fast rides.
As I have already mentioned I would rcommend a little lube at first unless you are really ready for it, in which case just go for it. This is a nice toy that will fill you up and the texture allows some great stimulation as you move it.
I use this toy on and off the machine, it's a great all rounder and I would highly recommend it to anyone wanting a nicely filling fun sex toy.
Key Features
Key features:
8 full inches
Nicely detailed
Use with any Vac-U-Loc Set or Accessory
Made in America
It's got balls
Final Thoughts
This Dildo has both the length, texture and looks to really get my juices flowing. It's modelled from a real cock and the detail is superb, I particularly like the well definded head that feels great as it 'pops' past your vaginal opening. The balls give something for you to hold onto and squeeze, they feel amazing banging against you if you use it on a Fucking Machine.
Where Can I Get One From?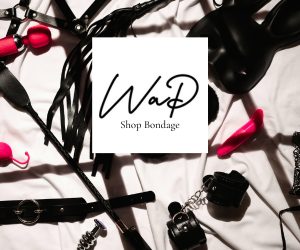 I bought my first ever vibrator from these guys and I have always gone back to them time and time again as they provide great service and some amazing special offers. They also have a huge range of sex toys.
Check out their great range of Rabbit Vibrators, Dildos and Male Masturbators.
I have watched their fetish lines of products grow and grow over the years and you should definitely check out their Fetish & Bondage Kits. The other thing that I am experimenting with at the moment is Electo Sex and they have some great products in that category.
Check them out and don't forget to tell them that Joanne says "Hi".