Delivery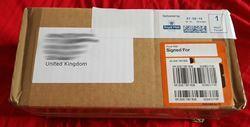 I bought my Deviant™ Electrode through the e-stim.co.uk webshop and found the shopping and checkout system very easy to use.
The electrode arrived very quickly and was delivered well packaged in a plain brown cardboard box with absolutely no indication of its contents, so if you have nosey neighbours you needn't worry about the postie leaving it with them if you are out.
Features
I chose the Deviant™ Electrode because of its texture, I have to admit that I am a bit of a texture queen when it comes to things I enjoy sliding into my lady bits and this is perfect for me.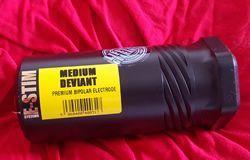 E-Stim Systems manufacture their electrodes in house and that way they can be fully in control of the quality of their wares and I must say that the finish on this electrode just like on the Flange™.
It arrived in another black twist to open container and I absolutely love these, they are ideal storage cases and have a very industrial feel to them. It is clearly labeled and I had opted for the Medium which looking at the specs would be the perfect fit for me. The container also carries a sticker pointing out the great lifetime guarantee that all products from e-stim systems carry.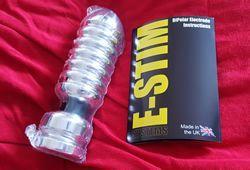 Inside the container you will find the instructions and the electrode itself which is nicely sealed in heat shrink wrapping so you know that it hasn't been tampered with in any way.
I like the way that E-Stim Systems wrap their products, I have received too many toys that are just inside a cardboard box and you never know if anyone has tampered with it or god forbid used the toy you are about to play with. E-Stim Systems electrodes are all well sealed and so you can put thoughts like that right out of your mind. Such a small detail but it means a lot of lots of people out there.
Well here we get to the bit that matters - the electrode itself. The Deviant™ Electrode is machined out of aircraft grade aluminium and is highly polished. It features a smoothly double tapered tip to aid insertion and along its flanks are grooves that are the exclusive Ripplehead™ technology. This makes six well defined ridges to stimulate you upon penetration of if you move the electrode inside you. A black plastic collar separates both poles of the electrode, this reduction in diameter aids retention once inserted and this insert is great for both female and male play.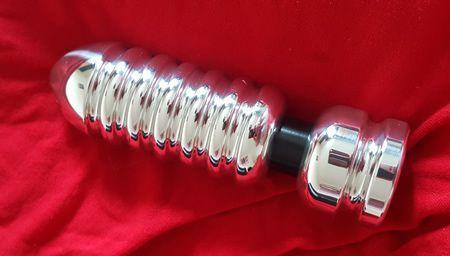 The ridges create a lot of surface area on the electrode which is exactly what you need in an electrode and it means that it is very effective in use. The Medium is 12.8cm (5") long and 38mm (1.5") in diameter and it weighs 269g which means you can easily use this electrode for PC muscle training. The base has two 4mm sockets in it for the cables to your power box.
Cleaning is very easy and the electrode can be stripped down to make this easier. Just use soap and hot water to clean it, you can also use medical antiseptic wipes but for a deep clean it would be best to strip it down. Any loses or breakages aren't a problem as spares are available.
Use By Hand
You can't tell this but I have a huge grin on my face whist I am typing this as I have just finished another session with it. I loved the Veriprobe that came with my Intro2Electro Fro Her kit and the Flange was amazing so I had high expectations for this electrode.
If you need to use lube then make sure it is water based, I didn't need any as my body was very ready to take on the Deviant™. The smooth double curved tip makes insertion very easy, all I had to do was ensure both my inner and outer pussy lips were wet and it just smoothly parted them as I pressed it home. The best feature of this electrode is its ridges. As each one slid into me I let out a small gasp, the ridges on this toy are incredible and I almost came just from sliding it home.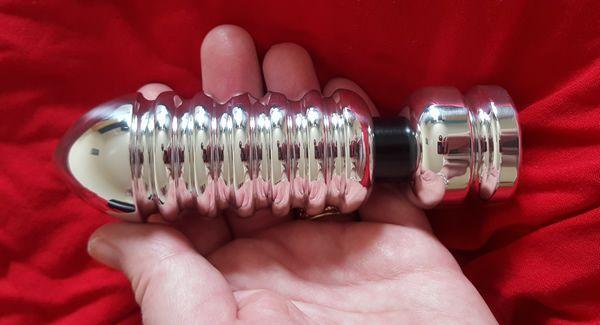 Once it's deep inside you the base presses directly onto your clitoris and it has a wide area of contact so the feelings with it are very intense.
When you switch the power box on the sensations are widely spread out due of the large area of contact. I started off very lightly enjoying the tingling sensations it induced before slowly turning up the power until I can honestly say it felt like I was on the receiving end of a good hard shafting. I like to use low profile connectors and with these I can clamp my legs shut with the electrode inside me doing all the work as I concentrate on my nipples and breasts. Orgasms come quick and fast with the Deviant™ and I love it.
The medium is a bit wide for me to enjoy it anally but check out the sizes on the E-Stim Systems website to find the one that suits you. The medium is absolutely perfect for me to enjoy some serious e-stim pussy play though. I actually quite like just using it as a dildo and fucking myself with it, the ridges are very effective.
Fucking Machine Friendliness
I haven't used the Deviant™ anally in conjunction with my F-Machine fucking machine as it's a bit wide for that. However it would feel very similar to the Flange™. I am very tempted to try taking the fucking machine vaginally with a thin dildo whilst I have the Deviant™ inside my pussy as well for a bit of double vaginal penetration - now there's a thought.
Top tip, if you enjoy e-stim fun then you will love fucking machine fun and games as well.
Performance
The Deviant™ performed perfectly which is sad for my Flange™ electrode as that will probably be spending a lot of time in its storage box now LOL. This is a stunning electrode, it's well made, top quality and it performs incredibly well. It has a lifetime guarantee but it's so well made I doubt anyone will ever need to use it.
Key Features
Key features:
Quality construction
Bi-Polar Electrodes
Good for vaginal and anal use
Lifetime guarantee
Easy to clean
Excellent texture
Made in the UK
Final Thoughts
The Deviant™ is a great addition to anyone collection, it you love texture and girth then you will love this. Check out the full range as there is something for everyone from beginners to size queens. I would recommend this to anyone whether they are a beginner or advanced e-stimmer.
This insertable electrode is perfect for anyone wanting stronger sensations and good texture for their e-stim unit.
I bought my Deviant™ electrode by e-stim.co.uk and I hope that you have enjoyed this review.
Joanne's rating
Where Can I Get One From?
The Deviant™ electrode is sold as part of the Premium Range for £79.
Website links:
From their humble beginnings in a garage back in 2004 E-Stim Systems has grown and grown with an army of loyal customers. They manufacture their own goods and that gives them total control of their range of equipment, they even offer a lifetime guarantee (how's that for confidence).
Check out their great range of Intro2Electro™ Packs, E-Stim Systems and the Flange™ electrode.
Check them out and don't forget to tell them that Joanne says "Hi".
---
If you enjoyed reading this review then check out my other reviews of E-Stim Systems products:
CONTROL BOXES
PUSSY & ASS ELECTRODES
PENIS/BALL PLAY
OTHER
Website links:
---