Delivery
I bought my conductive rubber cock loops from e-stim.co.uk and yet again the delivery was swift and totally discreet (as always) as you can see from this picture.
I placed my order very late on Friday evening and it arrived on the following Tuesday. This means it was efficiently dispatched, first thing on Monday morning on a 24 hour service - which is great.
Features
The kit from e-stim.co.uk consists of a pair of conductive rubber cock loops and they come in two sizes 2mm and 4mm. Depending on which cables and plugs you have, just choose the size that will fit your e-stim set up. I opted for the 4mm as I had the required cables and I decided that wider loops means more physical contact area and that's a good thing on an electrode.
They can be bought either seperately or as part of an Intro2Electro™ Pack.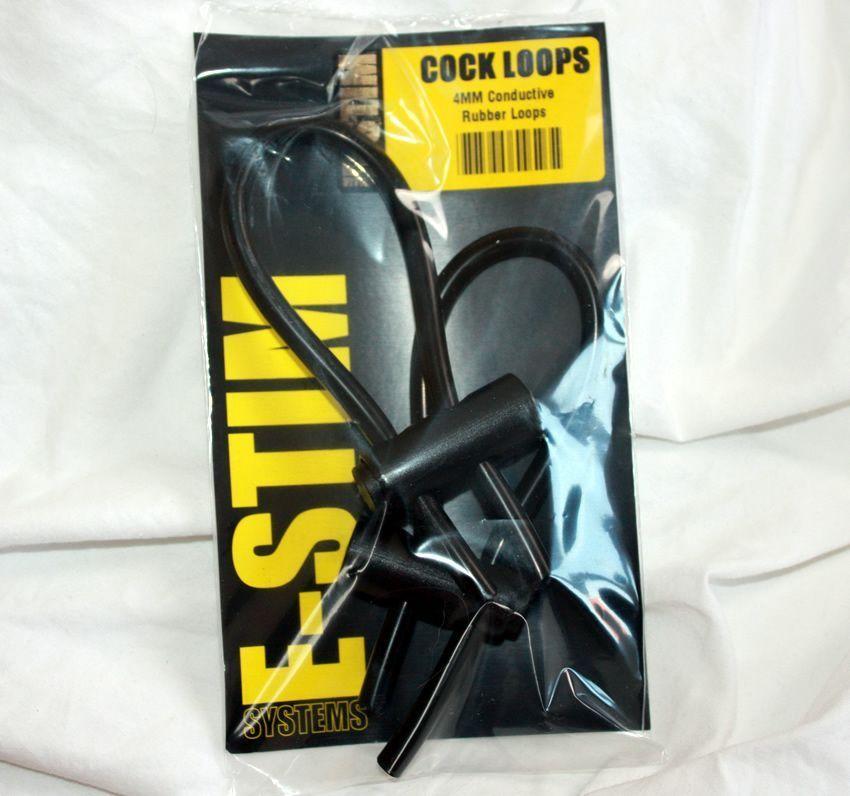 The loops are very flexible and have a sprung loaded clamp on them that allows you to quickly alter the diameter of the loop. Be careful not to catch pubes or heaven forbid cock flesh in the clamp as you adjust it for obvious reasons. I found it very easy to adjust the loops to fit various sizes of dildo as well as my stunt cock.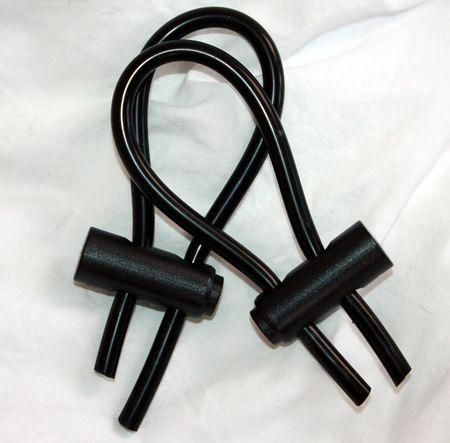 Each loop is a monopole electrode and so you need to use them both on a cock. Simply insert your cables plug into one end of the loops and attach the other cable to the other loop. Make sure that you don't fit both cables to one loop and that both loops don't come into contact with each other in use, if you do they won't work.
The kit comes with a good set of instructions that you should definitely read as it covers some good safety points. Such as always switching your control box off before connecting or disconnecting electrodes or starting to use them. Also always set your controls to minimum before switching your unit on, otherwise you may find yourself up on your ceiling with your finger and toe nails dug into the plaster board.
If you find that the loops move during use then e-stim.co.uk have a product called TacGel which is a very sticky conductive gel that can be used to hold them in place. I haven't used the product myself but if it lives up to its reputation then it will definitely do the job.
These loops are not covered by the e-stim.co.uk lifetime guarantee unlike their premium bi-polar electrodes, this is understandable though as these loops are rubber and can be easily broken if mishandled.
Use By Hand
OK picture the scene, my stunt cock is spread eagle on the bed with his hands and ankles restrained so he can't move that much. I put a blindfold on him so I could really tease him and I didn't need to do anything to - shall we say, get him ready. I slipped the rings lubed with some conductive gel (you can use water based lube for this) over his hard cock and tightened up the loops using the clamps until they were a snug fit. I then plugged the cables into each loop and connected the other end of the cable to the control box.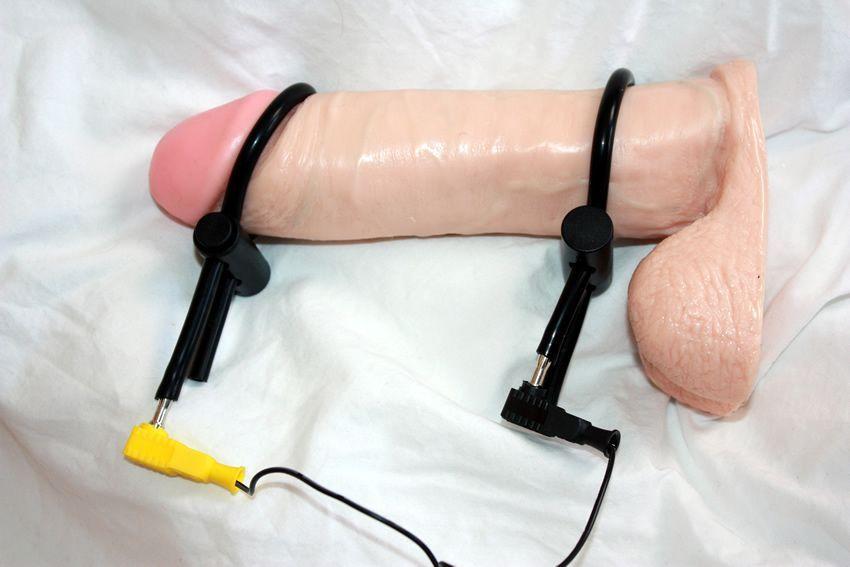 Prior to switching the unit on I ensured the controls were set to minimum and then switched the unit on to Pulse. I then started teasing my stunt cock by whispering in his ear telling him what I was going to do to him. Before slowly starting to turn up the power until he twitched and took a sharp intake of breath.
I left the settings where they were whilst running my finger nails down his chest for a bit enjoying the sight of him tensing up as the current fired through his cock. I then turned it up a bit and experimented with the pulse feel control asking him which setting worked best for him and once we'd worked out what he liked best I left that control where it was and cranked the power up a little bit more.
I loved the sight of his cock twitching every time the current fired and by now he was moaning more deeply and had started to squirm around a bit so I did the only thing that a decent person could be expected to do. Yes I cranked it up a bit more and he really started to moan and his cock started to really twitch - I was loving this and it was really turning me on.
I then started to crank the speed up and the contractions of his cock got faster and faster as did his breathing and moans before what I can only describe as a flood of spunk shot from the end of his cock as a really hard orgasm hit him. I reduced the power as he was cumming but increased the speed and he just kept cumming and writhing against his restraints. I loved the fact that I had just seen him have a true hands free orgasm.
As his Orgasm subsided I switched the unit off and he just lay there panting with a huge grin on his face. I kissed him deeply and asked him how it was. All he could say was "WOW".
Needless to say we have used the loops a number of times now as they are a lot of fun.
Performance
I was surprised at just how well the conductive rubber cock loops workedconductive rubber cock loops worked, they were easy to use and really worked well as electrodes. You should defintiely use a bit of conductive gel or water based lube around the loop to increase conductivity, we didn't need to use much though. My stunt cock was surprised at the range of feelings that could be generated by the control box. Here are some of his comments:
I have to admit that I was pretty scared at the thought of me being the recipient of a little electrical stimulation (ironic really as I love using it on Joanne). The first touch of electricity caught me by surprise and I remember letting out a gasp and tensing up. This was more the surprise of it rather than how it felt as it felt really nice, almost like very light pins and needles but all along my cock. As the power got turned up though it became more of a jolt and it caused my cock to tense up which felt nice. The pulse control was amazing it totally changes the feelings from hard sensations to very light tingly ones that almost feel like finger nails being gently drawn over your skin. The range of sensations was very surprising. As I got more turned on I was able to enjoy higher settings and when Joanne increased the speed at the end of the session I couldn't take it any more and it felt like I was about to explode as it felt so powerful. I will definitely be up for some more of that LOL.
The conductive rubber cock loops were also very easy to clean, just remember to hold the rubber close to the plug and to hold the plug when seperateing them, a gentle twisting action helps to release the plug from the loop. Clean with warm soapy water.
Key Features
Key features:
Easy to use
Monopole Electrodes
Cock and ball use only
Easy to clean
Made in the UK
Final Thoughts
These cock loops are a lot of fun and you can definitely achieve a hands free orgasm with them. We have used them a number of times now and the results are the same - a sticky hands free orgasm. Whilst they would be a lot of fun to use on your own they are much more fun when used by a partner on you especially if you throw in a little tie tease or light BDSM. Whilst it is a slightly scary thought to apply electricity to your little chap, it can actually be an extremely enjoyable activity and if you are toying with the idea of experiencing a little e-stim fun do it. These cock loops are available in packs of two from e-stim.co.uk and for newbies they are also available as part of the Intro2Electro For Him kit which I can highly recommend.
UPDATE 8th Oct - Top Tip
I have had a very usefull tip sent to me by a facebook friend. If you are into DIY you could consider doing this. He made a "Y" cable so that he could attach both ends to each side of the cock loop and then the cable from the control box just plugs into the other end of the "Y" cable. This allows current to flow into the cock loop from both ends reducing resistance and increasing efficiency - nice. Ignore the red and black plug colours as this is still a monopole electrode. The image shows an e-stim 2mm cock loop as opposed to the 4mm ones I reviewed.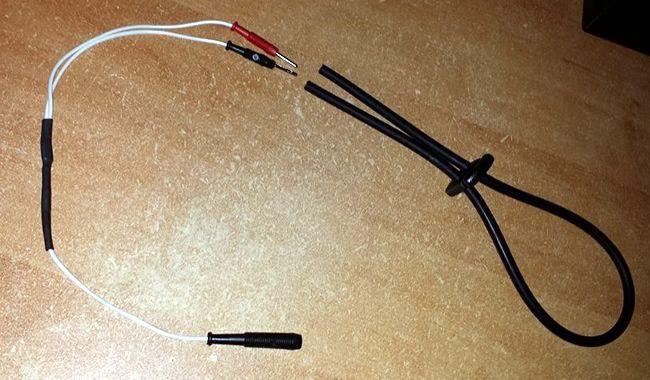 More Cock Play Information
If you enjoyed this review and want some more information about how to use this type of e-stim electrode then I have just the article for you - Electrosex Penis Play Guide For Hands Free Orgasms
Joanne's rating
Where Can I Get One From?
The Rubber Conductive Cock Loops are available for £29 from www.e-stim.co.uk.
Website links:
From their humble beginnings in a garage back in 2004 E-Stim Systems has grown and grown with an army of loyal customers. They manufacture their own goods and that gives them total control of their range of equipment, they even offer a lifetime guarantee (how's that for confidence).
Check out their great range of Intro2Electro™ Packs, E-Stim Systems and the Flange™ electrode.
Check them out and don't forget to tell them that Joanne says "Hi".
---
If you enjoyed reading this review then check out my other reviews of E-Stim Systems products:
CONTROL BOXES
PUSSY & ASS ELECTRODES
PENIS/BALL PLAY
OTHER
Website links:
---