Cheeky Wash 65ml Antibacterial Cleaner
Cheeky Wash 65ml Antibacterial Cleaner
After hearing about Cheeky Wash online and checking out the manufacturers website this product definitely piqued my interest. Having read the manufacturers blurb it got me even more interested in Cheeky Wash and I jumped at the chance to review it when SexToys.co.uk sent me a bottle in exchange for an honest review.
The manufacturer states:
Cheeky Wash is a NEW exciting and UK made "Sex Wash!" Ideal for sweaty sessions, outdoor loving, naughty camping, film industry, when you don't want to get up, before work, on lunch, swinging, promiscuous partners and events. You can keep and use this anywhere!
Now I often end up having a naughty rub of myself when out and about and this seemed to be the ideal product for cleaning myself up and removing any smells from my fingers. How do you review a product like this? Thankfully the answer is to have lots of fun yourself and use it to clean up afterwards, I paid a lot of attention to smell and the feel of the cleaner and I wanted to know if it lives up to the manufacturers claims. So on with the review....
"This wash really is a great body wash when you don't have any water to hand. It really does remove body odours (thankfully) and left me feeling fresher as well."
Delivery & Packaging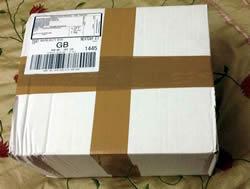 The bottle of Cheeky Wash's arrival was a nice surprise, Sex Toys UK sent me it together with four other sex items to review. SEE THIS POST. They arrived in a plain white cardboard box that carried no indication whatsoever as to its contents. You can always trust deliveries from Sex Toys UK to arrive like this due to their very discreet service.
Features
Cheeky Wash comes in a white plastic bottle with a flip lid, its very easy to control the amount of the cleaner that you dispense so it can last a surprisingly long time. The information and branding of the bottle is clear and easy to read and it carries full instructions for use on the reverse. However it isn't the sort of bottle that you can leave out though due to its design and that it states that it is an Intimate Cleanser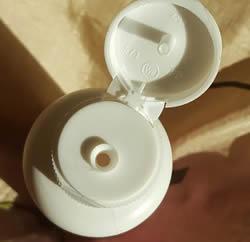 The 65ml bottle is a handy size for carrying it around in your bag or even a pocket.
The idea behind Cheeky Wash is not just to be able to clean your hands with it but it can be used as an intimate body wash. The manufacturer also produces a handy towel that comes in a compressed form that you just add a couple of drops of the cleaner to to have it expand to its full size. I haven't reviewed these yet but would love to as I think the idea of being able to carry both the cleaner and towels around discreetly make those unplanned encounters very easy to clean up afterwards. Hopefully I will be able to review the towels as well for you soon.
If you find yourself out and about without any water or other means of cleaning yourself up then Cheeky Wash comes to the rescue, it is anti-bacterial and leaves you clean and smelling fresh. Just pour a little out into your hand (it has the consistency of water) and rub into the parts that you want to clean to lather it up before towelling off for a squeaky clean feel.
I found that it easily cut through and cleaned lube up, it's just win win with this product.
I love the fact that it isn't perfumed so it won't affect your natural aroma.
As already stated the bottle goes a long way, a lot longer than I expected for this size. It not only leaves you feeling cleaner, but also removes odors very effectively. It's also a nice touch that it moisturises your skin.
Read the instructions before you use it, but the main point to remember is that it's for external use only.
What it says on the label:
Get washed without water
Cheeky Wash gently and effectively cleans and moisturises skin, leaving you fresh and odor free without using water.
Paraben free and ph balanced, mild and non-irritating to the skin. Can be used as often as necessary.
Removes body odors
Antibacterial and unfragranced
Cleans and moisturises
Ph balanced and paraben free
No sticky residues
Alcohol free
Safe perennial cleanser
Basic instructions are. Apply, massage, towel off
Final Thoughts
If you just want a hand cleanser you are probably better getting some hand cleaner gel, but if you are looking for an intimate cleaner that you can use anywhere when you have no water to hand then Cheeky Wash is for you. It does effectively remove body odours (so no more "Fishy Fingers" for me now LOL) and leaves you feeling clean and fresh again. I love it and would heartily recommend it to anyone.
I can see it being incredibly useful for anyone adventurous enough to enjoy outdoors fun and games like dogging or a quick fumble in the park as well as all the target groups of the manufacturer.
Basically it's ideal for use by pervy folks like you and I the most.....
Summary
Pros:
Moisturises
Cleans without water
Body Safe
Removes body odours
Non fragranced
Cons:
Cheeky Wash is available from SexToys.co.uk for just £3.95
It is also available from Bondara.co.uk
Where Can I Get One From?
I bought my first ever vibrator from these guys and I have always gone back to them time and time again as they provide great service and some amazing special offers. They also have a huge range of sex toys.
Check out their great range of Rabbit Vibrators, Dildosand Male Masturbators.
I have watched their fetish lines of products grow and grow over the years and you should definitely check out their Fetish & Bondage Kits. The other thing that I am experimenting with at the moment is Electo Sexand they have some great products in that category.
Check them out and don't forget to tell them that Joanne says "Hi".

---
Found Something Useful, Or Do You Just Like What I Do?
---
You May Find These Articles Interesting