About Bondage Bunnies
I have to say that I am impressed with the range of products and ethos behind Bondage Bunnies. They specialise in bondage equipment and sex toys and some of their wares are very imaginative indeed. This statement from them just about sums things up really:
As a company we believe that Angel & Devils can fall in love and that sometimes discipline is a necessary pleasure.
The emphasis is definitely on pleasure so check them out and see their full range of products.
Delivery
The cuffs arrived quickly and discreetly as was to be expected. That gave Bondage Bunnies their first tick in the box as for me the review process starts the moment an item is ordered and dispatched. I get on really well with my postie and as I tend to have a high number of packages delivered I always have a joke about it with him. One day I will get a package that isn't discreet and that will be very entertaining, but that isn't going to happen with Bondage Bunnies - so first hurdle passed with flying colours.
Features
The Ankle Restraints come in a nice set of retail packaging with a rather confusing rear. I guess that the manufacturer 'lovingjoy' ran out of the correct information card panels for the back of the packaging as this one states "Don't be afraid of the dark, this luscious leather mask will.....". This is in no way the fault of Bondage Bunnies as it is obviously a manufacturer issue. That leads me to mention that there are a number of other products in the Bound To Tease range that look very interesting. These include a blindfold (as already mentioned), a ball gag, two paddles, a flogger and a collar together with a set of wrist cuffs that are almost identical to the ankle ones.
The packaging is very plain, with nothing to shock anyone at all and the best bit is that it is recyclable.
When you open the packaging you are greeted with a lovely aroma of leather. There is something about the smell of leather that really gets me going and I love it. The two ankle cuffs are connected to each other with a metal chain and two swivel clasps that are really strong. I found it difficult to pull back on the locking button on the clasps with just my thumb and needed to use my thumb and forefinger to open them - no chance of escaping by accident with these.
The cuffs are a very vibrant purple and are actually quite beautiful. The quality of the stitching is very good and when you undo the belt buckle clasp on the black leather locking loop you will see that the inside is black and very soft and comfortable - not what I was expecting at all. I had the impression that the inside would be fairly hard but that isn't the case. When they arrived they were firm but not hard and like all leather products they get softer in use and mine are now nice and supple.
There are lots of locking holes for the belt buckle and so these cuffs can be adjusted to fit anyone. I have pretty large ankles and had no problems fitting these at all. They can even be tightened far enough to be able to use them as wrist cuffs as well as their intended role as ankle cuffs. That makes them very useful in all sorts of kinky scenarios.
Oh did I mention that lovely leather aroma? Oh yes I did, but I will say it again these smell lovely.
The metal rings (one on each cuff) are very strong and of a nice size so that it's easy to attach all sorts of clasps, padlocks or just plain old rope.
Use
Now being the adventurous sort I have used these several times on both the wrists (nice) and my ankles (also very nice indeed). I found that even when wearing them for extended periods of time they were very comfortable and didn't pinch, rub or chafe at all. They just felt secure and when used to hold me down they do the job admirably.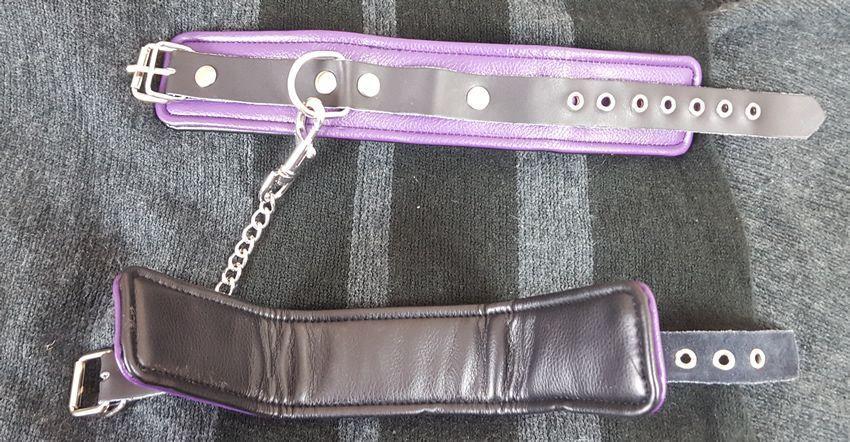 As can probably be predicted I have used them with my fucking machines and it was amazing to have my ankles restrained so that I couldn't move my legs with the exception of being able to wriggle around as the machine did its best to prove that it had more staying power than I have.
They are also great for use on your wrists and it felt great having my arms secured over my head whilst all sorts of naughty and nice things were done to me by my partner. There is something primal about being restrained whilst having sex and tie tease or light BDSM is a great way for couples to inject some spice into their sex lives.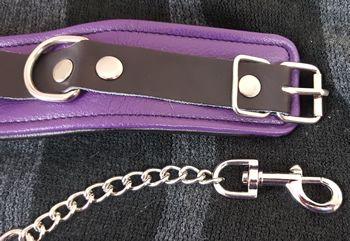 These cuffs really are very nice indeed they look and feel like a quality item should. The leather is supple and the colours are vivid and a great combination as black and purple really do work well together.
I highly suggest that you also experiment with a blindfold when using these cuffs as it really can heighten your senses so it is easy to home in on the pleasure that you are enjoying.
I would love to have two sets to enable my ankles to be locked to my wrists - I am sure that you can picture that position as it would be great for some extended sex machine fun and games.
Performance
In use they are very comfortable to wear and even wearing them whilst walking around between sessions it's easy to forget that you have them on as they are so comfortable. They are incredibly easy to adjust and you can have them loose or snug the choice is yours. The locking rings are very strong - probably not 'suspension strong' but strong enough for restraining someone.
If I can find any fault at all it would be with the locking clasps on the chain that I found a bit hard to operate. That said though using my thumb and forefinger they worked fine but I would have expected to be able to use my thumb as you would on the locking mechanism of a dog leash for instance. Adding a little oil made it easier but I guess my weak thumbs are no match for it on their own LOL.
Key Features
Key features:
Very soft and supple leather
Vivid colour - black and purple work well together
Excellent adjustability - use them as ankle or wrist cuffs
Great for fantasy play
Final Thoughts
I really like these cuffs and would jump at the chance to review anything else from the Bound To Tease range as if the other products are as good as this one then they would be great. This set would be ideal for someone wanting a nice set of leather cuffs to experiment with but they probably aren't for the hardened BDSM enthusiast as they are just so comfortable to wear. I can definitely recommend them as they exceeded my expectations and I have had a lot of fun with them.
Joanne's rating
Where Can I Get One From?
I was sent this set of Bound To Tease Ankle Restraints by www.bondagebunnies.co.uk in exchange for a fair and unbiased review. You should check out their excellent range of kinky products all of which are designed to liven up your bedroom activities. You can buy this set of ankle cuffs for just £27.00 (if you combine it with something else to bring your order to over £30 you also get P&P for free). Check out their full range and don't forget to tell them that Joanne sent you.
I would love to hear what you thought of this review. What can I do better, what did you like? Let me know in the comments form below. Thank you for taking the time to read it. Joanne xx