Delivery
First things first as usual my package from sextoys.co.uk arrived quickly and under plain cover. When I opened the box I was surprised to see the outer packaging of the Boom Chi is designed to look like a shoddy wooden box, seriously I was a bit confused as it looked like the box had stood around in a damp warehouse but I quickly realised that the staining and scuffs were printed on and it is actually a stylish box - totally different from the norm.
Features
Once I had got my head around the design of the box I could explore the toy some more. It comes with 2 x AAA batteries so you are ready to go right out of the box once you insert the batteries. However there are no instructions or indications as to which way round the batteries go in so you have to work that out for yourself (top tip insert the negative end in first).
The Boom Chi is made out of 100% Body safe silicone making it hypoallergenic and phthalate free, the manufacturers claim that their blend of silicone is dust free but in real terms is still collects some dust and lint but not as much as other silicone toys that I've tested. It is available in black or white and it's 19.6cm (7.7") long, with a girth of 3cm (1.2") at its widest point tapering down to its tip. It is quite a firm toy with no discernible give when squeezed having a solid core material inside.
I love the lines on this toy, this is one sleek vibrator and it just looks stunning. It only has two controls, the first being the power button which you hold for three seconds to switch it on and hold again to turn it off again. The second is the mode switch which is used to cycle through the ten operating modes. The power button lights up when the vibrator is on and pulses in time with the vibrations. The buttons are on a strip of wood effect plastic and are easy to operate when in use. The Boom Chi sits well in your hand and is surprisingly light.
It has a good selection of settings, and it's a lot more powerful than I was expecting with vibrations generated at up to 9,500 RPM. The vibrations can be felt throughout the toy equally which makes it good for teasing with the tip or enjoying it by inserting it. The beauty of the shape is that you can use it on various parts of the body to enjoy the toy. Yes the slimline design won't stretch you out, but the vibrations more than make up for it. The smooth tip makes it very easy to insert and it is very enjoyable internally as well as externally.
Use By Hand
I applied some water based lube got myself comfortable and switched on the Boom Chi.
I had it on a low and steady setting and used it to tease my nipples feeling them swell as I became more aroused eventually sliding it down my body to my pussy. I held it over my clit and cycled the operating modes to see which I preferred and I eventually settled on one of the higher steady settings. I found that circling the tip of it around my clit felt extremely good and I keep this up until I was ready for some penetration.
I find that penetration is incredibly easy with this toy due to its very rounded tip, it parts your inner lips easily and guides itself inside. It is a rigid vibrator and you don't get much in the way of stimulation as you move it in and out as it is so smooth but that feels good. I usually like my toys to have some texture but there is something about the tapered smooth sides that soothes and excites at the same time. Don't expect much in the way of g-spot stimulation with this one though as it is straight with no curve at all.
I found that the higher settings were quite noisy and I had to turn the TV up to disguise what I was up to but the lower settings are very quiet, but unfortunately they just didn't do it for me I needed it on high. That said though I had no problems bringing myself off with this toy on its highest setting and with ten different vibrations settings and modes they is surely something to please everyone.
Fucking Machine Friendliness
Unfortunately the size and rigidity of this vibe makes it not an option for fitting to a Fucking Machine like my F-Machine Pro or my Shockspot. So its going to be hand use only with this one.
Performance
Whilst its lower settings are a bit weak for me the higher ones did indeed work and so I can't really fault it on its performance. It's a tidy little vibrator that's small enough to fit into any bag and so is ideal for short breaks or when you pop round to someones for a bit of slap and tickle.
By varying the modes of operation you can easily give yourself a quickie or a slow sensual session of pussy pampering.
Key Features
Key features:
100% body safe silicone
10 different modes of operation
Easy controls
Final Thoughts
If you are looking for a nice and stylish silicone vibrator then definitely check out the Boom Chi, it isn't the most powerful vibrator out there but that's not everything, when you consider that it's made out of body safe silicone and it is showerproof coupled with its ten modes of operation it certainly deserves more than just a cursory glance. Due to its thin smooth profile it would be an ideal first time vibrator for anyone out there.
Where Can I Get One From?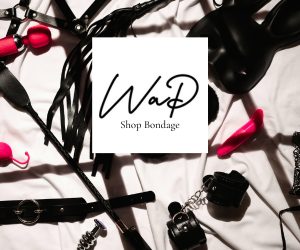 I bought my first ever vibrator from these guys and I have always gone back to them time and time again as they provide great service and some amazing special offers. They also have a huge range of sex toys.
Check out their great range of Rabbit Vibrators, Dildos and Male Masturbators.
I have watched their fetish lines of products grow and grow over the years and you should definitely check out their Fetish & Bondage Kits. The other thing that I am experimenting with at the moment is Electo Sex and they have some great products in that category.
Check them out and don't forget to tell them that Joanne says "Hi".