Delivery
The dildo arrived in very good time from the US and I found it relatively straightforward paying the customs fees on its arrival. It was very well packaged and was delivered by UPS.
Upon opening the box I couldn't help giggling when I saw the Park Information brochure for Bad Dragon Island, a rather tongue in cheek nod to the new Jurassic Park movie. I love the way that they don't just make dildos, they create characters and stories which brings them to life. Suffice to say the delivery as usual was smooth and just the start of the kinky fun.
Features
The dildo was sealed in its own bag and the cum tube was neatly coiled and secured with an elastic band. The items were wrapped in nice purple tissue paper which was a nice touch. Along with the Dildo I was sent a 250ml (8 Fl/Oz) bottle of Cum Lube and a 60ml (2 Fl/Oz) syringe that can be connected to the cum tube for spunky fun.
As with all Bad Dragon sex toys it's made out of 100% body safe silicone so no need to worry about phthalates or other nasty chemicals. The silicone can attract fluff and dust though so store the dildo in a bag when clean and dry - I use large sealable sandwich bags for my sex toys.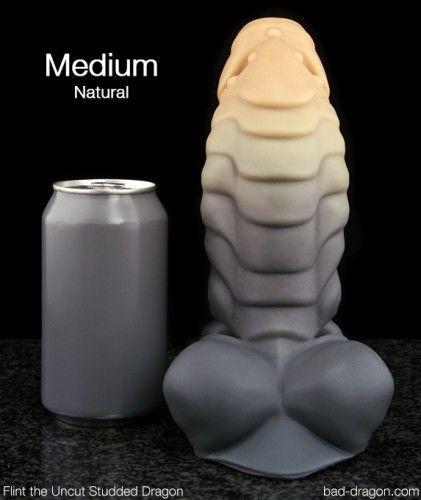 The Medium Flint is 22cm (8.75") tall with an insertable length of 16.5cm (6.5"). The diameter of the head is a very nice 4.2cm (1.6") whilst the diameter of the shaft in an eye watering 7.6cm (3"), to put it bluntly this monster is wider than a can of coke. I'm kicking myself for not ordering the small as that would have been perfect for me.
When ordering sex toys from Bad Dragon, always look at the stats, small, medium and large are terms that mean nothing when comparing two different toys as these are all character toys and vary in sizes tremendously.
The detail on this dildo is incredible, I love the studs around its tip and the scales are really pronounced and feel great when they enter you. I can only get about 3" of it inside me but every time I use it I push myself with it. I like it so much that I am going to buy a small version of it to be able to really enjoy it to the full.
I don't know how Bad Dragon do it but the changes in colour are very subtle and smooth, the tip is a pale sandy colour which changes to a deep moss around the base, it looks really nice. I also love the fact that it is an uncut dildo, we need more of them out there - I'm a big foreskin fan.
Flint is equipped with a huge pair of balls that means the base of the toy is very large and it can stand freely with a lot of stability and this allows you to squat over it and lower yourself onto it. The cum tube exits through the side near the base and this means you can use it when playing with the toy by hand or on a fucking machine using an adaptor plate.
Use By Hand
There is a lot of silicone in this toy and use by hand can be a little bit tiring, I found that by standing it up I could ride it for long periods of time without getting tired and this also allowed me to really try to get as much in as I could.
Fucking Machine Friendliness
To use this dildo on a Fucking Machine you are going to need an adaptor plate like the ones supplied by www.fmachinefun.co.uk
This is going to be a challenge for anyone on a Fucking Machine but if you can take it then you are in for an amazing ride and the cumtube means that you can stay lubed up for very long sessions. I haven't used it on my fucking machine yet as its too big for me to do that but watch this space when I buy a small Flint from Bad Dragon.
Performance
Did I say that I love the fact that this is an uncut toy? Oh yes, well I do and the ridges, studds and scales on this monster of a cock feel sublime when you insert it. You really to get a lot of physical stimulation with this toy and you can definitely feel as each bit goes in, with the toy getting wider and wider as you take more of it.
Whilst I can't take it fully it still feels amazing and stretches me open like nothing else I've used. Size queens will love it.
Its best feature though is its cumtube, simply fill the supplied syringe with whatever liquid you desire, I opted for the Bad Dragon Cum Lube. Slip the end of the cumtube into the end of the syringe and slowly depress the syringes plunger to fill the cum tube with simulated jizz until it trickles from the end of the dildo just like pre-cum.
Just filling it with cumlube and priming it for use really gets my juices flowing and when you squeeze the dildo you can watch the cum run out of it, simply rub it all over the dildos shaft and you are ready to go.
It doesn't take me long to get off with this dildo and it's probably because I know that as my orgasm washes over me I am going to use the syringe to let the dildo explode inside of me pumping me full of cum lube.
It's a great feeling when the cum lube gushes into you and my hubby's face was a picture when I let the toy slip out of me followed by the biggest creampie he had ever seen. I ended up rubbing the cum lube into my clit and even scooping some of it up to rub into my breasts and nipples as I made myself cum again.
Key Features
Pros:
100% Body Safe Platinum-cure Silicone
Highly detailed
It's uncut - yay!
Good Flexibility
Great texture
Unique design, which makes it the perfect choice when you feel like using something a little different to the norm.
Cons:
Expensive to import from the US (don't forget customs fees)
Material can attract fluff and dust so store in a bag
Final Thoughts
The Flint dildo from Bad Dragon is another amazing dildo that has superb detail and finish, the cum tube adds a whole new dimension to dildo play whether on your own or with a partner.
I would recommend this dildo to anyone who enjoys texture on their sex toys (remember to check which size is right for you though).
Where Can I Get One From?
I bought my Flint the Uncut Studded Dragon from www.Bad-Dragon.com for £85.16 Plus £15 customs fees
Joanne's rating
WHERE CAN I GET ONE FROM?
Bad Dragon was born out of a strong desire for a greater selection of fantasy toys to be made available to everyone. Bad Dragon's main mission is to do their part in 'making fantasies real' for individuals who want to indulge in their fantasies a little deeper.
Check out their great range of Fantasy Toys.
Check them out and don't forget to tell them that Joanne says "Hi".