Delivery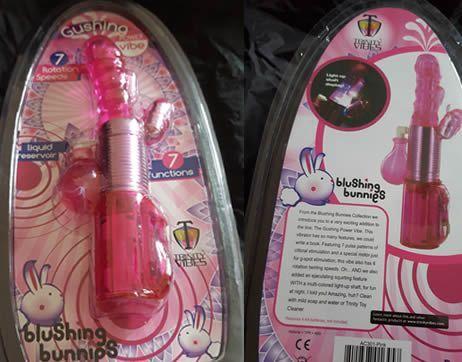 I ordered by Gushing Rabbit from www.sexshop365.co.uk and it was delivered the next day, well packaged so no complaint there at all, great service. The toy itself is in a blister pack which looks a bit cheap but it does its job of keeping the toy clean, the details about the toy are on the back of the pack and here is where things start to go wrong, there aren't any instructions at all. You are left to work it out for yourself. No big deal I suppose but with a feature like the ejaculating one it would have been nice to see some details about how to fill it, use it and care for it. It just says clean with warm soapy water.
Features
This toy is purple and made out of ABS and TPR, it takes four AA batteries and these were included so you can use the toy straight away once you work out how to insert the batteries (more on this later). It is 9.5" (24cm) long of which 5" (12.5cm) is insertable, it's shaft is 1.5" (3.8cm) wide and that equates to a circumference of 3.5" (9cm). The shaft lights up when the toy is in use and this is handy in a dark room, you can even play "now you see it, now you don't" with a partner.
It features two bullet vibes, the first is in the clitoral stimulator and the second is further up the shaft at the 12 o'clock position and it is there to apply direct stimulation to your G-spot. The shaft can be made to squirm around in one of six speed settings and the bullet vibes have seven vibration patterns so you are sure to find one that suits your mood and style of play.
Half-way down the shaft of the toy there is a pipe with a 90 degree bend this seats the reservoir for the ejaculate. The reservoir is made out of a very soft TPR blend and it's very easy to remove it and refit it once you have filled the reservoir.
This ease of removal can actually be a problem in use as a runny ejaculate can be forced out of the junction between the reservoir and the pipe when you squeeze it causing it to leak instead of giving you the sticky creampie you are looking for. I was not impressed by the finish of the material around the mouth of the reservoir as you can see in the picture it was very rough.
The toy is not waterproof and this makes it a bit tricky to clean as you will need to flush the cumtube through to clean it with warm soapy water and the only way to do this is to keep refilling and refitting the reservoir. This is quite labour intensive, it they had made this toy waterproof it would have been easy but alas they didn't.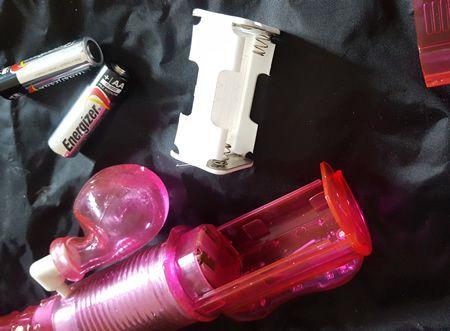 Most of my Rabbits have a screw off base that allows fitting of the batteries and it took me a moment to work out how to open the back of the toy (no instructions remember), the back slides off revealing the battery holder. Once open I then struggled to remove the battery holder as it was a very tight fit. Once the batteries were inserted though and the toy closed up there was definitely no movement in them.
The controls are easy to operate and reach in use and are a simple on/off switch, a button to cycle through the seven vibe patterns together with up and down buttons for the shaft rotation speed.
Use By Hand
I found the gushing rabbit easy to use, the controls are easy to reach when using it and when the time was "right" a quick squeeze of the reservoir saw me getting a pussy full of cumlube (not all of it as some just squirted out of the side of the toy) but enough to give the desired effect and send me over the edge into a powerful orgasm.
The gushing or ejaculation feature is an amazing idea and it does work, however the squirter is made from a very soft material that not only easily pulls off the tube, but if the lube you put inside is watery it tends to squirt out the side and not deep inside you which lets face it isn't where it's supposed to go.
I really liked the texture of this vibe and got a lot of stimulation from it just by fucking myself with it.
The seven vibration setting are interesting and you should find one that works for you. Instead of the usual ears on the clitoral stimulator this vibe features a small tongue on the underside of it. I thought it looked a bit strange but it performed its job perfectly, the g-spot bullet vibe was particularly good so if you are looking for a strong rabbit that will stimulate you in that region you might want to consider this one.
The shaft rotates a bit much for me personally but that is just my own taste, it is a wild ride LOL, sort of like having an egg beater rattling round your insides on the faster settings LOL.
On the whole it's not a bad rabbit, I just believe that it could be so much more if a little effort and thought was put into the ejaculating side of it as lets face it if you buy this rabbit vibe over all the others out there it is for this one feature.
Fucking Machine Friendliness
Unfortunately I couldn't fit this vibe to my Fucking Machine as the reservoirs positioning doesn't fit in with my adaptor which is a shame as the last rabbit vibe I reviewed (the Jessica Rabbit Ultimate XXTRA G Rabbit Vibe) was simply amazing on my F-Machine Pro.
Performance
Overall it isn't a bad rabbit vibe, it's just that it's not a great one either. It could have been so much more if just a little attention to detail was shown. It could have done with being waterproof so it could be easy to clean and as it can deliver a lot of fluid and it can leak I would have thought that this would be high on the manufacturers list of priorities.
That said, if it were a normal rabbit I'd say it's probably in the middle ground, as I said earlier it's a little bit "Meh!", However as it's an ejaculating rabbit it is a little more unusual and worth some attention so try it out if you are curious about ejaculating toys - Now if only Bad Dragon would produce an ejaculating rabbit vibe (the #RabbitOrgasmoSpunkySaurus).
Key Features
Key features:
It ejaculates (but sometimes leaks if you squeeze the reservoir too hard)
7 Bullet speed settings & 6 Rotation speeds
Extra bullet vibe for G-spot stimulation
Light up shaft
Final Thoughts
If you are looking for a rabbit vibrator that can give you a creampie then this will work for you as long as you are patient and can overlook its weak areas. If you are looking for a rabbit that will give you strong orgasms and comes with g-spot stimulation then again this one will work for you. If you just find the idea of a sex toy that can come inside you a turn on then this is definitely for you, just don't expect it to be the best sex toy you have ever used - remember "Meh".
Joanne's rating
Where Can I Get One From?
The Gushing Rabbit is available from www.sexshop365.co.uk for just £44.65
These guys have a great selection of adult sex toys and carry a large selection of Glass Toys.
I have seen their range of products grow over many years of shopping with them and would highly recommend their services.
Check them out and don't forget to tell them that Joanne says "Hi".