Delivery and packaging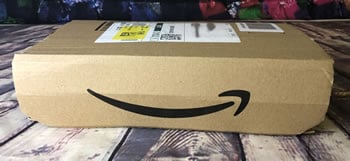 The new controller arrived very quickly in one of those Amazon boxes with a smiley face on the side. This means it is very discreet and no-one will know what you are having delivered.
This is very important, and it is good to know that Hismith takes customer discretion seriously.
Upon opening the Amazon packaging, I was greeted with a plain cardboard box that contained the APP Bluetooth Controller and also a remote control.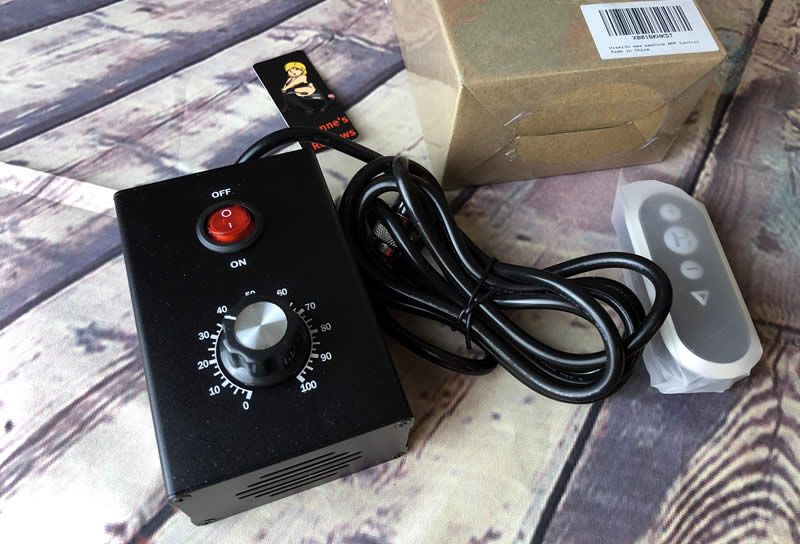 The controller is very discreetly packaged and comes with its own remote (battery included).
Design
Once I had unboxed the controller, I did a side by side comparison with my original controller; and externally they look identical. They are so similar that I had to attach a sticky label to the bottom of the old controller so that I didn't get them muddled up.
Ergonomic wise it's pretty much a standard layout for the physical controller. Featuring a speed control knob and a power switch to start and stop the action.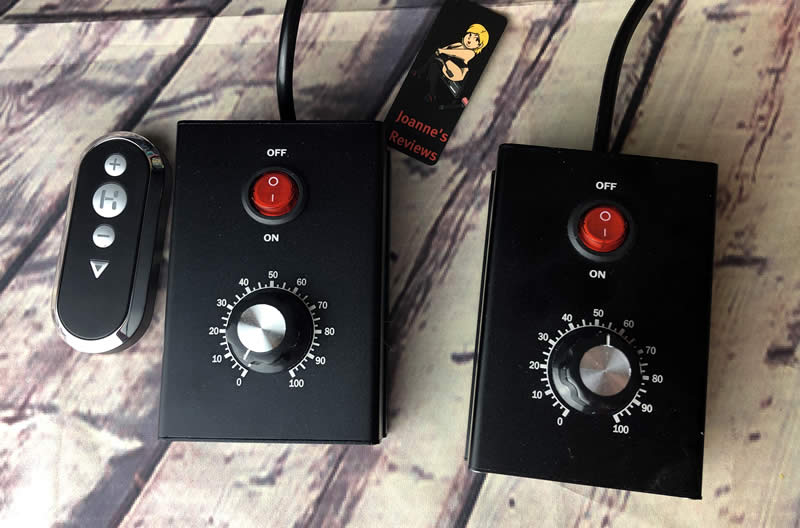 The new and old controllers are almost impossible to tell apart (the new one is on the left in this pic).
The knob feels good and is easy to adjust finely; the light-up power button is a nice feature.
You get a little remote control too; this makes it even easier to control your machine without having a cable to get in the way.
The remote comes with a battery pre-installed, you need to remove the little plastic tab on one of its terminals, and you are ready to play. The remote allows you to control the speed as well as cycle through its inbuilt routines.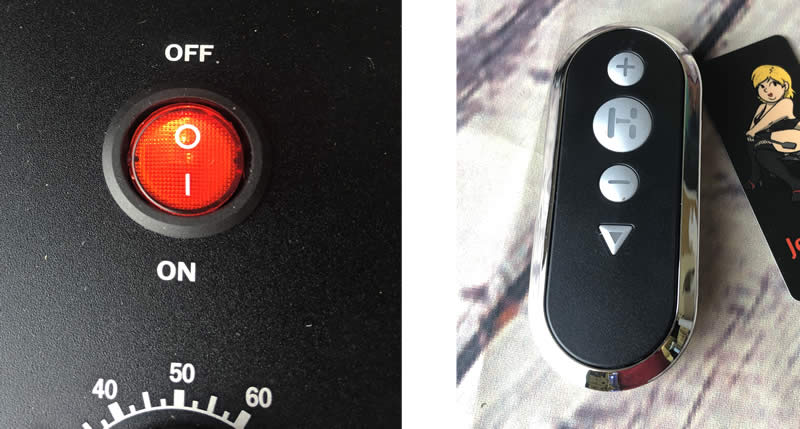 The power switch is a quick way to shut off the machine and the remote makes using the machine and its modes of operation easy.
But, you get all that functionality on the original controller, you get so much more with this one though. So let me tell you all about the App and how it can take your play to the next level.
App
But this is no ordinary controller, it features Bluetooth connectivity, and you can link it to the Hismith App which is available from the Apple or Android stores for free.
The App was simple to use and pairing it with the controller was a straightforward task. Once I had created an account on the Himsith App, I could start to explore its capabilities.

Installing and connecting the App is very simple, the instructions one the Hismith website are clear and easy to understand.
Now a quick point about the App that will be of great interest to Cam Performers.
If you use Chaturbate as your show providing service, the new HiSmith App Controller allows you to use your fucking machine during shows. You can even make tips drive the machine, and this is a fantastic way to take your performances to new levels of interactivity and also maximising your sales options.
Hismith does a special Charturbate controller, or you can upgrade your standard BlueTooth app controller to be able to use it with Chaturbate. This standard one does not interact with Chaturbate, but you can upgrade it through the Hismith website to be able to do so.


An upgrade is available in order to use this controller in Chatrubate webcam shows which will be of great interest to performers.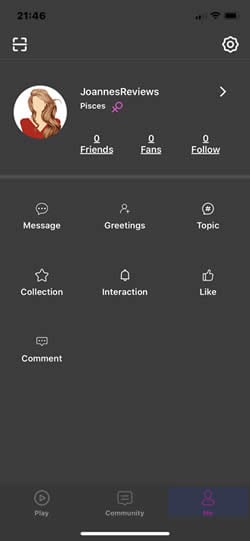 Back to the regular App, though. Downloading it and registering an account is easy, you can even use third party log in which is available for several social media accounts.
I had no problem downloading the App and installing it.
When you create an account, you can add up to six profile pictures, and this is because you can use the App to interact with others over the internet. This of it as a kinky sex machine related dating or play platform and you won't be far off.
You can easily follow other people, make friends and also share fucking machine routines using the App. All in all I am very impressed with this aspect and it is something not available from any other brand of sex machine.
With several play modes to use, let's start with solo mode.
Solo Mode
Once connected through Bluetooth, you can swipe your fingers up or down on your screen. This allows you to alter the speed of your machine effortlessly. Using one finger gives you fine control while using two will enable you to ramp up the pace more quickly.
Turning the phone over will stop the machine and flipping it back over again will start it up. This is a great way to stop the machine quickly should you need to do so.
There is an icon at the top of the screen that allows you to select and play inbuilt routines quickly. These are great and quickly let you get used to the controls.
Online Remote Play
You can quickly and easily share a link through Facebook, Line, WhatsApp, WeChat and the Hismith App itself. This will allow you to have others drive your machine for you.
For safety reasons you can set a maximum speed from 0-100 and using your own controller or App will override the remote control giving it back to you. This is a very sensible way of doing things, and it allows you to play remotely safely.
Design your own routines
The App gives you the ability to design your own play routines and also share them with the community for friends.
When shared the list of available routines is ranked by the number of likes, uses and clicks so generally the ones at the top of the list are the ones to try first.
This is the capability that I enjoyed the most, I loved exploring the fucking routines that others had created, and some of them are one hell of a good ride. I also enjoyed creating my own to edge sub'r' and keep her begging to be allowed to cum hard.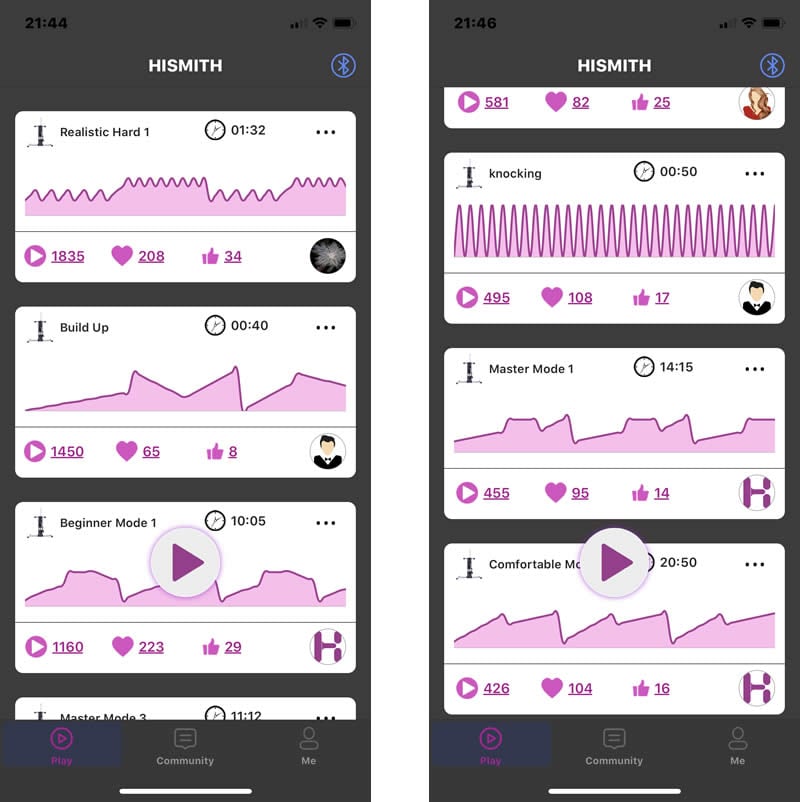 There is already a staggering number of fucking machine routines to explore or you can create your own.
User Center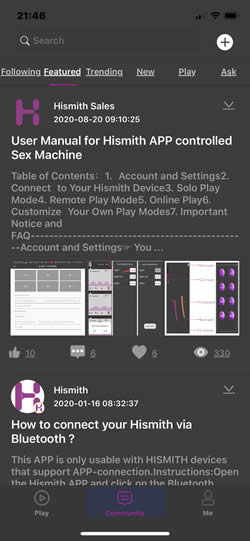 The User centre is where you can find other people to interact with, and the community is growing daily. With everyone from singles to couples and even porn stars there it can be a fun way to make new friends and share posts.
As with all online activity, though, pause and think about privacy before divulging too much personal information online.
I have really enjoyed using the App, and it is a fantastic new feature that can make your Hismith sex-machine even more functional and much easier to control. The ability to do remote play now is excellent, especially for anyone in a long-distance relationship.
The trials and tribulations of the Covid era make online play a much safer option, and this new controller and App means easier control and even more play options for you.
Hismith has cemented their position as market leaders in the sex machine market. Innovations like this one just highlight the fact that they are a forward-thinking company always striving to improve their range of products.
The new App controlled remote control gives you so many new ways to enjoy your fucking machine that if you can afford it, getting one is a no brainer. I can't wait to see what they come up with next.
The Hismith HS06 fucking machine that I have is my go-to machine when I absolutely need to get a good hard pounding, and now I can let others do it to me too.
Anyone fancy controlling my machine?
The new Himsith App and controller takes their fucking machines to a wholel new level of enjoyment and capability.
Click to Tweet
Key Features
Key features:
Control your machine through your phone or tablet using the BlueTooth App
Play solo or online with others
Create exciting routines to enhance your pleasure
Share routines and try ones designed by others
Ability to use your fucking machine during Chaturbate shows (seperate purchase necessary)
I would recommend it to:
Anyone wanting more control of their Hismith Machine
Anyone wanting wireless control
Anyone looking to play with others online
Anyone who wants to create highly enjoyable routines
Chaturbate performers looking to maximise their income
I wouldn't recommend it to:
Anyone without a compatible Hismith fucking machine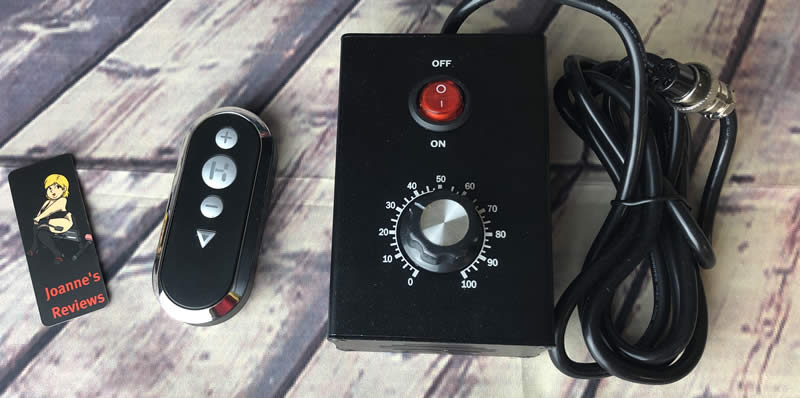 This controller is a game changer when it comes to sex machine play, especially in the era of Covid and lockdowns.
Final Thoughts
This is, without a doubt, a fantastic addition to my HS06 fucking machine. Having the ability to not only play cable-free but also hand over control to someone else (anywhere on the planet) is fantastic.
I can see this being great for anyone in a long-distance relationship or just for someone who enjoys playing with others either in person or remotely.
The fact that performers on Chaturbate can use it to increase their fun and revenue is also brilliant.
I have had so much fun using it and getting to know it well and can honestly say it will be being used over and over again when I get my machine out.
I can't imagine going back to the old controller now—well done Hismith for pushing the bounds of what is possible forwards again.
I was sent this Control Box by Hismith and I would like to thank them for giving me the opportunity to review it for them.
Joanne's rating
Where Can I Get One From?

You can use this discount code that Hismith have given me to get a 10% discount when ordering anything from them.
Discount Code: 9MR5124B
Grab one of these fantastic controllers from Hismith for £129 and don't forget your discount code.
Check them out and don't forget to tell them that Joanne says "Hi".
Disclosure
Disclaimer - I was sent this controller to review free of charge and this has in no way affected the outcome of this review. This post contains affiliate links and if you purchase something when you follow one of these links I may receive a small commission at no cost to you. For more information check out my disclosure page.