Like all products that I have received from Meo.de, this one arrived quickly and under very plain cover for discretion. I also love the packaging that is used for Meo branded products. They have a minimalistic approach with toys arriving is clear pouches. This keeps costs down and is also great for the environment. Well done Meo.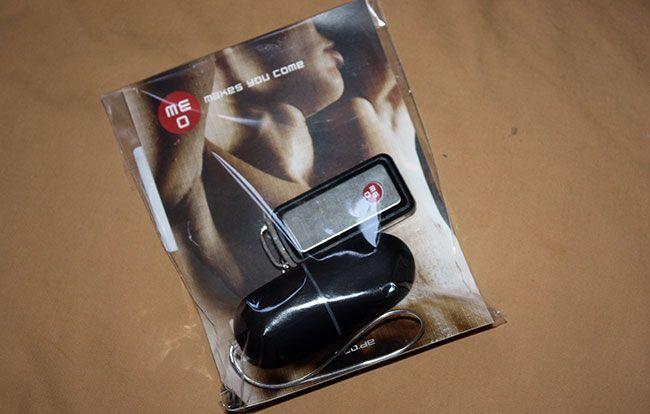 I love the minimalistic packaging from Meo.de it is great for the environment
This toy consists of the vibrating egg and a handy remote control that looks like a key-fob.
The egg and controller are made out of ABS plastic which is great as this material is phthalate and latex free and also no-porous so cleaning is a straightforward process.
To clean just wash the egg in warm soapy water to get rid of any vag-goo and then rinse it with an anti-bacterial sex toy cleaner ensuring that it is dry before storing it away for its next use.
You will need two AAA batteries for the egg, and these are fitted by unscrewing the egg. The middle of it has an 'o' ring to seal the internals from moisture, and by gripping each end, you can unscrew the cap to expose the battery compartment. The remote comes with a lithium battery fitted, so you are ready to play.
Take care when you refit the cap that you don't over tighten it causing the 'o'-ring to be crushed or displaced. Once the batteries are fitted the egg is basically switched on, and it will wait for commands from the remote.
If you are not using it for a long time, I suggest removing the batteries to stop them from draining.


The 2 x AAA batteries are very easy to fit inside the body of the egg
The egg has a long loop, and this is used to retrieve it once inserted, and it also acts as the antennae for the egg, so you get a good signal from up to about 20m/66ft which is excellent.
The egg has an almost velvety surface which is really soft and not draggy at all. It really looks nice, and I found you don't need much lube to insert it comfortably. I recommend a good quality water-based lube like Sliquid H20 or Secret Play Natural. Meo has their own brand of water-based lube called AQUAMEO which they recommend, but I haven't tried this product myself.
The remote controller is very stylish with a chrome-like finish. It has a sliding cover over the controls, and it comes with a keyring so you can attach it to your house or car keys. Stunt Cock hung it off my collar when he was teasing me with it. Just reaching over to change settings while I was restrained. The control that gave him coupled with my restrained and helpless state made it an exhilarating experience for me.
Both the remote and the egg itself look amazing, they have a dark almost retro look that really works with my style of play.
The bullet measures in at 2.75"/7cm long and with a diameter of 1.4"/3.5cm. This makes it easy to insert vaginally or even anally with the help of a little lube.
Its very nature means that it is a waterproof sex toy and so it is also a lot of fun anywhere not just int he bath or shower. You can use it wherever you are for some kinky clandestine fun, and we have experimented with it in lots of ways.

The control box has a sliding cover for the two buttons
As it is ABS and non-porous, it is easy to clean and sterilise so it can be shared between users.
Controlling the vibrating egg is very easy, the control just has two buttons. One turns the vibe on and off again and the second button cycles through the 68 vibration modes. I have to admit though that a lot of them are relatively similar and I prefer the solid vibrations over the patterns.
Having only one control button, you have to cycle through the vibration settings, and if you miss the one you prefer, then you have to go through all of the rest to get back to it which is a pain but unavoidable with just one button.
The vibe doesn't come with any instructions, and so you have to experiment to work out what the buttons do, and I was confused for a while as I couldn't get it to work. Then I found out that I had inserted the batteries backwards giving myself a Homer Simpson "Doh!" moment.
Once I had worked it all out, it was on to the fun part of the review, looking at its performance. I got to use it first, and it was during a BDSM session where I was restrained and blindfolded. Stunt Cock lubed me up and slowly inserted the egg as far as he could, and that felt amazing (especially having someone else doing it). He then clipped the control onto my collar, and that turned me on as well.
When he switched it on a smile crept across my face, and he tutted before gagging me - he can be a bugger at times. He had to ask if it was turned on as you can't hear it in use when it is inside you, and so I nodded.
He then proceeded to tease me to a fantastic orgasm, he would switch it off and on again before changing the settings.
The vibrations aren't on par with strong vibrators like a Doxy, but they do the job well, especially as the egg was pressed up against my g-spot. I came hard while listening to Stunt Cock chuckling. He has taken a real liking to this toy and the next person to try it was sub'r'.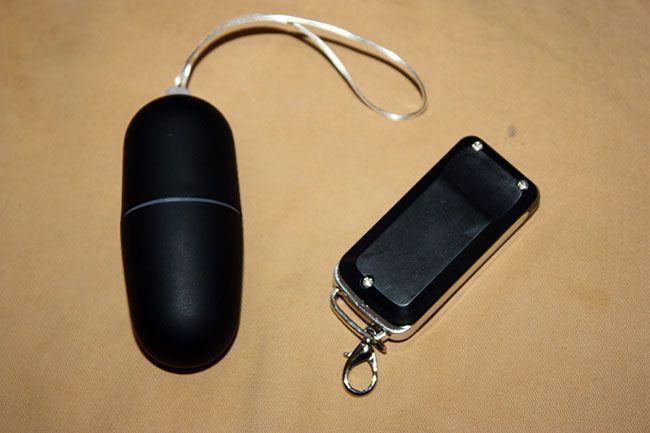 This stylish remote vibrating egg is a lot of fun to use on your own or with a partner
Once it had been cleaned he made her wear it while out and about and she was teased to an orgasm in a McDonalds restaurant, and it was so much fun sitting opposite to her watching her squirm and bite her lip as she came trying to be as quiet as she could.
One of the great features of this vibrating egg is just how quiet it is in use. When buried deep inside you it is all but silent, on its highest setting you can just make out the vibrations in a quiet room. This discreet nature makes it great for clandestine fun and games, especially with a partner at the controls.
A remote controleld vibrator can be a lot of fun especially one buried deep inside you. Check out this one from @MEO_TEAM.
Click to Tweet
Key Features
Key features:
ABS body safe materials
68 vibration modes
Range of 20m
Great for discreet public fun and games
Final Thoughts
This is a vibe which lots of play possibilities, you can use it on your own for some private play or in public to really turn up the kink a lot. It is so much fun though when the controls are passed to another person and you are left at their mercy. It is great for teasing and pleasing and was so much fun to use especially when out and about. I must admit the highlight so far was teasing sub'r' in a McDonalds and watching her squirm trying to put off her oncoming orgasm.
Remote controlled vibes are so much fun and are definitely worth considering if you are looking for something out of the norm to add to your toy collection.
I was sent this Remote Controlled Egg Vibrator by Wolf at Meo.de and I would like to thank him for giving me the opportunity to review it for them.
Joanne's rating
Where Can I Get One From?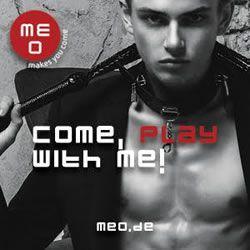 Grab one of these fun little remote controlled bullet vibes from Meo for just 29,90 € (£26.17). Whilst you are on their site check out the rest of their incredibly kinky wares.
Check them out and don't forget to tell them that Joanne says "Hi".
---
---
Disclaimer - I was sent this Remote Controlled Egg Vibrator to review free of charge and this has in no way affected the outcome of this review. This post contains affiliate links and if you purchase something when you follow one of these links I may receive a small commission at no cost to you. For more information check out my disclosure page.