Different Vulva Shapes & Sizes
Firstly every vulva is different, we all have differently shaped, and sized genitals and this is entirely normal.
One of the biggest complaints that I hear about rabbit vibes is "the clitoral stimulating rabbit ears don't line up with my clitoris".
This is understandable as the distance between the vagina and clitoris varies greatly so choose a rabbit vibe with a very flexible neck on the clitoral stimulator and a flexible main body.
This will make it easier to line everything up in use so that you get the maximum benefit from the sensations that a rabbit can generate.
An excellent example of this would be the Adrien Lastic Trigger Rabbit Silicone Vibrator hich has a very flexible neck that makes lining everything really easy and it is also made of body-safe silicone making it an excellent choice.
Pearls Or Plain
While a flexible clitoral stimulator is a must, you next need to decide on what you want the main body of the rabbit vibrator to do. The first option that I will discuss is the rotating pearls you see on rabbit vibrators like the Crazy Rabbit Waterproof Vibrator.
These rotating pearls twist and turn around inside your vagina providing a unique stimulation not matched by any other type of sex toy. The moving beads stimulate the nerve endings in your vaginal canal and are both relaxing and a turn on at the same time.
This type of rabbit vibe tends to be the most prevalent on the market, and you can choose from a myriad of different designs, colours and materials.
The additional movement of the beads does cause a bit of noise, and so this style of rabbit vibes tend to be the noisiest.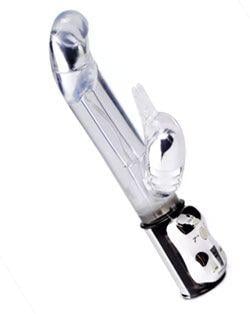 The next type of rabbit vibe that I will talk about and these ones are my favourites are the g-spot stimulating rabbit vibes.
This type of rabbit has either an upward curved or bulbous nose on the insertable section, a second vibrator in the tip of the rabbit or both. The ones with the upwardly curved tip and a second vibrator are my all time favourites, and I can spend hours slowly pleasuring myself and edging to huge climaxes with this style of rabbit.
An excellent example of a g-spot rabbit is the 7th Heaven Platinum GSpot Vibrator.
This style of rabbit vibe provides targeted g-spot stimulation that a lot of women really enjoy. For me, the combination of deep vibrating sensations directly on my g-spot and the focused, intense clitoral stimulation does it for me, and that is why I love this style of rabbit the most.
Thrusting Rabbits
Another type of rabbit vibe to consider is the thrusting rabbit. This style as its name suggests thrusts in and out of you while stimulating your clitoris.
The Remote Control Thrusting Rabbit Pearl Vibrator is an example of a thrusting style of vibrator.
It also has some other exciting features such as being waterproof (think bathtime pussy pampering sessions) and it has a remote control feature so you could even hand over the controls to a partner for some couples play.
This style of rabbit thrusts a short length, and this thrusting also stimulates your g-spot and so that can be a good choice of rabbit too.
Internet Enabled Rabbits
The internet of things has also reached rabbit vibes with some great options for long distance play. These rabbits are fantastic for anyone in a long distance relationship and they mean you can get intimate with a partner even if you are on the other side of the globe.
The Kiiroo OhMiBod Fuse Rechargeable Vibrator is one such rabbit, it can be controlled by Bluetooth through a smart-phone or tablet and can even be controlled over the internet.
I have an internet enabled rabbit vibe and love being teased by my partner with it when he is on trips abroad.
The technology in modern rabbit vibes is fantastic with new features and models coming out regularly.
Summary
The rabbit vibe has come a long way since its humble beginnings, and it is now one of the most popular styles of sex toys in the world and for good reasons.
They allow you to easily control your masturbation sessions and give fantastic stimulation to multiple areas of your genitals. I have a vast collection of sex toys, but it is often a rabbit that I will reach for when I need to give myself a quick and reliable orgasm.
This post was sponsored by the good people over at Pleasure Delights, and you can see their extensive range of rabbit vibrators that is definitely worth checking out if you are looking for your next sex toy.