I apologise, as this review is a bit of a long one as there is so much information to cover.
Delivery and packaging
We can always rely on E-Stim Systems dispatching things to use quickly and above all discreetly. They use plain packaging and items always arrived in tip-top condition due to their efficient packaging.
Thankfully our postie has no idea how kinky we really are, he no doubts enjoyed delivering this package as the Python is really light. I felt sorry for him when he delivered the Black Collection to us as that was a hefty package.


The Python arrived very discreetly packaged from E-Stim Systems
The Python comes securely packaged inside a plain white box with one of the E-Stim branded labels on the side in their customary yellow and black brand styling.
Product materials and design
I was pleasantly surprised when I took it out of the box as it is much bigger than I had imagined it would be and that is a good thing. The front plate measures in at 4"/10.4cm wide by 4.5"/11.4cm tall.
It consists of two separate 5mm acrylic plates that have been cut out with a laser and then polished to a high standard of finish as you would expect from an E-Stim Sytems product.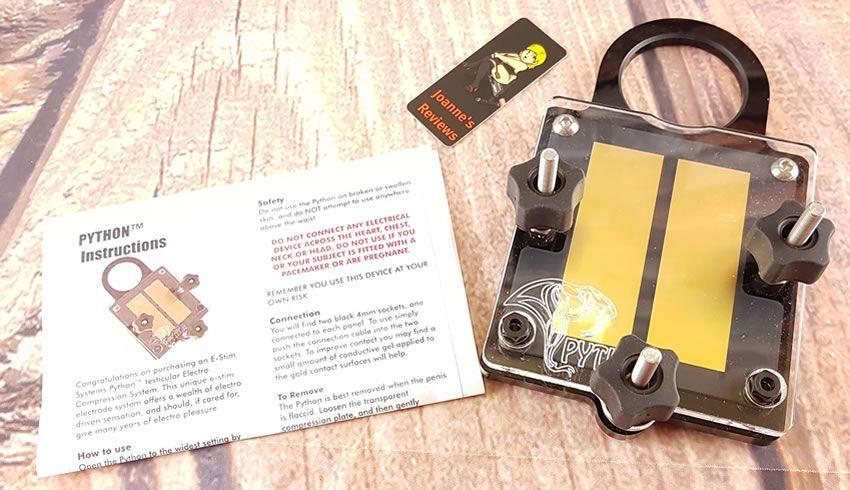 The Python looks amazing and it was bigger than I was expecting. The instructions are clear and concise
The black backplate carries the contacts and connection hardware as well as the three clamping screws. This backplate also has a 2"/5cm wide hole cut through it, and this is for the penis and testicles to be pushed through with relative ease.
The black plate has a custom made PCB fitted to it which carries the 4mm sockets and features two large electrode surfaces that look amazing. These contact surfaces are gold plated for durability and the conductive properties of gold.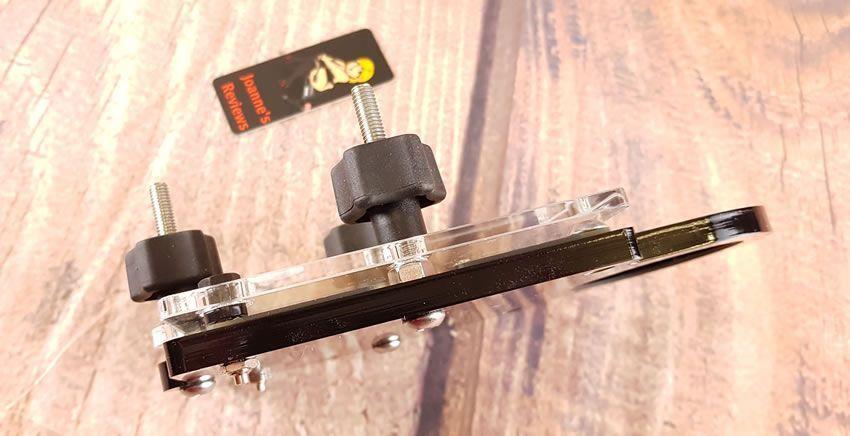 The Python is made out of thick acrylic and the edges are polished to give a very nice look
The contrasting black and gold colours look amazing and almost match the E-Stim Systems branding to perfection.
There are three screws fitted securely to the black back plate, and these are used for the three thumbscrews that are used to clamp down on the front panel.
The front panel is made from clear 5mm acrylic, and it carries five holes, three for the clamping screws and two for the sockets and cables to pass through. It also has a Python logo cut into it with a laser, and this looks great.
The Python is a stunning piece of e-stim equipment, and in the right hands (Joanne of course) it can be both intimidating and also highly enjoyable at the same time.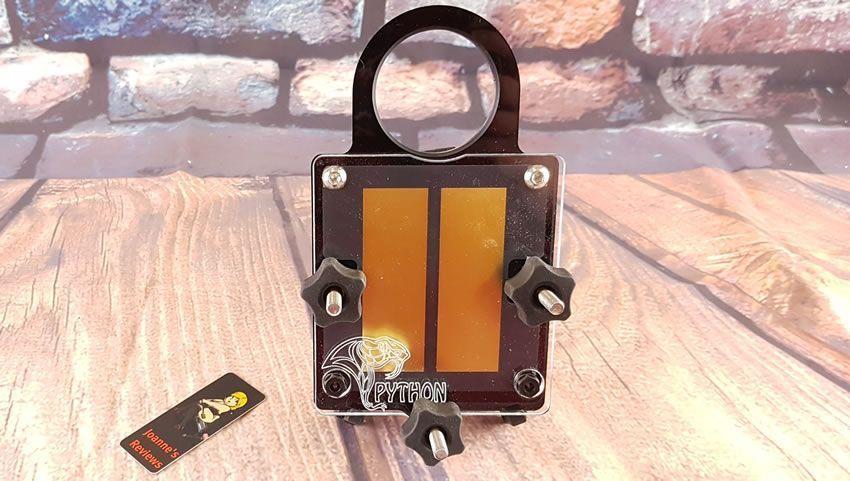 The Python is very nicely finished and I love the logo on the front plate
The Python is a bipolar surface electrode suitable for a single channel on your control box. If you have a dual channel unit like the ElectroPebble or 2B, you can also use an anal electrode or a pair of cock loops with it.
The first thing I did was give the Python a once over, it is an easy electrode to use but fitting it can be a little fiddly. So, before I tell you how it actually feels, let me talk about the job of fitting it.
A crushing customer review
Of course, once I heard I had been stitched up, I went straight onto the E-Stim Systems website to find out about the Python, and I read the one and only customer review it had.
With a rating of only one star, I was a little surprised, to say the least. Upon reading the review, I came to the conclusion it wasn't overly detrimental. It stated that the build was excellent quality and I agree entirely there.
The problem the customer had was his balls didn't hang down far enough to effectively clamp them.
This is a problem as the two screws that are situated along the centre axis of the backplate will act as a bit of a hinge when you tighten up the bottom thumbscrew. This causes the upper section to open up, and with electrolube, there is a tendency for the testicles to be forced out.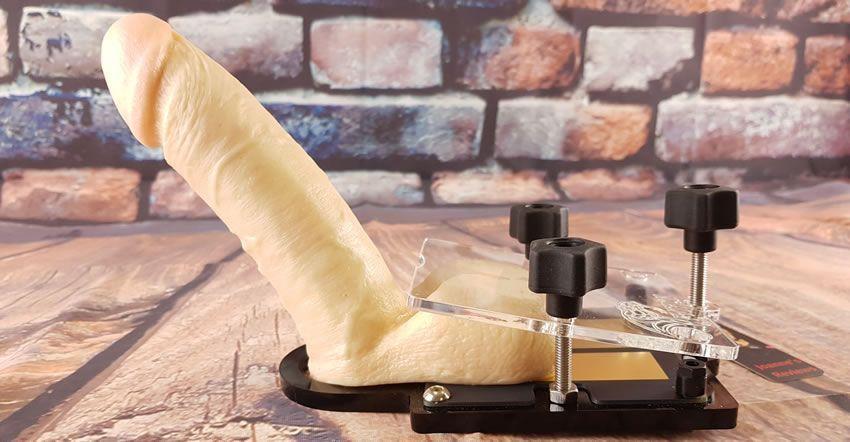 The Python top plate can sit at an angle if you don't "hang low", this can force your balls out
While this is a constraint if your testicles don't hang down far, it is not the end of the world, and it can be easily mitigated against.
If you do hang low, it isn't a problem as the three clamps work perfectly to clamp down with whatever force you require.
If you don't hang low here are a few things you can do:
Take a long hot bath or shower, the heat will cause your testicles to drop lower (they do this to stay cooler).
You can place something non-conductive at the base of the unit to stop the plate pivoting on the top two screws like in the picture below.
Once you ascertain the correct level of clamping you can place a nut and washer on the bottom screw to prevent the top plate rotating downwards. This is extremely effective and can be used to actually make the top end clamp downwards drawing the testicle inwards rather than outwards.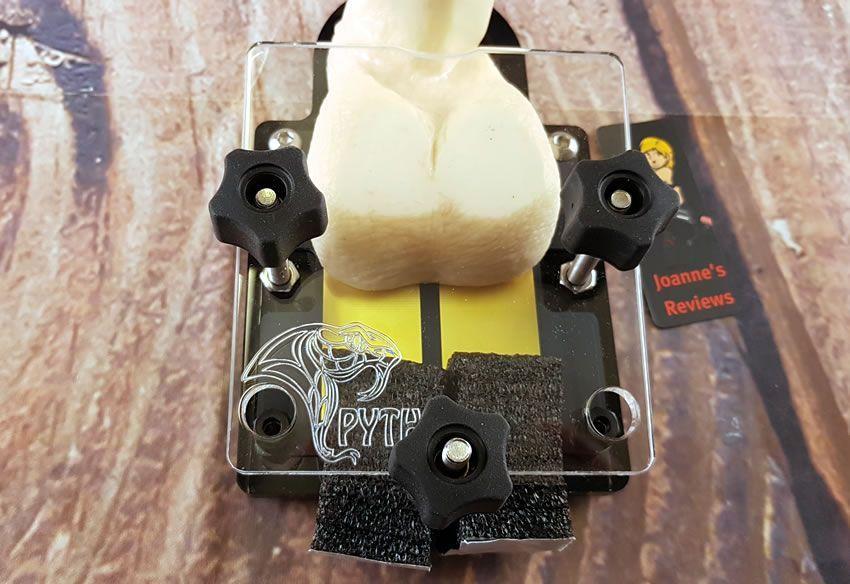 The Python top plate can sit on something non-conductive to keep it level
All three of these suggestions would mitigate the problem the customer had. So, in essence, you can use the Python no matter what your 'hang' just as long as your testicles reach the conductive plates.
Fitting the Python
I found it most comfortable to remove all three thumbscrews and the front plate. I then use E-Stim Systems Electrogel to lube up the contact plates before pushing my meat and two veg through the hole in the back plate (contacts facing forwards).
This is easiest to do when you are flaccid and your balls are hanging loosely. I tend to push my cock through first followed by my testicles one at a time, you will find your own preferred method very quickly. Take your time, and the process is an relatively easy one. Make sure that you pull lots of scrotum through as well so that your balls hang low, giving them maximum contact with the electrode plates.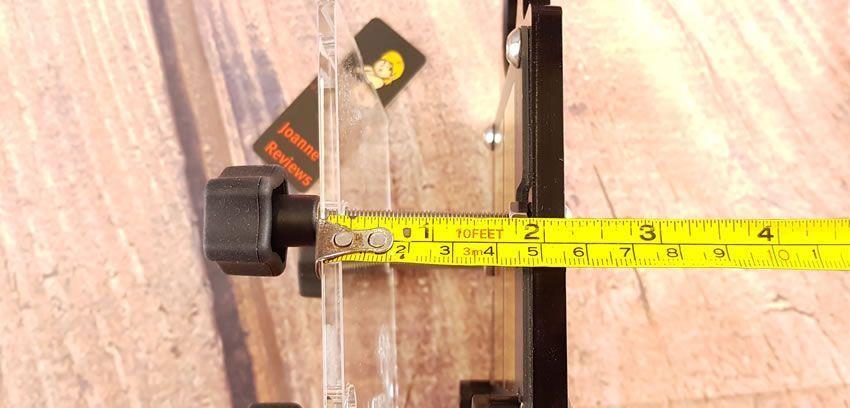 The Python top plate can open up upto 2"/5cm wide
Do this standing up or sitting on the edge of a chair as gravity is on your side when it comes to getting your balls into a clamp my friend.
Once your tackle is through, fit the front acrylic plate on top of your testicles and refit the three clamping screws. If you hang low simply connect the two plugs from your cable into the sockets and then tighten the thumbscrews to give the required level of compression.
If you don't hang low then use one of the three suggestion above to fit the Python effectively, then connect the cable, and you are ready to go.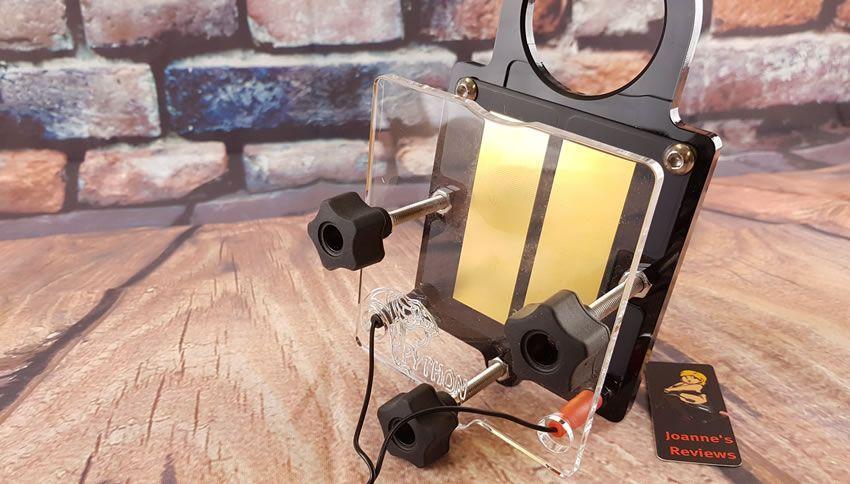 The 4mm sockets hold the plug very securely
Performance
The first time I used the Python was on my own as, to be honest, I was more than a little nervous about using it. I use cock rings and pads a lot when stimming but have never directly stimmed my testicles or applied compression to them either.
So picture the scene, the Python fitted loosely, I connect the cable from the Python to our 2B control box, so it is ready to go.
First things first though, it was time to start tightening the thumbscrews to apply some compression to my balls. I slowly tightened each screw in turn, and I was pleasantly surprised by the sensation of being clamped.
I imagined excruciating pain, and yes you can get that if you continue tightening until your eyes pop out. But, just clamped in place it feels really nice, and I could feel an erection developing. So far, so good I thought.
I then switched the 2B on, checked it was on its low power setting (no point in burning the beefburgers too quickly I thought). I selected Wave and slowly started turning up the power dial.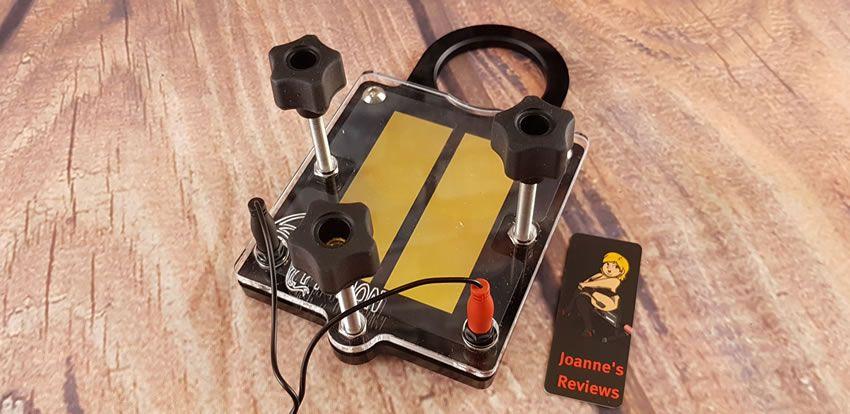 The holes in the front plate allow the plugs from the cable to be fitted to the back plate
At first, I could feel a slight tingling that was neither pleasant or unpleasant. I continued turning up the power, and it felt very nice indeed. The combination of the clamping and electrostimulation was really nice and doing it for me.
It was a weird sensation as I could feel my balls tightening in time with the elctrical pulses, I have never felt anything like it before but I like it.
I turned it up until I actually cringed and then turned it down again to a pleasant level. The Python can be used for pleasure or pain, you do need to use conductive gel on the plates though to get a good contact. Without it, you get tingling burning sensations just as with any other surface contact without sufficient surface area.
The range of sensations that you can get from it is good, from light stimulation to deep, painful throbs, you get to control how it feels. I was pleasantly surprised at how much I enjoyed the sensation of having my balls crushed between the two plates and feeling them pulsing.
I didn't achieve a hands-free orgasm the first time I used it as it takes a bit of getting used to, but I was off to a cracking start.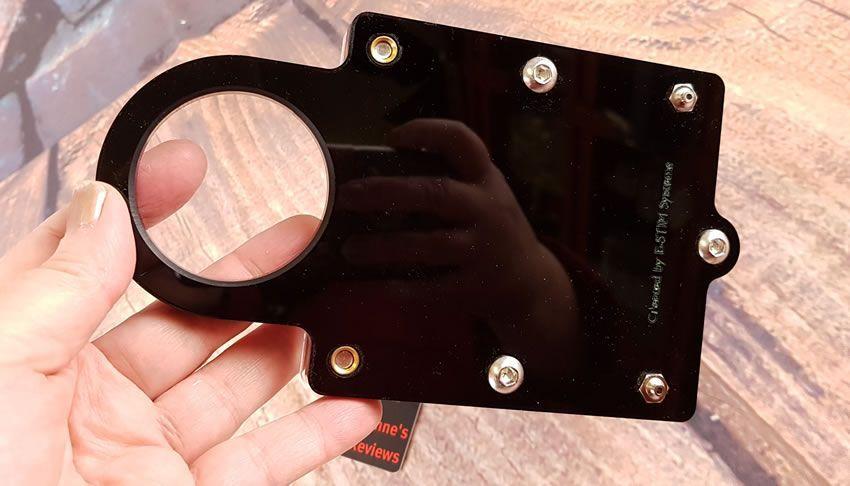 The python is fitted with quality components
One great feature of the Python is you can still wank or use a Fleshlight or even use e-stim cock loops to increase your pleasure.
My preferred method of use now is to use a cock ring around my cock just under the glans and a conductive pad between my balls and anus on one channel and the Python on the second channel. This feels incredible, and I can achieve a hands-free orgasm this way or edge myself for extended periods.
Talking of long play sessions, always think safety. Applying compression to your testicles restricts blood flow so regularly release the clamping screws to get the blood flowing again. You can then clamp down again on your jewels.
It is essential that you do this or you risk injury. Also, don't clamp down too hard as again you could injure yourself. The pain, if you try clamping too tight, will alert you to the damage you are doing though, so listen to it.
The Python is a lot of fun to use on your own, but with a partner it is fantastic. The first time I let Joanne use it on me she restrained me, this really got me aroused but worried as well. Feeling her fitting it in place was amazing, she took her time and teased me senseless.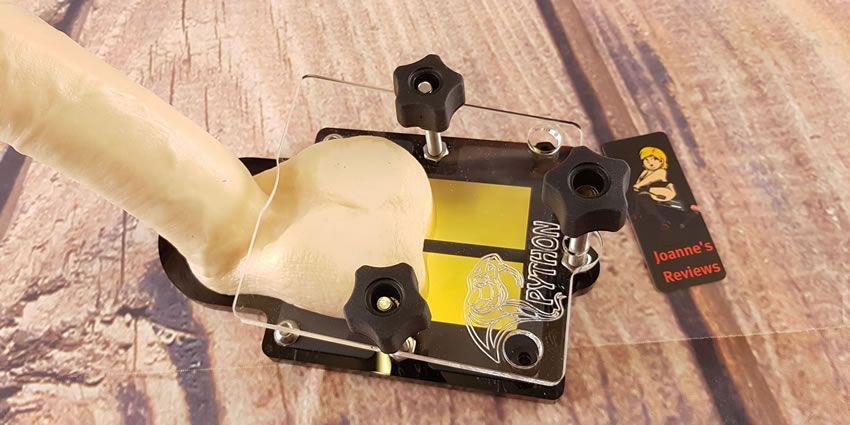 The python provides some amazing sensations that I have never experienced before
When she started driving me using the 2B it was amazing, she teased me for about ten minutes and then reached for my favourite fleshlight to finish me off. I came hard, really hard and the rush I got when she unclamped my balls was incredible, and I was hard again in no time.
She just slapped my cock and said "Down boy", before grinning and leaving me to my own devices LOL. She can be such a tease at times.
Cleaning after use is easy, just wipe down with a damp cloth or a baby wipe.
The Python e-stim electro-compression system for the balls from @estimsystems sounds scary but is actually a fantastic experience and one Stunt Cock recommends.
Click to Tweet
Key Features
Key features:
Gold plated contact pads
Single channel use
Heavy Duty 4mm Connectors and fittings
Easy to clean
Coock hole 2"/5cm diameter
Final Thoughts
I actually had a lot of fun reviewing the Python from E-Stim Systems, the thought of clamping my testicles and running a current through them had me worried I have to admit.
But having tried it, I can attest that doing so is a lot of fun. As usual E-Stim Systems didn't disappoint with regards to their service and the quality of their products.
If you are sitting on the fence wondering if a ball crusher e-stim electrode is for you I can honestly say if your experience is like mine, you are going to love it.
You get some exquisite sensations from the clamping of your testicles, it sounds painful but actually light clamping feels excellent. Couple that with the sensations that e-stim can generate through your posterior scrotal nerves and the Python can deliver some fantastic fun play sessions.
I was sent the Python Electro Compression System by E-Stim Systems and I would like to thank them for giving me the opportunity to review it for them.
Joanne's rating
Where Can I Get One From?
Grab one of these fantastic penis play toys from E-stim Systems for £129 and start exploring this side of electrosex play.
Check them out and don't forget to tell them that Joanne says "Hi".
Website links:
---
If you enjoyed reading this review then check out my other reviews of E-Stim Systems products:
CONTROL BOXES
PUSSY & ASS ELECTRODES
PENIS/BALL PLAY
OTHER
Website links:
---
Disclosure
Disclaimer - I was sent the Python Electro Compression System by E-Stim Systems to review free of charge and this has in no way affected the outcome of this review. This post contains affiliate links and if you purchase something when you follow one of these links I may receive a small commission at no cost to you. For more information check out my disclosure page.