It always amazes me how a stunning piece of clothing can change your very being.
When you put on a sexy piece of clothing, your whole demeanour can change. It can give you confidence, making you feel so horny or it can simply re-affirm your submissive side.
The PVC Discipline Dress from Honour does all of the above. What I like about it is the fact that it can be worn by anyone no matter where they sit on the Dominance/submission ladder.
Its design lends itself to a stern look, exuding dominance and attitude but it can also be worn by a submissive who can use its look to please their Dominant.
Delivery
The PVC Discipline Dress arrived very quickly from Honour.co.uk, and it was discreetly packaged, carrying no indication as to what it was on the outside of the package.
Honour respect their customer's privacy and discretion and as this is often the number one concern of online buyers you can see why their service is so popular.
When you buy from Honour, you can rest assured that your postman will have no idea what he is delivering to you.

The PVC Discipline Dress comes in a plastic pouch
Materials
The dress is made from super stretchy PVC material that almost has a wet look, as it is so shiny.
The inside of the material is comfortable against the skin, and the stretchy nature of it helps it to hug to your curves, leaving not a lot to the imagination.
The front of the dress features a sturdy silver zip that forms a focal feature of the dress. It goes all the way up to the high neck of the dress and this zipper moves smoothly and freely.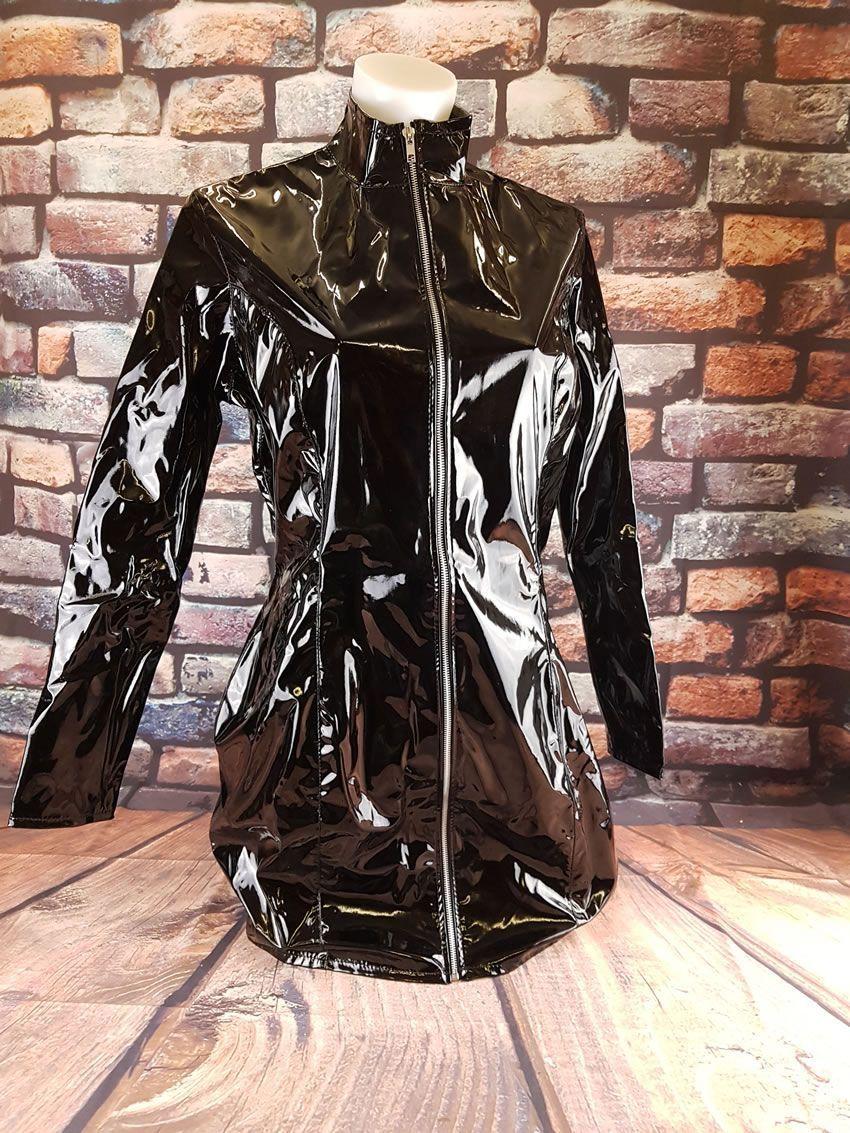 This dress in unbelievably shiny and the material feels lovely
The hemwork is very nice, with neat stitches and no dangling threads which is something that always winds me up. This is a quality garment that is fantastic value for its price tag of just £54.99, bargain.
The PVC Discipline Dress is available in a wide range of sizes from 8 to 26 which is fantastic. It's so nice to see a forward thinking company catering for larger sizes. With the average size in the UK now being a curvy 16 I love the fact that Honour is catering for us curvier girls.
The high collar line means that if you are planning on wearing it with a collar, you will probably need to have your collar on a looser fit to allow for the material and zipper.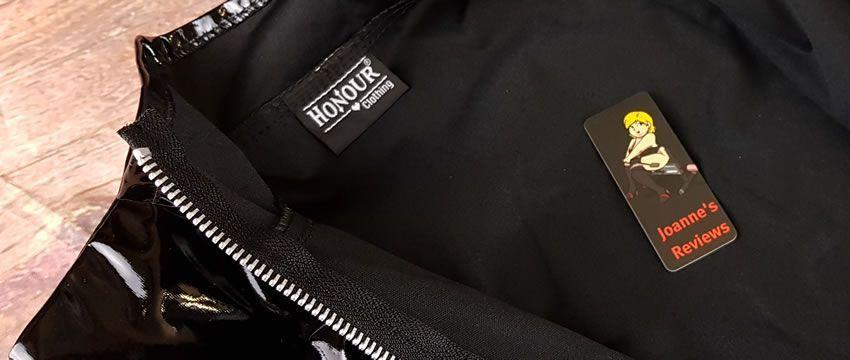 This zipper is very strudy and the stitching is neat and tidy
The arms are fully covered, and this gives the dress a distinctive look that both sub'r' and I find very alluring. The short nature of this dress and the full sleeves make it a stunning dress to wear. Throw on some hold-up stockings, and the effect is breathtaking and wearing it gives you a huge confidence boost.
Comfort and Fit
By its very nature, it is pretty tight fitting, sub 'r ' is a size 16/18, and we needed a size 20 for a good fit (her boobs are just amazing and were just too much for the size 18 we opted for).
The closed upper torso means that you do need to take your breast size into account when you opt for one of these dresses. Put simply, your boobs have nowhere to go so you need to get a size that will accommodate them comfortably. The PVC material is lovely, you can even see nipple piercings through it which always draws the eyes downward before evoking a smile in whoever you are talking to while wearing it.
As with all PVC clothing, it's pretty warm to wear for long periods, so this is a great outfit for the colder months or when visiting evening play events. That said though as the tendency is to not wear anything under it, you don't overheat too much.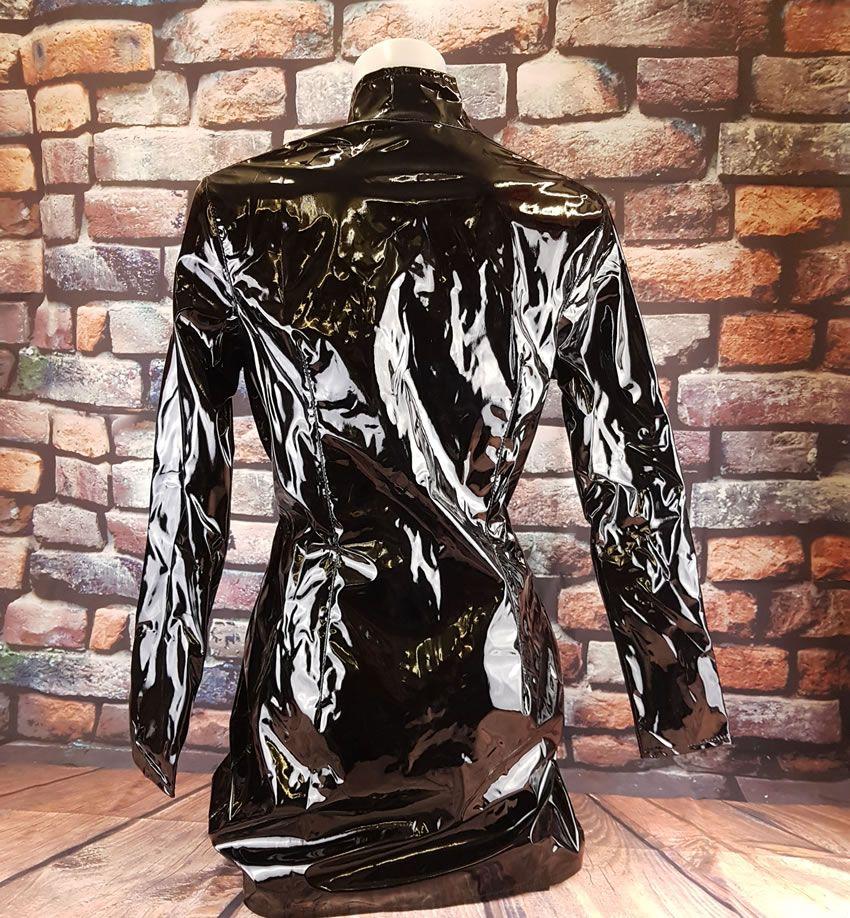 The back of this dress is entirely closed but you can lift the dress for spankings
You can always lower the zip to reveal a bit more skin to help cool you if you do get hot. Of course, this may cause everyone around you to overheat instead.
The short length of this dress makes it ideal for showing some stocking tops and giving a flash of panties if you bend over at the waist.
Of course, that was all the excuse sub'r' needed to be continually dropping things so that she could slowly and sexually bend over to pick them up. Everyone stood behind her got a nice treat as she doesn't wear panties at all.
Cleaning the exterior is very easy, just wipe it down with a damp cloth and then buff it up to a high shine again once dry.
My submissive, the lovely sub'r' looks so sweet in it, we love the clingy nature of the fabric, and it highlights her sexy curves wonderfully.
When wearing it, she got a big confidence boost as she really does look like a sexy little minx in it and she knew all the heads that were turning in a swingers club were admiring her in it.
She looked amazing wearing it with her HNRX Collar and Cuffs with a leash attached to her collar. Very submissive and oh so sexy, she carries that look off very well indeed.
If you like your impact BDSM play it is easy to just slip the dress up for some delightful flogger and paddle fun but as the back is entirely covered you can't play there.
After one lovely paddling and caning session sub'r' commented on how nice the fabric felt on her red bum cheeks as she walked around the club afterwards. The inner cloth material rubbing against her flesh felt delightful.
She loves this dress, and it is easy to see why, it oozes positive sexuality, and like the rest of the Honour clubwear, it is, of course, excellent quality.
---
---
The PVC Discipline Dress from @HonourClothing is just so sexy, its shiny figure-hugging looks will have onlookers drooling in delight.
Click to Tweet
Key Features
Key features:
High shine stretchy PVC fabric
High neck and covered arms
Full length zip
Available in sizes 8 to 26
Final Thoughts
The PVC Discipline Dress from Honour is a fantastic example of their eye for details and kink in general. When you purchase kinky clothing from them you are buying the best and this type of outfit really helps you get into a confident mindset where you can enjoy your sexuality.
The material is super stretchy and it hugs your curves well. The shiny finish really gives it a kinky look and it is suitable for Dominants and submissives alike. We really like it and hope you do too if you decide to get one for yourself or as a present for a partner or friend.
Check out the rest of the incredible PVC, rubber and leather clothing on the Honour website but be warned there is so much choice it may take you a while to view them all.
We love this dress and hope that you have enjoyed this review of it.
I was sent the PVC Discipline Dress by honour.co.uk and I would like to thank them for giving us the opportunity to review it for them.
Joanne's rating
Where Can I Get One From?
Grab one of these fantastic PVC Discipline Dresses from honour.co.uk for just £54.99 and make yourself feel so sexy with its figure hugging PVC material.
Check them out and don't forget to tell them that Joanne says "Hi".
Disclosure
Disclaimer - I was sent the PVC Discipine Dress to review free of charge by honour.co.uk and this has in no way affected the outcome of this review. This post contains affiliate links and if you purchase something when you follow one of these links I may receive a small commission at no cost to you. For more information check out my disclosure page.