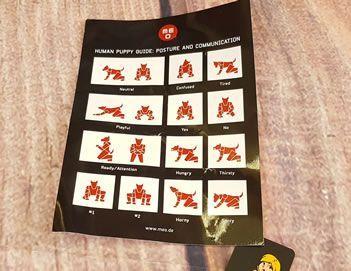 This collar came from Meo in Germany, and they stock a vast range of puppy play products, from hoods to collars and leashes, knee pads and even padded paws. You can also get butt plug tails for that authentic look with a twist of kink.
This is a collar explicitly designed for puppy play, and it is an excellent example of one such collar. I have reviewed others from Meo.de, and the BDSM Puppy Slave Collar with its "Bad Puppy" dog tag is another really nice one. This one is designed to be much more butch and dominant than that one though.
I love the pup play posture and position guide included with this collar.
Delivery
Like everything else that I have received from Meo, this one arrived discreetly with no indication on the outside of the package as to what was held within. You can always trust Meo to handle your order discreetly, and the speed of their service is fantastic.
Packaging
This collar arrives in the usual minimalistic packaging that Meo likes to use and I applaud that. Inside the plastic pouch, you will find the collar itself together with a nice satin drawstring storage bag designed to protect your collar in storage between uses.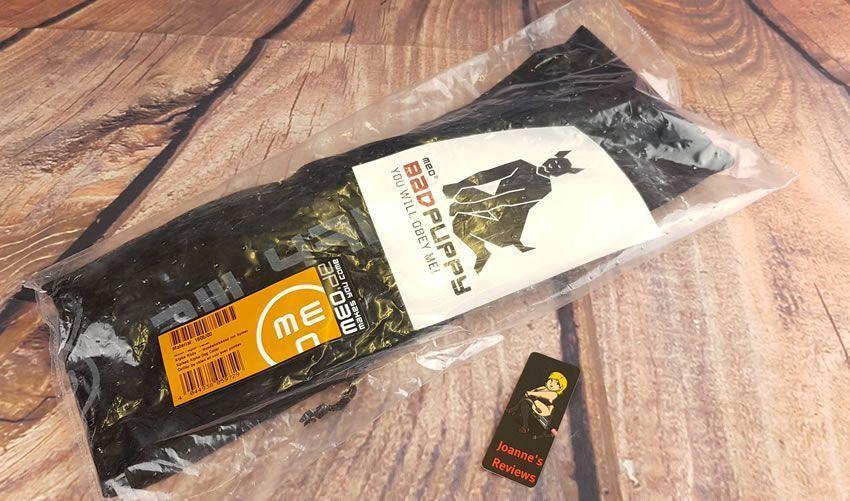 I like the minimalistic approach to packaging taken by Meo
I love the minimalistic approach that Meo takes with their packaging, they focus on functionality instead of fancy looks. This is ultimately good for the environment as there is less packaging waste and it is also good for the customer wallet or purse.
This collar is ideal for anyone wanting to be noticed as it makes quite a statement. It exudes confidence and domination, it is the perfect collar for an alpha pup who wants to be the leader of the pack.
It is made out of lovely soft and supple leather, and it is adorned with rivets, and dozens of chromed metal spikes arranged in two rows.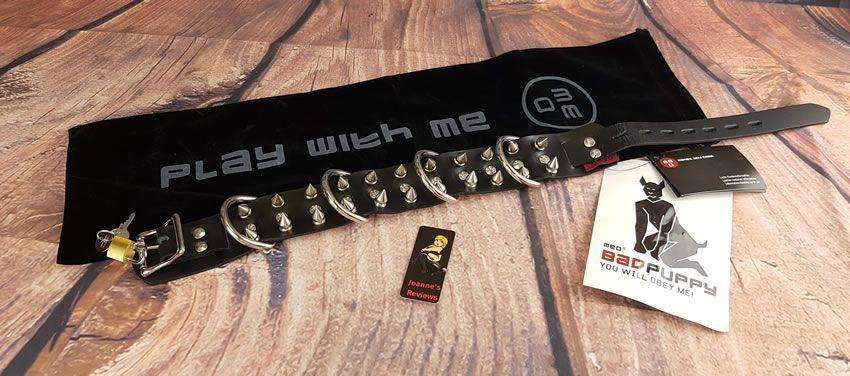 I love the storage bag included with this collar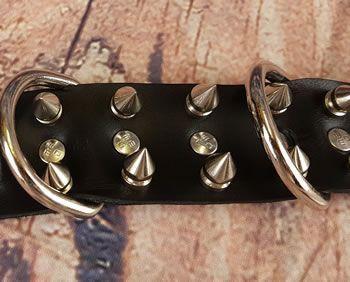 These spikes leave no doubt that the wearer means business and they look and feel amazing. Inside the collar is a smaller leather strip that is riveted in place to protect your skin from the inside edges of the spikes, some of which are quite rough. This leather strip does an excellent job of preventing them from irritating your skin.
You get two rings of shiny spikes running around the collar and a ring of Meo branded rivets running around the collar between them, it is all very shiny indeed.
The bright reflective metal is a stark contrast to the dark black leather of the collar, and this creates an effect that looks great.
The collar has a total length of 23.5"/60cm and will fit anyone with a neck circumference of 15"-21"/38cm-53cm and it is 2"/5cm wide.
One feature that I absolutely adore about this collar is the buckle, it is designed so that you can lock your pup into his or her collar using a small padlock. There will be no way that they can shed their collar during play. Well, we wouldn't want them to become a stray pup now, would we?

I love the locking buckle, it makes wearing the collar even more enjoyable
This set comes with a padlock complete with two keys so that you can secure your pup straight away. I love the way that the holes in the collar of the buckle are slots rather than the usual round holes. This is to facilitate the wider locking arm of the clasp to pass through them with ease. The ability to lock a submissive into this collar with a padlock is one of my favourite features about this collar, I love it.
Locking a submissive or pup into the collar adds an extra layer of submission when you are fitted with this collar. The collar also has four large metal 'D' rings around its periphery that can be used to attach dog tags, a leash or even maybe an anal hook - kinky.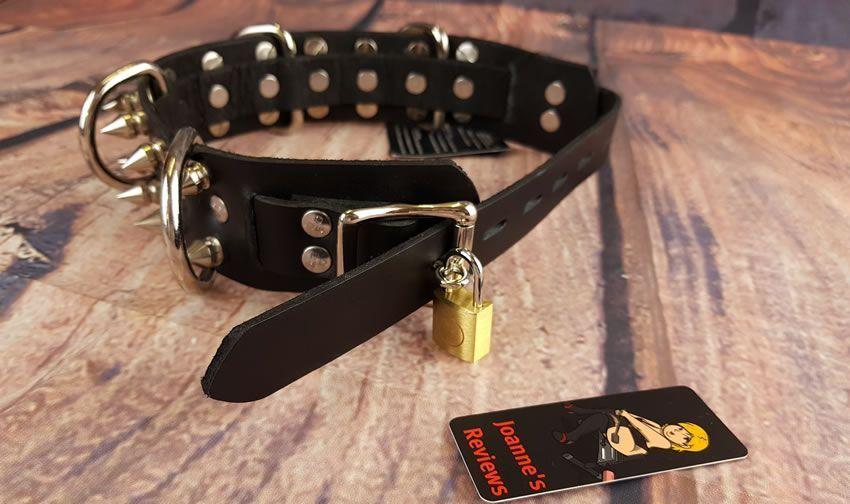 With four metal 'D' rings you can get creative and kinky
Performance
Well, enough about what it is made of and how it works, you are probably asking yourself how it would feel wearing it for yourself.
I love having it fitted around my neck, being locked into it really gets my juices flowing and is a big turn on for me. I like my collars, and I loved running my fingers across all those spikes around my neck.
I had to admire it in the mirror as it just looks so sexy, hearing the padlock snap shut behind me immediately put me into a very submissive state and mindset. I got so turned on wearing it, more so than with other collars and that is probably because of the padlock.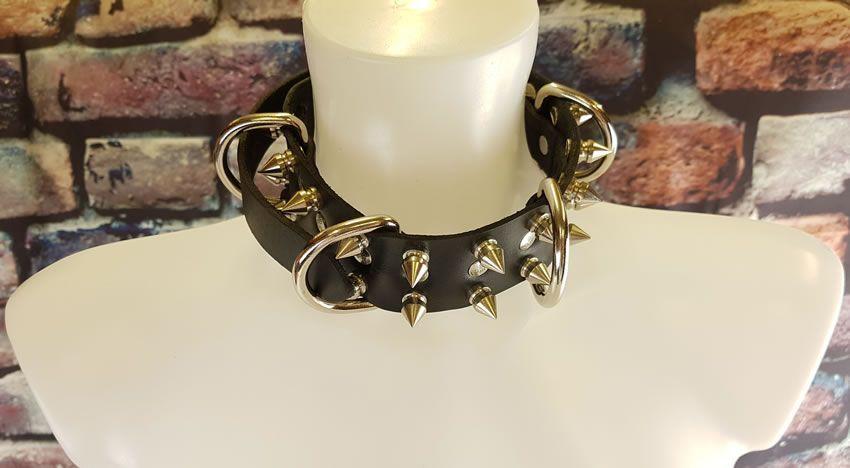 This is a stunning collar that is beautiful as well as dominating
Fitting it to sub'r' allowed me to take a step back and really admire it. She loves her puppy play, and she has knee pads, mittens and a lovely puppy collar with a "Bad Puppy" dog tag from Meo on it. I prefer this one to the pup play one though as it just looks so amazing.
In a way, it reminds me of the collar worn by the cartoon character "Butch" from Tom and Jerry fame. I think that was the look that the designers were going for. If it was, then they have hit the nail on the head. It looks robust, butch and it definitely sets you aside from the rest of the pack. I can see any pup or submissive for that matter being delighted to be able to wear this collar. Whether or not they act dominantly while wearing it will be up to them and their owners I guess.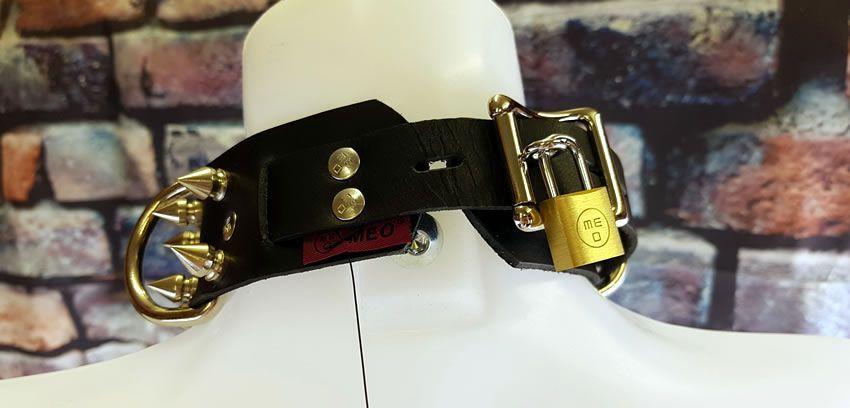 This is a collar that can be locked securely onto a submissive
My submissive loves it too, and it is going to be a staple part of her puppy play equipment and dungeon wear from now on.
Some collars really stand out from the crowd and the Spiked Leather Alpha Dog Collar from @MEO_TEAM looks incredible and really puts you in your place.
Click to Tweet
Key Features
Key features:
Strong leather contruction
Stainless steel fittings
Lockable and supplied with a padlock and two keys
Storage bag included
Final Thoughts
This is a collar that creates strong emotions in the wearer, and it feels and looks amazing. Its quality construction together with tough materials will mean that it will last a long time.
Check out the rest of the Puppy Play equipment available at Meo.de, they have everything an aspiring pup or owner could want including some pretty fantastic puppy play masks.
I was sent the Puppy Play Spiked Leather Alpha Dog Collar by Wolf at Meo.de and I would like to thank them for giving me the opportunity to review it for them.
Joanne's rating
Where Can I Get One From?

Grab one of these fantastic Puppy Play Spiked Leather Alpha Dog Collars for just 59,00 € (approximately £52.72), it feels great and looks so good too.
Check them out and don't forget to tell them that Joanne says "Hi".
---
---
Disclaimer - I was sent the Puppy Play Spiked Leather Alpha Dog Collar to review free of charge and this has in no way affected the outcome of this review. This post contains affiliate links and if you purchase something when you follow one of these links I may receive a small commission at no cost to you. For more information check out my disclosure page.