I must say that we had a blast reviewing this sextoy and I also enjoyed taking the pictures for this review. I wanted to do something different and so started playing with fire as this masturbator is pretty hot stuff. After almost burning myself twice I am pretty happy with the pictures and I hope you enjoy them. This is a special toy and deserved some extra effort in the pics. Anyway enough of my waffling let's get on with the review.
The Pulse III is available in two versions, the SOLO (with a RRP of £79) and the DUO (with its RRP of £99) and the difference in price between the two is £20 (Carol Vorderman eat your heart out). One is for use as a male masturbator and the other has all of the same functions but also has another added vibrator in the tip for use with a partner so that he/she can grind against it. For the £20 difference in price I would go for the DUO just to keep my options open but you will have to decide for yourself if it is worth the extra money for the added capability.
It looks like all of the criticism that was levelled at the Pulse II has been hoisted on board and rectified, the Pulse III has a magnetic charging system that is a breeze to use and has a motor that is 25% more powerful than the original one used in the last edition.
I have to comment on the packaging of the Pulse III Duo as it is simply sublime, it is without a doubt the nicest packaging that I have come across with a sextoy and features a black and metallic gold colour scheme. The box carries a lot of information about the product and is very well designed and laid out. Upon opening the box you will find the Pulse Duo III together with its remote control, a storage bag, a USB magnetic charging cable and a set of detailed quality instructions. It arrives with a charge but I would recommend giving it a full charge prior to its first use
The Pulse III Duo is covered in 100% Silicone making it both phthalate and latex free which is great news if you have an allergy to them. The silicone is one heck of a dust magnet though but thankfully the storage bag is lint free so once you have cleaned your Pulse III Duo you can store it out of the way until you next need it. The silicone is pretty draggy and so you will need plenty of lube if you plan on stroking with it and make sure that you only use a good quality water based lubricant suck as Sliquid Naturals H2O.
It is completely waterproof which means that you can enjoy it in the shower or bath and it can be a lot of fun to use in both. As it uses a magnetic charging system there are no holes in it so it can be submerged.
It comes with a magnetic charging cable and unlike a lot of other sex toys this one snaps snuggly onto the two metal strips in the recess on the base of the toy. When fitted I didn't experience any problems with it disconnecting whilst charging if the cable moves or if the toy receives a knock which is often a common fault with other magnetic charging systems on other sex toys. Four hours of charging will give you around an hours worth of playtime depending on how high you have the motors running. There is an LED light on the charge cables plug that glows red when charging and then green once fully charged.
The Pulse III Duo has three buttons on it, on the left is the power on/off button and that also acts as the mode button. You press this button in to switch it on. Clicking it will cycle through the six vibration patters and clicking and holding will switch it off again. On the right hand side are two buttons (+ & -) and these increase or decrease the level of the vibrations.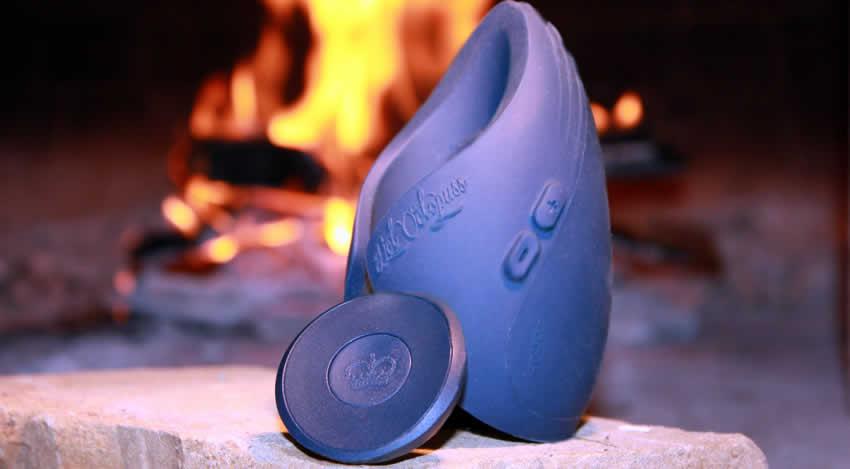 The controls are very easy to understand and pretty intuitive but the buttons can be a bit difficult to press unless you get them at the right angle when using it. This is something that has been commented on by others and I can see what they mean. It really is the only niggle point I have about the whole toy and it really is only a niggle point, once you know what to do you can operate them even whilst your partner grinds him/herself against you.
The Pulse III Duo features wrap around wings that hold your penis in place and these allow for hands free operation or can be used when stroking with the toy for added stimulation.
The main feature is the oscillating PulsePlate™, this is a raised disk embossed with a crown that oscillate against your frenulum causing incredibly pleasurable stimulation. Now a lot of guys don't associate vibration or vibrators with masturbation but take it from me and probably every other woman on the planet - they do work, very well indeed. You can rest the PulsePlate™ against your frenulum and just keep it there for a great hands free orgasm. It might not work the first time you try it but stick with it. My 'stunt cock' now swears by it even though the first time he tried it it didn't work for him. So it does take a little getting used to but perseverance is definitely worth your time, this is one sextoy that is definitely worth getting to know.
The Pulse III Duo can be used when erect or even when flaccid and it can assist in giving you an erection, so it is great for anyone suffering from any form of erectile dysfunction or with disabilities. It's also a great toy for the older generation who may need a little extra stimulation to become aroused. It can be used with lube for stroking or without lube just holding it in place.
The vibrations are pretty rumbly and very enjoyable, by using the remote you can switch on the partners vibrator which is located on the underside of the toy and cycle through its three power levels. This motor has a very contrasting buzzy feel to it. The idea is that you rest the toy against your partners genitals and insert your penis into the toy. You can then both independently control your own vibrations and when both vibes are activated the sensations become a lot stronger as you would expect. It's a lot of fun in the missionary position but also with your partner riding you and grinding him/herself into you.
It comes with a 'Turbo Mode' which sets the toy on full power for those of you who enjoy it hard core. To activate the Tubro Mode simply press and hold the '+' button for one second.
Cleaning is very easy as with any waterproof silicone sex toy simply immerse and wash in warm soapy water before giving it a going over with some sex toy cleaner. Make sure that it is completely dry before placing into its storage bag.
We found that using it together was a very intimate experience and being able to share some mutual masturbation was not only fun but incredibly arousing as you get to see your partner getting off with you.
Key Features
Key features:
100% Silicone so latex and phthalate free
Rechargeable with a magnetic charging cable
Waterproof
Two vibrators one for the male and one for the partner
Remote control
Six vibration patterns for the guy and three power levels for your partner
Final Thoughts
I really like the way that this sextoy can be used with your partner and its adds a whole new dimension to foreplay before the main event. It is a great solo male masturbator but it really comes into its own if you enjoy it with a partner. I think that Hot Octopuss are on to a winner with this product, it is simply fantastic and I would have no problems recommending it to anyone.
This is one sex toy that we both enjoy using especially together. It is a complete break from the norm for male masturbators and it is so nice that with the Duo you can bring your partner along to enjoy the fun with you.
Joanne's rating
Where Can I Get One From?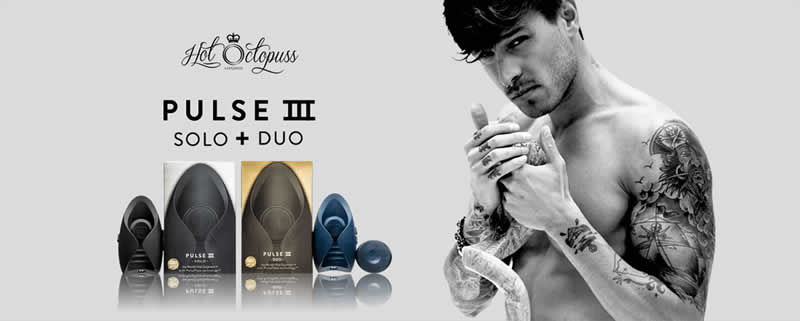 Grab a Pulse III Duo from Hot Octopuss and spice up your sex life.
---
If you enjoyed reading this review then check out my other reviews of Hot Octopuss products:
G-Spot Vibrators
Gender Neutral Vibrators
Couples Vibrators
Penis Play
---
Disclaimer - I was sent the Hot Octopuss Pulse III Duo to review free of charge and this has in no way affected the outcome of this review. This post contains affiliate links and if you purchase something when you follow one of these links I may receive a small commission at no cost to you. For more information check out my disclosure page.