Again as always, this sex toy arrived from Bondara quickly and under plain wrapper ensuring my privacy. I have very nosey neighbours, and I have once again managed to get a dildo to me under their noses LOL.
This dildo is inspired by the gay pride flag, and its colours are wonderfully bold. It is a nice burst of colour in my toy box which contains lots and lots of black toys, and so this one really stands out.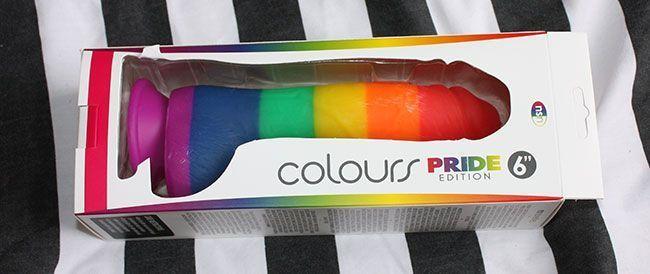 The retail display box displays this dildo in all of its glory
This Pride Dildo arrives in a stunning retail display box that really shows it off. The back of the box has a transparent window so that you can actually see the dildo and its vivid colours inside.
I could hardly contain my excitement when I opened the box and slid out the plastic formed tray that the dildo sits in. I ran a finger along the dildo, and the silicone is not too draggy and feels great.
Yes, this dildo is made out of body safe silicone, and this is a material I am always going on about. It is non-porous and so it is really easy to clean with warm soapy water and a sex toy cleaner. It is also phthalate and latex free, so it will appeal to anyone if they have any allergies to either.
It has a nice weight to it, and it is quite firm, but the silicone has a good amount of 'squish', and it is very flexible, so you can almost fold it in half.

The blend of silicone used is really nice with some squish and loads of flexibility
Apart from the brilliant colour scheme, this dildo has two main features, and they are the suction cup base and the anatomically correct detailing all over it. The details are stunning with creases, bulges, veins and all the detail you would see on a real erect penis, except this one looks like a unicorns penis in all of its glory with its bright colours.
The tip features and well-defined glans and then the shaft widens to a circumference of 5.75"/14.6cm, it then narrows to a circumference of 4.75"/12cm. This makes it really fun to use as once you get the head in it continues to stretch you until it almost pops inside.
It also has a slight bend and curve to it that gives it a lot of character. The nicely formed tight testicles mean that you can insert 6"/15.2cm of the 7.75"/19.7cm dildo.
The base of the dildo features a sturdy suction cup, and once again I did the overnight mirror test, and it held tight, not moving at all and being fun to remove in the morning.

The suction cup is easy to use, strong, and it gives you lots of play opportunities
There is something immensely pleasing about walking into your bathroom in the morning with bleary eyes to find a rainbow dildo stuck to the mirror and looking you right in the face.
This is dildo that will be emotive for lots of people for all sorts of reasons. I love it because it brings attention and awareness to the LGBT scene and the struggles that they still face. It also looks incredible with its rainbow stripes, and I can see them selling out quickly on Bondara so grab one before they do. I hope it is a dildo that they keep producing though as this one will be a classic.
I had a fantastic time with this dildo, and I love the fact that it doesn't have a straight flat shaft. The fact that it is wider near the glans end of the dildo means that when thrusting with it your vagina or anus is continuously being stretched and then relaxed again and this feels incredible.
The tip makes insertion easy, just give it a good coating with a quality water-based lube such as Secret Play Organic and don't forget to lube yourself up too. Then enjoy the feeling of being spread open and penetrated as you push it home. I never get tired of that feeling you get when you slide a toy in at the start of a good play session.

The anatomicaly correct tip makes insertion fun and also easy
I enjoyed thrusting with this dildo but just keeping it deep inside you while enjoying some clitoral fun is fantastic too. Try using a bullet vibe on your clitoris with this buried deep inside you, and you will see what I mean.
Sadly, this dildo is way too wide for me to take analy but it would feel amazing if I could. The balls make it an anal safe sex toy.
Playing with it by hand is fun but sticking it onto the end of a Fucking Machine takes things to a whole new level, and when being hammered at four thrusts a second I could almost see the colours of the rainbow flag.
You can, of course also stuck it to any flat, smooth surface using the suction cup and so shower time could be a lot of fun. With a little imagination, you can enjoy it anywhere. Having a dildo stuck firm means your hands are free to do other things and that can take your masturbation to new levels of enjoyment.
This is one of those dildos that you fall in love with when you see it, and these pictures don't do it justice. The colours really pop, and the edges between them are really crisp. A lot of attention has gone into the quality control during the manufacturing process to give you a flawless pride dildo.
Don't be afraid to show your colours with pride.

This is a stunning dildo that feels as good as it looks in use
Ride the pride rainbow with this colourful silicone dildo from @Bondara. Check out the full review. Click to Tweet
Key Features
Key features:
100% Body safe silicone
Beautiful coloured stripes in the style of the Pride flag
Nice tight balls and great detailing
Strong suction cup base
Final Thoughts
The Pride Edition Silicone Rainbow Dildo ticks all of the boxes for me. I love its shape, the bulbous head really does it for me. The suction cup base is reliable and easy to use but most of all it just looks incredible.
If unicorns had genitalia I am sure a unicorn cock would look something like this (maybe a little more glitter and sprinkles though). It is real eye candy, and unlike some toys, this is a toy that feels as good as it looks.
I loved using it by hand, on a fucking machine and also stuck to the shower wall for some kinky me time.
I am sure that these will sell out fast so grab one when you can, but I hope that Bondara decides to keep this line running throughout the year as who doesn't need a little rainbow pride in their lives?
I bought myself this amazing Pride Edition Silicone Rainbow Dildo from Bondara in order to be able to review it for them.
Joanne's rating
Where Can I Get One From?
Grab one of these fantastic Pride Edition Silicone Rainbow Dildos from Bondara for just £44.99, this is a lot of silicone and it not only looks amazing but it packs a punch when you use it.
Bondara has a huge range of BDSM products, sex toys, lingerie and accessories and it's definitely worth checking out their site.
Check them out and don't forget to tell them that Joanne says "Hi".
Disclaimer - I bought myself a Pride Edition Silicone Rainbow Dildo - 7.75 Inch to review and this has in no way affected the outcome of this review. This post contains affiliate links and if you purchase something when you follow one of these links I may receive a small commission at no cost to you. For more information check out my disclosure page.