The pre fisting glove arrived from Meo in Germany with their usual super fast service. The packaging is always non-descript for customer privacy. I can always rely on Meo to get products to me quickly and discreetly.
This product like a lot of others from Meo.de comes in a plastic pouch. This minimalistic approach helps protect the environment as you aren't throwing away lots of packaging and it also helps to keep costs down.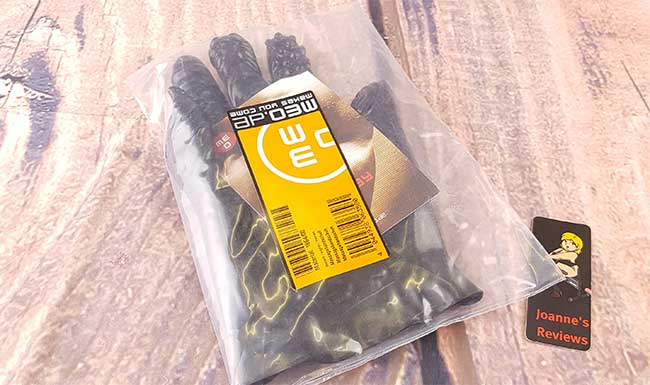 I love the no nonsense packaging scheme from meo.de
I was surprised at how thick the Rubber (PVC) is, this is a glove that resists you when bending your fingers, wanting to return to its original shape.
It is like wearing a neoprene divers glove, the quality is fantastic, and it fits my hand well. When Stunt Cock tried it on it took him a while to wriggle into it as he has fingers like sausages and hands like shovels. He did get it on though and enjoyed using it on me.
Glorious Textures
I adore the textures on the fingers of the glove, each finger has a different one, and it was fun trying each out. The palm is also textured for deep massages. The glove is only available for right-handed use though which may be a problem for left-handed users. Still, masturbating with your weaker hand can be a lot of fun, almost like someone else is fiddling with your bits.
My favourite texture was on the index finger, oh my god can that thing make me squirt. There is something about applying some gentle upward pressure while drawing it back and forth over my G-spot that has my toes curling and me biting my lip. It just feels so good.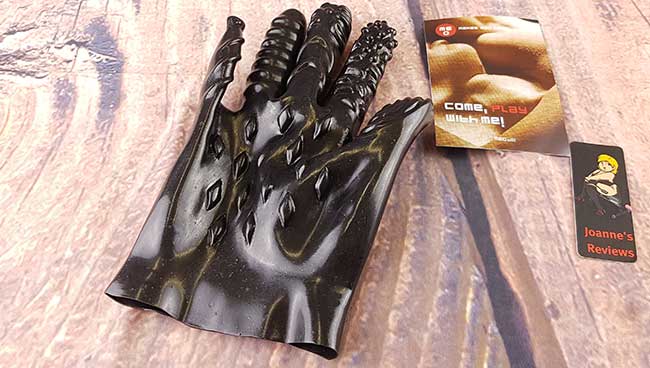 I love the fact that each digit has a different texture pattern to explore
This glove isn't designed for just fingering masturbation though, while it is fantastic for a little finger play, its primary purpose is to warm you up and stretch you open ready for some fisting fun. Using it increases circulation, and it helps to warm you up ready for what is to come.
While that isn't for everyone, you can still enjoy the delightful sensations that it can deliver while fingering yourself or someone else. The textures feel so good and to be honest the sight of the black-gloved fingers sliding into me as fascinating and incredibly horny with the contrast with my pale sticky bits.
I also enjoyed using this glove for some bum fun, and again the textures feel pretty wild and bring a whole new level of enjoyment out of some simple bum fun. I can imagine as more and more fingers are introduced the sensations would be incredible.
Clean Up
The pre-fist glove is a short glove, ending just before the wrist and it is straightforward to clean afterwards. Firstly scrub the fingers to get rid of any vag-goo or other body fluids from the textures and then wash in warm soapy water before cleaning with an anti-bacterial sex toy cleaner. Make sure that it is completely dry before storing it away until the next time you get the urge for some fingering fun.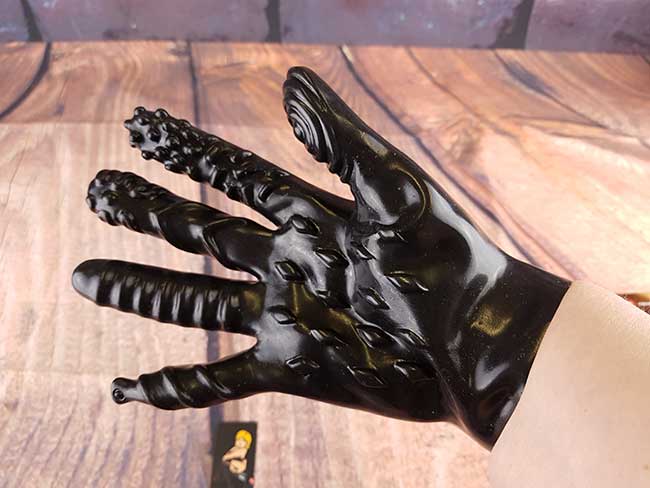 I found it comfortable to wear but Stunt Cock only just managed to put it on
Performance
I really enjoyed using the pre-fist glove on myself, it felt incredible exploring the different textures and as soon as you apply a good quality water-based lube such as Sliquid H2O or Secret Play Natural the glove glides over your skin.
Meo recommend their brand of fisting lube - LET'S FUCK Cream, but I have yet to try that out. Lube is needed if having some bum fun but I found I only needed a tiny amount of lube for pussy fingering as I get so aroused with this glove that my own juices soon take over.
Fingering myself felt completely different, and I soon worked myself up to an incredible orgasm that had me squirting when I pulled the fingers out of my pussy.
The sensations that it delivers are fantastic, the textures help draw lube deep inside you, so there are no uncomfortable dry areas at all, this is especially important if you are using it anally.
The textures on each finger are amazing and when you start putting two or more digits in the added tightness helps you appreciate the textures even more. I can honestly say that I have never felt anything like it when giving myself a good finger fucking.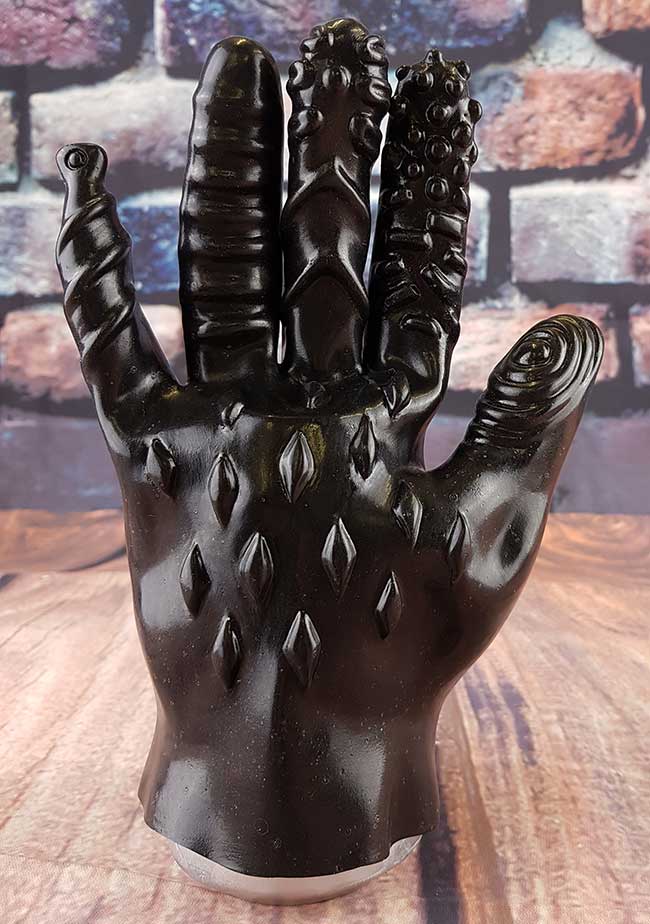 The textures are fantastic and provide some amazing sensations
It was when Stunt Cock used it on me that I enjoyed it as he kept me on the boil, not letting me orgasm and slipping finger after finger inside until I could take no more. He then used his thumb to circle my clitoris slowly, and that was it. I felt like my pussy exploded as I came, it was incredible, and it left me panting for breath and Stunt Cock chuckling to himself.
I have a male friend who has one of these textured gloves, and he uses it with his partner to warm himself up ready for anal fisting, and it works for him every time, and I can understand why.
It is fantastic for anal play but also a heck of a lot of fun for vaginal fingering too. Using it on sub'r' was so much fun as she squirted with it as well. She also loves the great textures and is enjoying using the glove for fisting training. We will enjoy using it for more training for her as she enjoys it so much, naughty girl.
Take your fingering skills to the next level with the PRE-FIST glove from @MEO_TEAM.
Click to Tweet
Satisfyer Pro Traveler Video Clip
Behold through the wonders of Youtube, here is a video of the PRE-FIST Glove in all of its glory.

Key Features
Key features:
Delicious textures on each digit and the palm of the glove
Thick rubber (PVC) glove
Right handed use
Great for just fingering or for warming up for a fisting session
Final Thoughts
I enjoyed getting to know this glove; I never knew that you could get something like this or that it would be so much fun to use. I love the delicious textures, and they feel fantastic when I masturbate wearing it.
Having someone use it on me feels even better, and I relish the feeling of being slowly warmed up so I can take more and more. If you want to spice up your fingering fun, then this is a quiet toy that is so simple to play with and changes your masturbation pleasure in so many ways.
I can highly recommend it not just for pre-fisting fun but also for slow or rigorous fingering. Go on, let your fingers do the walking.
I was sent the PRE-FIST Glove by Wolf at Meo.de and I would like to thank them for giving me the opportunity to review it for them.
Joanne's rating
Where Can I Get One From?
Grab one of these fun fingering gloves from Meo.de, you can get one for just 29,00 € (£25.66) which is great value for money. It's just so versatile and such good fun that I think everyone should have one.
Check them out and don't forget to tell them that Joanne says "Hi".
---
---
Disclaimer - I was sent the PRE-FIST Glove from MEO to review free of charge and this has in no way affected the outcome of this review. This post contains affiliate links and if you purchase something when you follow one of these links I may receive a small commission at no cost to you. For more information check out my disclosure page.