But, after two months of planning and building up my stock levels, we hit the ground running. After all, there is only so much planning and worrying you can do before saying, "Sod it, let's do this".
So Stunt Cock, sub'r' and I packed up our van with our stall, and we went to stay overnight in a hotel closer to BBB so that we wouldn't be too rushed in the morning.
We have a lovely evening and a nice meal before settling down to some kinky fun before bedtime. We had a full-on "Fat Boy" breakfast in the morning, and then it was time to set off for the Nightingale Club.
Our spirits were high as we headed off for our first trading event. By coincidence, it was going to be the 22nd anniversary of BBB, so that was nice.

High spirits after a full breakfast saw us taking out first ever van selfie pic as we set off for BBB.
Upon arrival, we were met by the BBB team, and we booked in, getting our traders wristbands. Then both sub'r' and I felt sorry for Stunt Cock, who had to carry all of the stock and out stall up four flights of stairs as we were on the top floor of the club. Both sub'r' and I have knee issues, so we felt guilty as hell watching Stunt Cock make trip after trip up the stairs.
Upstairs sub'r' and I got busy setting up our stall and a 3D printer. We took one of our small Voron 0 printers, "Minnie" (all of my printers have names, mostly Disney and Minion names to be precise), to demonstrate to people how we make our e-stim electrodes. It proved to be a fantastic draw with the passing visitors to the event. They are excellent machines to watch, especially if you have never seen one before. It proved to be a great ice-breaker, and it drew quite a crowd over the day.
With chatting and offering advice to stimmers young and old, we got into the swing of things and were rushed off our feet all day, hardly having time for a quick sandwich.
It was amazing to see so many amazing people, and some of the outfits were incredible and left me green with envy.
What surprised me was how many people knew about us and our site and that put a massive smile on my face. It was nice to put faces to some of my regular customers and readers.
Setting up a stall comes with costs, of course, and my aim with this trip was not to be out of pocket, and I am over the moon that I covered my expenses. That means I have no excuse for not going back again next month, LOL.
For me, some of the day's highlights were seeing devoted submissives buying gifts for their Mistresses and hearing lots of great comments about how great the stall looked.
We had an ElectroPebble demonstrator unit from E-Stim Systems that was put to good effect, allowing complete newbies to e-stim to feel the sensations for themselves. It is often hard to describe precisely how it feels, so the demonstrator unit was a great addition to the stall.
My gas mask breath restrictors proved to be very popular, which was fantastic. I took an extensive range of different colour combinations, and they got a lot of attention.
The day finished with us all exhausted, and as we packed the stall away, ready to take downstairs to the van, we thought it went very well for our first time.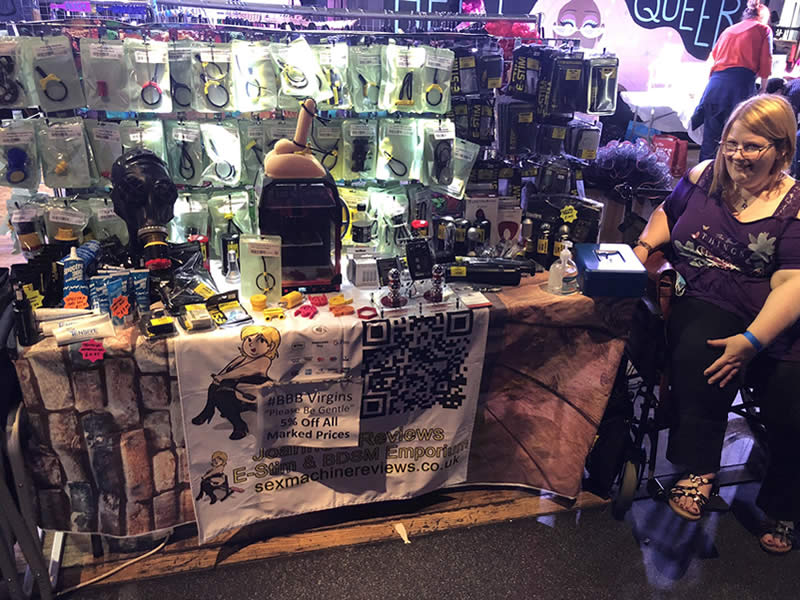 I had so much fun at BBB and met some incredible people during the day.
We came away with some points to improve for next month, with things like lighting and information displays being top of the list.
All in all, we had a fantastic but extremely tiring day.
Would we do it again?
Hell, yes! We will be back there again next month, and we hope to see more old and new friends there again.
Fancy Visiting BBB?
Check out the BBB webpage for the next date - https://www.thebbb.co.uk/
Or you can find out more information on Fetlife on the group page - Birmingham Bizarre Bazaar (BBB) Group
See you there.
Check out Joanne's stall at the Birmingham Bizarre Bazaar (BBB), the midlands premier fetish market.
Click to Tweet
Disclosure
Disclaimer - This post contains affiliate links and if you purchase something when you follow one of these links I may receive a small commission at no cost to you. For more information check out my disclosure page.