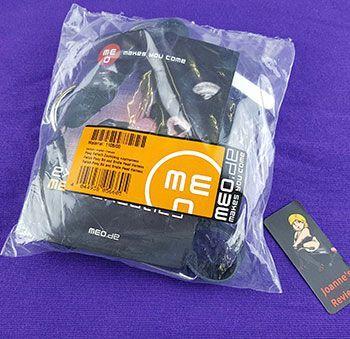 For anyone who isn't sure of what pony play is, here is a quick summary from Wikipedia:
Pony play is where at least one of the participants dresses to resemble and assumes the mannerisms and character of an equine animal. People involved in pony-play ("ponies") divide themselves into three groups although some will participate in more than one category:
Cart ponies pull a sulky (carriage) with their owner.
Riding ponies are ridden, either on all fours or two legs, with the "rider" on the shoulders of the "pony" (also known as Shoulder riding).
Show ponies show off their dressage skills and often wear elaborate harnesses, plumes and so on.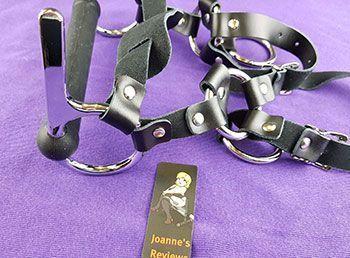 Both my friend Rachel and I both identify as Show ponies in this sort of BDSM play and as such prefer the more elegant types of trap and other pony play equipment.
Pony play can be a lot of fun as you can forget your daily troubles and immerse yourself in an equine world where you only need to focus on performing as a pony to please your trainer.
One of the most critical pieces of pony play equipment is a good quality head harness, and I am happy to say that this tackle from Meo.de ticks that particular box well.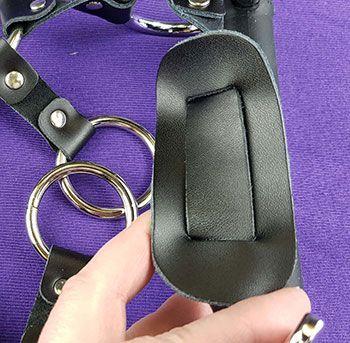 I just loved the amazing smell of fresh leather when I opened the bag for the first time. There is something about that smell that gets my heart racing and the juices flowing. Meo.de love their minimalistic packaging, and I applaud that, it is nice to have products where you don't fill a bin bag with waste materials when you unpack it.
This head harness is made from very soft but sturdy black cowhide leather and features two stainless steel buckles that will allow its fit to be adjusted to any head size. I tried it on my partner who has a huge head, and it fitted well. Both Rachel and I found it to be a good fit too and we have much smaller heads.
The harness features a soft chin strap that goes just under your jawline and a nice black silicone bit that is clamped between your teeth preventing you from closing your mouth; this often leads to lots of drool and a trainer may choose to punish his or her pony for drooling or allow it.
Size: The mouth gag is 18cm = 7" in length, 2.5cm = 1" in diameter.The silicone bit and chin strap are joined to the rest of the harness via two large stainless steel rings that sit next to your cheeks. These rings have two downward protruding extensions that prevent the pony from looking down too far as they contact your collarbone. They are also used to stop your pony when you pull back on both reins together.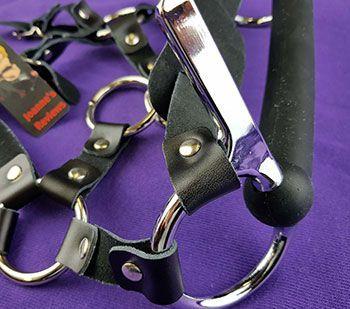 The large rings are linked to two smaller rings by a short leather connecting strap, and the two adjustable head straps also attach to this second set of rings. These adjustable straps hold the harness firmly in place on the head with one going straight over the top of your head to support it and the other going around the back of the neck to secure it tightly in place.
There is a third set of rings that are also attached to the second set by short leather straps, and you can connect reigns to these to control your pony.
Having played with it, we found that attaching the reigns to the large rings give much more control of your pony and that is where I recommend connecting yours if you want decisive and responsive control of your ponygirl or ponyboy.
The leather used on this harness is very nice and is finished well, the rivets used to secure straps are accurately placed and give the harness a very strong, crisp look.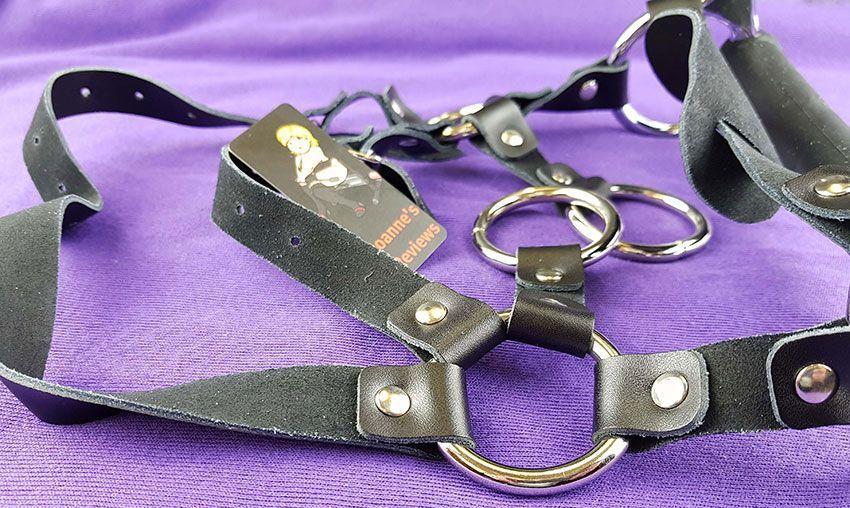 This is a great harness, and it is ideal for anyone as a first-time harness or even for someone having some experience with pony play. The bit is comfortable, yet it also reminds you of your predicament. Your trainer can easily control you with the reigns you attach. We used two double snap hooks (House Of eros Double Snap Hooks) and a short length of rope (Fetish Fantasy Mini Silk Rope) and this combination was perfect for some close in pony training.
Wearing the harness feel amazing, and you really can feel yourself getting into the role, arms by your side and enjoying learning to canter, trot and prance. I found that part difficult but my friend loves it, really getting into character and it was so lovely to see her trotting around the dungeon with her head held high.
The way that it sits very firmly on your head feels great, throw in a ponytail butt plug, and you do get into the role and enjoy being a pony girl or boy.
The Pony Bridle Head Harness from @MEO_TEAM is great quality and lots of fun to use for all your ponygirl/boy fantasies.
Click to Tweet
Key Features
Key features:
Good quality black cowhide leather
Stainless steel fittings
Black silicone bit/gag
Two adjustable straps makes it adjustable to fit anyone
Soft chin strap
Final Thoughts
I love this Pony Head Harness, everything from its smell to its feel is first class. I got a great rush when I opened the bag and sniffed that fresh leather scent, and it just looks so good. The stainless steel fittings give it a classy look while the silicone bit is pure functionality.
It will fit any head size, and that is one of the things that makes it so good. This is an ideal head harness for anyone in the pony play scene or for anyone looking to experiment a bit and let their hair (or should I say mane) down.
Meo.de have once again amazed me with another cracking BDSM product.
I was sent the Pony Bridle Head Harness by Wolf at Meo.de and I would like to thank him for giving me the opportunity to review it for them.
Joanne's rating
Where Can I Get One From?
Grab one of these amazing head harnesses from Meo.de for just 99,00 € (£87.84) which for specialised BDSM equipment is rather a good deal.
Check them out and don't forget to tell them that Joanne says "Hi".
---
---
Disclaimer - I was sent the Pony Bridle Head Harness to review free of charge and this has in no way affected the outcome of this review. This post contains affiliate links and if you purchase something when you follow one of these links I may receive a small commission at no cost to you. For more information check out my disclosure page.