Now if you are like us when we go to a play meet or visit a dungeon we always have a problem with bags packed with equipment and it always becomes a mess with us having to search to find what we are looking for. Then having to untangle floggers and the like meant that we needed to find a solution to this problem and so we did.
A quick google and a search through Fetlife drew our attention to Bondatrix.com, a site where you can buy bespoke BDSM and fetish clothing and equipment. The range is great and our attention was drawn to the equipment bags. Could these be the solution that we were looking for?
Victoria makes the equipment bags to order and so you have great options and you can customise it to suit your own needs. We opted for the Pocket Focussed kit Bag as we have lots of small accessories such as e-stim equipment and clamps and so we wanted something with pockets for these small items together with storage for floggers, crops and canes.
The kit bag is available in three different sizes (medium, large and extra large), this one is the large and it has ten equipment slots together with two large zippered pockets, three medium velcro closing pockets and a small velcro pocket. This gives us plenty of options when we decide what kit to take to a meet.
The medium obviously has less storage capacity (seven slots and five pockets) and the Extra Large has thirteen equipment slots and nine pockets. One thing to bear in mind when selecting which size you want will be the weight of all of your kit. We are delighted with the Large as it carries everything that we need without being too heavy.
You can choose from black, purple and red material and you have a choice of Heavy Cotton which we opted for, Leatherette or PVC material for the outer case. All in all you have tremendous choice when designing and buying this kit bag.
The standard of finish with this kit bag is superb, the stitching is neat and everything looks so good.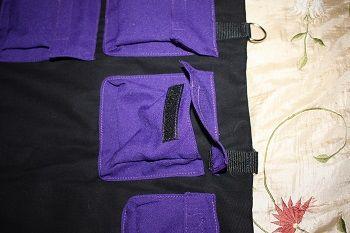 The equipment slots consist or an array of pockets against one edge of the bag and loops running down the middle. They are different widths which makes it easy to choose one to fit each piece of your equipment, you can slide the handle of a flogger through the middle loops and the the handle can fit snuggly in the pocket with the lengths of the flogger held securely in place by the loops, it's a great solution and it keeps everything from getting tangled on your travels.
The zipped pockets are perfect for small items that could fall out of the velcro closing pockets and the zip is a nice heavy duty one that moves freely. The velcro closing flaps on the other pockets line up well and they hold the contents inside well.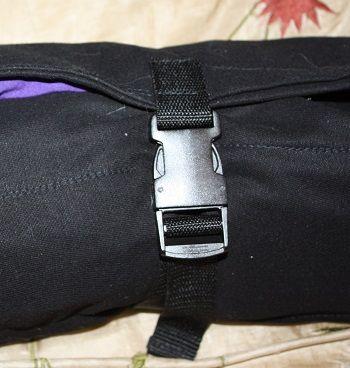 Once you have all of your equipment stored you roll the kit bag up and secure it with the two quick release buckles on their adjustable straps, you can then tighten them to hold everything in place in a very smart manner.
The top and bottom edges have metal 'D' rings and you connect the snap connector at the end of the carry strap to the five at the top and this closes the end tightly preventing anything slipping out.
The other end of the carry strap has velcro and you pass this end through the bottom three 'D' rings and fold it back on itself securing it with the velcro.
You now have a neatly rolled up kit bag that separates and holds everything securely with a nice adjustable carry strap that you can put over your shoulder.
When it's time to play simply remove the carry strap and unclip the two buckles before rolling out the kit bag. All of your kit will be where you left it and as everything is laid out you can easily and quickly find things.
Another great feature of this system is it keeps your equipment off the floor or furniture. Once you have finished playing simply drop the equipment onto the open kit bag before storing it all away at the end of your scene.
This solution is simplicity in itself and we now don't know how we got on without it. It gets great comments from other kinksters and I can highly recommend the pocket focussed kit bag from Bondatrix.com.
The picture above actually has 32 items of BDSM equipment all stored neatly and ready to use as soon as the kit bag is unrolled.

Have a problem storing your BDSM equipment when travelling? Check out this great kit bag from @Bondatrix.
Click to Tweet
Key Features
Key features:
Three colours to choose from
Three materials to choose from
Three sizes to choose from
Bespoke hand made product that can be tailored to your exact requirements
Simple and quick to open and close
Durable materials
Final Thoughts
This kit bag is the answer to our BDSM kit problems, it is such a great design and with so many options there will be one to suit most kinksters. Victoria does a great job, the stitching it neat and very strong, it is a bag that will last a long time and will be the envy of your friends.
Joanne's rating
Another Great Example Of One Of These Kit Bags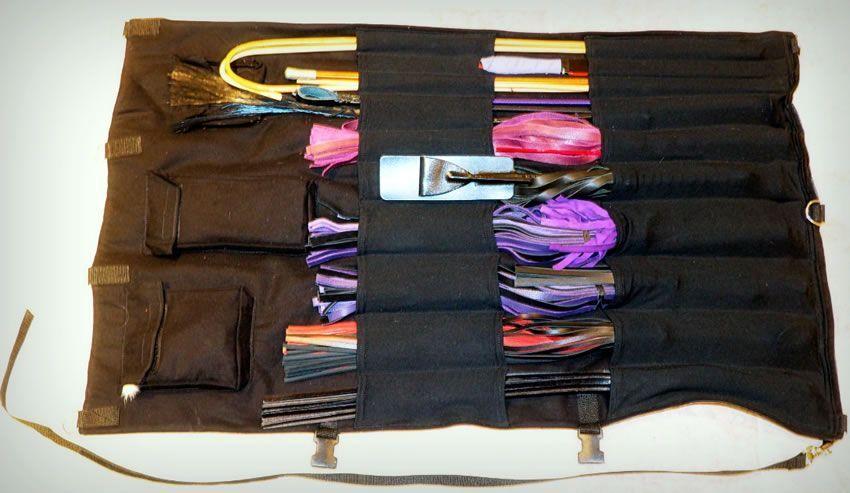 Another great example of one of these kit bags from Bondatrix. They really do allow you to organise your equipment well. Photo Credit: @ikkio_too
Where Can I Get One From?
Grab one of these great kit bags from Bondatrix.com, whilst you are there be sure to check out the amazing hand made clothing and other pieces of equipment. The Pocket Focussed Kit Bag is available from £89.00 for the medium.
Check them out and don't forget to tell them that Joanne says "Hi".
Disclosure
This review does not contain any affiliate links, for more information about affiliate links check out my disclosure page.