Plus Sized Hand Made Latex Dresses - KinkCraft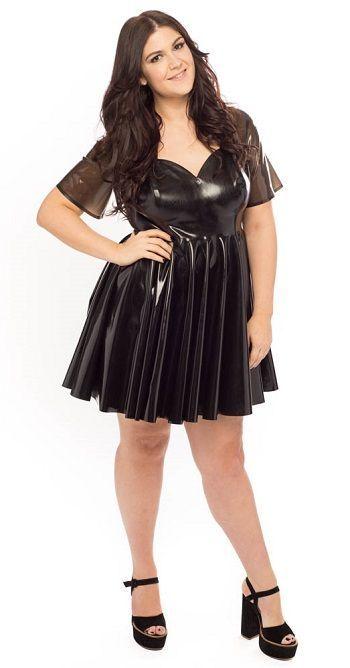 Anyone who reads my reviews knows that I absolutely adore the folks over at KinkCraft.co as they produce an amazing line of kinky kits and products. They started off with the mission statement - "If there is one thing better than really good kinky toys, it is really good kinky toys you made yourself. We want to teach you everything you need to know to make your own toys and have a lot of fun doing it".
I can certainly attest to the fact that their kits are excellent quality and a heck of a lot of fun to make up, even for someone with hand problems as I have. So far I have had the pleasure of reviewing the following products for them:
But enough about their amazing kits and kinky products that I have reviewed, what I really want to talk to you about is their stunning new line of Plus Sized Hand Made Latex Dresses. It is just so hard to find decent quality latex products when you are a big girl and I am so pleased that Pixie from KinkCraft has designed this range of amazing looking dresses. Having spoken to her last year at the ETO (Erotic Trade Online) show where she hinted at the new line of products I was blown away when I saw them. They also have some great new plus sized products in the pipeline but I will not steal their thunder, keep an eye on their site to see the new developments.
One thing that the brand name of KinkCraft is synonymous with is the quality materials that they use coupled with their impeccable attention to detail and both of these shine through in the new range.
Launching a product line aimed fairly and squarely at plus sized women is a very ballsy move and one that pleases me so much. KinkCraft are movers and shakers, they are out to make a big impact on the industry and they just keep coming up with innovative products and designs. I can't wait to see what they come up with next. This great team deserve some attention and support.
I have some latex dresses and kinky outfits (no surprise there I guess) but they came from WestwardBound when they had a range of plus sized dresses and outfits but they cut that line and I vowed never to buy anything from them again. Intelligent companies should be clamouring to provide for plus sized ladies as lets face it the average sizes are going up and not down so it always upsets me when the big players in the industry show their true colours and stop supporting plus sized clothing. This is another reason why I have a soft spot for KinkCraft they are doing something about the problem of a lack of choice for plus sized women, so good on them.
So, if you want to feast your eyes on quality hand made plus sized clothing then what are you waiting for, get yourself over to KinkCraft and don't forget to tell them Joanne says "Hi!"