The Pleasurenana arrives and is sold in a blister pack on yellow card and it even has instructions for use on the back. I did smile as basically all you need to know is apply lube, insert cock and enjoy. You can see the Pleasurenana through the clear plastic packaging. This no nonsense approach to the packaging helps to keep the price of this male masturbator down and it's a fraction of the price of a basic Flechlight which is commendable.
This mastrubator differs from a lot others that I have tried in that it has two orifices, with one at each end. The first is a nice and tight orifice designed to simulate vaginal intercourse and the second is even tighter and this is supposed to feel like anal sex.
The bright yellow body of the masturbator is made out of ABS which is a good material as it's easy to clean and also non-porous. The toy has two end caps that cover both orifices and these can be a bit fiddly to fit as they can only go on in one particular way. This isn't a real problem though just something that was worth mentioning.
With both ends in place it does look like a rather large bananna but if you think you will be able to hide it in a bowl of fruit when your mum comes to visit you are mistaken as it is much larger than its namesakes.
The central portion of the masturbator contains the liner which is made out of TPE which is unfortunately a porous material so you won't be able to share the toy with anyone else as you won't be able to sterilise it. If you're planning on sharing it then condoms will be a must.
As with all TPE sex toys never use oil or silicone based lubes, just use a good quality water based lube and you'll not go wrong
The liner is very easy to remove for cleaning as it just slides out. To clean it after use just rinse it through and then use some anti-bacterial sex toy cleaner on it. Make sure that it's dry before reassembly and fitting the end caps again. As with all TPE masturbators you should give the dry liner a dusting of corn flour or branded "renewal" powder to stop it feeling tacky to touch and this will prolong its life considerably. I'd go for the corn flour option as it is much cheaper from the supermarket and it is basically the same thing.
How does it perform?
That is the big question that is probably on your mind and so I'd best answer it for you. In use it feels pretty good, the inner spiral texture is not very pronounced and so it is quite a subtle massage sensation that is delivers.
There is a definite difference between the two ends and I actually prefer the looser one over the tighter end which was a surprise for me as I usually enjoy strong sensations. As this is a straight through design if you are blessed in the trouser department you would be able to see yourself emerge as you use it and that could be a nice treat for a partner especially when it come to the vinegar stroke. However I am not "Long John Silver" but more of a "Peg Leg Pete" and so alas that's not for me but it's still a very nice feature. This design makes it suitable for penises of all lengths.
The only downside I can find with the Pleasrenana is that it can get slippery if you try to use it with lubed up fingers. The outer casing is so smooth that you really do need to keep your hands free of lube otherwise it's a bit of a problem. That said though I only had that problem once and when I became aware of that I just made sure I had a towel handy to dry my fingers.
Use lots of lube for a very nice ride, stroking with it is very easy as it's smaller and lighter than a Fleshlight and the two ends do give you a choice as to the sensations. You can just flip it around whilst using it to vary the sensations.
I found it just as easy to orgasm from using this as I do with a Fleshlight but in all honesty I do prefer some of the textures in my Fleshlights over this one but that said it's a very nice masturbator. For its price it's great value for money costing a fraction of what you would have to spend on a Fleshlight for the same level of enjoyment.
You can enjoy it in the bath or shower but bear in mind that you will probably have to keep topping it up with water based lube though.
In use it does chuff like a steam train and this is caused by air being expelled from the body as you thrust into it, this isn't a loud noise but it is noticeable.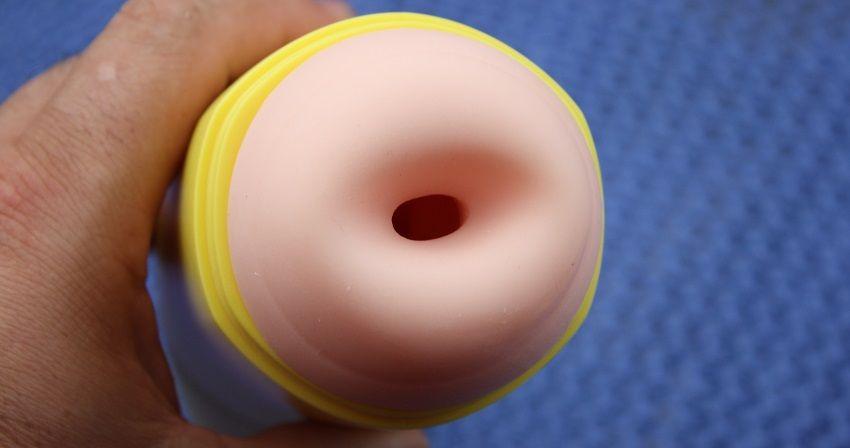 Don't "spank your monkey", treat it to a Pleasurenana.
Click to Tweet
On a lighter note
When I first laid my eyes on the Pleasurenana my first thought was that it reminded me of the minions from Despicable Me. You know, the cheery little buggers who love to follow a bad guy.
I just couldn't shake the image of the minions in a boat looking like their favourite appetiser and so I had to do this pic just so you can share that image with me.
Joking aside though, the Pleasurenana is a nice little masturbator that is great value for money.
Banannnnnaaaaaaa! You've got to admit that it does look a bit like a minion.
Key Features
Key features:
Non anatomical orifices
Two orifices, one simulating vaginal sex and one simulating anal sex
Fun outer casing
Easy to strip and clean
TPE liner and ABS body and end caps
Final Thoughts
For its price this is a fun little male masturbator, I like having two choices in the one toy and having them as non gendered orifices is a great idea as some people can be put off with anatomically correct masturbators. It's easy to use and also easy to clean. Whilst the shape and colour will have you smirking and yes it does look like a minion that isn't a bad thing. I am fed up with masturbators designed to look like masculine items such as beer cans and flashlights, why not have one with a little humour. I like the Pleasurenana and it has certainly lived up to its name every time that I have used it.
I was sent the Pleasurenane by IMToy and I would like to thank them for giving me the opportunity to review it for them.
Where Can I Get One From?
Grab yourself a Pleasurenana by IMToys from their Amazon Shop for just $29.00 which equates to about £22.60 at the time of writing this review which isn't too bad considering this is a dual sided male masturbator.
Disclosure
This review does not contain affiliate links, for more information about affiliate links check out my disclosure page.