Let me set the scene for you, sub 'r' was very nervous when she arrived at the LL&L shop, but she was soon put at ease by Patrick and the rest of the staff there. Stunt cock decided to take her there as a treat for her Birthday, and they came away with a lovely French Maids Outfit, and he also ordered these fantastic boots.
While there, sub 'r' had lots of fun trying on different boots and shoes to work out what would look best and feel comfortable on her. The boots that she eventually opted for were a pair of Exotica 2020X black patent wide width knee length boots. This pair was not in stock, but the process of ordering the boots was simplicity itself with Patrick explaining that they were a US brand and they would arrive within a few days. This was on Thursday, and the boots arrived at my door the following Tuesday which I am sure you will agree is lightning quick service.

These boots look incredible and the PU leather is really shiny
Latex, Leather & Lace have a good range of shoes in stock but if you require one of the designs not in stock that is the sort of delivery timeframe you are looking at. Having experienced slow deliveries from the US in the past, I am amazed that they were ordered on Thursday and sent to Latex, Leather & Lace before being forwarded on to us to arrive the following Tuesday. I still don't know what magic Patrick used to pull off the impossible, but there it is.
The boots arrived very well packaged, and I love the Funtasma shoe box, the bright logo put a smile on all of our faces. Upon opening the box, we could see the boots individually wrapped and separated for transit with the usual scrunched up paper inside the boot to protect the toecap from any damage in transit.
This is one shiny set of boots, and they come ready laced with five eyelets on either side of the boot. The rest of the front of the boot has quick release bootlace hooks, so fastening and releasing the bootlace is a quick process.

The tongue in these boots is wide and comfortable
But you only need to lace them once to adjust the boot to your shin shape, once done you remove and refit the boots using the inner side zip that are both smooth and very sturdy.
Having never had a thigh-high set of boots myself (are you reading this Stunt Cock?) I had no experience with lacing boots this big, but it was straightforward.
The quality of manufacture is also first class. When they arrived, I was blown away by them and I wouldn't let anyone touch them until I had taken these pictures. I wanted to try to convey the quality and craftsmanship that has gone into them.
The stitching is first class; there is no messy glue runs or smudges around the sole and upper interface. The Vegan Friendly PU Leather shines like a mirror, and it is easy to buff to a high gloss shine after wear. I was really enamoured by them and would love a pair myself. They are as good as my Pleaser Dice Shoes I received to review from LL&L (thank you once again).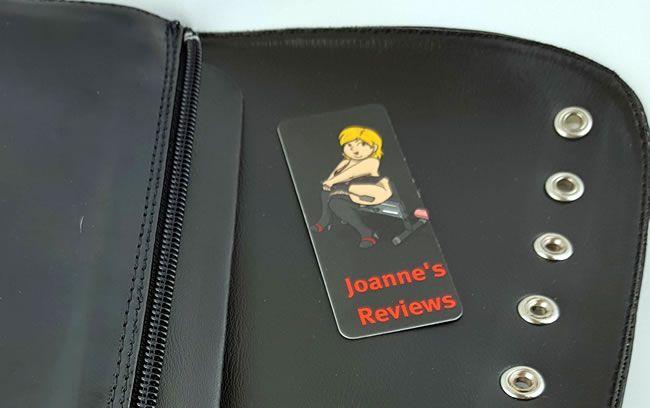 The high standard of worksmanship is evident in the stitching and quality of fittings
Needless to say sub'r' was a like a kid on Christmas morning when I eventually told her she could put them on.
We had sub 'r' stood in front of us wearing her new 'Fuck Me Boots' in no time at all, and they looked incredible on her. The 4"/10cm heels gave her a nice increase in height but the 1.5"/3.8cm platform means that these feel like 2.5"/6cm heels and the wide heel means that she was stable and steady when standing or walking in them.
Her first comment about them was how comfortable they are to wear, and she has now worn them for hours and hour and hours. Not getting any sore points or blisters. They are boots that you can wear all day without having to spend the following day in bed. She was grinning like a Cheshire Cat after putting them on as having them is like a dream come true for her.
This pair has a wide width and calf, and this helps to make them so comfortable to wear. When sub 'r' has them on, they're not tight around her calves, and this is one of the reasons why they are so comfortable.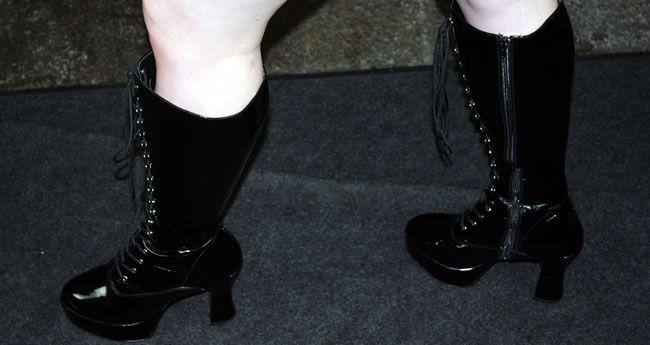 These boots are very flexible and comfortable to wear for extended periods of time
The underside of the boots has enough tread to make them safe to wear in snow and ice as proven last winter on many occasions when sub 'r' wore them to various clubs.
The long tongue sits upright inside the boots, resisting the tendency to slip down into the boot and this keeps a uniform PU leather coating behind the paces.
The wide heels, I have been told, are perfect for using as handles when giving a submissive a rather hard and fast rodgering in the missionary position. So these are most definitely 'Fuck Me Boots', well, you would have to as well, wouldn't you?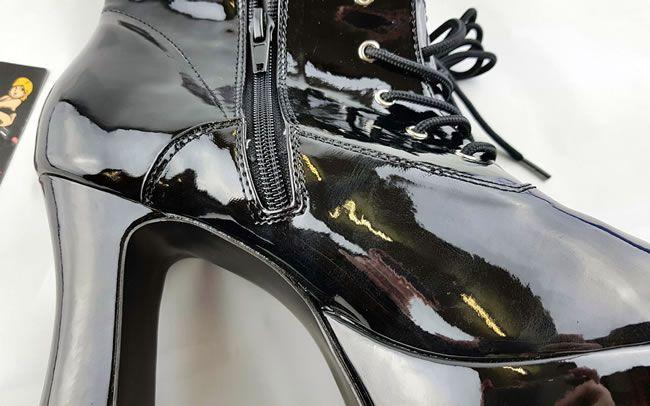 The neat finish is fantastic and the full length zip makes putting them on and removing them a breeze
Whenever sub 'r' wears them to BDSM or swingers clubs, the boots always get a lot of attention, constantly turning heads as they are so striking. Wearing them has helped build the confidence of sub 'r' who used to be such a shy thing. She loves her boots and says that they make her feel so sexy when she is wearing them. They are the perfect pair of boots to go with her Maids Outfit that we bought for her from Latex Leather & Lace.
These boots have now been worn regularly for over six months, and they still look fantastic. The only wear and tear on them is a small scuff on one toe cap where she knelt in them on a rough surface. Scuffs like this are something you can expect to get with any pair of boots or shoes, and it is easy to cover with some boot polish.

The platform and heel height gives you an instant raise whilst still being stable
Check out the very sexy Funtasma Exotica Knee Length Boots from @Latexleather and see why Joanne and sub 'r' like them so much.
Click to Tweet
Key Features
Key features:
Wide 4"/10cm heels
The 1.5"/3.8cm platform makes them feel like smaller heels
Lace up front with quick lacing hooks
Inner full length sturdy zips to make fitting or removal a quick and easy process
Decent tread making them safe to wear in all seasons
The heels make excellent 'fuck me' handles
Final Thoughts
Overall, we are all delighted with this pair of boots they have had some really heavy use and still look amazing. You should definitely check out the Latex, Leather & Lace website out to see just how extensive their range of kinky shoes and boots is. Be warned though, grab a cup of coffee as you may be some time as their collection is vast.
If I were asked to review any more shoes or boots from Latex, Leather & Lace, I would jump at the chance as there is honestly something in their collection for everyone and the quality is top notch. These boots will continue to get a lot of use and the just look so sexy on sub 'r'.
I give these boots a very strong recommendation, I love them, sub 'r' loves them, and I know that Stunt Cock loves seeing her in them too. So it's a win, win situation all round. If you are looking for quality at a price that won't break the bank then Latex, Leather & Lace have something for you to enjoy.
I bought the Pleaser Funtasma Exotica 2020x Platform Gogo Boots from Latex Leather & Lace for £79.95 and we have enjoyed reviewing them.
Joanne's rating
Where Can I Get One From?

Latex, Leather and Lace are a premier online retailer of kink and they carry a huge range of products made from the best manufacturers from around the globe. You can shop online or even in their walk-in shop in Barwell, Leicestershire. Why not drop by if you are local and check them out. They are very friendly indeed and are a wealth of knowledge and advice. Don't forget to say that Joanne says Hi.
Grab a pair of these Pleaser Funtasma Exotica 2020x Platform Gogo Boots for just £79.95 from Latex, Leather and Lace. You get a fantastic pair of boots that will give you lots of pleasure for a long time to come.
Be sure to look at their amazing range of kinky shoes and boots. So check them out and don't forget to tell them that Joanne says "Hi".
Disclaimer - I bought the Pleaser Funtasma Exotica 2020x Platform Gogo Boots to review and this has in no way affected the outcome of this review. This post contains affiliate links and if you purchase something when you follow one of these links I may receive a small commission at no cost to you. For more information check out my disclosure page.