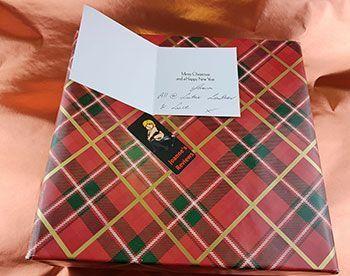 It was such a beautiful gesture, and I was sworn to not opening the package before Christmas day which was like torture for an impatient reviewer like myself. But I was a good girl and waited as requested.
The fuck me boots will also get a review on here in the next week or two so watch out for that on here.
Anyway, the weeks went by and then it was Christmas morning, and I can honestly say I haven't been this excited to unwrap a present in ages. I was dying to see what was in the exquisitely wrapped box.
I squealed like a schoolgirl when I opened the box up to find a pair of the very shoes that I had been drooling over together with some charming candles - Thank you Latex Leather and Lace for making this Christmas very special for me.
I remember saying to Patrick that while I love the shoes I couldn't justify buying a pair as with my knees, I wouldn't be able to wear them much or probably walk in them. He laughed and said they are definitely not for walking in, and he is right, these are a serious set of "Fuck Me" shoes.
These Pleaser shoes come exceptionally well wrapped, with each shoe being inside its own pouch and with extra padding around the heels and under the toe strap. I gasped when I first laid eyes on them as they just look so sexy.
I spent quite some time examining them close up looking at the detailing on them. They are very well made, and the materials are first class.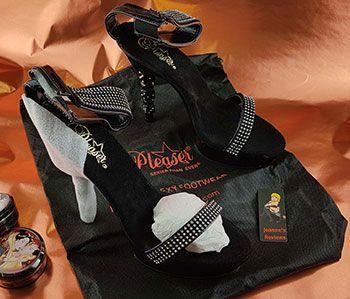 These shoes have a 1.5"/ 3.8cm platform and 5.5"/14cm heels, this gives you a fall of 4"/10cm on the shoes which is a comfortable angle for long time wear. This angle gives these shoes some elegant lines that look very sexy when you wear them, making your legs look both longer and sexier too. I must admit that being 5.5"/14cm taller was a treat as well as I'm not over-endowed in the height department.
The most striking features are the rhinestone encrusted toe strap that looks very classy, and this is matched by the ankle strap that features a strong zip at the rear making putting them on a breeze. The ankle strap also has an elasticated section to cater for different ankle sizes, and this keeps it snug against your skin.
The eyes though are drawn to the main attraction - the heels, and these look incredible. Each features three dice with rhinestones in the dot recesses. It's these heels that give these shoes a distinctive character all of their own and give them their name.
I had visions of being a Bond girl with them on, wearing a glamorous ball gown (no underwear of course) and flirting with a spy.
But, a hoodie, yoga pants and banter with StuntCock had to suffice. Not that I am complaining as that fantasy was lived out later in the bedroom. Stuntcock loves the shoes and couldn't wait to have me wear them in the bedroom as you can imagine. He has commented that the heels make very comfortable hand holds when having some fun in bed and he does have a good point there.
These shoes look stunning, and while you can wear them to formal functions, they are much more fun in the bedroom. Wearing them for sex is just so much fun as you can't fail to feel sexy with them on your feet.
Maybe you could try role play with them or just enjoy the esthetic of wearing them in bed. Either way, they are a heck of a lot of fun.
I found them to be a good fit and also very comfortable to wear for extended periods. The best thing though is the quality, as they only cost £48.95 I didn't have high hopes in the quality department. I'm pleased to say though that they are flawless and excellent quality.
I'm amazed as they feel so luxurious and they have me wanting more from the range. If I am not careful, I can see me quickly becoming the UK's equivalent of Imelda Marcos.
The Pleaser range also has some higher heels and platforms; some even have tip slots in clear platforms to receive tips if you are a pole dancer or stripper. Again excellent roleplay fantasy material there.
I can highly recommend checking out the range of shoes and boots on the Latex Leather and Lace website as it is enormous.
There is something for everyone with boots, shoes, pumps and all sort of other kinky footwear available. If they aren't in stock, you will get them within a week which I am sure you will agree is a fantastic service.
Check out the Stacked Dice Casino Themed Heels from the Pleaser range to see why they are so much fun in the bedroom.
Click to Tweet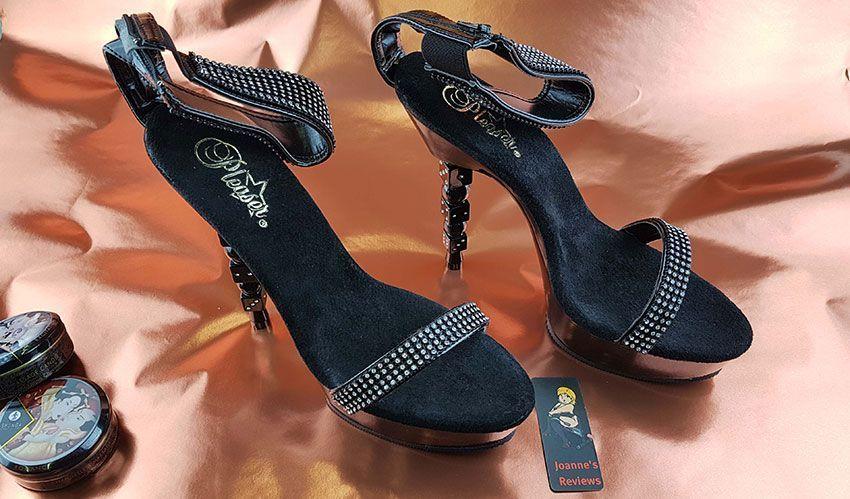 Key Features
Key features:
Rhinestone embellished upper
Back zip on heel
5 1/2" Dice stacked heel
1 1/2" Platform
Elasticated ankle strap
Final Thoughts
Well this is the first pair of "Fuck Me Shoes" that I have owned. In the past I have always talked myself out of buying nice shoes like these, thinking they wouldn't suit me as well as a hundred other excuses. But having worn them and felt just how sexy they make me feel I wish that I had worn shoes like this earlier.
Remember to never put yourself down, grasp what is in front of you and give yourself some kinky "me time". These shoes are fantastic and I absolutely love them. I have already got some very steamy memories of the things that I have gotten up to whilst wearing them. Sexy shoes CAN change your whole outlook on life and can make you feel so sexy. This may be my first shoes review but I hope that it isn't my last.
So, what are you waiting for get yourself over to the Latex Leather & Lace website to see the amazing range of kinky boots and shoes. Better yet, visit their walk in boutique to try some on and get the perfect fit.
I was sent the Pleaser Dice 616 Black Rhinestone Embelished Casino Themed Heels by Patrick at Latex, Leather & Lace and I would like to thank him for giving me the opportunity to review them.
Joanne's rating
Where Can I Get One From?
Grab one of these pairs of stunning Rhinestone Embelished Casino Themed Heels from Latex Leather and Lace for just £48.95 which is cracking value for money.
Check them out and don't forget to tell them that Joanne says "Hi".
Disclaimer - I was sent these sexy fuck me shoes to review free of charge and this has in no way affected the outcome of this review. This post contains affiliate links and if you purchase something when you follow one of these links I may receive a small commission at no cost to you. For more information check out my disclosure page.