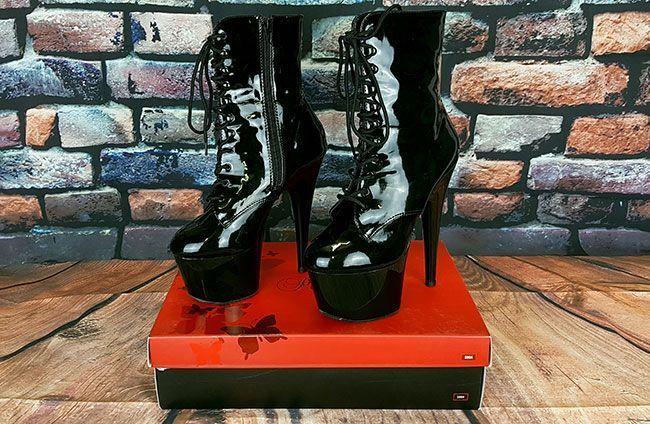 The incredible ankle boots come very well packaged
These fantastic black ankle boots came from FM Heels who are based in Barwell Leicestershire, and they carry a phenomenal range of kinky boots, shoes and hosiery. I was amazed at how many products they actually keep on the shelves for immediate dispatch but even if they have to order your dream shoes or boots in, you are only looking at a three or four-day turnaround on your order which I am sure you will agree is pretty amazing.
Just looking at their bright and informative website will amaze you with their range of kinky products, so be sure to check out - https://www.fmheels.co.uk
I am not joking when I say I was blown away by these ankle boots, I have reviewed other shoes in the past Pleaser Fantasma GoGo Boots, and the Pleaser Dice Casino Themed Heels and both are amazing, but these simple ankle boots are jaw-droppingly seductive and beautiful.

They are incredibly shiny and the uppers are very comfortable too
They are like eye candy, once your eyes taste them you can't help yourself wanting more. The simple lines and incredibly shiny PU leather makes them a treat to behold.
Available in a range of sizes and even a variety of platform and heel heights there is a pair to suit everyone out there. Sub'r' enjoyed shopping for them but I was surprised by her choice of heel height when sub'r' showed me her new boots as these are officially the highest heels that she has ever worn. Stunt cock joked about her needing oxygen to relieve the possible effects of altitude sickness.
This pair has a 3.25"/8.3cm platform and a 7"/17.8cm heel, and they look stunning on her. Stunt cock loves seeing her wearing them as they do make her bum cheeks wiggle when she walks in them.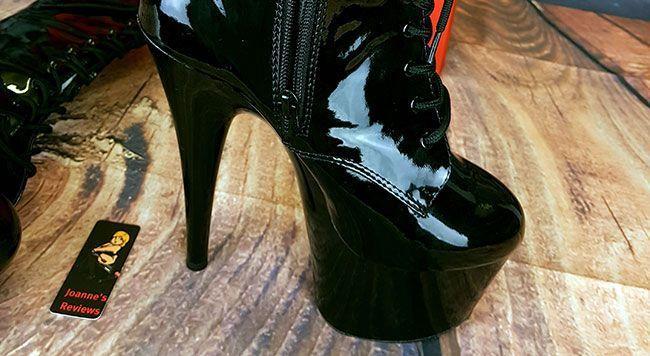 The platform and heel gives you a nice height boost without crippling you when you walk
The leather used is flawless and extremely shiny with the added bonus of being Vegan-friendly which is excellent. The platform and heels are also incredibly shiny, and your eyes just can't help lingering over them.
Sub'r' wore them for her first outing to a swingers club called The Attic Club in Derby, and she loved the attention she got with lots of admiring glances, but some of them may have been directed at her new black leather corset or rubber panties (reviews coming soon).
One of the best things about these shoes was simply how they made her feel. She recounted about just how sexy they made her feel when wearing them. Strutting her stuff through a crowded swingers club with her head held high showing off her collar, her outfit and her fantastic new "Fuck Me Boots". Wearing them was a revelation for her, just a change in footwear can completely change your outlook and how you feel.
These boots gave her confidence and pride, and she loves wearing them.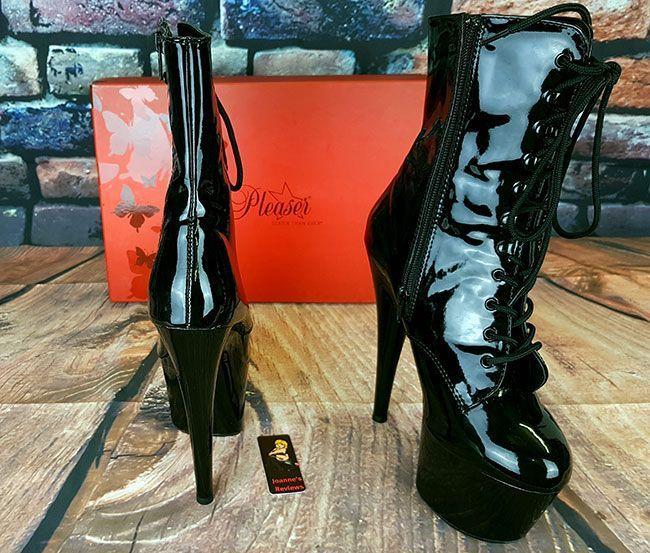 The inner zip makes putting them on and taking them off again really easy
The boots feature black inner zips with a protective leather layer underneath them to prevent your skin or stockings from getting caught. These zips make putting them on and then taking them off very easy. They also feature quick lace-up hooks on the front of the boots making lacing them in place easy too. Our preference is to use the laces to set the required tightness of the boots and then just use the zip to make life so much easier.
The heels are very elegant tapering almost to a point from the base of your heel, and the lines created look fabulous. This in conjunction with the platforms that taper backwards from the toes makes it easy to walk in them while giving an elegant and classy look to these boots. When I say classy, but I should really be saying classic. The sole and tip of the heels are coated in rubber for extra grip when walking.
If you were to close your eyes and imagine a shiny pair of fuck me boots in your mind's eye, you would probably conjure up an image of these boots. I also have it on good authority from Stunt Cock that these heels make lovely love handles when having sex. I must try that out for myself with a strap-on some day.

You get a good quality rubber tread to prevent slipping on the sole of the boots
After wearing them on two occasions now, they have been very comfortable to wear with none of the usual pressure points or blisters associated with new shoes or boots. They are very comfortable to wear although stairs and steps took a bit of getting used to with the new height and length of stride.
Another great feature of these boots is that they will fit people with wider calves catering for a calf circumference of 9.63"/24.5cm. The height of the boot above the heels in 6.13"/15.6cm making them very well proportioned.
I really can't find any negatives to them at all. As with every Pleaser product that I have reviewed the craftsmanship is excellent with extremely neat stitching.
These kinky boots are the physical embodiment of the term "Fuck Me Boots", check out the full review of these stunning boots from @FM_heels.
Click to Tweet

I am not in love with these boots, I am in LUST with them, they look amazings
Key Features
Key features:
High shine Vegan Friendly PU Leather Uppers
Inner zips make fitting and removeable easy
Quick lace zip hooks adorn the front making lacing up easy too
Range of heel sizes available
Comfortbale and sexy to wear
Final Thoughts
I am really happy for sub'r', her face is a picture when she puts these kinky boots on. They give her confidence, they turn her on, and they give her a massive boost in height, it is strange to see how tall she is in them.
I was blown away by these kinky boots they are just perfect and look incredible. If you are looking for something for club wear, pole dancing or for just using laid on your back, then you won't go wrong with a pair of these sexy ankle boots.
FM Heels have an incredible range of kinky shoes and accessories, and I highly recommend checking them out and their incredibly quick delivery service. These are a pair of boots that are going to get a lot of use by sub'r', and I hope that she really enjoys them - lucky thing.
We bought these Pleaser Adore 1020 Black Patent Lace Up Platform Ankle Boots 7" Heels from Patrick at FM Heels and it has been a delight reviewing them for FM Heels.
Joanne's rating
Where Can I Get One From?
Grab a pair of these amazing fuck me boots from FM Heels. A pair will cost you £87.95 from the FM Heels website or visit Latex Leather and Lace to try on a pair in person.
Check them out and don't forget to tell them that Joanne says "Hi".
Disclaimer - We bought these Pleaser Adore 1020 Black Patent Lace Up Platform Ankle Boots 7" Heels to review and this has in no way affected the outcome of this review. This post contains affiliate links and if you purchase something when you follow one of these links I may receive a small commission at no cost to you. For more information check out my disclosure page.