As with everything that I have ever received from AdultShopIt this order arrived quickly, well packaged and in a very discreet box carrying no indication as to the kinky contents inside. If only my postie knew the types of things, he was delivering to me.
The Pipedream Fetish Fantasy Penis Ball Gag comes in an attractive retail display box carrying lots of product information. I must say the female model on the front of the box is very attractive too (girl crush).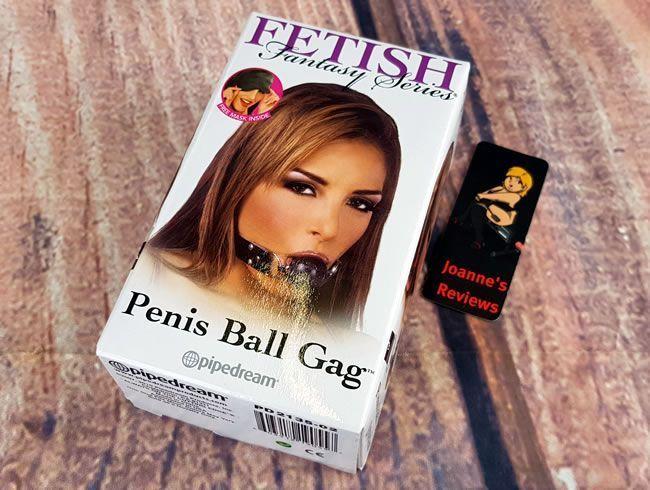 The penis ball gag comes in attractive packaging and the model on the box is seriously hot
Inside the box, you will find the Penis Ball Gag in a plastic bag together with an individually wrapped blindfold for free in this kit. The blindfold is nothing to shout about being very basic and having an elasticated band to hold it securely to your head. It is ideal though for experimenting with some BDSM play, and if you don't own a blindfold, then it is a bonus. A blindfold is the first thing I always recommend to people to get if they want to spice things up a bit as it can completely change how sex acts feel. But I am not here to review the blindfold in great details let's get back to the ball gag.
Any form of gag re-inforces the feeling of submission, and I love using them or making sub'r' wear one. They are not designed for comfort, they are a constant reminder that you have been put in that state by a dominant (or yourself if you like to spice things up). Gags force the jaw to stay open, this makes it hard to swallow and so drooling is often an issue and this can cause embarrassment which re-enforces the submission. In other words, they are used as a way of controlling and reminding a submissive of that fact.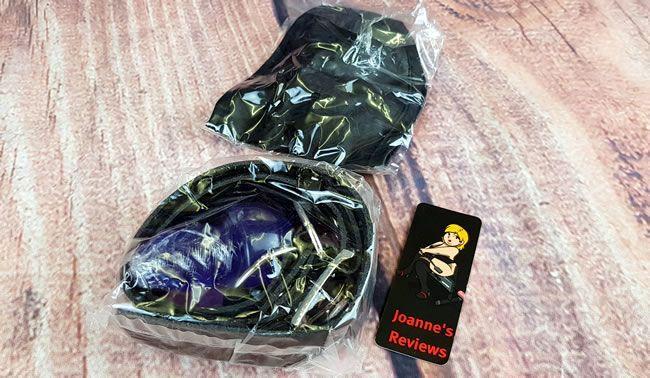 The penis ball gag and blindfold are individually wrapped
I have used many ball gags in the past, but never a penis ball gag and I have always been turned on and curious by the thought of using one. Just the mere thought of a penis shaped gag gets my juices flowing. Before I explain how it actually felt to wear and use this penis gag let me tell you a little bit more about it.
I love the purple colour, it's made out of purple phthalate-free PVC which is a pity as if it was silicone it would have been perfect. PVC is porous, and so it can contain bacteria even after cleaning, so it is a toy for only one user. The penis end of the gag is a stylized one with not too much detail.
The ball is 1"/2.5cm in diameter, and the ball and penis are 2.5"/6.35cm long which isn't too long. I love the small diameter of the ball as all of my gags are much larger and so I would definitely class this as an ideal beginners gag or perfect for someone with a smaller bite.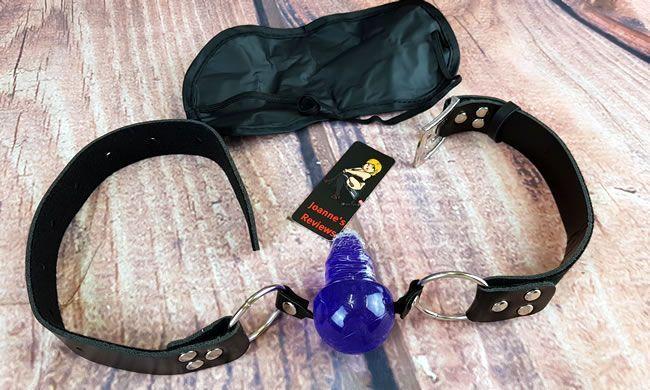 The penis ball gag has a generously sized strap
The gag has a leather strap running through it that is attached to two metal 'D' rings on the black leather straps by two metal rivets, this gives it a lovely look from the front.
The straps are nice and flexible although a little rough at the edges, but in a product that retails for just £14.99 that is perfectly acceptable, by rough I just mean not stitched or edged at all.
The straps are very long so it will fit anyone's head and the buckle is easy to use and effective at locking it in place. You do get a leather loop around the buckle strap that can be used to secure the loose end of the strap to stop it flapping around. The sides of the strap next to the metal 'D' rings have three metal rivets which again compliment the look of this gag.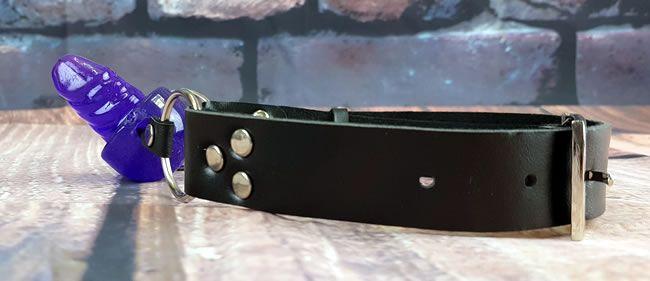 The penis ball gag has a generously sized strap
Performance
Wearing it was a lot of fun, with the strap pulled very tight the ball portion of the gag forces your teeth open and the penis extension sits on your tongue giving your mouth a very full feeling which I loved. We had lots of fun using it on sub'r' during some serious spanking sessions, and she loved the feeling of the penis in her mouth. She commented on how nice it was not to have her mouth forced as wide as possible, and she could even chew down on the ball gag and penis to exercise her jaw muscles.
It feels different to just a standard ball gag, the penis on your tongue give it a whole new kinky feel, and it makes swallowing saliva even harder than normal causing excessive drooling which makes for a good excuse for more corporal punishment, so that isn't a bad thing.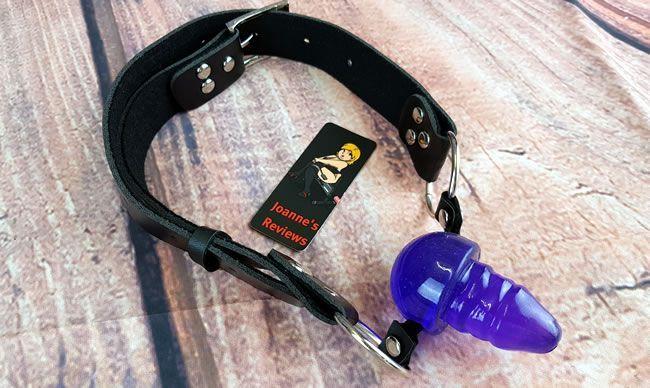 The PVC penis ball gag is fun to wear, and chewing it relieves tension in your jaw muscles
This ball gag is very comfortable (comparatively speaking as it is a gag after all) compared to regular ball gags due to its small diameter and the ability to chomp down on it to relieve cramping muscles.
I love it, and as purple is one of my favourite colours, it's just perfect for me. Just the fact that it is a little penis in your mouth really changes the game, and it just feels so much kinkier, I know it's daft, but it does. Having a penis strapped into your mouth and not just a ball is a big turn on especially for anyone who really enjoys their oral sex as the symbolism is fantastic.
The Fetish Fantasy Penis Ball Gag is a gag you can wear for extended periods of time and its fun to chew on. Grab one from @AdultShopItUK.
Click to Tweet
Key Features
Key features:
Generous leather strap
Phthalte free PVC ball and penis gag
Small size makes it comfortable for long periods of wear
Ideal for anyone with a small bite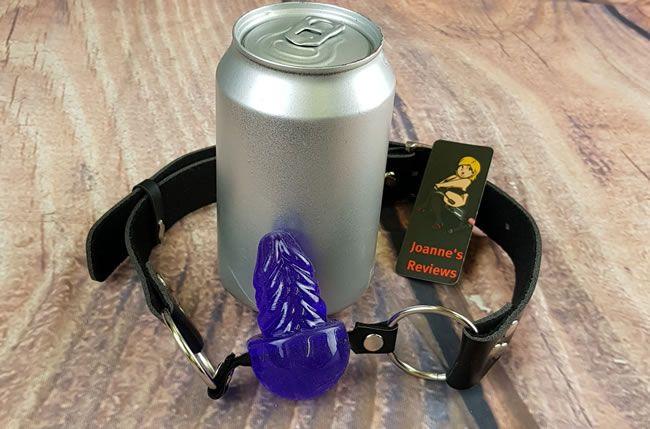 This is a great beginners gag as its small size of ball makes it easy to insert and wear
Final Thoughts
This is a cheap and rather lovely gag, it makes a nice change from the usual ball gags that we regularly use in our kinky play sessions and the feeling of the penis on your tongue is fantastic.
I love how it makes swallowing even harder than a regular gag, and that causes more drooling which is something that is hard to omit from gag play. But once the saliva starts to flow and leak all over my breasts, it really does feel sexy.
This is also an ideal first timers gag due to its small size and the fact that you even get a little blindfold means that this kit is exceptional value for money and I give it a big thumbs up.
I was sent these Pipedream Fetish Fantasy Penis Ball Gag by AdultShopIt and I would like to thank them for giving me the opportunity to review it for them.
Joanne's rating
Where Can I Get One From?
Grab one of these Pipedream Fetish Fantasy Penis Ball Gags from AdultShopIt for just £14.99 which makes this great value for money. Check out the other BDSM products there for some good bargains.
Check them out and don't forget to tell them that Joanne says "Hi".
Disclosure
This review does not contain affiliate links, for more information about affiliate links check out my disclosure page.