Persian Palm is a company of artisans that hail from the Tuscany region of Italy, an area long associated with exquisite works of art and ceramic creations. They hand paint all of their products in the style of the region, and this leads to some unique and fascinating creations. Their attention to detail is fantastic, and their creations are glazed and fired to give a very durable product that exudes class and is just stunning.
First impressions are very important and the packaging that Persian Palm uses sets the stage for what is, in fact, a fun unveiling. They use cardboard that has been laser cut to look like a book hiding the toy within. This provides both a fun and very secure method of safe transit for the toy within.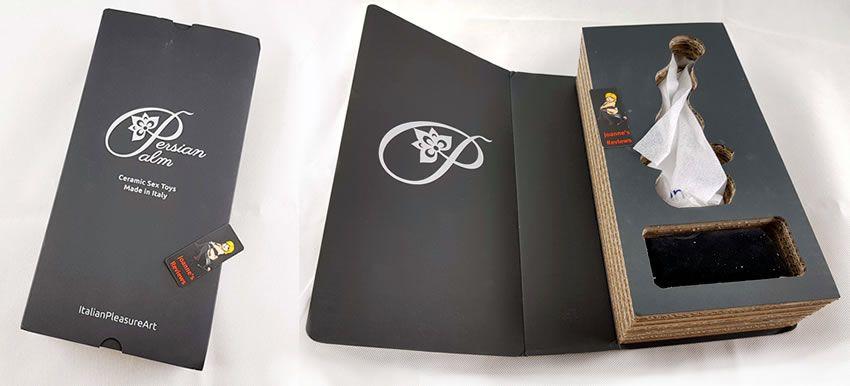 Inside you will find the Eva Classic dildo firmly held inside a sheet of foam in an exact cut out of its shape. It's such a good fit that removing it is lots of fun.
You also get a soft drawstring storage pouch supplied, and this is nestled into its own cutout. This drawstring bag is very good quality as well and carries the Persian Palm logo. The only problem with the cardboard 'book' storage is that this bag gets coated with tiny bits of cardboard when you remove it. My only suggestion to Persian Palm is that it may be worth considering shipping the storage bag in a plastic bag to prevent this from happening. It's a small point though, and it certainly doesn't detract from what is a fun and unique method of storage. Hats off to Persian Palm for this, as even before you remove the toy you will have a huge beaming smile on your face.
First impressions are great! I always say that you start enjoying a sex toy with your eyes long before you enjoy it with the rest of your body, and I love the way that the Eva Classic nestles securely within its cutout in the cardboard book.
Total Length: 7.9"/20cm
Insertable: 5.9"/15cm
Small bulb dia.: 0.9"/2.4cm
Large bulb dia.: 1.3"/3.4cm
Base diameter: 2.5"/6.4cm
Weight: 330 gSo on to the toy itself and what a beauty it is with its flowing lines and ultra smooth glazed finish. It is hand painted before its final firing in an oven to give it a high gloss finish. The pattern on this one is beautiful with its elegant curling design of flowers and petal. It is a Renaissance decoration, called "a la porcelain" which was inspred by Chinese porcelain which was extremely popular during the Renaisance period.
The colours used are very bright and cheery and it gives this dildo a unique look not found in any another brand of sex toy. I love the way that they have personalised mine for me, and it makes this toy unique.
The Eva is available in four stunning colour and design combinations, or you can ask to have a dildo personalised. This is what sets Persian Palm apart from other creators, it is their artisan approach and their customer service that is fantastic. This dildo is a work of art and it holds a special place in my heart together with the incredible Farringdon from Crowned Jewels which is another work or art.
Persian Palm produce seven different sex toys shapes, and each is available in numerous colours and designs as well as being customisable. Their butt plugs also look like a lot of fun.
The pictures don't do this dildo justice, it's stunning. It has a nice weight to it too, it's comfortable and easy to hold and use with one hand. It features a broad base that has a golden plug to fill the hole that is used during manufacture to support the dildo in the oven, and this plug carries the Persian Plam motif. This very wide base makes this dildo also ideal for some anal play with its non-porous surface being perfect for this area of use.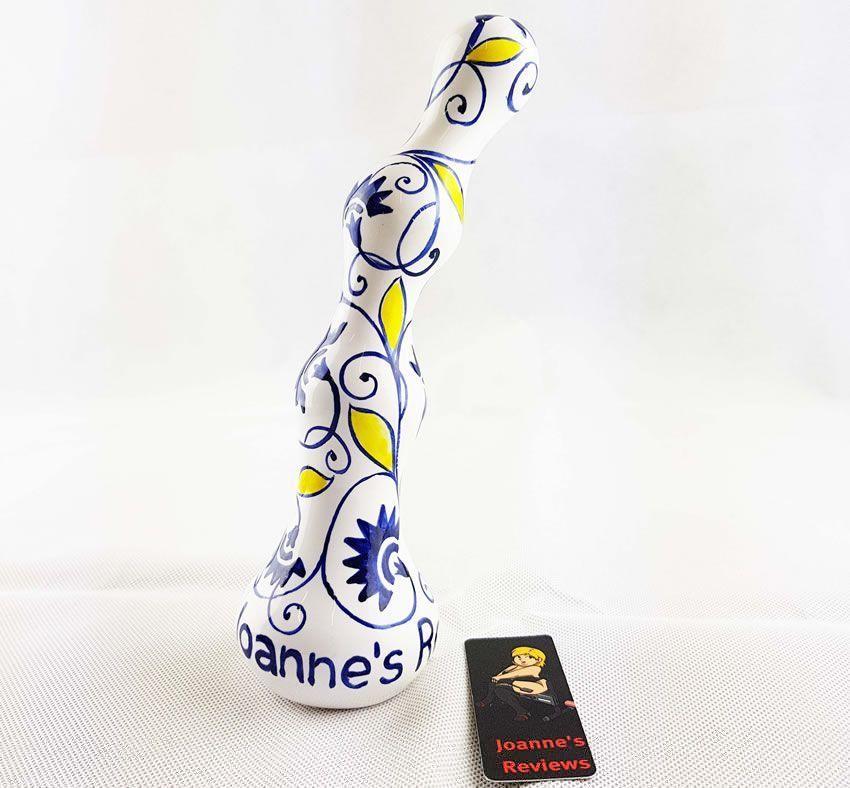 The shaft has a very gentle curve to it which makes it great for g-spot stimulation, and the three bulbs on it almost look like ball bearings being squeezed through a pipe. These bulbs give it some very interesting sensations when thrusting with it. I love the way that each is wider than the previous causing you to savour the sensations even more as it enters you.
As it is so smooth and non-porous, you can use whatever lube you like, but I recommend a good quality water based lube.
Ceramic dildos are great for temperature play too as you can warm them in a bowl or sink of warm water to give it an entirely different feeling. Conversely, you can also chill it for some exciting and deliciously cool temperature play.
Ceramic dildos are a great option if you enjoy hard dildos and just like glass and steel dildos they are body-safe, non-porous, phthalate free and hypo-allergenic. They are also amazingly easy to clean after use. Just wash with warm soapy water to get any vag-goo off it before cleaning it with an anti-bacterial sex toy cleaner. Then once it is dry, you can place it either into the cardboard book shaped carrier or use the included silky storage bag to keep it safe until your next play session with it.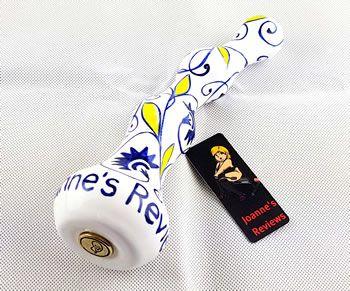 I'm happy to be able to tell you that it is as much fun to use as it is just to admire.
Each bulb feels excellent as you dilate to accept it and it's nice to be able to have three to enjoy. It delivers a delightful sensation when thrusting as you really feel the three bulbs entering you one after the other, and I find it very easy to build up to a very pleasing orgasm every time I used it.
There is something about having three different diameters to enjoy that has my pussy purring in satisfaction.
Why settle for a straight shaft on a dildo when you can have a curving dildo of differing diameters? It gives a unique feeling that I am becoming quite addicted to and I can't get enough of it. The curve of the shaft makes it so very easy to provide extra pressure to my g-spot, and the bulbs do that automatically as you thrust it in and out giving exquisite sensations.
The Eva Classic ceramic dildo from @PersianPalm is a stunning piece of art that is oh, so functional too.
Click to Tweet
Key Features
Key features:
Ceramic 100% body safe curved dildo
Three blubs of increasing girth
Hand painted design
Smooth non-porous finish
Excellent storage bag
Outstanding delivery packaging
Drawstring storage bag included
Final Thoughts
I was quite simply blown away by this dildo and Persian Palm, you have to check out their incredibll line of dildos and butt plugs. Each is a work of art and would be an absolute pleasure to enjoy. This dildo was better than I had hoped it would be. The finish is flawless and the design is spot on for delivering strong G-spot orgasms, it's ideal for anyone who enjoys hard dildo fun and the three bulbs on it make it so much fun to thrust with.
I have followed Persian Palm for a couple of years now and I'm so happy to have finally been able to review this classic dildo, it's now one of my favourites and it isn't just a very effective fuck toy, it's a work of art and something to be admired. The time and craftsmanship that has gone into its creation cannot be overemphasised, it must have taken ages to create and paint.
I love my Persian Palm dildo and there is a design by them for everyone.
I was sent the Eva Classic Line by Persian Palm and I would like to thank them for giving me the opportunity to review it for them.
Joanne's rating
Where Can I Get One From?
Grab one of these amazing hand painted dildos from Persian Palm for just 140,00€ or £124. It would make an amazing present for a loved one or you could just spoil yourself of course.
Check them out and don't forget to tell them that Joanne says "Hi".
Disclosure
This review does not contain affiliate links, for more information about affiliate links check out my disclosure page.