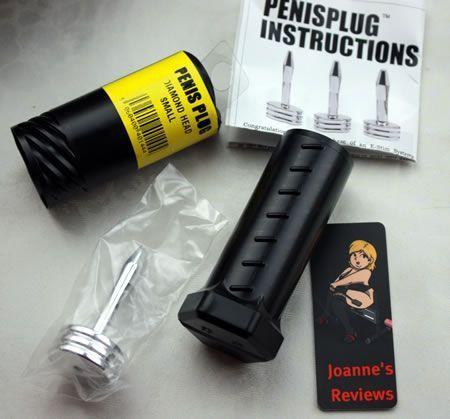 E-Stim Systems produce a dazzling array of electrodes, control boxes and other electrosex paraphernalia and this is the latest electrode that I decide to get to know and review. It is a monopole electrode which for the newbies means that one wire goes from your control box to it and you need another electrode with the other wire attached to it to complete the circuit. You can use an adhesive pad type electrode, a plug style insertable electrode anally, a cock loop style electrode or even using an Electropinwheel to really spice things up a bit.
For anyone unsure as to what E-Stim or Electrosex actually is then check out my Beginners Guide To E-Stim.
I love the black plastic machine tool cases that E-Stim Systems use for their electrodes, they work well allowing you to easily identify your electrodes and keep them clean and dry between uses. E-Stim Systems also give a lifetime guarantee on all of their electrodes, now how is that for confidence in their quality control measure.
I know that most guys would cringe at the thought of inserting anything into their urethral opening (peehole) but think about this for one moment, why wouldn't it be enjoyable with something designed for the job? There are lots of men who enjoy sounding using all manner of objects. What e-stim systems have done is taken this a step further by designing a penis plug that is incredibly smooth and that allows you to also add Electrosex into the equation.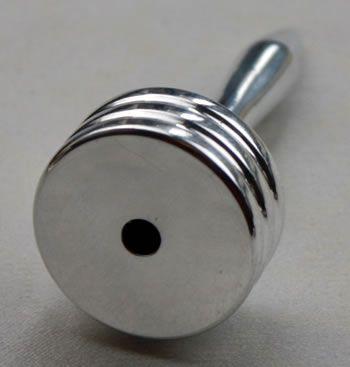 These plugs are made in the UK from aircraft grade aluminium, then they are polished to a mirror like finish and they look amazing. They aren't huge though and come in a range of three sizes which are based on the diameter of the insertable part at its widest point. The shape of the insertable section is described as diamond shape and it is with a gently rounded tip slowly opening up to its widest point and then slimming down again towards the wide base.
The wide base has two grooves machined into it and that makes it easier to hold when lubed up or with lube coated fingers. The base features one socket that accepts a 4mm plug, now e-stim systems produce a 4mm/2mm combination cable which is ideal if you are going to use this electrode with a pad electrode as they generally take 2mm plugs but as I don't have one of those cables my StuntCock got the choice of either the Flange Electrode or the ElectroPinwheel on his first introduction to the Penis Plug. I could have offered him a cock loop but I was feeling particularly playful so I didn't.
So to sum that up:
Penis Plug & Pad Electodes: You will need a 4mm/2mm splitter cable.
Penis Plug & Insertable Bi-Polar Electrode: You will need a standard 4mm cable.
Penis Plug & ElectroPinwheel: You will need a standard 4mm cable.
Penis Plug & Cock Loop: You will need either a standard 4mm cable or a 4mm/2mm splitter cable depending on your loop size.
All three sizes of Penis Plug are 55mm (2.1 Inches) long with only 44mm (1.7 Inches) being insertable. I can almost hear the sighs of relief from the guys. See it isn't too big, it's actually in my opinion the perfect length to be able to be held comfortably in place once inserted. The base is 24mm (0.96 Inches) in diameter so there is no risk of you losing it inside you and it gives a very good amount of surface area at the tip of your penis and inside you along its length for the current to flow.
The Small has a shaft 5.65mm (0.22 Inches) in diameter with the diamond head being 7.5mm (0.3 Inches) in diameter.
The Medium has a shaft 6.65mm (0.26 Inches) in diameter with the diamond head being 8.5mm (0.33 Inches) in diameter.
The Large has a shaft 7.65mm (0.3 Inches) in diameter with the diamond head being 9.5mm (0.37 Inches) in diameter.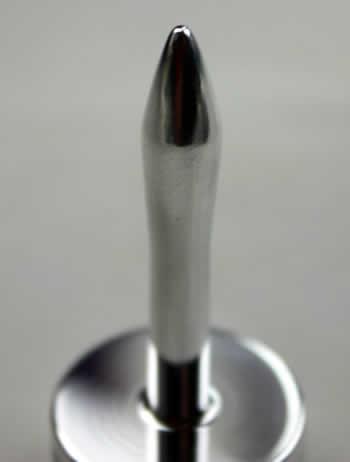 Now a quick note of hygiene, anything that you stick inside of yourself needs to be spotlessly clean and sterile if you want to avoid potential infections. This electrode is very easy to clean just wash in warm soapy water and then clean with a sex toy cleaner. You can also boil it but remember to let it cool again before use - ouch LOL.
You should use a good quality lube with this plug and it should be sterile as well as it will be going inside you, luckily E-stim Systems have this covered as they sell alcohol swabs for cleaning electrodes and also sterile lube which is perfect for the job.
So how does it feel I hear you cry! Well let me describe the scene when I first used it on my StuntCock, he was tied up and I showed it to him and offered him a choice of either a butt plug type electrode or the pinwheel to make the circuit. He opted for the easy option - the insertable electrode so that was lubed up and inserted. This had him aroused and made fitting of the Penis Plug an absolute delight for me. I blindfolded him and made him talk to me describing his feelings as I inserted the PenisPlug™. Before I did so I rubbed it down with an alcohol pad to clean it, fitted the other end of the cable and then added some sterile lube before teasing the tip of his cock with it. This had him writhing around in his restraints and I told him to stop being a baby and to hold still. I then slowly slid it in and it's quite a sight as it disappeared where no sextoy has ever been before on him. He loved it and I enjoyed having him describe how it felt to him.
The 2B Control Box is very versatile and we found that on the Waterfall setting it really blew his mind and that is definitely his favourite setting with a Penis Plug. I actually used it on myself and I can confirm that an adventurous woman can also use a Penis Plug in their urethra and it is very enjoyable indeed. I preferred the Squeeze setting though.
I had bought the small size and I should have gone for a larger one as I had to hold it in place but that was enjoyable in itself.I then proceeded to tease him using my 2B control box (review coming soon) and I soon had him panting and begging to be allowed to orgasm. I refused to let him cum and slowed things down a bit with the E-stim sensations to edge him but eventually I capitulated and allowed him to orgasm and it was quite a sight indeed. His cum shot out around the plug and dripped onto his balls. I imagine that if I had the correct size for him then he may have actually ejected it as he came. He was left there with a stupid grin on his face and a very messy crotch.
Key Features
Key features:
Quality construction out or aircraft grade aluminium
Monopole electrode so you will need another form of electrode
Lifetime guarantee
Made in the UK
Three sizes available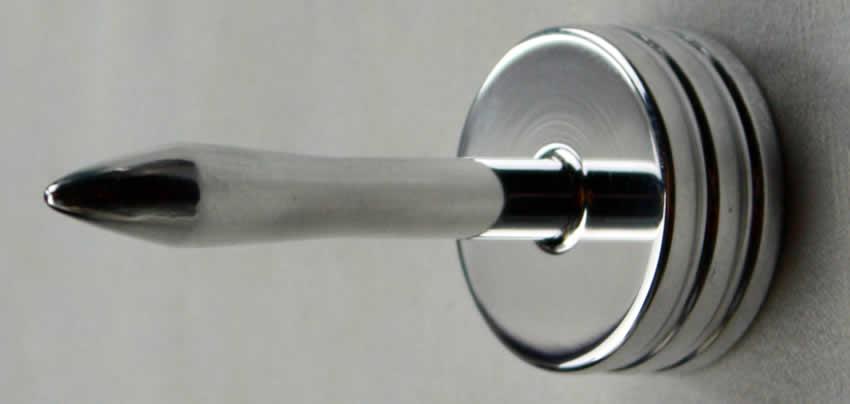 Final Thoughts
I was surprised at how much he enjoyed the Penis Plug and it has me wanting to review some sounds now to see how far we can take things. If I had one recommendation to make it would be actually measure your urethral opening to make sure that you get the right size, I know it sounds obvious but as a seasoned sex toy reviewer I just went for the small - Doh! If you do get one that is too small then it isn't a problem you can hold it in place with a condom when in use and that has the added benefit of preventing spillage and mess when you cum.
We have since tried it with the Electropinwheel for some unique sensations. My StuntCock commented on how good it felt in place but how much better it was when adding e-stim play to the session, unlike with cock loops you get the feeling internally with a plug and if you also use an anal electrode you get double the fun.
Joanne's rating
Where Can I Get One From?
Grab a PenisPlug™ from E-Stim Systems for only £34.99 and don't forget the sterile lube and the 4mm/2mm BiCable if you need one for an adhesive pad electrode.
Website link:
Check them out and don't forget to tell them that Joanne says "Hi".
---
If you enjoyed reading this review then check out my other reviews of E-Stim Systems products:
CONTROL BOXES
PUSSY & ASS ELECTRODES
PENIS/BALL PLAY
OTHER
Website links:
---
Disclosure
This review contains affiliate links, these links allow me to get a small commission if anyone uses them and then goes on to buy one of these units at no added expense to the shopper. It is common practice to use affiliate links and the small fees I earn this way go towards the running costs of my site, anything left over goes towards buying in more toys to review.