Delivery
The package containing this pair of overalls also had a cute Bow and a pacifier clip included, and we will be reviewing these separately as they are so lovely they deserve their own review.
I was amazed at just how quickly the package arrived all the way from Australia, and I didn't have to pay any importation duties on the package at all which was great. It took only five days from dispatch to delivery which is pretty good I'd say.
The items were delivered in very discreet packaging, and the return label was addressed to "Andrew" with no mention of Onesies Downunder for your discretion. The customs label was filled out stating clothing which again is very discreet.
Onesies Downunder take your privacy and discretion very seriously and as you can understand that is very much appreciated. They are a fantastic company, and we are always happy with deliveries from them.
The coveralls arrived neatly folded inside a sturdy plastic sealed pouch. Inside were a set of care instructions and these were easy to read and comprehend. It seems like there a tendency for instructions to be printed in tiny fonts these days, so it is nice to see clear and easy to follow instructions.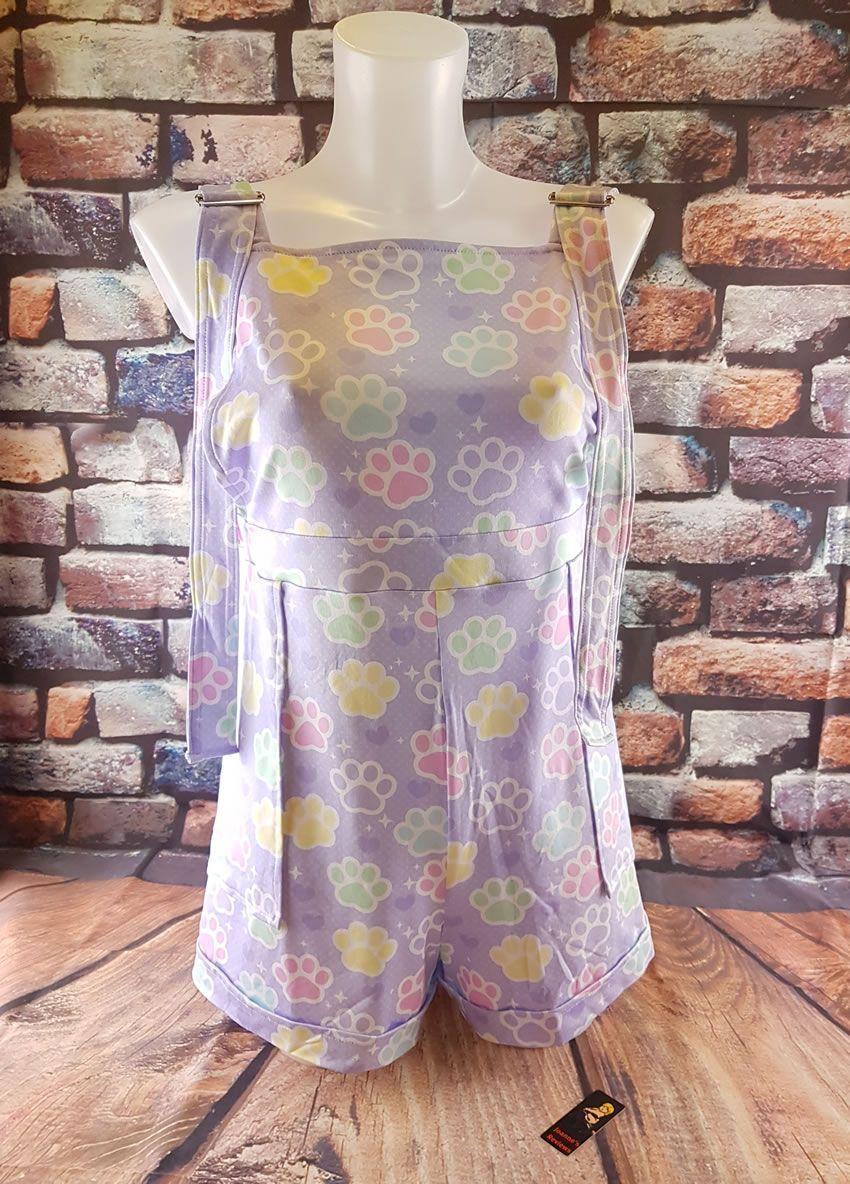 I love the way these overalls hang and the material is so soft
These coveralls are available in sizes XS to 4XL which is a vast range, Onesies Downunder deserve a pat on the back for catering for so many body sizes. This set of Overalls in a 2XL and they are perfect for Little Rae.
This excellent range of sizes is fantastic as every little deserves to be able to get fantastic play outfits like this one. The size chart on the Onesies Downunder website is very accurate.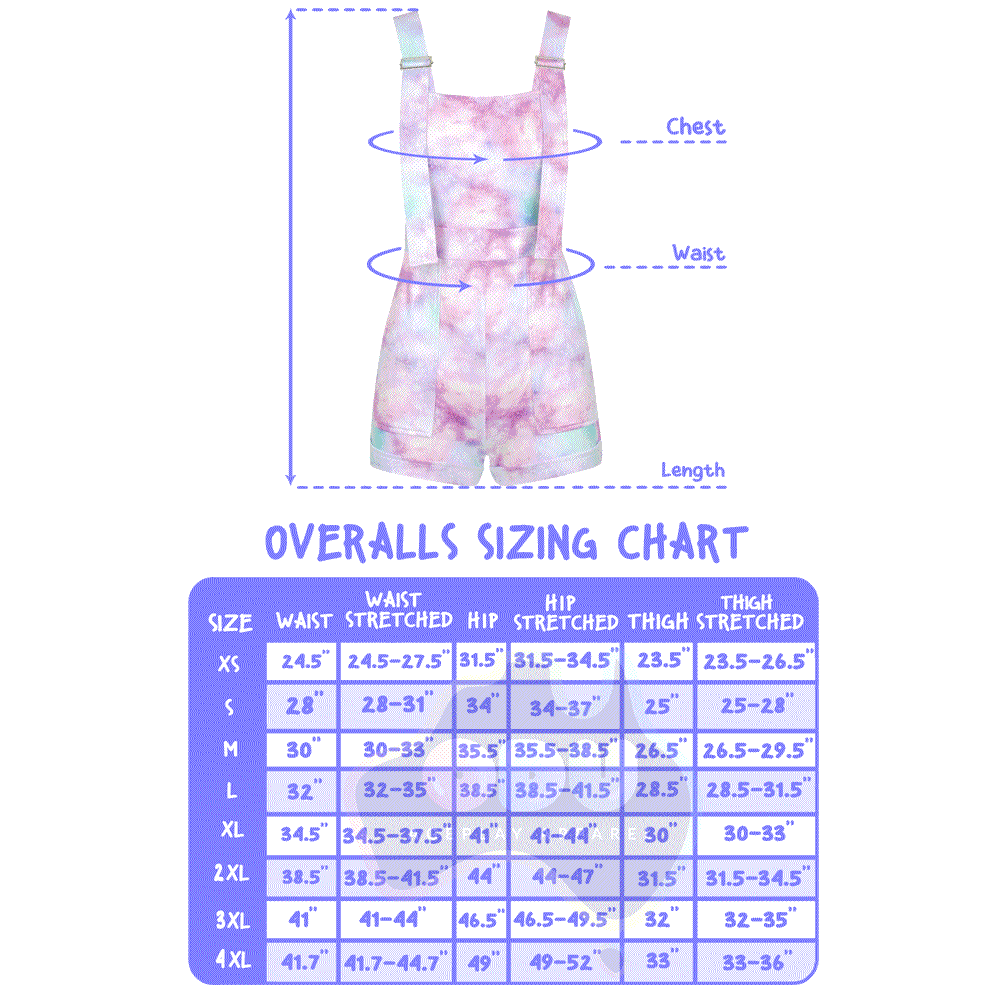 The sizing chart is very accurate
Why Coveralls?
We are delighted that they have brought out this range of products and they are already proving to be very popular. Onesies and Twosies look cute but sometimes your little needs something that covers more and is comfortable for play sessions.
Coveralls are the perfect solutions, they not only look incredibly cute, but they are so functional too. Wear them over a onesie or a t-shirt to help keep undergarments clean when playing.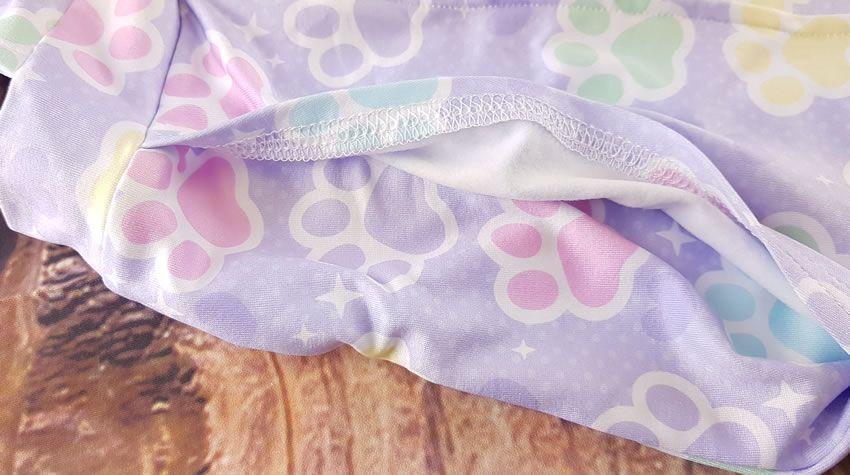 The pockets are a fantastic feature and oen that little Rae loves
Little Rae loves the pockets in her coveralls, and she is always filling them with sweet treats that she enjoys while playing in them. Each pocket is nice and deep and the stretchy nature of the 95% Polyester, 5% Spandex material means they have a good deal of stretch to them.
The straps are fully adjustable and make them easy to be the perfect fit. The wide straps are comfortable on your little's shoulders and help to make this outfit look as good as it does.
The straps do have a tendency to bunch up at the buckle which locks them in place, making it a bit difficult to adjust after a good play session though.

The buckles look lovely but the soft nature of the material means they can bunch up
We received the Pawsome overalls, and these coveralls are also available in another design called Pastel Galaxy, these have already sold out so grab one of these before they do as well. The Pawsome design brought a massive smile to little Rae's face as she loves puppies and dogs.
The pastel colours look fantastic, and these coveralls have now been washed over a dozen times, and they still look bright and vibrant with the coveralls looking as good as new.
Cleaning is simple as these coveralls are washing machine friendly, just use a cold machine wash.
They dry very quickly as well, and from washing to putting it away in a drawer, it only took about an hour and a half after having them dry on an airer. They are also easy to iron, just watch for the buckles when you do so.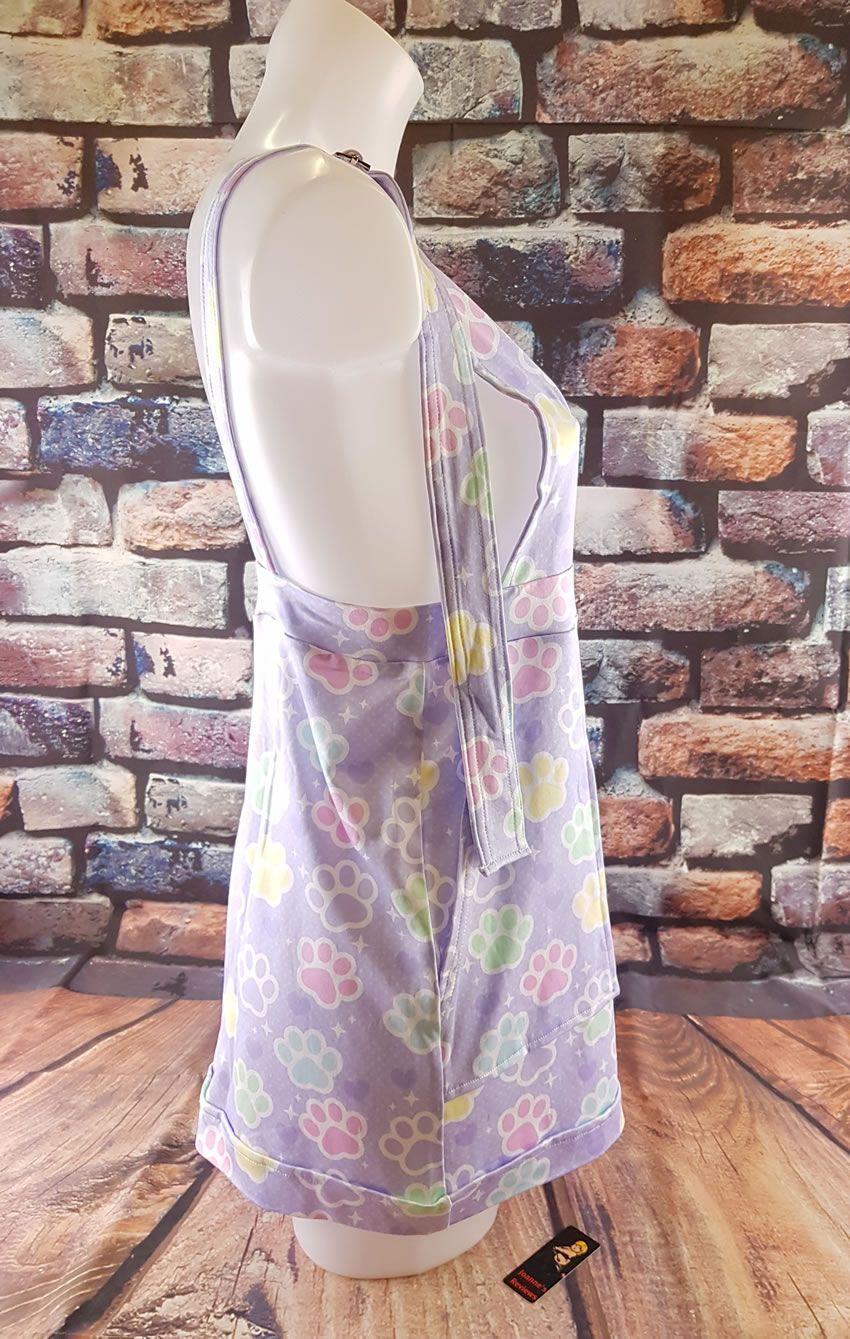 These overalls are very comfortable and have a nice fit
We love the designs of Onesies Downunder products, they are always so cute and just so beautiful.
I love the feeling of the material used in these coveralls it is hard wearing yet soft and subtle, feeling great against your skin. It is not a thick material, and so I can see these being a very comfortable play outift in the summer months.
The stretchy nature of the material doesn't restrict your little in any way no matter how rough they play. It stretches and gives when needed before returning to its original dimensions.
As the material is so stretchy, you can wear them with or without a diaper/nappy so whatever style of play you enjoy these coveralls can fit in with it.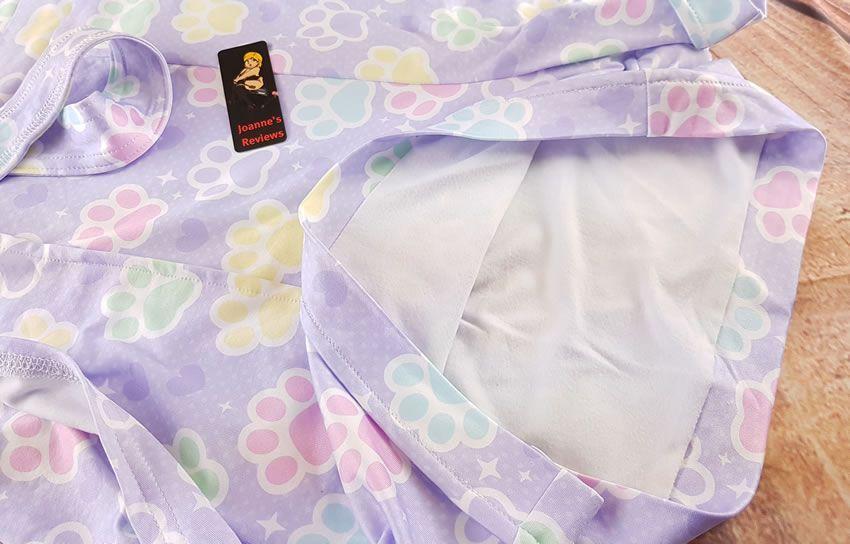 These overalls have wide leg openings so they are very comfortable to wear even with fuller thighs
I had high expectations of these coveralls as they came from Onesies Downunder and I am happy to say that all of my expectations were met. This is once again another comfortable quality product that Little Rae adores.
Little Rae's Thoughts
So what has Little Rae got to say about these cute Overalls?
"I love my Pawsome Overalls, the puppy paw prints all over them always puts a smile on my face. Romping around in them is so much fun and when I spill juice or anything else on them it is so easy to clean them again for my next play day. My Little friends are so jealous as these overalls look so cute on me and they make me feel so little, and I love that. My favourite feature is the pockets, and I love filling them with jelly babies and other munchies. I like to wear a onesie under them, and they are so comfortable together. Onesies Downunder just make the best things possible, and I love reviewing things for them. I can wear this outfit out and about, and I will be enjoying them while having picnics in the warmer months or even going to little events with my Daddy. Thank you Onesies Downunder for making an outfit I can wear outside with confidence and also one that is so comfortable and cute too. I love my Pawesome Overalls."

Little Rae
Check out the amazing printed overalls from @OnesieDownunder, Joanne and Little Rae reviewed one and they both love it.
Click to Tweet
Key Features
Key features:
Two amazing designs to choose from
Material used is 95% Cotton + 5% Spandex
Two shoulder straps
Two large side pockets
Very good standard of finish
Accurate sizing chart
Final Thoughts
Retailing at just £32.11 the Overalls from Onesies Downunder are excellent value for money. Made from the finest materials to a very high standard they will last a long time.
We have already washed these numerous times, and I have been surprised by how quickly they dry and how easy they are to iron too.
The material is light and comfortable, and it breathes well which helps to prevent your little from getting too warm.
This is a fantastic pair of overalls that we have no problem in giving a strong recommendation.
I was sent this pair of Overalls by OnsiesDownUnder and I would like to thank them for giving me the opportunity to review it for them.
Joanne's rating
Where Can I Get One From?
Grab one or more of these amazing printed overalls from OnesiesDownUnder for just $59.95 AUD (£32.11) which is fantastic value for money.
The range of sizes in amazing with two different designs to choose from. Check out the fantastic designs of their Onesies, Tu-sies and Bibs as well. I have no problem in giving OnesiesDownUnder a huge thumbs up and a strong recommendation for anyone in the DDLG or ABDL scenes. Little Rae loves their range of products.
Check them out and don't forget to tell them that Joanne says "Hi".
Disclosure
This review does not contain affiliate links, for more information about affiliate links check out my disclosure page.