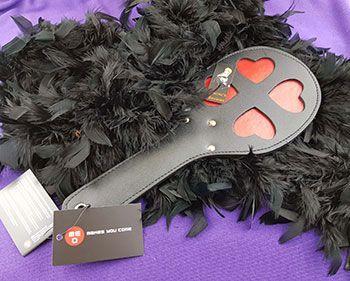 The Paddle Ex Animo with Hearts arrives in very simple packaging. By that I mean a sealed plastic bag with some advertising literature included inside. This keeps the costs down, I couldn't imagine it arriving in a box, the bag is perfectly acceptable.
Paddles have a long history in the home, schools and of course dungeons. They are used for impact play and can come in all sorts of shapes and sizes. You can get metal, wood, plastic and leather paddles and this one is made out of some very good quality leather.
It's huge, bigger than a table tennis bat measuring in at approximately 15"/38 cm x 6.3"/16 cm and it is 0.25"/6mm think. The thickness gives it a very stiff feel that is comfortable to hold and swing. It's quite heavy and that makes it thud well as it lands on any upturned backside.
The strokes sound amazing as they strike and it soon has your backside bright red and hot to the touch.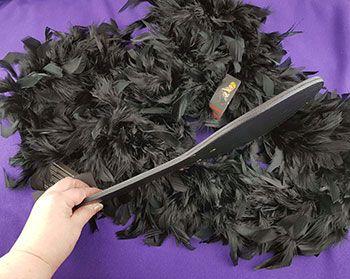 I love the two sides, each feels different. The smooth side feels nice when used on my backside to warm me up for the main event. When flipped over, the four hearts give a different sensation. They give it a slight sting that accompanies the thud as it strikes. It also features three rivets that are used to securely fix both leather sheets together. The edge of the paddle has strong stitching around its periphery helping to give it rigidity. It carries a hole at the end of the handle that can be used to hang it up after use. To give the handle area added rigidity it has a steel core and this works well to give it more energy when it's swung.
It generates lots of strong sensations over a wide area due to its size. It soon has your backside red, sore and begging for more.
The red hearts are a very nice addition to the front face of the paddle. It gives it a nice soft look which belies its harsh performance. This really is a nice flogger that can easily take a submissive right up to the point where they can stand it no more. It quickly has my backside bright red. When swung hard using the heart face you get nice heart imprints left behind.
The wide handle makes delivering strong blows easy whilst also allowing precision control. This allows you to decide exactly where the impact lands. You can choose whether to use it to caress the skin or punish. You can deliver a whole range of sensations easily. Just vary the strength of the blow and by using both sides on tease a submissive.
Here are some general tips to enhance your paddle impact play:
Make sure that your play partner is someone that you trust and discuss your wants and needs beforehand.
Always agree on a safe word system as it's important that you stay within your limits.
Always start off gently, slowly build up the strength of impacts. Make sure that you continue to communicate, especially when you use it for the first time.
Relax and enjoy the sensations, they are rich and strong with this paddle.
I really enjoyed playing with this paddle. After a couple of sessions with it whilst tied up, I actually managed to orgasm from the impacts of this alone.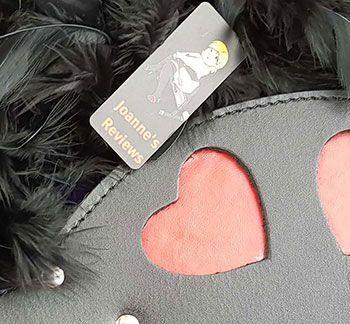 That surprised me a lot as it isn't something that I have managed to do in the past with my other paddles. I think it was due to the much stronger and wider sensations delivered with this paddle. It's a real stinger when swung hard and I love the marks it leaves after a good session.
If you are using it for the first time I'd recommend practising with it on a cushion or pillow. It's surprisingly harsh when swung. You will find that unlike a smaller paddle it kicks well above its weight. Delivering stinging accurate blows with very little effort. If you swing it as hard as a smaller paddle then your submissive will probably need to be peeled off the ceiling.
This makes it even more important to have good communication with your submissive when using it for the first time. So save the gag until you are both happy with the way that it's used.
Take your time to learn how to effectively use it and your submissive will be drifting off into sub-space in no time at all. Leaving you able to admire your work in the form of the glowing backside in front of you.
Some paddles deliver impact play over a large area and this is one of those paddles - ouch!
Click to Tweet
Key Features
Key features:
Large paddle for impact play
Quality leather construction
Four cut away hearts with a red background
Steel core in the handle gives it weight and rigidity
Final Thoughts
I was surprised with the wide range of sensations that can be achieved with this paddle. It's great for impact play and delivers those impacts over a good sized area. The two sides feel different and the love hearts can leave some nice marks when it is swung with force. The noise that it makes when it strikes your buttocks is sheer bliss and they compliment the equally as delicious sensations that it delivers. I really like this paddle and it's one that I'm happy to recommend to anyone looking for something to deliver wide stinging sensations.
I was sent the Paddle Ex Animo With Hearts by Meo.de and I would like to thank them for giving me the opportunity to review it for them.
Joanne's rating
Where Can I Get One From?
Grab one of these four heart paddles from Meo.de for just 39,00 € (£34.39). With Christmas just around the corner, it would make an ideal present for yourself or a submissive's bottom. Meo.de carry a huge range of kinky BDSM products, have a look around there site for some amazing bargains and products that are unique to these German kinksters.
Check them out and don't forget to tell them that Joanne says "Hi".
---
---
Disclaimer - I was sent the Paddle Ex Animo With Hearts Paddle to review free of charge and this has in no way affected the outcome of this review. This post contains affiliate links and if you purchase something when you follow one of these links I may receive a small commission at no cost to you. For more information check out my disclosure page.