The delivery of my Oscuro flogger was well managed by Latex Leather and Lace. I received multiple e-mails telling me the status of the order. Once dispatched I received tracking information and it arrived well packaged under plain cover.
The Oscuro Barbed Wire & Suede Leather Flogger comes packed neatly in a tight plastic bag. This keeps all of the fronds neat and prevents tangling whilst in transit. It also helps to keep the costs of the product down. You get what you see a vibrant flogger in a plastic wrap together with an Oscuro tag attached to the handle.
This is my first product from the Oscuro range and to be honest I'm very impressed with both the quality and the materials used. It's very well put together and the combination of the red and black just conjures up so many lurid thoughts in my pervy little brain. For me red, black and even purple have very strong connotations for me in a BDSM context and this flogger ticks so many boxes simply because of its colour.
The red leather is so vibrant and contrasts with the black very well indeed. Both the red leather and suede really burst with vibrant energy and this makes for a mouthwatering colour combination with the black leather used on this flogger.
The handle which is 8.7"/22cm long, features a tightly woven loop that can be used to hang the flogger when not in use. The weave used creates striking stripes around its periphery. I would have liked to have seen it a bit bigger though so that it could also be used as a safety loop by a top but this isn't the case.
The wooden handle has two rings at each end giving it the appearance of a kinky dum-bell. These raised areas are coated in woven strips of black leather and they contrast nicely with rest of the handle. The handle itself is coated in woven strips of red and black leather. This gives it a stunning look. More importantly though, it provides lots of grip allowing you to really swing this flogger with confidence.
Moving on to the business end of the flogger, this is where the magic really happens. It features red suede fronds that are 20.5"/52cm long surrounded by incredibly intimidating looking barbed wire fronds.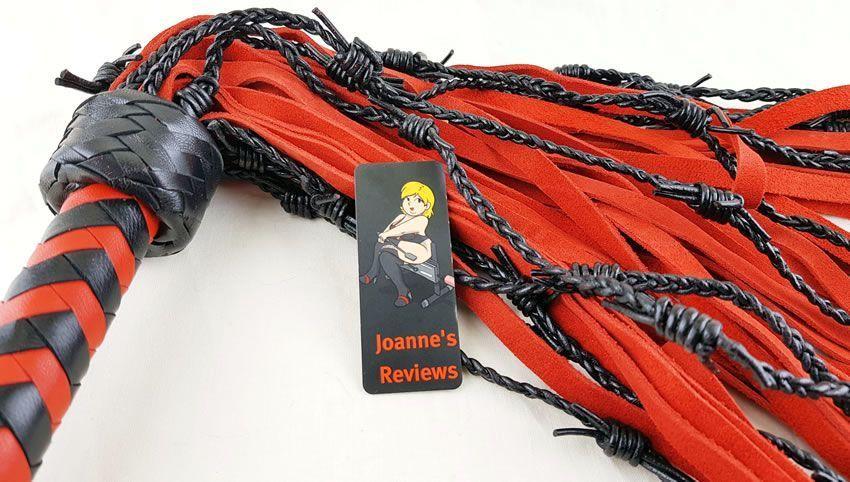 These barded wire fronds give it a really menacing look whilst also giving it both class and beauty at the same time. I know, it sounds a little weird but it really is a thing of beauty. Whilst taking these photos, the red suede left tiny little red bits all over the fabric that I took the pictures on. That is just residue from the cutting process during manufacture though and they will all eventually fall off.
The barbed wire fronds are made from a soft pliable plastic material similar in feel to the material used many years ago by kids to make 'scoobies' (google it). It's both soft and pliable giving the barbed wire fronds a shiny look but allowing them to yield when they strike you, preventing injury. There is no doubt though that they look real.
This is the sort of flogger that will have a submissive taking an involuntary gasp of breath when you remove it from your kitbag for the first time. I must admit that the first time I saw a picture of this flogger I was both scared by it and also aroused at the same time.
I can't stress enough how good it looks in person. The materials and the colour are perfect for this chilling looking BDSM implement. But whilst it looks great, you are probably more concerned with is it any good as a flogger?
I have now used it multiple times (ouch, I am squirming in my seat with a very red backside right now). I can attest that not only does it look good but it feels amazing.The suede fronds feel exactly like my other suede flogger. They give a nice thud when they land with a bit of a throb after using them on the same spot. The barded wire fronds though give you a very nice sting as they hit home.
These two sensations combined feel very nice indeed. You do get little red marks from the barbed wire but it doesn't break your skin making it a safe play implement.
After a period of use my backside positively glows and just the thought of having it used on me makes me smile and squirm.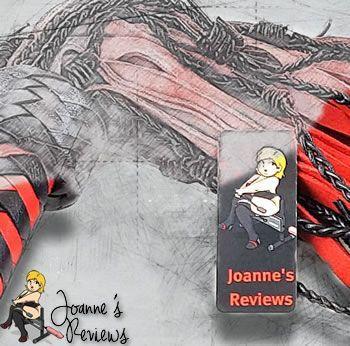 It's one of those nice implements where you can use it in different ways. I like trying to identify a flogger as I am blindfolded and restrained purely by having it gently dragged down my back.
Each of my floggers feels different. Usually, a suede flogger feels soft and sensual but this one also feels scratchy as it is drawn across your skin. It is needless to say an easy one for me to identify as there is simply nothing else like it in my collection and I love it.
I love the different sensations that this flogger can deliver, when used lightly you hardly notice the barded wire fronds. When swung with gusto though you do know that they are there. Their sting compliments the thud of the suede nicely.
This flogger now has pride of place in my collection. It has deposed my Kink Craft Suede Flogger from its position as my favourite. Move over there is a new flogger in town.
The Barbed Wire Flogger from Latex, Leather & Lace has to be seen to be believed.
Click to Tweet
Key Features
Key features:
Quality construction and materials
Soft suede together with harder plastic barbed wire fronds
Great colour combination
Good grip on the handle
Designed to intimidate and also to pleasure
Final Thoughts
The Oscuro Barbed Wire & Suede Leather Flogger gets a big thumbs up from me. It's visually stunning whilst also delivering nice stinging blows that quickly send me into sub-space. I was absolutely delighted with its quality which is exceptional for a flogger in its price bracket. At only £34.99 it is exceptional value for money.
I am sure that it won't be the last Oscuro flogger that I add to my collection as they are great value for money and a heck of a lot of fun to use no matter which end of it you are on. I prefer to be on the receiving end but even my Stunt Cock loves it and says that it has good balance and is easy to use accurately. I have no hesitation in giving it a strong recommendation. I love it.
I was sent the Oscuro Barbed Wire & Suede Leather Flogger by the lovely team at Latex, Leather & Lace and I'd like to thank them for giving me the opportunity to review it for them.
Joanne's rating
Where Can I Get One From?
Latex, Leather and Lace are a premier online retailer of kink and they carry a huge range of products made from the best manufacturers from around the globe. You can shop online or even in their walk-in shop in Barwell, Leicestershire. Why not drop by if you are local and check them out. They are very friendly indeed and are a wealth of knowledge and advice. Don't forget to say that Joanne says Hi.
Grab one of these Oscuro Barbed Wire & Suede Leather Floggers for just £34.99 from Latex, Leather and Lace. You get a great BDSM implement that will give you lots of pleasure for a long time to come.
Be sure to look at their amazing range of kinky shoes and boots. So check them out and don't forget to tell them that Joanne says "Hi".
Disclaimer - I was sent the Oscuro Barbed Wire & Suede Leather Flogger to review free of charge and this has in no way affected the outcome of this review. This post contains affiliate links and if you purchase something when you follow one of these links I may receive a small commission at no cost to you. For more information check out my disclosure page.