Delivery & Packaging
Sooner than expected, we found the postie arrived at my door with a plain cardboard box. The box had a simple customs and address label, with nothing to make it evident as to the tasty contents.
On opening the box, the dildo was protected in a large amount of bubble wrap. After having peeled away, the bubble wrap, I found Humphrey in a clear plastic heat-sealed bag.
There was a mild chemical smell on first opening the bag. This quickly dissipated and was not noticeable again.
There was also a single printed piece of A4 paper with care instructions.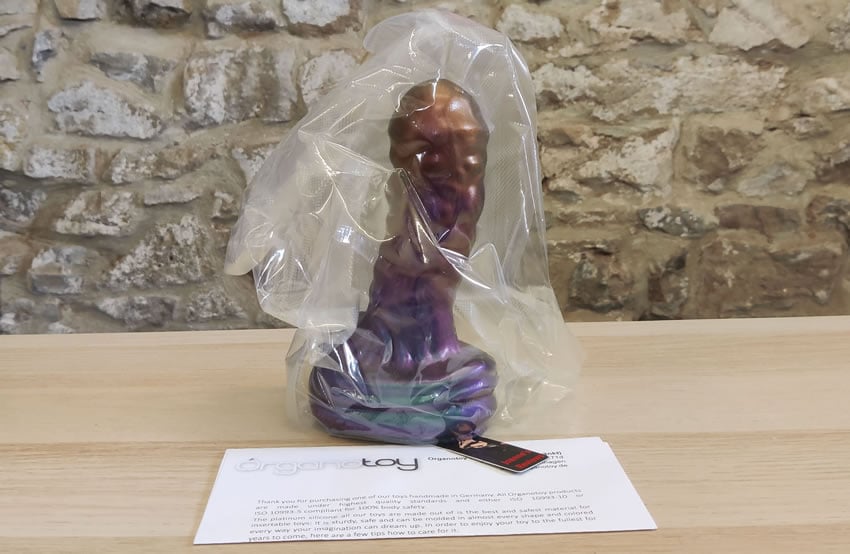 Humphrey comes in minimalistic packaging which is good for the environment.
Materials and design
Humphrey has been made with high-quality silicone and coloured using pigments/colours certified for mucous-membrane contact. This is the thin, moist lining of the genitals, mouth, throat and other body parts.
Silicone is my preferred insertable material as it is body-safe, non-porous, latex, rubber and phthalate-free.
The care instructions you receive with Humphrey remind you to wash your dildo before play and each time when you have finished playing.
You are advised not to boil, use any scratchy items to rub off lube or use strong cleaners like mineral spirits. Silicone is a tough material, but you need to treat it with a little more care to stay beautiful.
I always recommend using a water-based lube with any silicone toy. If you do not already own some, my favourites are Sliquid H2O or J-Jelly.

Humphrey in his metallic colours looks incredible.
Now, let's look at Humphrey himself. He is pretty chunky and features lots of bumps all over the shaft. The head is broad, leading onto the slightly angled shaft. The base is shaped to allow for pressure to be added to your clit when fully inserted. The rings on the base give an easy grip when holding in your hand during play.
The suction cup bottom allows a firm grip on a clean, smooth surface. So you can enjoy some hands-free play if you want.
The colours are used to provide a fantastic metallic effect to the entire dildo. The designers have made an actual work of art with Humphrey. One that you can ride not only as often as you like, but as long as you like. I have never seen colours like this on a dildo before, and I love it.
Organotoy offers Humphrey in a choice of four sizes and several colour options. This does mean that there could be the right size available for you. Plus, I do appreciate that you are in control of the final look of your dildo.

These pictures don't do Humphrey justice, the colours are incredible.
Medium Humphrey is listed as measuring:
Head circumference max. 7.1" diameter max 2.4"
Shaft circumference: 6.9"
Base diameter: 4.5"
Base length: 1.6" - 2.7"
Total height: 8.3" Shaft length: 6.7"I was sent the Medium Humphrey, and the website does provide some good measurements to give you the best idea of the size you are buying. This is important when selecting an unusually shaped dildo.
A direct quote from the Organotoy website: "Humphrey is still all alone and looking for a new friend. Would you like to be his new boyfriend? Then invite Humphrey to your home now and let him move in with you in your desired outfit (color) and become the best of friends."
Performance
With the broadhead, the initial insertion needs a little more lube than I usually use. The stretch is felt as soon as I slip the head inside. It's a great feeling as I gradually push more and more of it into myself, stretching my vagina open and getting it accustomed to the girth of the Humphrey.
Of course, Humphrey is also very suited for anal play, but he is too big for me back there.
The large bumps feel amazing against my pussy walls. I like to give it a slight twist to really ramp up the sensations when thrusting with it. While it has lots of girth, it's still very flexible which makes it easy to use.

Humphrey is very flexible which makes it very comfortable to hold and use.
The larger nodules are focused nearer the glans shrink in size as you go down the shaft. The shaft's underside features a different pattern of nodules to the ones on the other side, giving you some delicious variety in sensations. There is a large vein running the length of each side for you to also enjoy.
Humphrey has been designed with total pleasure in mind. Its shape is exceptionally effective at producing some exhilarating sensations as you thrust with it. I love my textures on a dildo, and Humphrey has so much to enjoy.
I can feel every bump as I insert this amazing dildo; they feel incredible, and it always has my toes curling very quickly.
Humphrey is not vac-u-lock compatible, which is a shame as he is fantastic on a fucking machine. That said, though, the suction cup base holds onto an adaptor very well.
Luckily for me, I have a suction cup plate I can use on my machines. I really enjoy using it out on my fucking machines. After all, I did need to thoroughly test it :-)

Humphrey has lots of girth and a suction cup base that works very well.
I was surprised at how effective the suction cup base is. It does not look like it has a deep cup, but it does hold very well.
Of course, it also needed to be tried in the bathroom. Shower time is much more fun with Humphrey in hand if you know what I mean! .
Conclusion
Humphrey from Organotoy is a genuinely exceptional dildo. The large head gives a fantastic stretch, and all those bumps feel incredible. Add a little twist, and you feel like your flying with the fairies, lol.
The metallic effect really does look incredible. This is the first metallic-looking silicone dildo I have owned, and I will be taking good care of it to keep it looking great.
The only thing missing is a storage bag to keep it clean and dry between play.
Check out Joanne's review of the Humphrey silicone dildo from @organotoy in Germany.
Click to Tweet
Key Features
Key features:
Wide head.
Lots of large bumps and nodules.
Metallic colour finish.
Choice of sizes.
Choice of colour.
I would recommend it to:
Anyone who enjoys fantasy dildos.
Anyone who likes feeling stretched and full.
Anyone who enjoys lots of sensations.
Anyone looking for a body-safe dildo.
I wouldn't recommend it to:
Anyone who wants realistic human dildos.
Anyone who wants straight, smooth shafts.
Final thoughts
Not only is Humphrey an amazing looking dildo, but he takes his job extremely seriously. He will always provide you with an abundance of sensations whenever you play together.
His looks and fantastic textures that generate some delicious sensations when thrust in and out make this a definite keeper.
I love textures on my toys, and this one has lots to enjoy. That and its incredible looks definitely makes it stand out from the crowd. I can thoroughly recommend Humphrey to anyone looking for a body-safe fantasy dildo.
The Humphrey silicone dildo from Organotoy is a stunning blend of function and form that looks and feels fantastic.
I was sent the Humphrey by Organotoy and I would like to thank them for giving me the opportunity to review it for them.
Joanne's rating
Where Can I Get One From?
Grab one of these fantastic fantasy dildos direct from Organotoy for just $72.96 (59.96 €) and experience his girth and stunning looks for yourself.
Check them out and don't forget to tell them that Joanne says "Hi".
Disclosure
This review does not contain affiliate links, for more information about affiliate links check out my disclosure page.