As usual, I didn't have to wait long for the delivery as it arrived the day after I placed my order. More importantly, though it arrived very discreetly packaged to keep my nosey neighbour guessing as to why I keep receiving so many boxes in the post. If only she knew I was a lover of kinky sex and that this was a shiny new red ball gag.

This ball gag comes in minimalistic packaging
Gags come in many varieties and styles from dog bones to penis's and even rings that allow you to still make your mouth and tongue useful. They all have one thing in common though, and that is that they are designed to keep your mouth open forcibly, and this immediately puts you in a submissive position.
Other subtle things happen when you are gagged too, such as you will find it very difficult if not impossible to swallow and so you will most likely drool and dribble saliva everywhere, even down your front. This again adds to the feeling of submission, and it can be tied into little fun games where you face a forfeit if you drool.
Gags, whether they fill your mouth or leave it wide open for use are a powerful tool in any Dominant's arsenal. Like a blindfold, this is a simple passive device used to control and enforce dominance over someone else.

This ball is covered for hygiene purposes and this ball gag looks stunning
Now you don't have to use a gag with a partner, they can be a lot of fun when playing alone because of the discomfort of wearing one. Yes, I know that probably sounds a little weird but trust me on this one.
Enough about gags, in general, you are more interested in this one from Bondara I guess. I bought it with a 10% discount code that I had been given to share with you all that is valid until 31st August 2018. The code is OBEYJOANNE, and it is valid on anything in their Obey range which is a cracking beginners line of BDSM products.
I just love the red ball, it is made out of silicone, and it is incredibly shiny with just the right amount of give when you bite down on it to allow you to exercise your jaw muscles a little to relieve tension. It has a red leather strap bonded through its centre, and this is riveted to the two metal 'O' rings to which the main parts of the gags harness are also attached. This helps line everything up when the ball is inserted into your mouth.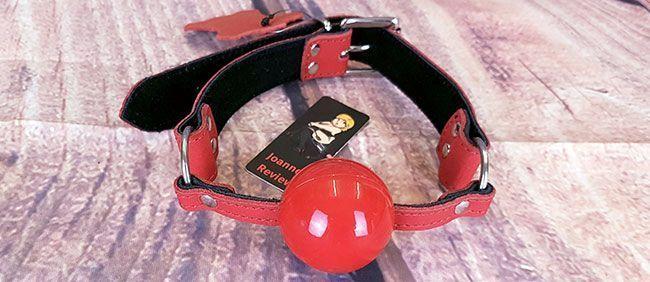 This silicone ball looks stunning and has some give allowing you to stretch your jaw muscles
The red nubuck leather straps are very soft and the red dye used is very bright and colourful complementing the red of the silicone ball. The inside of the leather straps is black and very luxurious and soft with the areas that will be in contact with your cheeks being lightly padded for comfort.
The stitching is elegant and robust, and the main straps are secured at their ends with two shiny metal rivets for security. The buckle is excellent quality with a roller to assist with threading the other strap through it, and it has a metal 'D' ring to control the male strap to hold it flat against the back of your head.
The nubuck leather strap is 1"/2.5cm wide, and it is adjustable from 16"/40.6cm to 20.5"/52cm around the neck with seven holes for the buckle. The silicone ball is 2.2"/5.5cm in diameter making it a modestly sized ball gag. This short length of strap is a little limiting though as it won't cater to a lot of men or women with large neck sizes. It fits myself and sub'r' on the last hole on the strap, but it won't fit Stunt Cock. A few extra inches of leather on the strap would have made this a fantastic ball gag so I would class as a small ball gag. Most females won't have a problem, but if you have a big head (sticks tongue out at Stunt Cock), you might want to measure yourself before buying one.

This ball gag is fantastic but it has a strap that is shorter than others on offer
Performance
Fitting it was a lot of fun, and it feels nice in my mouth (initially, but like all ball gags they carry some discomfort over time). My jaw was forced and kept open by the ball gag, and I always enjoy having straps tied around my neck. Usually, it is just a collar, but a ball gag feels nice along with it.
The strap feels very comfortable with the padded cheek pieces doing their job well. I love wearing a ball gag and always feel very submissive when doing so. As you feel your saliva build up, you first try to swallow, and when you realise you can't, you have to give in to the fact that you are going to drool with a ball gag in.
This is humiliating and one of the things I love about ball gags. When I am restrained and gagged, I can feel my own saliva trickling out of my mouth and dripping onto my breasts, I feel humiliated but also incredibly aroused. I am often amazed at the end of a session at just how much I have drooled, and again that little twinge of humiliation can be quite exciting.
I love the feel of the nubuck leather, and the silicone ball is the perfect size for me as I can chew down on it a little to help relieve my jaw muscles as they are forced to remain in an unnatural position, and this gets uncomfortable if you can't chew a little.


This ball gag feels great and it is comfortable to wear for long periods due to the silicone ball
See why this stunning red ball gag from @Bondara is so good, and get a nice discount too.
Click to Tweet
Key Features
Key features:
Soft red nubuck leather
Nice red silicone ball gag
Padded cheek pieces
Adjustable from 16"/40.6cm to 20.5"/52cm around the neck
The silicone ball is 2.2"/5.5cm in diameter
Final Thoughts
This is a fantastic gag that is comfortable to wear but also carries all the properties of a ball gag. It will force your mouth open, restrict your ability to communicate and also cause copious drooling which is something wearers of ball gags enjoy.
The read nubuck leather feels incredible and is very good quality, the metal fittings give it a nice look but my favourite feature is the red silicone ball. This has just the right amount of give to allow you to exercise your jaw whilst still keeping you in the sweet discomfort of having a ball gag fitted.
I have no problems in giving this a strong recommendation and it will be getting a lot of use.
I I bought the Obey Red Nubuck Leather Ball Gag From Bondara to review.
Joanne's rating
Where Can I Get One From?
Grab one of these great leather ball gags from Bondara for just £11.99 as they are currently on sale with the usual price of £15.99, you can even get an extra 10% off using my special discount code that is valid until 31st August on the entire Obey range of products. Use discount code OBEYJOANNE during the checkout process.
Check them out and don't forget to tell them that Joanne says "Hi".
Disclaimer - I bought the Obey Red Nubuck Leather Ball Gag From Bondara to review and this has in no way affected the outcome of this review. This post contains affiliate links and if you purchase something when you follow one of these links I may receive a small commission at no cost to you. For more information check out my disclosure page.