You can always rely on Bondara to deliver your products quickly and discreetly, and this delivery was no exception to this. My postie and the nosey neighbour had no idea I would soon be having a very sore butt.
As with all impact play sex toys, you should only use them in a SSC (Safe, Sane & Consensual) way. Know your limits and that of your partner and have a safe word arranged. Check out my beginners guide to bondage for an explanation of the Traffic Light System that I use for BDSM sessions.

The luxury cane arrives in not so luxurious packaging but that means less waste
Impact play is especially enjoyable if you have a range of implements to use on someone or to have used on you. The sensations that each provides are varied and delightful. The severity of the impact is naturally controlled by the Dominant swinging it but the type of implement and its materials play a huge role in the sensations generated.
Soft materials like suede or cloth obviously feel softer than harder material in use and I have a range of floggers, paddles, crops and whips that I use sequentially to warm up a submissive and then to drive them into a state of mind we call sub-space where they really enjoy the sensations.
Canes fall on the harsher end of the impact sensation spectrum, and this is due primarily to their small cross-sectional area and their materials. The energy imparted in a swing is concentrated on only a small area of flesh, and this makes them painful or positively stingy depending on the severity of the stroke.

The tip of the cane is nicely rounded and feels great drawn down your back
But it isn't all about pain, you can use a cane to massage a partner. Try bending the cane and dragging it over flesh for a delightful feeling. Or try holding the flat of your palm an inch above the cane and have the cane an inch above a buttock or shoulder. You can oscillate the cane in this gap until it is a blur and rather than hurting it feels like a deep tissue massage because the stroke in this way has very little energy. I can make sub 'r' orgasm after a session of this type of stroke.
Right enough about the theory and practicalities of caning someone, this is a review, and I am now going to talk about my new 24" Luxury Cane from the Obey Range at Bondara.
This cane features a delightfully flexible PVC cane that is black, totally smooth and it has a devil of a bite when swung hard. Having the tip drawn across your back lower and lower until it teases the area just at the top of your buttocks is very lovely indeed.
The handle features a corkscrew design made out of ABS plastic coated in a polyurethane coating which provides lots of grip even with slippery hands. This design of grip is very comfortable to use either left or right handed. I have to admit it was only when examining it that I noticed the corkscrew design, it's so subtle that it just looks like rings around the handle until you are aware of it.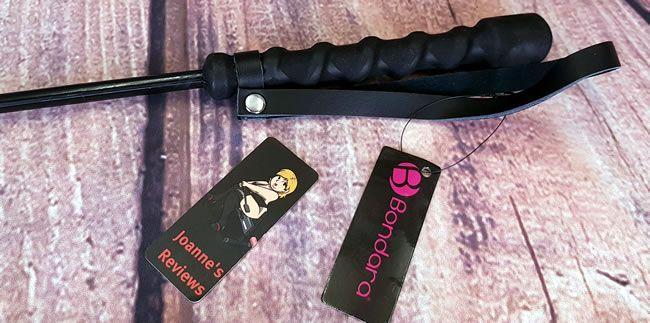 The handle is very comfortable and a great design with its retainer strap
There is a small leather loop strap attached to the handle that can be worn around the wrist to ensure that the cane doesn't go flying off across the room if it slips out of your hand.
It's very well balanced and smooth to swing becoming almost an extension to your hand. Quick light strokes are lots of fun, and if you use your hand to bounce the cane off it you can create strokes that are so fast they are a blur, and these feel divine.
When swung hard the sound it creates when it contacts the buttock is fantastic and it leaves a crisp red mark that will develop into a bruise if enough force is used.
I prefer using it on a single buttock at a time, but as it is a 24"/61cm cane, it is more than capable of providing punishment to both buttocks. It's purely a personal preference that I prefer to work on each buttock in turn.
This cane creates a fantastic sound when swung quickly through the air almost sounding like a sound effect in a Bruce Lee film. This swishing sound alone will be enough to strike fear into any restrained submissives mind.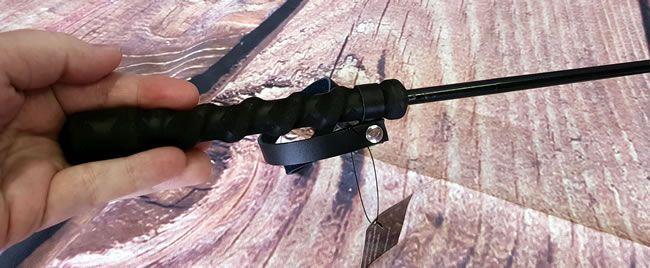 The handle is a great design and allows you to comfortably swing the cane
In use, the impacts and marks produced are really good, and you can start off lightly before moving on to some forceful strokes that will leave red marks or even welts as your submissive gets more aroused and enters sub-space.
Stunt cock is a master with this cane, and he has made sub'r' orgasm through his ministrations, and her orgasms were so hard he had to grab hold of her to hold her up as her legs gave way. His preference is to warm up with floggers and then paddles before moving onto the cane when sub'r' is so aroused she almost begs for it.
I was really impressed by this cane, especially at its price, this is a cane that usually retails at £16.99 which is excellent value for money. However you can use my unique code up until the 31st August 2018 to get 10% off the entire Obey range, just use the code OBEYJOANNE during the checkout process at Bondara to claim the discount.
Check out the Obey Luxury 24" Cane from @Bondara, it can bite or nibble any butt for some intense fun.
Click to Tweet
Key Features
Key features:
High quality PVC and PU coated plastic
Corkscrew handle is comfortable
Leather retainer strap
Flexible cane that can deliver a range of sensations
Final Thoughts
Usually, I would finish a review of a BDSM product that is this cheap with something along the lines of it is an excellent product for anyone new to the scene who wants to experiment a little. But I am not going to say that as it isn't entirely accurate, you see this cane is great for anyone new to impact play or for anyone experienced who wants a very functional cane that allows lots of different sensations to be developed.
As with the other two products that I have reviewed from the Obey range I have been pleasantly surprised by both the quality of construction and the performance of this cane.
Bondara has come up with another great product and if you act quickly you can save some money when you buy one.
I bought this Obey Luxury 24" Spanking Cane and I have had a lot of fun reviewing it for Bondara.
Joanne's rating
Where Can I Get One From?
Grab one of these great canes from Bondara for just £16.99, you can even get an extra 10% off using my special discount code that is valid until 31st August 2018 on the entire Obey range of products. Use discount code OBEYJOANNE during the checkout process.
Check them out and don't forget to tell them that Joanne says "Hi".
Disclaimer - I bought the Obey Luxury 24" Spanking Cane From Bondara to review and this has in no way affected the outcome of this review. This post contains affiliate links and if you purchase something when you follow one of these links I may receive a small commission at no cost to you. For more information check out my disclosure page.