Disclaimer - I bought this O-Ring Gag With Nipple Clamps in to review from Simply Pleasure and this has in no way affected the outcome of this review. This post contains affiliate links and if you purchase something when you follow one of these links I may receive a small commission at no cost to you. For more information check out my disclosure page.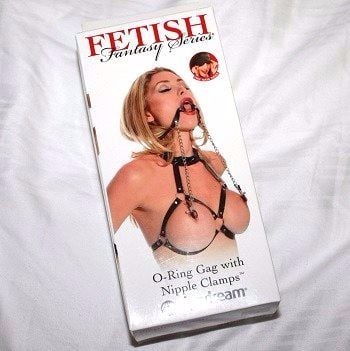 This o-ring gag kit is manufactured by Pipedream which is a US company and it's part of their Fetish Fantasy Series which contains some decent entry level BDSM equipment. I bought this one from Simply Pleasure.
This type of gag is often the next type of gag that lots of people opt for when they become bored of simple ball gags just because it can be so much fun to wear and use.
It comes in an attractive box that leaves nothing to the imagination, the only criticism I have about it is that the model shown on it is wearing a body harness that you don't get in this kit and that I feel can be confusing to customers.
I would have preferred to see a clearer image of what is included such as the blindfold and just the gag.
Unlike a ball gag an o-ring gag leaves your tongue free to be used to pleasure a partner and in my experience people wearing one drool more with an o-ring gag when compared to a ball gag. This is something that can be both a turn on and a concern to wearers and this can be easily worked into a BDSM session to get the most enjoyment out if it.
The gag is a metal o-ring coated in leather and then bound in two colours of cord giving it an attractive appearance but more importantly it protects your teeth from getting chipped by the metal.
This is something that you should definitely consider if you are looking for metal gags, always opt for a coated one.
The strap is made out of thin leather and features a metal buckle which when fastened sits behind your head. It has plenty of holes in it to give you lots of choices and this gag should fit all head sizes.
The strap also features metal rivets that hold it to the gag and also two that attach the two chains that dangle from it carrying the nipple clamps.
The o-ring is a very nice size, it's easy to fit but not too large as to become comfortable quickly, it's easy to wear for extended periods of play and having your mouth open stops the wearer from being able to swallow and so it get deliciously messy once the saliva levels build up to a point where the submissive wearing it can't help but drool.
Right, on to the twist with this o-ring gag and that's its pair of nipple clamps on the ends of the two chains that dangle from the strap. They are metal but the ends are coated in rubber to give them a kinky look but also to make them more comfortable to wear and fit.
That is subjective though as these clamps have a nice and strong spring in them so they can be very painful to wear if that's how you like to play.
They feature safety screws though so that you can limit how far the jaws can close and by using this you can very finely control the pressure on the nipples delivering pleasure or pain to your submissive.
The chains are just the perfect length so that if your submissive moves their head they will cause the nipple clamps to tug on their nipples and this can be a lot of fun. If they look up or left or right you can see the chains tugging on their clamped nipples and this is a heck of a lot of fun. If they were longer you wouldn't get this effect.
The kit also comes with a cheap blindfold that can be used to heighten sensations by blindfolding your submissive. It isn't something that I would use but that's only because I have much better blindfolds, as a freebie though it's a great addition to the kit though and does increase your play options.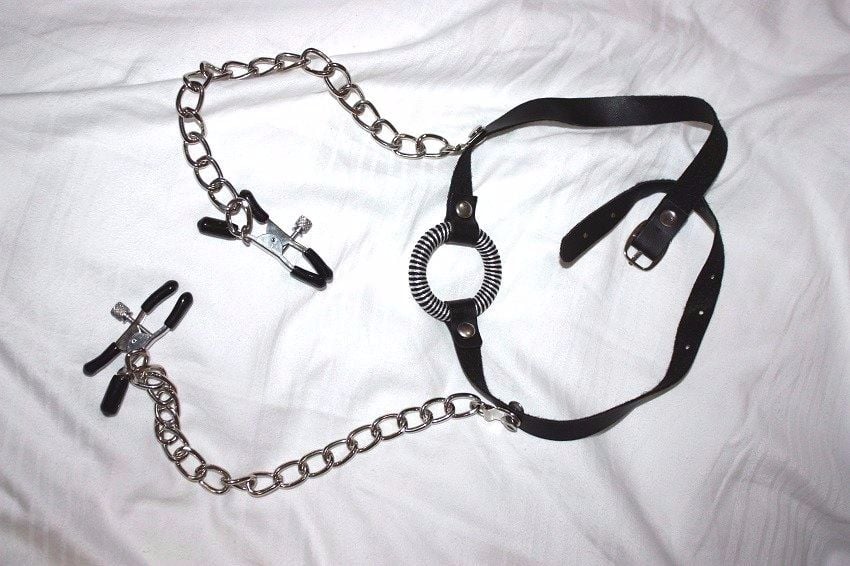 So what does it feel like when worn? Well it obviously forces your mouth to stay open and this immediately puts your submissive in a situation where they are out of their comfort zone and after a while their jaw starts to ache and there is nothing they can do about it.
Their tongue is still free to stick out through the o-ring gag and that means oral sex acts can still be performed when wearing it which is something you don't get with a simple ball gag.
The nipple clamps are great and their pressure can be easily controlled in order to pleasure or punish a submissive. Any movement of your head is transfered directly to your nipples and that makes for some interesting play times.
Nipple clamps can feel incredible whilst you are wearing them but you know just what's coming. When they're removed and the blood rushes back into your nipples you get an amazing bust of pleasure and pain that leaves your nipples hard and incredibly sensitive to touch or sucking fun.
This feeling is one of the best things about using nipple clamps but never leave nipple clamps on too long though as it's important to keep the blood flowing.
The nipple clamps are the thing that sets this o-ring gag apart from its cohort.
Click to Tweet
Key Features
Key features:
Metal O-ring gag coated to protect your teeth
Two nipple clamps on metal chains
Rubber coated nipple clamps with safety screw
Leather strap
Cloth blindfold included with the kit
Final Thoughts
I really like this o-ring gag as it's such a lot of fun to wear or use on a submissive. The o-ring is comfortable and safe to use, with the coating protecting your teeth from any chipping. The nipple clamps are the thing that sets this o-ring gag apart from its cohort though and it's a great feature, being a heck of a lot of fun to use. The clamps are easy to set in place and you can control the pressure that they exert very easily. Coming with a blindfold means that you also get the option of using it on the wearer of the gag to heighten their senses and this can really make play much more intensive. I can highly recommend this very cheap o-ring gag and it will be something that I continue to use on submissives in the future. At only £15.99 you really can't go wrong with it.
Where Can I Get One From?
Grab one of these O-Ring Gag With Nipple Clamps for just £15.95 from Simply Pleasure.
Check them out and don't forget to tell them that Joanne says "Hi".