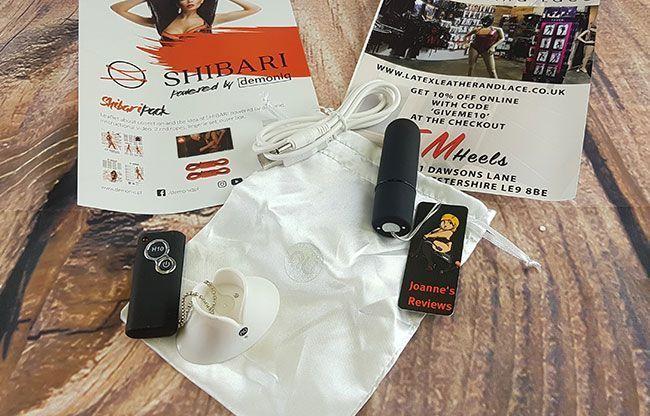 I love receiving packages from Latex, Leather and Lace. They always include some nice flyers
I never have to wait long for orders to arrive from Latex, Leather and Lace as they are always super fast and very discreet with their packaging. This bullet vibe is actually a product tester, and so it didn't come with the retail packaging. I believe that Patrick held up a rep by his ankles before shaking him until this fell out of his pocket. So, I have taken the liberty of placing a pic from the Latex, Leather and Lace site here of the packaging (with permission of course).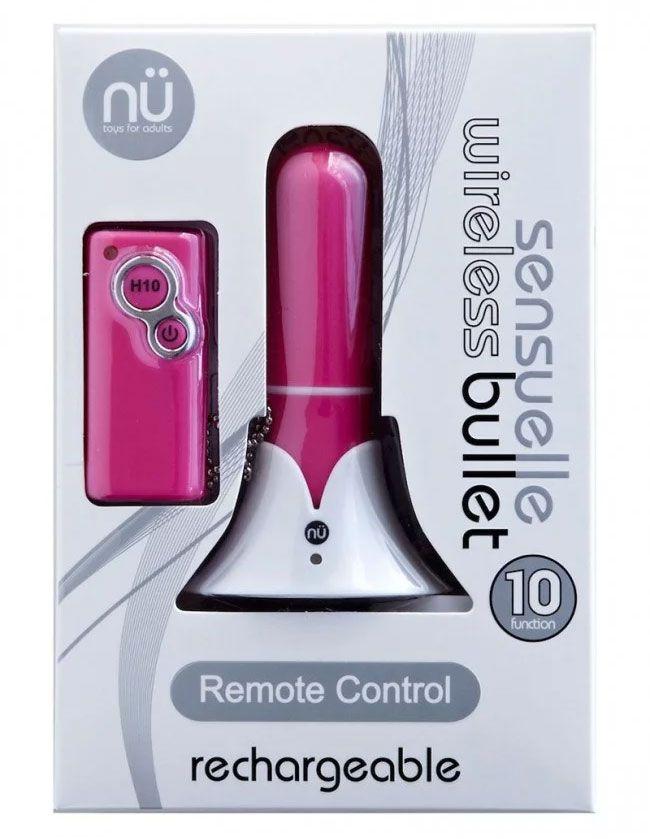 This vibe comes in an attractive retail display box - Pic courtesy of Latex, Leather & Lace
Currently, as I type this the only ones that they have left in stock are the pink ones, so you had best hurry up and make a decision as to if you want one for yourself. If you are not sure what a wireless bullet vibe is, then picture a rechargeable bullet vibe that is great for clitoral stimulation and then imagine being able to control it without trailing wires or even by someone else in another room. You can imagine how much fun this can be with a little imagination.
It's basically a high tech bullet vibe that is a Dominant's dream come true (more on that later in the review).
This vibrator is produced in three distinct colours by the manufacturer, and these are Black, Pink and Purple. The black one that I am reviewing looks fantastic, but I have to admit the pink one looks very nice too.

The docking cradle is a great way to quickly charge the vibe and also for storing it standing up
When you buy one of these you get the vibe itself, the remote, a charging stand complete with a decent length USB charging cable and a silky drawstring bag with the Nu-Sensuelle logo on it.
I always love it when sex toys come with a storage bag as let's face it most of us don't store our sex toys in the boxes they came in. Heck if I did, then I would need an industrial storage unit to store my vast collection of sex toys in as they would take up so much space.
The bullet vibe is rechargeable, but the remote takes 2 x AAA batteries (included).
Both the bullet vibe and the remote are made out of ABS plastic, and they have a really smooth finish that feels very impressive and high end. ABS is a body safe non-porous material that has no nasty phthalates in it to leach out. This also makes it very easy to clean, just use warm soapy water before using an anti-bacterial sex toy cleaner on it.
The base of the bullet vibe features an on/off button and a robust plastic loop that aids removal if you use it internally and it doubles as the antenna.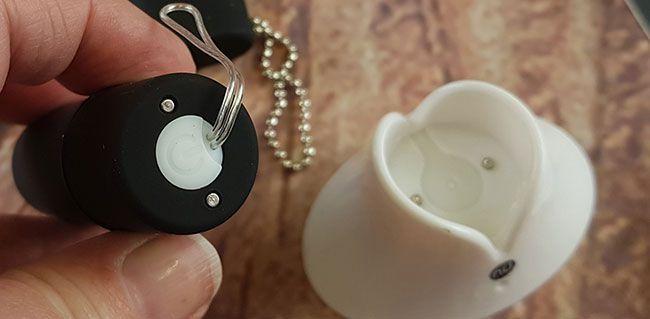 The base of this vibe has two contacts and the power button together with an antenna loop
As with all rechargeable sex toys, I recommend giving it a full charge before use. Just connect the white charging cable to the charging base and a power source. Then pull the loop on the vibe tight so that it lines up with the slot in the charging cradle and insert the bullet vibe until the metal contacts on the base come into contact with the ones in the cradle. A blue light shows you that you have power and it is charging.
The charging cradle makes an excellent stand for it when not in use, and it will stop the vibe rolling around in a bedside drawer.
To use it just press the button on the base of the vibe and a blue light will start flashing, then press the power button on the controller and it will connect. You can then use the button labelled "H10" to cycle through the ten individual power settings.


The remote control unit is easy to use and you can quickly cycle through the ten functions
I was pleasantly surprised when I first switched it on, both by the power of the vibrations and just how quiet there are. On its lowest setting it is whisper quiet, but as you go up the power bands, it gets louder unsurprisingly. It is still quiet enough so that someone in the next room won't be able to hear it in action. However, they may end up hearing you as this vibe packs quite a punch.
The first time that I played with it, I was on my own, and I used it as a standard bullet vibe so that I could give myself plenty of targeted direct clitoral stimulation. I found myself really enjoying using it, but I found I couldn't take it on its highest setting for very long as it got too much for me. This surprised me as I love strong vibes like the Doxy, but this was just too intense.
That said though, on the lower settings it is perfect for me, and I have no trouble reaching powerful and robust orgasms while using it. It really has some kick to it.
>It was when Stunt Cock got hold of it that things took a turn for the kinkier as I was made to go shopping with him to Asda with him while I had it buried deep inside my pussy. I made the wise decision to wear tight panties with it just in case it fell out LOL, and he teased me with it all around the shops.
He was grinning like a Cheshire cat and took great delight it watching me twitch and jump as he played with the control, all the while it was buzzing away deep inside me turning me on. Paying for the shopping with a straight face took some doing, and I am sure the checkout guy knew something was up the way we were giggling like school children. I actually orgasmed halfway across the carpark while pushing the shopping trolley. It has gone down as one of the best shopping trips ever, the weekly shop has never been so much fun.

This is a bullet vibe that packs a punch and is a lot of fun to use on your own or with a partner
>This is a great bullet vibe for solo play, but it is the remote that makes it so much fun. On your own, you can use it to effortlessly change the settings without a trailing wire which is nice, but it is when you hand over the controls to someone else that it really takes on a life of its own. I have really enjoyed reviewing this little vibe and have no problem giving it a strong recommendation.
Joanne had an orgasm in an Asda carpark with this vibe from Nu-Sensuelle. It makes the weekly shop much more fun.
Click to Tweet
Key Features
Key features:
Body safe ABS construction
USB rechargeable with the supplied cable and docking station
Silky draw string bag supplied
10 function settings
Cordless remote
Final Thoughts
I have had so much fun with this little vibe, it is surprisingly powerful and also very quiet. The best thing about it though is the remote control, it makes changing settings when using it as a bullet simplicity in itself.
But give the controls to someone else, and it brings on a whole new level of fun. I enjoyed being teased and pleased with it inside me while out and about, and it is incredible how much it can brighten up the weekly shop. Great vibe and one I'd highly recommend getting if you like to experiment.
I was sent the Nu-Sensuelle Remote Control Wireless Bullet Vibe by Patrick at Latex, Leather & Lace and I would like to thank them for giving me the opportunity to review it for them.
Joanne's rating
Where Can I Get One From?
Latex, Leather and Lace are a premier online retailer of kink and they carry a huge range of products made from the best manufacturers from around the globe. You can shop online or even in their walk-in shop in Barwell, Leicestershire. Why not drop by if you are local and check them out. They are very friendly indeed and are a wealth of knowledge and advice. Don't forget to say that Joanne says Hi.
Grab one a Nu-Sensuelle Remote Control Wireless Bullet Vibe for just £35.99 from Latex, Leather and Lace. You get a fun bullet vibe that will give you pleasure for a long time to come.
Be sure to look at their amazing range of kinky shoes and boots. So check them out and don't forget to tell them that Joanne says "Hi".
Disclaimer - I was sent the Nu-Sensuelle Remote Control Wireless Bullet Vibe to review free of charge and this has in no way affected the outcome of this review. This post contains affiliate links and if you purchase something when you follow one of these links I may receive a small commission at no cost to you. For more information check out my disclosure page.